Words a Word Finder for Games Like Words With Friends
by
Hidden Elephant
(945 user ratings)
$0.99
Download size: 2.58MB
Version: 1.10
Released: 2009-03-27
For ages: 4+
Wordsworth helps you quickly and easily find words for games like Words With Friends, Scrabble, and Bananagrams. Use it to learn new words, find valid words you may have missed, or to quickly settle Scrabble game disputes.

"This app is very useful when playing scrabble. It's quick, simple and to the point. I love it!"

"I love this app! Does exactly as advertised and it helped me get an awesome score on word challenge on facebook. Absolutely a must have app for word games."


FEATURES:

-Choose between the ENABLE and SOWPODS for English games
-ODS5 word list for French games
-Zingarelli 2005 word list for Italian games
-Enter blanks by pressing the space bar
-Remembers last letters entered
-Standard lower case notation to display letters generated from blanks
-Easily replace entered letters by touching and holding on a letter to move the cursor
-Simple and elegant interface
-Large word display for easy reading
-View words sorted by Scrabble score, length, or alphabetically

UPCOMING FEATURES:

Thanks for all of your wonderful feedback! We're hard at work implementing some of the most requested features. These will be available as free updates to current customers.

-Dictionary lookup
-User interface improvements
-Others yet to be determined from your requests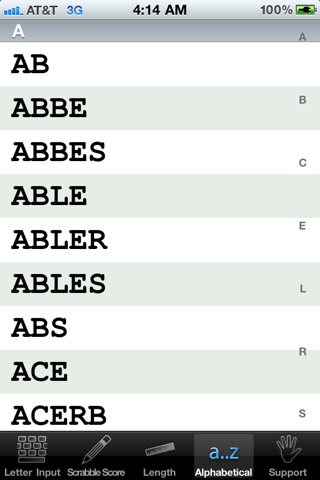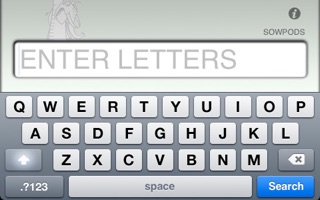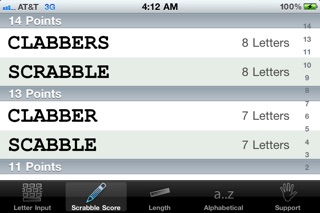 Powered by Facebook Comments
Customer Reviews
App needs updating
by Fvisfun
You need to update! Does not work with the latest iPhone updates
Love it!
by Dluvsmom
It's perfect for my iPhone while playing "Words With Friends" Do you plan on updating this app to work with iso 11.?
Blank screen
by MataiMatai
This is a helpful app. However, a blank screen keep pops up over the ability to USA it. I have to delete and download agai. This is a daily repeat. Please FIX this problem!
OS 11 deficient
by Mr. Lemmo
Shameful. Still no update for OS 11
Words
by Sloto-pogo
Needs updated to work with IOS11. Please fix soon!
Well that was a waste of money!!
by Pennywacker
I just downloaded this app a couple of days ago. After the first 2 times I used it, it quit working. There's a blank square in the middle of the screen, which won't go away...making the app useless. I wish I could give it zero stars.
Are you planing to update
by Zytigg
Good app but needs to be updated to work with IOS 11
Waste
by Bamahogman
Game freezes / Crashes a lot on a Dailey basis with iPhone 7 plus
Freezes up
by GrammaSmith
I purchased this app on both my Ipad and Iphone and it's frozen on both!!!! I can't even get to where i can click on the tab that says SUPPORT to even get any help!!!!!
Update, please
by EKWRD
Needs to be updated to work correctly with current and future iOS and Android systems.
Crashes more than a 3 year old playing Mario Cart!!!!!
by Doug the electrician
The app is exactly what it says it does however every other day it places a blank box over the box you type or edit your letter list and the only way to remedy the problem is to delete entire app and re-install as closing and re-opening does not remove blank box..... aggravating to say the least please fix this app!!!
Words
by Elsaj17
Needs to be updated! Locks up most of the time & has to be deleted & re-loaded. :(
Constantly freezes on IPhone 6
by Hawaiianbeaches
Word constantly freezes on my iPhone. The only fix is to uninstall and download again. Works without a glitch on iPad.
Crashes constantly since I switched to French language
by Vcbnjkl
Used this app occasionally for years, then once I switched to French it began crashing every third or fourth use. Would have given it 5 stars but for constantly having to remove and reinstall.
It finally died. 😪
by Deeashley
I knew the day would come, but I'm surprised it came not at a time of an update or change, but for no particular reason.., it just stopped. First on my iPad, now my iPhone. It was so simple and great to use! Shame. DON'T BUY THIS APP. It hasn't been updated done 2011 and will probably be worthless for you too. It now freezes upon opening (iPhone 6s iOS 9.3.something).
Problem
by Jrdlogue
This app keeps freezing up and I have to delete it and reinstall it. 😡
Freezes
by Harry Trosin
I have had this AP for along time and like it. But it has started freezing I have deleted and reinstalled it several times only to have it freeze again.
Not updated since...
by nicsmith25
This app used to be great but the developer stopped updating it so it no longer works.
Locking up
by Mjmorris72034
I have used this app off and on more awhile but now it seems to have locked up. I have deleted and reinstalled it 4 times now with the same results it will work then in locks up.
Good idea but not updated
by Dpd77777
The app is good and works as excited expected. The bad review is because the thing hasn't been updated in YEARS. Don't spend the money unless they update it. --the end!
Not Worth Your Time or Money
by Chatterbox37
I downloaded the app Words, A Word Finder for Games version 1.10 by Hidden Elephant onto my iPhone 5c and then again about a year later onto my iPhone 6s Plus in order to help me when I play Scrabble. At first this app seemed great, however I found that it frequently locks up, (frequently is an understatement!!). It especially locks up when you tilt the screen, which is very hard to avoid unless you lock the screen. But why would I do that? The app should work with the tilt screen feature not against it. To make matters worse, the only way to fix it is to completely delete the app and then download it again, closing the app doesn't help because it doesn't delete its prior data. Needless to say, this app gets VERY ANNOYING, VERY QUICKLY. After putting up with this for almost a year, I finally decided to write a review in hopes they it will help someone else steer clear of this annoyance of an app. FYI, I stuck with it so long because I thought there wasn't anything better (which is so wrong) and I thought they would fix the bug in an update (which they never did). Now I am trying Word Look Up Pro 4.1 and so far it works great! So please, DO NOT DOWNLOAD the app WORD, a WORD FINDER FOR GAMES, unless you want a life of frustration.
Hang ups
by Fredpng75
This app once was great but now I have to uninstall and reinstall several times a day. What happened???
Cheater144
by Winnie the phooey
Used to be good but freezes/crashes. Too bad. Have to delete and download in order to use it. Download. Delete. Repeat.
Words
by Gemini0673
This is a great app, but the fact that it freezes often (and won't unfreeze so you have to re-install it) is annoying. If you install this app be prepared to go on a vicious cycle of installing, uninstalling and reinstalling. I have not found an app that does what this app does better or equally so I deal with it.
Keeps crashing
by joenic15
Was a 5 star app, but after 1 use it crashes, delete and reinstall and still crashes!!!
Buggy
by Mmommm
iPhone 5 - keeps freezing requiring me to delete & reinstall
Not the best - but very good.
by Pvranch
Something is wrong with this app. Every time I go to use it I have to delete it and re-install it because it is frozen. I have used it for several years and was happy with it but it is screwed up.
What is going on?
by Ynoh-Tipoteh Alleyne
This was an AWESOME app when I started using it, now there's been no recent updates and the app just freezes until you delete it and reinstall it. Is anyone still paying attention to this app? We really need an updated version.
No updates in 5 years
by TrackerDS
No wonder it freezes. It was written for iOS 3! Used to be a 5-star experience.
Please update
by TheWordbecameflesh
App freezes with new iPhone 6. It works once or twice then freezes up. I've deleted and reinstalled a few times with the same result each time. I use it often so please update.
Freezes Up!
by Deborah4895
This is a user friendly and useful app, but it freezes up on me over and over. I use it one time, and then have to delete the app and re-install before I can use it again. There have been many complaints about this in the past, and I can't believe the administrators haven't fixed the problem. Very frustrating!!
unusable app
by Iamnobler
I paid for this app and I've only been able to use it twice. The app is frozen. I have deleted and reinstalled but still the app is unusable. Downloader be beware!!!
Crashes with iPhone 6+
by vmandrade
Crashed 3x on my iPhone 6+. Needs update
Locks up every single day!
by Great Scott Photography
This would be a five star word finder if it didn't lock up every day! I have to delete the app and reload every single morning. Please fix.
Need new
by Saylestx
It freezes all the time iOS 9
Use to be my favorite
by HollyMSK8
Crashes after about three uses. Then I have to delete and reinstall. Any chance for an update? I don't like the others. This is my favorite!!! :(
Issue
by Snnydee
Have to uninstall and reinstall to get it to work on phone. Works fine on iPad.
Used to be great but ...
by Joools76
... now it crashes after one use. In order to use the app I have to delete it and re download it from the App Store. Then I can use it once before it freezes again and I have to re download it again. Very annoying!
Meh
by 78904589
Ever since the new update this app crashes
Glitch
by AnnoyedAunt
I have used this app for a number of years. Great app. But I have noticed a glitch recently that the app freezes, daily, and requires me to uninstall and reinstall to work again. I wish they would fix this glitch. It used to work wonderfully.
Want my cash back
by Kerhaase
Crashes every time I use it, ugh!!
Freezing
by McAdele
I love this app, but for the last couple weeks it has been freezing so I can't delete the old entry or add new letters. The only fix has been to delete the app and download it again. I use it on an iPhone 6.
Fix it please
by Pnutbrand
Please fix the app to work with iPhone 6plus. Constantly have to delete and reinstall to make it work.
Someone fix this app!
by Jengle9898
I too have to delete and reinstall every day! It's an awesome help but a pain to live with.
Please fix
by dalorenz
This app was indispensable, however since iOS 8 it only allows one use then freezes in an unusable format. I cannot delete, start over, clear or type. I use to love it. Please update!
Bummed
by TKArnold
Worked great for 4 or so years. With my new ios (upgraded iPhone 5s), it works for about 5 cheats then I have to delete and reinstall. Very annoying now. Went from 5 to 1 stars.
Freezes.
by ravenwingx
This is really a great app but the latest version regularly freezes up and the only way to get it going again is to reinstall. Probably an easy bug to fix but a real pain to use.
My favorite.....BUT
by kat-in-texas
I love this app for descrambling words. However, it has been freezing after I use it one time. I have to keep deleting and reinstalling it! Pain in the patooty!!!
Can I withdraw my review?
by DeadEyeDonna
There's a MAJOR problem with this app that I wasn't aware of at the time I left my first review: It keeps crashing and freezing. The only way to get it unfrozen is to delete the whole thing, then reinstall it. So far I've done that about 7 times. SUPER frustrating!