Word to Word - Brain Games
by
MochiBits, Inc.
(984 user ratings)
FREE
Download size: 92.46MB
Version: 3.0.1
Released: 2011-09-08
For ages: 4+
Challenge yourself with this fun and addictive word association game.

If you love crossword, word search, or hangman, you will love this new twist on word association.

5/5 "VERY addictive! Good daily brain food"

5/5 "I love this game. It's totally addicting. I keep saying that I'll just play one more game and then many more games later, I'm still playing. Great fun game."

Hot... Cold.
Smart... Intelligent.
Fire... Truck.
Dog... Cat.
Sugar... Coffee.

Match words that are associated to each other!

Words can be opposite.
Words can mean the same thing.
Words can be compound words.
Words just have to be related!

Be careful though! As puzzles get harder, a word can have multiple matches and associations so you'll have to get the right combination of words to complete each puzzle and solve all the pairs.

Word to Word comes with 40 free puzzles, and you also have the option to buy gems to unlock more puzzle packs.

Enjoy!

-Kyle and Howard (Team MochiBits)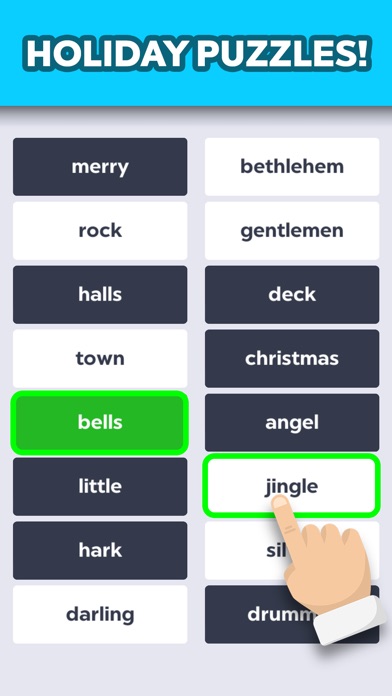 Powered by Facebook Comments
Customer Reviews
Really fun, should be free
by Normal is Boring!
A lot of thinking and great practice.
Puzzled
by Pinklight
Buying higher levels ????? No
Great for passing time
by Want answers
Good for on the go playing.
New to the app
by Sully's mum
I'm a word game person. So far, I have enjoyed the vocabulary challenges.
Good Brain Food!
by Metros
I am thoroughly enjoying this game - that's coming from someone who doesn't play games on their phone. This is probably the third game in ten years. I especially love the one having to do with Romantic movies! I'm very much a Movie Junkie and a "Hollywoodie"! Nevertheless, I agree with a couple of the other reviews I read - I don't like having to do the "gem" thing! I wish there was an in-app option to pay a one time price! Other than that....no problems!
Corbiem71
by Corbiem71
Great game!!
40 free then they want $$$
by Reppepami
I enjoy playing this game, but after playing the 40 free games they want you to buy puzzle packs. Once I finish the 40 free ones, I'll delete the app and play the other words games I have that are free.
New to Game
by God isopod
Love it so far..BUT JUST SAW AT SOME POINT I WILL HAVE TO BUY.....NO. BYE
Nice brain game
by just1moreid
Brain game for passing time
Great Game!
by Noel star
I enjoy this game very much. Play it all the time.
LOVE
by Callooh.Callay
I love this game. It is hard to put down. This makes me feel smart, not the highfalutin kind of smart, but more of a snaughty kind of smart. The kind of snaughty feeling you get when you are the only kid with a candy bar. I like this game. It makes me feel candy bar smart.
Great fun
by 11port
Really enjoy. Trying to go as fast as I can.
Great game!
by Redjeep4me
Love it!
Fun Word Association
by AHartShoe
Just started playing. Lots of fun !
Fun with words
by *K-chan*
Might help students on standardized exams.
Great game
by TheSmora
This game is so much fun. If you like words this is for you.
Love Love Love this game
by Babynetta
I'm hooked already. Challenging in some instances. Makes you really think at times.
Fun
by Nickname already taken 57
Fun word association!
Great vocabulary builder!
by Chrustine12161
Is there a free way to access for school? English classes!? Help!
Great Game
by $$$$72
Just stated playing, keeps your mind going
Enjoy a Lot but...
by BOOPME52
Really enjoy but will probably quit after playing the freebies that are very few.
My Favorite Game!
by BethRomig
I am totally addicted to this game!
FUN, FUN & MORE FUN!
by Ghia360
I find this game to be both fun & mentally stimulating. I love the changes in the word associations from game to game. It keeps you on your toes!
Awesome Game but I won't pay for it
by Hopeplaya1
I love this game! It is great to keep my mind sharp and it's so much fun but I'm uninstalling it today. I just got as far as I can go without paying and it's not worth it to me. If there were more free levels, I would rate the app a 5.
Wordsssss
by Nepmer
Awesome game. Keeps the brain sharp! My first day playing but reading the other review,,, I will only play til u have to pay 😊
Fun game
by charlesqc2
Great way to pass time
Just keeps getting better
by Yanxfan49
I downloaded this App when it was first available way back when and purchased all the levels available and played them often. After a while I slacked off and didn't play it until recently when I noticed that there were other variations available. The format changes and animations when you successfully complete a puzzle have made me an addict once again. Thanks for continuing to improve and update this wonderful game.
Stimulates the Brain‼️👍
by Manuela Girl
Love it‼️👌
Good review
by Gismile
It's good at helping me review word definitions through association.
Mrs
by Zada0
Help me I can not go forward in my game due to a glitch in level 2 and I was so enjoying it. If you can't fix it please return my $20.00.
Contagious
by It'sover
When I first loaded game I went thru 30 games in one sitting. Fun, game
Bummer having to buy so much
by deborah4905
It would be better if you could unlock the next level just by winning the previous one. Cost way to much for the average person to play !
Must Have!!
by 99/won't
I love it, it is a brain teaser. It wil keep you sharp!!!
AWESOME
by KometsandForce14
I think it's really awesome because there's holiday levels and regular levels, I just wish that you didn't have to use gems to get higher levels, fix this and a 5 star review
Very fun and challenging!
by Ll2607
I have only been playing for a little while but already I have loved this game. It has already made me use my brain. I love it! I hope I can earn points to be able to keep playing without having to buy more games.
Challenging
by Me58me58c
I love it
Word to word
by Peg Daniels
Fun game just not fun when it requires you to purchase gems to continue playing. If that is the case game shouldn't be listed as a "free" game. Not fair that's why I rated it three stars game is fun but watching adds is not.
Word to word
by dcpudkat
Lots of fun- some easy, others hard. Perfect balance
Word for word
by Cee. J
I agree that the game is fun, but it's not fair to get you interested just so you'll buy more
Enjoyable
by Nan-an
It is great but like all the others it can get EXPENSIVE
A lot of fun BUT...
by Kellyo424
You only get a handful of free games/levels. Once those are done, you have to pay for more. Would rather they just charge for the app and give me free game play (or use an unlocking level system). It's a lot of fun, and very creative. But I'm not paying for more levels. With sadness I'm hitting DELETE...
Love it BUT
by DJW gator
Only so many levels are free — once you're hooked on the game, you need to purchase new levels to continue. Boo!
Word!
by mircip
Fun game! I don't like having to purchase higher levels.
Awesome!
by Miarff
Love the challenge. Maintains attention span.
Connections
by UnvleO
Build mental connections, builds ability to make more connections
Great game
by lemonvodka
Please offer more free puzzles!
Good for brain
by Lazy rattlesnake
Stimulating for your brain cells!
Great app
by BSDERT88
This app is very interactive.
Fun
by Joey!16
Gets you thinking, challenges your vocabulary. Lots of fun.