Word to Word - Brain Games
by
MochiBits, Inc.
(315 user ratings)
FREE
Download size: 92.46MB
Version: 3.0.1
Released: 2011-09-08
For ages: 4+
Challenge yourself with this fun and addictive word association game.

If you love crossword, word search, or hangman, you will love this new twist on word association.

5/5 "VERY addictive! Good daily brain food"

5/5 "I love this game. It's totally addicting. I keep saying that I'll just play one more game and then many more games later, I'm still playing. Great fun game."

Hot... Cold.
Smart... Intelligent.
Fire... Truck.
Dog... Cat.
Sugar... Coffee.

Match words that are associated to each other!

Words can be opposite.
Words can mean the same thing.
Words can be compound words.
Words just have to be related!

Be careful though! As puzzles get harder, a word can have multiple matches and associations so you'll have to get the right combination of words to complete each puzzle and solve all the pairs.

Word to Word comes with 40 free puzzles, and you also have the option to buy gems to unlock more puzzle packs.

Enjoy!

-Kyle and Howard (Team MochiBits)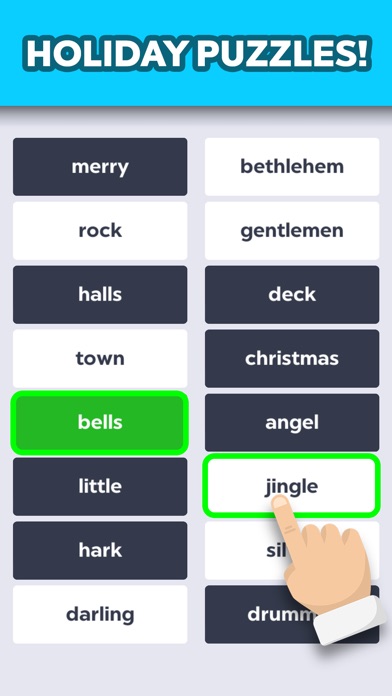 Powered by Facebook Comments
Customer Reviews
Money, money, money
by jholis
Love the play, hate that I have to pay for it
Fun
by Wyvonda
Love word association games.
Word to word
by sickofthis
Fast paced and educatioal
JUST PURCHASED
by The.goat.lady
Enjoying the game; word associations are logical and challenging. Don't know yet if I'll pay once I run out of free games.
Momof4
by Tb878
Lots of fun!!!
Good game but....
by Nashaya32
Great game but must pay to continue playing it. Not worth it.
Love it! Word association rocks!!
by Jennmags17
It's a fun game that keeps you on your toes!! I highly recommend it!
Very fun game
by Mandi4787
This is a very fun but challenging game. I enjoyed the free levels but am super disappointed that past those, you have to purchase gems to unlock higher levels (you have the choice to unlock all the levels but it's quite expensive for a word game app). Would love to keep playing but stopped because of this.
Pacesetting
by KeyserSoze7
Like it because it's face paced and keeps you thinking while also increasing one's vocabulary. Might purchase the full version.
Awesome game!!
by KauaiCandygirl
If you love words-this game is for you!! I love words and I love playing this game!! This game is awesome!!! I can play it for hours!! Thank-you for creating such a GREAT game!!!
Addictive!
by Jrkervin
The further you get into the game the harder it becomes and you really have to think. I enjoy this game, but looks like I'm going to have to pay to play more, so I guess when I finish this section I'm done. It would be a 5 star game otherwise.
Ct
by Cathye248
Great for passing time on an airplane. Makes trip much quicker!
Relaxing
by whispurrr
So far so good!
Sorry Not Sorry
by RayneSpade
This game is excellent but there is no way to advance past the 1st pack unless you spend money buying Gems. That is really unfortunate because I was really enjoying this game. I will be deleting and looking for a new game 🤔😔
Fun game with glitch!
by BruceB.
Pretty well a fun game but had two levels with two words that didn't match need to be more careful!!
Fun but limiting
by Nightowl 47
It's a fun game, but I would rather buy it from the get go, rather than have to constantly buy up.
Great Game!!
by cinzia33
This is a really fun game and a great exercise for your brain! The pairs of words are not always very obvious, so sometimes you have to really think about which ones work together the best. I love this game and would highly recommend this to everyone!
Fun
by T.84obriant03
Enjoyed tremendously
If there were a zero, I would score it.
by Pineapple dessert
Why download a "free" game if you can't play until you buy gems? Who knows if it is good or not?
Makes you think
by Gma2p&j
Fast moving if you want it to be.
So interesting!
by Irishrednecks
I love how the matches keep you attention! It never gets old! You have to really think about your matches because there may be more than one match for some words!
Great game
by Ginger1112223
Fun and addictive
Word game
by Patty red velvet cupcake
This keeps my vocabulary above President Trump. Maybe he should do this instead of twitter
After an hour of free games, you must pay
by Beka1983
The game itself was really fun, but there are only 40 free games. That took about an hour. Then you have to pay to unlock more games. Supposedly you can use free "gems" earned by watching videos, but you can only watch a few a day, and you'd need to watch almost 100 videos to unlock any games. It makes me angry. Just have a paid version and cut this crap out.
Great game!
by Shawneeme
Love it. One suggestion - when someone wins again, give us about two seconds before you switch to the new game. Sometimes I would like to review the connections when I complete the game. Otherwise wonderful game!
Fun
by Meganh09
So far so good.
Fun fun
by Conls
This game makes you think . It's
True test.
by Blsflx
Gets tougher as you move to next levels. A real test of how well you understand and use the language.
New update has issues
by madaboutweims
I love this game and played it all the time before the new update. The 2 issues that I have a problem with are: 1. The game is playable in portrait layout only on my iPad Pro. I have everything on my iPad in landscape layout, as I did with the previous version of this game. But this new version can't be rotated and I find that having to hold the iPad Pro up like a book gets heavy in the hand. 2. Secondly, there is a popup of some other game that appears from time to time that is truly annoying! You've made it difficult to get rid of by delaying the appearance of the tiny X in the upper right hand corner that closes it. It seems to me that you could at least offer an in-app purchase that would prevent this intrusive 'other' game popping up! If not for these 2 issues, I would have rated the game 5 stars.
Word Fun!
by Renee7979
Lots of fun with words and no spelling involved!
Loads of fun
by Knew2Knitting2
Entertaining and fun.
Word to word
by Bikney
It really challenges you. I'm always looking for things to exercise my mind. I feel word to word really puts it out there in more ways then I've seen so far. It gives you a better understanding of words too.
Fun
by Berdrop
Fun game! , but very easy!
Word to word
by Myrtle1973
I love this game!!
Satisfying up until...
by ЛUЛЏΛ_БłZЛΞSS
They force you to buy word "packs" to continue playing... It takes very little time to complete the "free" game playing experience Oh well, I guess the all psychological needed & collected data (per phone owner algorithm) can be gathered in that small amount of "free" play time period DELETE
❤️❤️❤️
by Nikela.j2789
Addicting
Gems
by Scitalia
I down loaded this because I enjoy games that challenge your brain, you only get forty free games then, you need to puchase gems to play more levels. If I knew that I would not of down loaded it because I do not buy extra coins or gems to move on. It was fun though.
Fun
by Kdrew23
Should make it easier to get more levels
Fun
by Witchypoo4
Great to pass time
Brain gain!
by Pollyack78
Play it! Fun fun fun!
Cahedg
by Cahedg2
This is a very refreshing game to play just love it. 😍
Fun but....
by Angiemama313
I hate having to purchase higher levels. Watching ads is enough. Plenty of games I play you don't have to buy higher levels. So basically I'm done.
Fun
by Ming70
This game is SUPER FUN!!
Mind work
by mslanelib
I feel like I'm learning something playing this game. I don't play for time or prizes. I work at my own pace. It's relaxing.
Word to Word.
by Harry-Lee-Charley
Fun and Very Good Brain Game I just wish it was Not Soo Expensive to Buy Gems. I bought 1000 for 49.99 Thinking That Amount would last a long time. This buys Me 2 Packs. There are many more Soo then you Spend Another. 49.99. Wow That is 100 hundred Dollars. but then after that you needyo buy another 49.99 for Another 1000 Gems. Now I have Spent 150.00. Wow that is Alot I will Not be Spending All that Money. way too Much for a Game Even if it is a Fun Fun Fun Game. We all have Bills to Pay. There are Games to play that are Free.
So FUN! BUT...
by Morgan2671
I love this word game, it is by far my favorite! I just wish we wouldn't have to purchase higher levels. :( You can only get so many gems.. and having to purchase them to continue to play the game, not really fair.. I wouldn't go that far honestly, so I'll play until I can't play anymore I guess. Please make it where you don't have to purchase higher levels, the game would be so much better! You should be able to finish a level of how many are in the category round, and open more! That would be so much better! I highly suggest making it where you can win the level and open the next one, otherwise there's really no point in downloading it, to only be able to play one level. No one wants to watch a million videos to get gems or have to spend money. Please fix that! I would give it 5 stars otherwise..
So far So Good!!
by -jbwan-
Just got it, so really can't tell a lot about it. but I'm having fun so far!!!!
Makes me anxious
by Crocdoc325
Although I've done well, I get anxious if my initial pairing of words is not totally correct. I am a fast test taker, and always did well with this sort of thing in college and grad school. I guess it's because I'm not as sharp 30 years later.
Fun!!
by hofymama
I enjoy this game