Word Jigsaw: A Jigsaw Puzzle for Word Game Lovers!
by
Sarah Pierce
(553 user ratings)
FREE
Download size: 35.69MB
Version: 2.0
Released: 2012-01-12
For ages: 4+
Word Jigsaw is a simple and addictive word puzzle game!

A list of words has been broken into jigsaw pieces. Can you reassemble the puzzle and figure out all the words?

Word Jigsaw is awesome exercise for your brain. It combines verbal and spatial reasoning, and it's a great way to improve your spelling and vocabulary. Six levels make it perfect for both beginners and those who are looking for a serious challenge!

Be sure to check out our new Daily Crossword feature! There are three free Daily Crossword Jigsaws every day. Can you conquer all three?

Features:
• Six levels (three are free)
• Unlimited puzzles using 30,000+ words
• Great for building vocabulary and spelling skills
• Tracks your averages, times and records
• A fun mental exercise to keep your brain sharp!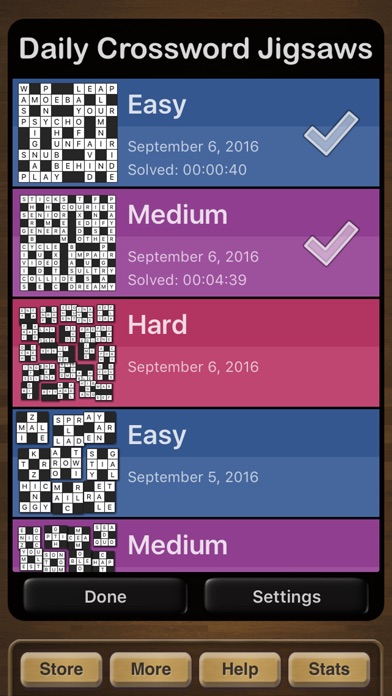 Powered by Facebook Comments
Customer Reviews
Word jigsaw
by Flower girl.
Keep your brain sharp. Makes you use your mind in different ways. It's a good mental exercise.
Good game, needs fixing
by Blm3033
Interface is user-friendly, vocabulary is challenging and interesting. Problems: the puzzles aren't numbered and listed on a page so you can go back and play them again later; the only time you get that chance is right when you solve one. More important - the game tends to use less-common spelling variants (according to merriamwebster.com) and just plain misspellings (bullrush instead of bulrush, humungous instead of humongous, schmalzy instead of schmaltzy). This makes the game unnecessarily and unfairly confusing.
Word jigsaw
by Boylaki
The daily hard puzzle, the board was so crowded. Cannot arrange the blocks properly. I enjoy it so much. This is one of my memory/ brain exercise. For a 74 yrs old like me i need it. But i have hatd time sorting level HARD. The blocks are so crowded. An you fix this problem?
Big fun!!
by Jbmulre
It's a great little game that really challenges your mind.
Fun game with added bonus
by We;742!
Love this game. I play it every day. Never tire of it! I would love to to see more of the daily crosswords which I am totally addicted to
LOVE this game!!
by Lhjrn
I play in bed for relaxation. I never get bored of this like I have other word games. This is a keeper!!!
D
by Dfled2
Love the game, will like to see more hints.
Word Jigsaw
by Bikey70
Good way to keep your spelling skills going after retirement.
Fun
by Nitnat1981
Fun word game not too hard not too easy Bonus is the tip button that pops up when you get stuck. :)
Love
by Dawoofmom
Love this game and have played it off and on for a long time. Only wish I could opt to turn off the timer. Games that time you are not relaxing.
Word jigsaw
by Aasdfaa
Great. I enjoy doing it every morning
Fun
by Tidy freak
Great fun for all ages
Mrs
by Olivi2525
I look forward to relax and playing this game, for a few minutes at a time. Thank you for keeping it up to date. Great game to relax, at same time challenge myself. Excellent game. Great to keep in touch with friends, and keep up with spelling. I specially enjoy the daily challenge games. Thank you. Mrs L
Lots of fun
by Marmlin
I enjoy figuring out the words with the jigsaw word pieces. This is a good way to broaden your vocabulary, too. I look forward to getting the new crosswords everyday.
A Fun Puzzle
by Nick Fame
I love this game! It helps me use my mind in a creative manner and there's none of that feeling/baggage that you've got to finish the puzzle very quickly to prove your smarter than everyone else.
Love love love this!!!
by Rfjitfrjvifr
This is a good game. Challenging and different from most other word games. Especially love the daily crosswords!
Addictive
by Right Now
Love this game once I read the rules. Dumb me!!!!!!
I Love This Game
by BarbaraBoomBoom
I love this game especially since you added the Daily Crosswords. I do both easy and medium.
One of My Favorites!
by Gannondale
I love this game.
My wake-up game!
by Suec28
I enjoy the daily crosswords in the morning, gets my brain started. I've been playing this app for awhile and enjoy the variety it provides. Never had any kind of issues! Way to go!
Puzzle Fun
by LovingFam
Great app!
Addictive and Smart!
by Wordy Lory
I don't have a lot of time to play games but when I do play I am drawn to games that in some way better my mind. I found this through a friend and it is my new addiction. It is challenging and fun; a cross between word knowledge and a puzzle. I find the combination intriguing!
Right Down My Alley!
by Mumlie
What more could you ask for?! A jigsaw puzzle that's also a word puzzle! All levels free? Because I'm retired and on a fixed income, I can't buy the premium version of all my favorite apps, so I just keep playing and watching ads! I sure would like to work the Big, Bigger, and Giant puzzles, though.
GREAT App!
by Jim_Lights
I've spent hours on planes, trains and coaches playing this game. There are minimal ad interruptions and the content is engaging. The crossword puzzles are a nice bonus. Simple and unpretentious.
Excellent
by Sreins
Good addition to my daily list of puzzles.
SO DANG FUN!!
by Lucheena
I just started playing a few days ago but I haven't been able to put it down! I love having something to do with my hands instead of just staring at a bunch of jumbled letters and trying to find the words hidden in them....just staring, with nothing else to do....YAWN. This game is fun & challenging and has many different levels of difficulty that you can switch back and forth to so you're not just stuck at one particular level. I really like that versatility because some days I like to play it "easy" and a bit more relaxed.
Love the challenge
by ad. rate? upgrade?
Just challenging enough. Love it!!
Great fun
by wonder6
Great fun
Word jigsaw
by pst1961
Great game!!!!
Great Game
by Sams1945
Works the mind! Makes you think! Still great.
Love this game
by pzlove
I really like playing this game. Keeps my old mind working.
Fun app
by Mrsskxyz12
I love this app.
Relaxing brain tickler!
by Kukaroo4vr
I really enjoy the relaxed mode of these word puzzles but find I slide the pieces together more than pay attention to the words. I enjoy the Daily Crossword the most because I have to actually work with the words both going across and up and down. It would be nice to have an app for just the Daily Crosswords format. It's more challenging without being more difficult. I've discovered words I didn't know. Go figure!!!
Good game
by Wensellsrox
I like this game a lot. Great for a quick word game fix. You don't have to get through "levels" to challenge yourself with a more difficult game.
Fun Game for all Ages
by Justomdr
The whole family like this game.
Great Game and Quite Addicting
by DaBKLYNKid
As said in so many of the other 4 and 5 Star Ratings, this is really a fun game which works well to pass some relaxing idle moments. Yes, both a puzzle and a word game combined in one. If you are having difficulties, it provides hints at the 2 and 4 minute mark to ease the frustration. I play their highest level free level which is labeled MEDIUM and enjoy the challenge. There are two additional levels which you can purchase and also avoid the ads that come at the conclusion of each game. I simply mute my sound and "X" them out. Overall still a 5 STAR AP by my standards. If you have played SCRABBLE in the old daily newspaper, You'll love this SCRABBLE STYLE GAME and the added JIGSAW TWIST.
Awesome update
by safetyfirst333
I thought that it was an amusing game. Then I discovered the daily crossword. Wow! Perfect puzzle. Challenging but doable. I eagerly wait each day for the 3 free crosswords of the day. You make my day. The only thing I would add is a button to move all the current pieces in one direction, since I never start in the right place. But not that hard to move manually. Again, perfect!
Word Jigsaw
by Aardpiggy47
Very interesting game. Fun to play. Great pastime.
Word Jigsaw
by Amiya2
I enjoy this very much. It is challenging and stimulating and a good way to relax. I am a word game lover and I like the different size puzzles for when you want easy or hard.
Fun app!
by texas baseball
I have enjoyed this app for quite awhile!
mauibabe
by getfuzzy211
Very fun and mind challenging game!
Jigsaw Cocaine
by jkl56mom
This is a jigsaw puzzler's kryptonite! Once you start playing, you can't stop! Being timed makes you want to beat your last score. Absolutely love the Daily Crossword Jigsaw!!!!!
Fun and addictive
by ekthompson
This is a fun game. So many puzzles. Just when you think you can get them all with ease one will pop up that is harder and you want to keep trying.
Word puzzle
by Giggee2
This game is absolutely the most fun!
Fun with words
by Travinzo
A nice change of pace from the mindless "match-4-or-more-in-a-row" games. Keep 'em coming.
Love the 2-in-1 game!
by Suzi B-Miami
I always play "Giant" mode when I play Word Jigsaw. Having a Daily Crossword included in the app makes it even better. Good job!
Challenging
by Columbusohmm
The app tests my mental and spatial capabilities
Word jig saw
by Mother.in.law
I love, love, love this game!!!!!
Great game! Makes you think....
by Good app! ...
I love seeing how fast I can complete the grid... it's great fun.
Great fun!
by specedwina
This is sometimes challenging as it's vocabulary is appropriately diverse and deep. I like it a lot!