Word Jigsaw: A Jigsaw Puzzle for Word Game Lovers!
by
Sarah Pierce
(738 user ratings)
FREE
Download size: 35.69MB
Version: 2.0
Released: 2012-01-12
For ages: 4+
Word Jigsaw is a simple and addictive word puzzle game!

A list of words has been broken into jigsaw pieces. Can you reassemble the puzzle and figure out all the words?

Word Jigsaw is awesome exercise for your brain. It combines verbal and spatial reasoning, and it's a great way to improve your spelling and vocabulary. Six levels make it perfect for both beginners and those who are looking for a serious challenge!

Be sure to check out our new Daily Crossword feature! There are three free Daily Crossword Jigsaws every day. Can you conquer all three?

Features:
• Six levels (three are free)
• Unlimited puzzles using 30,000+ words
• Great for building vocabulary and spelling skills
• Tracks your averages, times and records
• A fun mental exercise to keep your brain sharp!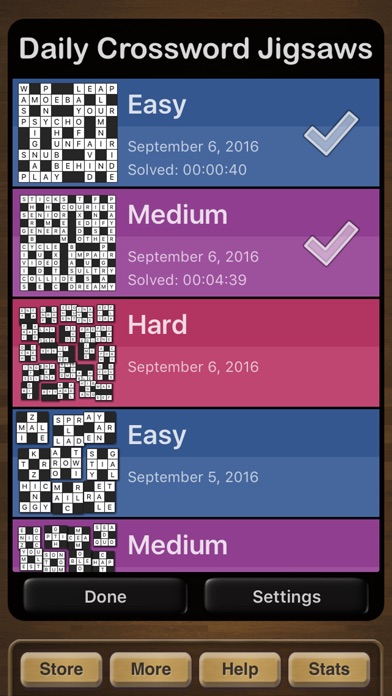 Powered by Facebook Comments
Customer Reviews
Sarah's game
by Zippy 32456
This game is fun and challenging as is many of Sarah's games. Enjoyable.
My new favorite game
by Trolley Molly
This and Word Solitaire are the only games that I play much. I just discovered this one a few days ago and I'm already in love. It's endlessly fun and challenging. I mostly play the medium size, tho i've paid to unlock the larger ones - I think they're the perfect size for a quick game. What I like is that I can solve some of them in 30-45 seconds and some of them take three or four minutes. If they were all too easy, it would quickly get boring, and if they were all too difficult it would get discouraging.
great game
by Fly girl 10
Been playing since I got my iPad..... try to play a few times a day.....keeps my mind working.....at 83 yrs old....you have to try everything!
No downwards
by Drsgr
I like this game but I just can't deal with the down words not being a part of it. My favorite is daily crossword.
Fun
by Nitnat1981
Fun word game . Love you can do easy or tricky. If it's too tricky and takes too long it gives you hints .love the daily jigsaw puzzle too. Great way to spend my quiet time.
Love the Daily Puzzle!
by WxDoc
I LOVE the Daily 3-Level Puzzles in this app! I look forward to starting every day with solving them!
Great game!
by Dad_in_Seattle
Word Jigsaw is a great game for those who like word puzzles! I play it all the time. I've learned a lot of new words from it. It challenges both sides of my brain simultaneously!
Word jigsaw
by Aasdfaa
Great. I enjoy doing it every morning. This morning I didn't get the crosswords. Am really upset because I love doing it.
I'm sorry so much has changed to make this game more commercial.
by Bandonkr
I am about to throw this one away. I have loved it for years. I forgot about it when I brought my games to a new iPad. I came across it and played it a bit and started saying nasty things. Every few moves an ad would pop up. It would wait a bit before offering the 'x' to get rid of it. Argh! Where is the fun in that?
Great Fun & Addicting!
by Michtrixie
I love word games and this has become one of my favorites. It's so addicting that I paid for the full version. Would recommend for anyone who loves word puzzles. 2/17/18 - still loving this game!
A challenge
by Oldest player
Wow love this new app!!! Had to put my thinking cap on...sometimes you can solve in seconds & other times 5 minutes!!! Don't give up on you...keep pushing yourself! I know I do me & I'm 75 so if I can do it & keep my mind sharp you better believe I'm doing it!!!! Lots of levels to really test you!!!!
Starts my day off right
by gcimagine
This continues to be My favorite morning coffee game. I Play the 9 letter word size and try to not use hints. Keep it coming!
Loud ads wake everyone in the house!
by drjohn71a
I absolutely love playing this puzzle for calm relaxation, but the sudden, high Volume pop up ads are so stressful and embarrassing as they shock anybody around me... as well as me.
Rating
by Pinkshades
This app is really cool so far it allow you to think and when clueless I gives you small hint and you also levels to enhance yourself
Great, challenging
by BarbND
Update - 11/30 words more challenging, thanks for that. Good app. Recommend to any word obsessive puzzle player.
Addicting and fun
by katimomkat
Half word play, half shape puzzle—what's not to love? I've had great fun playing (and playing and playing), and find it quite addicting. But mostly I love, ❤️, love the crossword tile puzzles. Fun, fun, fun!
Fun!
by Musidor
This is just challenging enough, & you never run out of new puzzles to do. After doing the horizontal puzzles for years, I just noticed the daily crossword-style puzzles (are they new, or am I that unobservant?!) and they're great too. This is one of my favorite apps for word games.
Addictive to wordsmiths...multiple daily hits are soon needed!
by Windy old salt
Also, great for two players to solve together.
Love this app!
by AnnyOkley
I really like the fact that one can go from tiny 4-5 word puzzles & grow from there to longer & sometimes more unusual words. I 'be only been playing a week or so, & I really like that I'm challenged!
Excellent Word Game!
by Skw143
As others have said, this is a very enjoyable app to play. If you like word games, you should give this try!
Enjoy!
by ED1901
Enjoying every minute of play. Just enough challenge to make it interesting but not overwhelming.
Word jigsaw
by Booboobear88
You won't be able to stop playing, wry, very, very addictive!!!!
Love this game
by pzlove
I really like playing this game. Keeps my old mind working. Thanks for the game.
The game I keep going back to.
by Suricata Whitewater
Year after year, I keep going back to this game after I finish some other game. The joy of seeing the words reveal themselves never gets old.
Love this game!
by Yaucana3
Love this game
Daily challenge
by AM person
Look forward to solving a puzzle each day
Relaxing especially for retired people.
by Arryson
Keep going.
Word Jigsaw
by Ranchoevon
I have been playing a different game for years and could never find a word game to replace it. Well I am now switching to this game. Word Jigsaw is very fun and challenging. It holds my interest like a top game should. Thanks I love it
5 stars
by aunt joan
Lots of fun makes you think?
Stop asking for ratings
by NoKleverName
Fun game, but keeps soliciting ratings from me. Maybe this will stop it.
Love It!
by Mago1987
I enjoy this game a lot. Really addictive, makes your brain work. I would think about shortening a little the time for Hints to appear, other than that, I really love it!
Daily crossword
by Bfavsgone
I like the daily crossword
Wonderful word game
by Dday7295
I love word puzzles of any type, and this is one of the best. The different levels offer you a variety of challenges, and there is always a new puzzle available so you don't get bored. I just recently discovered the daily crossword, which is a whole different puzzle and oh, so much fun.
Great daily crosswords!
by Min234
Fun new challenge each day.
Great word game
by cmih56
I love word games and this one is probably my favorite! Keep up the great work!!!
Good game, needs fixing
by Blm3033
Interface is user-friendly, vocabulary is challenging and interesting. Problems: 1. the puzzles aren't numbered and listed on a page so you can go back and play them again later; the only time you get that chance is right when you solve one. 2. More important - the game tends to use less-common spelling variants (according to merriamwebster.com) and just plain misspellings (bullrush instead of bulrush, humungous instead of humongous, schmalzy instead of schmaltzy). This makes the game unnecessarily and unfairly confusing. 3. Some puzzles actually have missing pieces - either there are several missing, which you notice at the start, or - more frustrating - there's one missing, which you find out at the end, after wasting time checking that it's not hidden under other pieces. This game needs work!
Challenging
by Vb1793
This game is challenging and addictive. I like games that make me think. This game does that.
Locked larger boards.
by EnnellTee
Latest version locked the larger boards. Don't bother.
Ad?
by RFB62
I have had this game, Word Jigsaw Premium, since June 2014 and all of the sudden I am getting ads after a couple of games. Why is that?
Two games in one
by Lizard kitty
More like two games in one: an anytime jigsaw, and a daily tri-tiered crossword challenge. Both games are simple to pick up and fun to play.
Fun way to work your brain
by Saltfine
Figure out letter orders to create words and place puzzle pieces together containing letters. Analytical and intuitive at the same time. I really enjoy this game! Thank you!
Addictive!!!!
by B's grandma
Great game!!!!
Fun Game!
by Bee-maw
This is a fun game, very relaxing.
One of my favorites
by Anne216
A good game that challenges your brain.
Enjoy it But.....
by Mj2red
I really enjoy this game and think it is a great mind game to play when you have a moment to chill. I look forward to playing it but when there are skips in the dates or it gives me a game for a day ahead it makes it really annoying. Went to play it today and the puzzles for the 29th are not there. It seems to skip random dates. If I miss a date the puzzle for that day is missing. Would be great if the dates were right and refreshed properly. When it skips dates it is very frustrating. You can't go back and play a date you missed.
Simply outstanding
by Ejbleen
This is really two apps in one. There is a multi-level word-building game using horizontal words, and a three-level daily crossword creation game. The various levels mean you can match the difficulty to your ability and available time. It's more demanding than most other word games in the App store, so the rather vanilla graphics are entirely appropriate because the focus is on the game and not on flashy presentation. I usually resent paying for apps, but a measly $3 makes the ads go away and opens up additional levels. If you explore a little and find the photo of the developer, you'll see that it's actually Sarah's child who is programming this great app. Quite remarkable!
Only complaint is type is hard to read on my smaller phone
by Sportynerd
Love the full crossword jigsaws. A great variation on crossword puzzles and a different way to use knowledge of words.
Word jigsaw
by Flower girl.
Keep your brain sharp. Makes you use your mind in different ways. It's a good mental exercise.
Word jigsaw
by Boylaki
The daily hard puzzle, the board was so crowded. Cannot arrange the blocks properly. I enjoy it so much. This is one of my memory/ brain exercise. For a 74 yrs old like me i need it. But i have hatd time sorting level HARD. The blocks are so crowded. An you fix this problem?
Big fun!!
by Jbmulre
It's a great little game that really challenges your mind.