Word Jewels® 2 Wordsearch Crossword Puzzle Game!
by
Boy Howdy Technology LLC
(909 user ratings)
FREE
Download size: 48.09MB
Version: 1.14
Released: 2012-07-19
For ages: 4+
"Terribly addicting! ••••• I have refused for years to ever get into a single game app, and it was always easy until I found Word Jewels. So fun, so quick, I can't say enough about how much I enjoy the game!" --Jordan SC

Word Jewels® 2 is SUPER FUN and 100% FREE!

••••• "This is such an addicting game. I absolutely love it!!!!!!"  --hb9202010
••••• "Love this game on my phone for all those 'waiting' times in life." --NannerBanner
••••• "I absolutely love Word Jewels. I hope to keep playing this game for a long time. It is never boring. Thanks for making it free!" --2011bulldog
••••• "I like word games with friends, but get tired of the timed ones. It's really relaxing to take your time and strategize without racing the timer. And with a choice of five games I can play different ones and switch back and forth" --Jllew333


EASY TO LEARN AND PLAY!

• One-minute tutorial that teaches you how to play!

• Make words in any direction with just a swipe!

• Your goal is to make words that use up all the red jewels, but you only get a few "moves" each level to make words… You can do it!


FIVE GAME MODES TO SUIT YOUR MOOD!

• Want classic Word Jewels word-finding, that's even better? Try Classic Mode!

• Do you love making it to high levels, but get frustrated when you get snookered by a Z in the corner and have to start over? Try Endless Mode!

• Want a super-hard challenge that's not for the faint of heart? Try Challenge Mode!

• Got ten minutes? Try Rally Mode to play ten levels of patterned jewels that are just like the multiplayer game Word Rally, but solo!

• Or try Blitz Mode! In just one level, how high can you score? Use the multiplier jewels and see how high you can get! Bet you can't just play it once…


RELAX WHILE YOU SHARPEN YOUR MIND!

• No timers, so take your time and find the best words

• Beautiful graphics and animation

• Relaxing sound effects

• Listen to your iPod music while playing


GO FOR A HIGH SCORE!

• Score summary shows you how well you did

• Compare your scores with the world using Game Center (iOS4/5 devices)

• Post your scores to Facebook and Twitter to challenge far away friends


WORD LOVE!

• Huge English dictionary included to verify words even while not connected to the internet!
(Word Jewels uses the YAWL word list, which has 264,097 words! Valid words must be 3 letters long and NOT be proper nouns, as is typical for most every word game.)

• Automagic letter balancing, to help from getting trapped with a big ol' pile of consonants with no vowels, or with too many duplicates of the same letter in a group!

• Magic auto-save - go ahead and quit the game, take a phone call, send a text - when you come back, your game will be waiting for you! Works on both old and new iThings!

• 54 Game Center Achievements to earn!



Thanks for playing Word Jewels!
Come see us at http://boyhowdytechnology.com

WORD JEWELS is a registered trademark of Boy Howdy Technology LLC.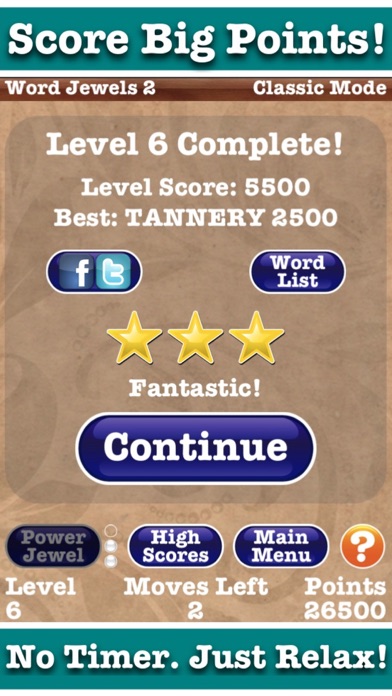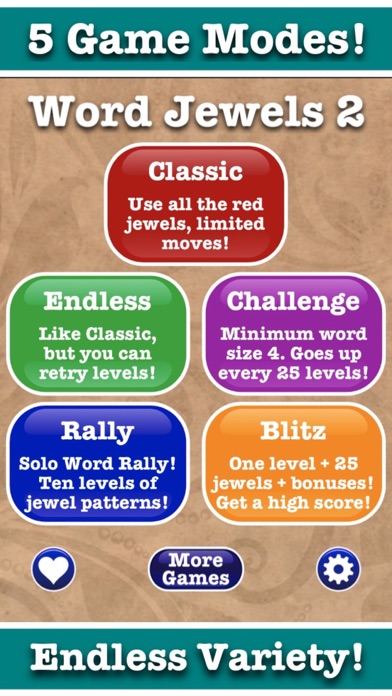 Powered by Facebook Comments
Customer Reviews
Check don't work
by Scandalis46
Had this game for some time and now the green check mark does not respond but the red x does. Deleted and reinstalled several times over time to see if it had ever been fixed and so far nope. Fix it please.
Best game ever
by puzzle_guy2
Great idle time game
Hacked?
by mep3
I downloaded this app and within 5 minutes a pornographic ad with FFN popped up.
Several options
by Lanetted
Like that there are several different ways to play.
Good game but could be improved
by listnermary
I really like this but wish you could have more tries before you are out. Great brain training.
Word Jewel
by Super Clock
Outstanding game. Challenges all users.
Great game. Very addictive
by Medsoft1234
This is a very addictive game. At times it bogs down and responds slowly, but that can be corrected be restarting the app.
Deleted
by wordmage
I wanted to make a better word by using a few more letters than the ones given. I thought this was the point of the game. It wouldn't allow it. If you can't create your own words, what good is it? I deleted it. Sorry. Thank you for the response. I will reinstall and try that out.
Fun game--makes you think!
by Spooch Martin
Great as both a time killer and as a a fun, non-mindless game. It would be great if for the classic mode there was a highest average score leader board added.
Fun
by Lkmaryfla
Enjoy this game it really makes you think and remember words. Trying to use jeweled letters to make the longest words possible.
Fun game to play!
by NC Jackie
I travel and enjoy playing Word Jewels while I'm sitting in airports. Great way to pass the time.
Wow Word Jewel
by Ms DRB
Looking for a game to pass time and work your brain, this is a game for you. Lots of fun and challenging trying to find words.
Endless Possibilities
by Lucinda47
I love words and these games get all the neurons firing for answers. I've downloaded a number of apps that make it fun to find and use words, but I'm addicted to all the Word Jewels games. Not only are they challenging but the customer support is beyond reproach: I emailed them about a problem and had an answer and a fix by the next morning! Five star games with five star service. You just can't beat that combo.
JBB50
by Judybb1
Absolutely addictive.
Fun and addictive
by Alejandro-Boy
This is a great app!!!! I am always trying to get to the next level and I've improved my language skills in the process. 5 stars!!
Love it!
by Gma Sonya
This game is challenging and fun!
Word Jewels
by Tomii-San
Love the relaxing game
Great App
by I.am.Desibaba
I find this game very addictive in a fun way. You find words you didn't know existed. God clean fun.
BoyHowdy=Addiction
by Kittynut 65
I am ashamed to say that I play Boy Howdy word games even when I am supposed to be doing something else, no matter how critical the "something else" may be. I have always loved words and assembling words with the Boy Howdy games is a great joy to me. My sisters and I trade words on line in a friendly competition, always trying to outdo each other. What could be better for this than Word Twist?
App freezes!
by Spenhunt
I recently updated to the latest version and now it stops working after a few words. It's awful, I never had issues prior to this upgrade!
Loving it.
by illanap
This game is my all time fave
Great new options
by GG la anciana
I love Jewels 1 but this one has 4 different games and even the rules to the original game have changed a bit. I'm glad I downloaded it.
Great game!
by srwerth
Challenging and enjoyable!
So much fun!
by amirek
One of my favorite word games!
Love it
by $$kgplayer$$
One of the best word games since the first crossword puzzle! I truly would be lost without this game; it's my morning wake-me-up, and my midday pick-me-up.
Great game.
by Nita J.S.
Being fair though, there should be at least 2 more restart levels between after level 25. I've reached level 52 once or twice but when I have to restart, I can't get past level 46 without having to do it all over again. Also, more words need to be added to the puzzles. I've gotten so many of the same words in different levels, it gets boring and my app has been crashing quite a bit lately.
Love it
by sunshin0514
I'm a word game kind of person and this game doesn't disappoint :-).
love this game
by Yomoohoo
really fun and keeps my brain active!
Addicting
by Parr star
Love this version. Allows longer playing time.
Word jewels
by Tedsews
Wouldn't be a day if I didn't challenge myself with this addictive game
Awesome follow up to the first!
by sctyeahuknowme
I can't go back to the basic app because this has so many more fun elements and options. It is great to just be able to pick up where I left off and mess around with when I have a few minutes.
Fun and Challenging!
by skypilot61196
This is a great game...very addicting! Love it!
I love this game!
by Zim's Mom
Playing this word-find game is a great way to keep my brain sharp. It's one of my guilty pleasures, with cognitive benefits. I love this game!
Fun, Addictive, challenging
by Murphyphan88
Have been playing this for a couple of weeks now, and I'm glad I decided to try it. It's a game that makes you think and if you're not careful, it will improve your spelling! Check it out, you won't be disappointed.
Word Jewels2 = Addicting Fun
by ChoosingLife
Love this app! Plays similar to the traditional "Boggle" game, but much more rewarding. I really like having 3 Power Jewels that let you 'swap' letters, have an extra turn, or re-scramble the letters. If you enjoy word games, you will love this game.
Fun
by HoneyBe2
I enjoy the challenge.
Delightful
by Elgee c.
This game is educational and enjoyable. I spend many hour at it. It is also excellent for passing the time on a long flight.
No spare time since I found word jewel 2
by Word jewel Hound
I am totally addicted, playing every spare moment. I think the game is fun, and creative. So glad I found it!!!
LOVE this game but it needs more rewards!
by CitiBelle
This is my go-to game on my subway trips to and fro. Maybe there should be a way to win Power jewels.
Word Jewel
by Miit71
A very awesome brain exercise for an elderly like me. Love it!
My favorite word game
by Chromium54
I've been hooked on this app for about 3 years. Since it's not timed, you can puzzle over your options until you're ready to commit. Love it.
Love It
by suz77777
One of my favorites. I have enjoyed it for a couple of years now.
We're addicted!
by Halliesdad
My daughter and I have been playing nonstop every time we get a moment for the last three months! Great job, great game!
Excellent Word Game
by Bee A Gee
This is one of my two favorite word games and I play it just about every day.
Lots of fun!!
by TwoaDay
Lots of variety. Lots of challenges. Enjoyable.
Judied19
by Judied19
Love this game. Makes you think!
Great Word Game
by Katestarz
Really enjoy this word game it gets harder the more you play, so it's always a challenge.
Word Jewels
by Mommat56
I really like the game, but have a couple of suggestions. When you win the game and have extra turns leftover, the player should receive extra points for the unused turns. Also, when a player goes multiple games without using any of the help jewels, they should earn extras. Maybe every 3 games without using them earns 1 each extra help jewels. Great game! Thanks
Great game
by Dolphinlover1977
I enjoy word games a lot, so I really like this one. Starts out easy, but don't let that fool you. Gets more difficult as you go along.
Fun!
by Jelainern
Great game; fun way to pass time now & then