SCRABBLE Premium
by
Electronic Arts
(4,363 user ratings)
$7.99
Download size: 170.61MB
Version: 5.24.0
Released: 2008-07-11
For ages: 4+
CONNECT WITH FRIENDS. PLAY WITH WORDS. Get a game of SCRABBLE going with just about anyone – or play solo against the computer! Plus, now you can play SCRABBLE in English, French, Italian, German, Spanish, or Brazilian Portuguese.

WHO WILL YOU PLAY?
• Challenge friends via Facebook and more
• Find an instant opponent with a single touch
• Play solo against the computer to improve your skills
• Get numerous games going at once – more than any word game on the App Store

SHOW OFF YOUR SKILLS
Connect to Facebook and share your best scores. You can even talk a good game with enhanced chat and notification features.

IMPROVE YOUR SCORES WITH THE TEACHER
Become a SCRABBLE master with the exclusive "Teacher" feature - see what your best word could have been after every turn.

LOSS FOR WORDS?
Use the in-game word list, built-in official SCRABBLE dictionary, or the exclusive Best Word feature to see your highest scoring choices.

THINK FAST
Want to recreate the feeling of a real-time in-person game? Try the new Speed Play mode where you and your opponent agree to 2 or 5 minute turns. If words aren't played in time, nudge and forfeit options are unlocked.

LOOK SHARP!
View every detail on the board with HD-quality graphics made to maximize the Retina display.

Ready for the first and last word in word games? Don't accept imitations. Just say, "LET'S PLAY SCRABBLE!



Requires acceptance of EA's Privacy & Cookie Policy and User Agreement.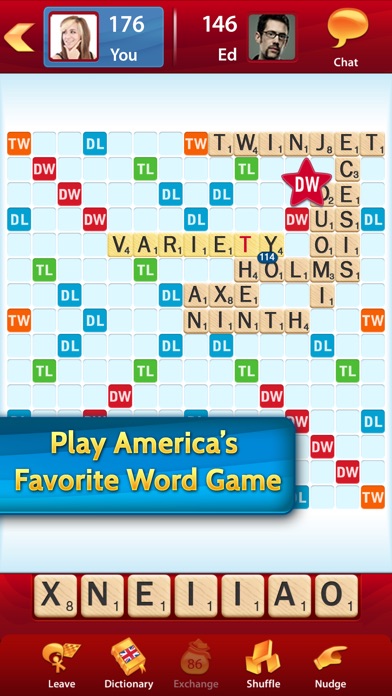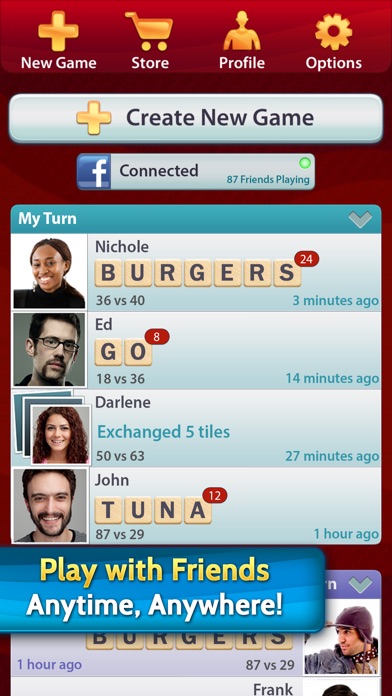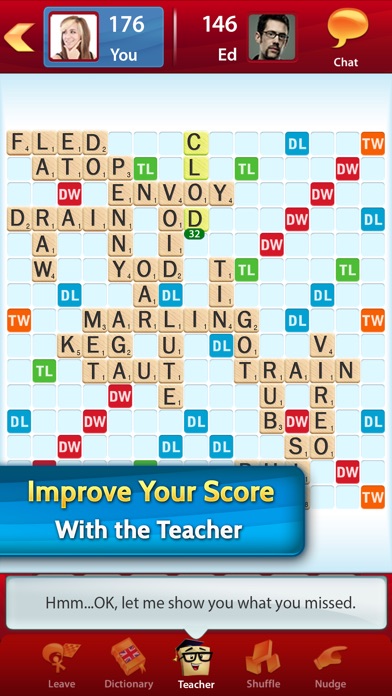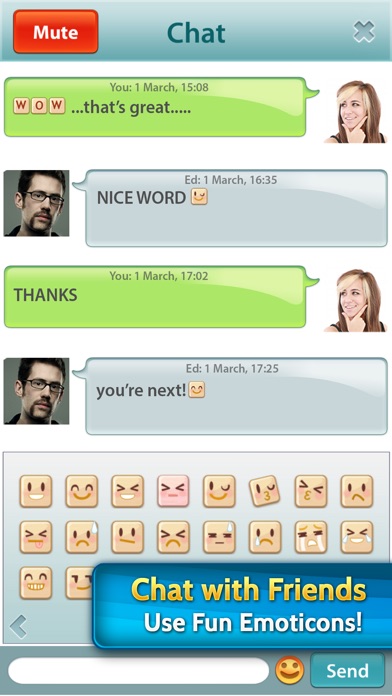 Powered by Facebook Comments
Customer Reviews
Facebook or Origin requires tinplate with a friend
by Eddiemoto
I don't like that this requires FB or Origin to play with a friend. Honestly... I would love a simple version to play via iMessage.
Log in issue
by fatboy3000
Update March 12, 2018. Are used to love this game now I can't stand it. Playing the game is the same but the login is that. This game logged you out everyday. So everyday you have to remember to log back in. So if your playing someone you will forget that is your turn because the game does not notify you because you are logged out. November 2017This game does not stay log in. Every other day I have to re-log in.
Scrabble
by Reena Patel
Awesomely amazing and fun game
The Complete Scrabble Experience
by Czentovic64
If you enjoy Scrabble, this is the best nine dollars you'll ever spend. With a built-in dictionary to check words and the ability to play others in person or online, as well as to play against the computer (with the option of tutoring as to the word you should have chosen), this is the complete and convenient way to play the game.
I can't play! Network error
by Rocks1313
Used to love playing this game. The suggested players should not be at the top, I always accidently start games I do not want to play, there is not enough room to place finger to refresh the game. It is very slow to load and crashes after every turn I take. It also used to freeze my iPod while loading, onetime licking up for almost 2 hours
Horrible customer support
by Davezona
I pay eight dollars for this game, my wife downloads it with family sharing. It does NOT WORK with multi player. Customer support said don't use Origin to does not work for scrabble so I was told to use Facebook instead. I'm always account scrabble can't see her friends. I call back customer support and then they told me not to use Facebook because Origin doesn't work and they didn't know what to do. THIS IS A USELESS APP!!!
Unable to invite others
by Arty Farty Moriarty
I am unable to invite friends to play a game. When I click on 'Find player' - no keyboard comes up for me to key in a player name. Similar problem on my wife's phone. On her the keyboard pops up but after she puts my 'origin' username - nothing happens. It doesn't search.
Games won't load
by GoodLuckNatalie
Update Feb 24, 2018 - had to delete and re-download again because my games stopped loading. Again. The game works okay but the notification won't go away after I have taken my turn. This is obnoxious. I sent in a big report a week ago and no response. Hoping maybe writing the review will make the notification go away. Update February 2018 - just deleted and reinstalled game because games won't load... Update as of July 2017 - now there are no notifications when the other player has played their turn. Why does this game have to always be broken? Update Dec 2017 - I have to delete and reinstall this game on my iPhone at least once a month because the games won't load or notifications stop working. It would be awesome if this game worked. This has been going on for years.
Such missed opportunity
by Kakky Hargreaves
For tournament or serious players, the useless stats and lack of challenge mode are very annoying (see WordBiz for how it's done). Use NSA ratings, show me average points per turn, per game, etc. In single player mode the computer sometimes passes for no good reason.
support stinks for fixing bugs on Scrabble!!!
by wendsmc
Had to cancel Scrabble account as I couldn't get help with bug that wouldn't allow me to keep playing. "Unable to connect with server" & "online games unavailable". Had recently updated Scrabble. Refreshed iPad. Tried to get help on EA.com. Thumbs down with that....
3 or 4 player game
by SR21122
In the past, there was the ability to play multi-player games and was really enjoyable to play with 2 or 3 other participants. That went away over a year ago (probably more). I stopped playing since that happened. Any chance this will be resurrected in future versions? I really miss it.
Stopped working on iPhone
by Duke704
The app freezes multiple times per game and won't unlock unless I restart the phone.
facebook-only! 😡
by plaintiger
I HATE games that depend on external accounts for full functionality, and this is one of them. You can't play online with specific people unless you and they both log in through the facebook or "Origin", whatever that is. So I dropped $7.99 on this game for nothing. Hugely disappointed. 😡🤬😡
I could scream!
by 5632,!!!
One of the most frustrating apps I have ever used. It fails to remember my log in info, it freezes up and only solution seems to be to delete it and then download again. So time consuming. The dictionary choices are poor, do not recognize such words as "zen" or more modern words, it's very old school in that respect. It doesn't recognize many many words. It makes me want to tear my hair out! If I didn't love scrabble so much I would ditch it in a heart beat. I do love that I can play with my good friend two states away....that is the only cool thing so gave it one lonely star.
Turn off chat
by AnjothJa
I wish the chat feature could be disabled. If you play competitively, your chat box gets filled with messages from your opponent accusing you of cheating. It's soured my appetite for the game.
Eh.
by Pinebeers
Too many ads
Endless vowels, especially "U"
by YourOtherLeft
Is the iPhone version of the game programmed to give human users (playing against the computer) as many letter U's and I's as possible? I'm serious; hardly a game goes by that I am not given 3 or 4 U's and I's, often at the same time, turn after turn. Guaranteed by the end of the game I will have more U's and I's in my tray than any other letters. It just does not seem random.
Can't access server since it updated 3 days ago.
by Meadow lady
New update is working fine most of the time - occasionally really slow to process I like the way the score remains on the word you created so you can consider your options. I preferred the old version teacher with the varied facial expressions. Still it is a fun game to play.
Love Scrabble, but...
by santow
Sometimes has difficulty connecting to available network, requiring a reinstall. The price we pay to play the game we love.
An outdated and clunky WWF
by Dudedudemcdude
I've loved Scrabble for a very long time. It's sad to see this game get the notorious "EA" treatment. It's not worth the buy if an iOS 6 interface, forced tutorials, tiny dictionary or having "sign into Facebook" buttons everywhere and on popup modals bothers you.
Cool for past time
by Caz-e
Very relaxing n u also get to use your brain to think.
Worse with every update
by eselqueso
Deleted
Problems created
by cindy136c
Don't update as it became unusable after update! Update: now working fine
Much Improved!
by Eyeclaud
Scrabble Premium is a big improvement. Previous bugs have been fixed and the app is fun to use!
Scrabbled
by Rebecarose
Feb 2018: Hurrah! This is a more robust program. It no longer randomly fails to function. Good work team! I can play Scrabble and count in the software to work smoothly. It just plain doesn't work. I can get to my games by adding a new game against a random player and then hitting next. I have lost access to at least half my games even so. 2013 In 2017, this is still a poor product. Different failings, but continued unreliable. If you wish to play, expect to delete and reinstall frequently. It is still better than the FB version, but quality is very poor.
Was good, last update=total suckage. Another update. Even more suckage
by Matt co
Newest update has a terrible algorithm ! On the first draw get two or even three double same letters and often get a three same letter in the mix. Makes it impossible to play when you get double letters in everything. Newest update=newest suckage.
Awesome and stable
by JZpoint
The app is finally stable and the game play is consistent. Highly recommend this original word game.
Pretty good
by sissychrissy1
I don't like how it replays the opponents last move if you do anything off the board (such as check the dictionary). It's unnecessary and wastes time. Otherwise a generally good app.
Great game
by crookedroad
My favorite way to kill time in a waiting room.
Cheats sometimes
by Brdman2
Generally good game but don't like having to bypass Game Center or other play options every time when I only want to play the computer. Also cheats sometimes - when I go out first I should get points in the computers' hands but game has given points to opponents instead. Still cheats in scoring with new version. STILL CHEATS by giving a losing player the winning points. PLEASE FIX. Still do not want to play with others. STILL CHEATS as above. 09/14 Bring back multiple CPU players! Boo! STILL CHEATS by giving points to other players when I go out first, sometimes.
You monsters!
by Lipani
"Sorry, FART is not a valid word in the English dictionary." EA Games is clearly an evil company. 1 star!
Scrabble
by malysc07
Cannot choose multiple players... will not show IDs
Constantly logs me out!
by Ezra Bowman
App will log me out of the "email sign-in" every couple of days while leaving me still logged in through Facebook. Games that are in progress don't show up on my dashboard that are associated with the email login.
Wish they had Bluetooth sharing
by JJMMD77
Great and fun would be better if instead of pass and play they had Bluetooth sharing
Pretty good. Better than wwfriends
by Beth a gilmore girl fan
Sometimes it doesn t connect w FB n messages sometimes don t go thru at the same time. But the game is the same for everyone.
Fake Words Makes Scrabble Cheat and Win
by Jarconius
Please update the dictionary!!! Every time I play against "CPU", it uses words not found in the standard American english dictionary (CINQ, etc). Cheats with unreal words every game.
Great
by sjstone
Updated: Well, I used to be able to play with a friend in Canada, but am unable to find her via Facebook login. Hmm, we seem to have this issue when using scrabble through Facebook in the browser as well. She's the only one I know who plays, so I don't really play anymore. Original review: Love the game, but I really wish they'd fix the Origin login problem. It seems more frequent since the last update. Sometimes, I have to login to Origin several times a day. Facebook login doesn't seem to have this issue. I wish it were corrected. Aside from that, game play is great.
Major scoring bug still not fixed after years
by Lossat
I've been playing the app for years, mostly single player (against the computer players). But the game often ends with the wrong winner because it incorrectly gives the unused tile points to the wrong player when I'm the one that used all my tiles. Very annoying!
Dictionary option
by Outlaw Design
It would be great if one could change settings so dictionary was or wasn't visible for all players during a game.
2 star
by Tabbers75
The app crashes a lot
Computer games
by Srslnp
Too many non words.... seems like the games at advanced level are rigged
Are You F.ing Kidding Me
by THE L.A.W
A commercial break after EVERY play. Is this why the 'game' is Free! You must be rich by now.
Love Scrabble hate this
by LaneyNeums
I bought this ages ago & have been a Scrabble addict for years. The computer uses words that are not in the English Language dictionary- which I keep nearby to verify. It plays words from other languages and even proper nouns. I can't do anything about it except reject the game and start a new one. So frustrating.
Dictionary in this game is from the 1940's
by Mad Hatcher
So many words missing.
Notifications just don't work
by kittycat262728
If you use Scrabble Premium on the iPhone and iPad, notifications only come through to the device last used, not both. This is extremely annoying for those of us who use both devices. It should not be a difficult thing to fix and is ridiculous that this issue has been ongoing for so long. Please just fix it - users shouldn't have to jump through hoops to get stupid problems like this fixed. I wrote the same thing on the Scrabble Premium iPad page and there is no way for me to contact EA outside of these app reviews. Please fix this really annoying and unnecessary issue.
No way to ADD friends to play with
by Not available xx
I feel like somehow the team at Hasbro has decided that figuring out their work around to actually invite friends to play with is some arcane puzzle that no one has access too. Very disappointing and poorly devised APP
Redirection problems
by Ascati
The app would be fine if it didn't keep forcing my iPhone to go to the App Store over and over again. As soon as I go back to the game it sends me right back to the App Store, so it's virtually impossible to play a game.
Constant Sorrow
by Ghryswald
Every few months I have to delete and re-install the app because it "has trouble connecting to the network." The FREE version always seems to work though. I paid to not get ads, but once again had to do the monkey-jumps-through-hoops game to get the app working. What's next, EA? Loot boxes?
Origin Log-in Problem -PERSISTS into 2018-see 11/8/17 review
by Cjoylevin
1/5/17: I still cannot find my Origin friends! They can see me but I have no way of connecting. 11/8/17: I can now log in to Origin, but I still see none of the Origin players listed so I can't invite them to play. I just received a Developer response, asking me to update with 5.22. So I did, and using a new account (old one fails), I logged into Origin and it took!! Yea!!!! But I can't invite my Origin friends because none are listed😡. Only my FB friends appear. 10/19/17: log in credentials are still not recognized, which is why I created a new account with my work email address. Now that account won't work: I'm sent to the EA log in page; I type my email address in one box and I'm told to check my emails for the new password. But the email with the new password never arrives.
I love Scrabble
by ArklLaTexKoolKat
My favorite game since I was a teenager.