SCRABBLE Premium
by
Electronic Arts
(1,681 user ratings)
$7.99
Download size: 166.22MB
Version: 5.23.0
Released: 2008-07-11
For ages: 4+
CONNECT WITH FRIENDS. PLAY WITH WORDS. Get a game of SCRABBLE going with just about anyone – or play solo against the computer! Plus, now you can play SCRABBLE in English, French, Italian, German, Spanish, or Brazilian Portuguese.

WHO WILL YOU PLAY?
• Challenge friends via Facebook and more
• Find an instant opponent with a single touch
• Play solo against the computer to improve your skills
• Get numerous games going at once – more than any word game on the App Store

SHOW OFF YOUR SKILLS
Connect to Facebook and share your best scores. You can even talk a good game with enhanced chat and notification features.

IMPROVE YOUR SCORES WITH THE TEACHER
Become a SCRABBLE master with the exclusive "Teacher" feature - see what your best word could have been after every turn.

LOSS FOR WORDS?
Use the in-game word list, built-in official SCRABBLE dictionary, or the exclusive Best Word feature to see your highest scoring choices.

THINK FAST
Want to recreate the feeling of a real-time in-person game? Try the new Speed Play mode where you and your opponent agree to 2 or 5 minute turns. If words aren't played in time, nudge and forfeit options are unlocked.

LOOK SHARP!
View every detail on the board with HD-quality graphics made to maximize the Retina display.

Ready for the first and last word in word games? Don't accept imitations. Just say, "LET'S PLAY SCRABBLE!



Requires acceptance of EA's Privacy & Cookie Policy and User Agreement.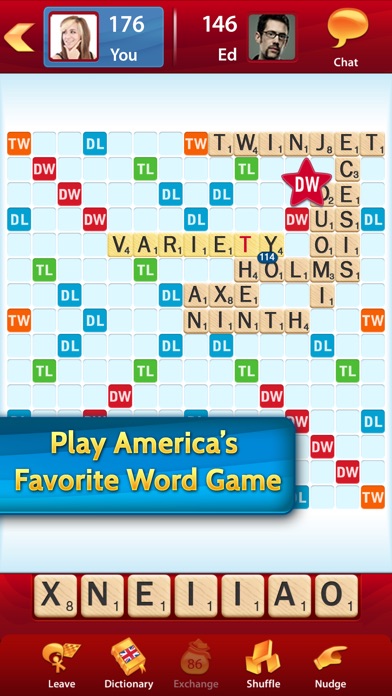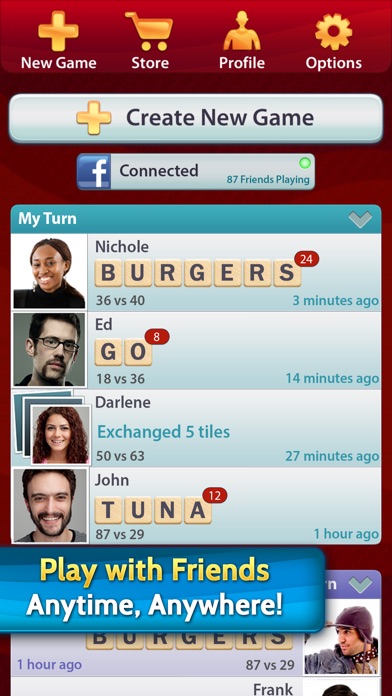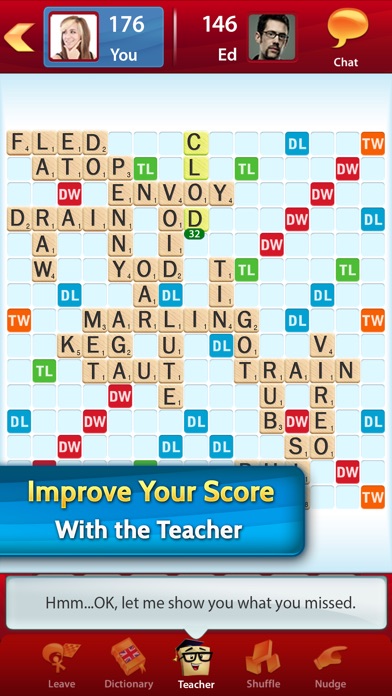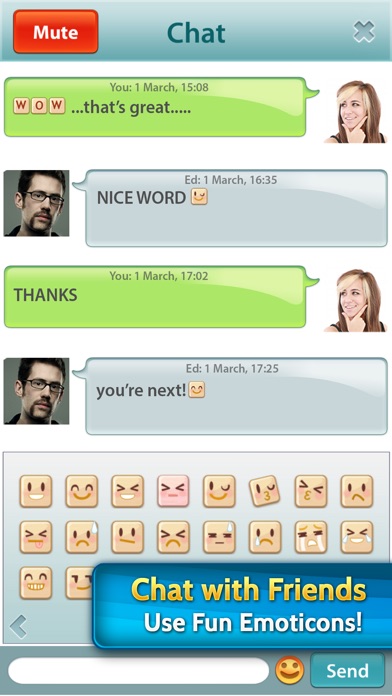 Powered by Facebook Comments
Customer Reviews
Not very stable
by SL65Racer
I play on iPhone and iPad. It's not uncommon for the game to load and be missing previously played letters on the board. To fix it I need to uninstall the app and reinstall it. Happens weekly. Pretty annoying. Otherwise a good game.
Love them game, cannot connect with friends on Origin.
by Michemory
I have an Origins account, as does my brother, but the app will not let me type in his name when I select 'play with friends'. They keyboard will not pop up. How do I challenge him in scrabble?
A bit ridiculous...
by Pattmommy
It's a bit ridiculous that, every now and then, the app needs to be deleted and reinstalled in order to connect to Facebook. Other than that, it's a great app.
Nothing is simple
by Bigphaty
All I wanted was to play scrabble with my daughter. I paid for the premium app and tried to set it up on both of our phones. The setup process is so incredibly annoying... my daughter doesn't use Facebook, so we had to create an account on Electronic Arts, with complex passwords and security questions (just to play scrabble). After all that it wouldn't let me create an account for her because she is too young, even though the game is rated 4+. So after lying about her age (again, just to play scrabble with my daughter) I return to the game and have no way of connecting with her or finding her on the game. The find-friends window is empty and you can't type in it. I can't believe I paid $8 for this junk. Ridiculously over complicated kludge app. Don't waste your money.
Oversight - Lack of Bluetooth support
by BlackLab2
It seems like an oversight to me that you can't play someone over Bluetooth or WiFi. My father isn't on Facebook or any other social media platform. I'd like to be able to play him while we are in the same room - me on my iPhone, him on his iPad.
This app needs work
by Johniezookeeper
This app seems to keep having issues. Makes me delete the app then reinstall before it works, so i rarely use it. I want one that works consistently, so I use words with friends more
Corrupt
by Brooklyn salsa
I hate this app. Something is seriously wrong with the tile draw. It's not random. I notice similar letters and patterns across all the games I'm playing. I'll have 10 game stretches where I'll have very very few decent words/plays in the entire game while my opponents are just killing me. It's super lame. And their customer service is terrible. Typical mega corporate apathy resulting in mediocrity.
My favorite game app
by biffboff
This is my go to game to relax and take my mind off of everything.
Update
by qsirois
Game is still not functioning. I still cannot search for my friends. Customer support still can't comprehend the problem. I will delete game again.
Good game
by Flkarma
Good game with a couple of improvements needed. 1) when you use the Teacher option, don't leave the Teacher word out there for other player to see!! 2) should be able to tap word to see the meaning
Meh
by Kenbadger
Fine if you want to play only with random users or the computer, but the search function to find people you know doesn't work.
Worthless
by NotTheDroids3
They took away the ability to make a 3 or 4 player game. May as well just use Words for Friends 2.
The app needs improvement
by Lionheart_1
Love Scrabble, but this app is next to pitiful. Have had to re-install countless times over the past several months. Sometimes that helps, other times not. May work fine for a while, but then suddenly I can't login, or there are no notifications that my opponent has played a turn. This latest update has introduced multiple issues. Only a few words allowed in chat, then the app apparently freezes for a while. Going to the dictionary and then back to the board animates the other player's word placement again needlessly, returning any of my newly positioned tiles back to the rack. And the notification issue has not truly been resolved; notifications do appear now, but only AFTER running the app. Huh?! This is ridiculous. Really!
Origin Log-in Problem
by Cjoylevin
11/8/17: I can now log in to Origin, but I still see none of the Origin players listed so I can't invite them to play. I just received a Developer response, asking me to update with 5.22. So I did, and using a new account (old one fails), I logged into Origin and it took!! Yea!!!! But I can't invite my Origin friends because none are listed😡. Only my FB friends appear. 10/19/17: log in credentials are still not recognized, which is why I created a new account with my work email address. Now that account won't work: I'm sent to the EA log in page; I type my email address in one box and I'm told to check my emails for the new password. But the email with the new password never arrives.
Exasperating
by $&85(?;)
Will not load. Delete and reinstall and it works for a couple days. Help desk is a joke. Cant understand thick accents. Chat is just as bad - grammar and spelling. Will never use another ea product.
Sign in issues
by Punky_jewster
I have to sign in every time to play- it doesn't save my pw
Love it :)
by Jack65son
Love the Apple version, less advertising. I Enjoy the two letter word dictionary, and the word help. :)
Hate the ads
by danowens00
Just updated my Scrabble after originally paying $10 for app It is so loaded with ads I no longer enjoy the experience :( :( :(
Would be OK
by zombieclone
If it didn't log me out and force me to reset my password every few days. It's gotten ridiculous.
New addiction but
by Micahcando
I just found my new game addiction but don't understand why sometimes a words like eden and zen aren't in the dictionary.
Good
by Uberwafflezz
I enjoy this game
Complaint
by tlstar
I would like to see the bonus squares move after each play like abble dabble. Yes unfortunately it isn't supported on iOS 11.
Excelente
by Omar Barrera1
Me gusta muy buen juego para ejercitar la mente.... lo recomiendo ampliamente
Unstable app will not refresh games.
by Jonl119
Update 2017-10-31: another update, and again the network issue is back wherein online games will not refresh. Very disappointing. Rather than going back and deleting and reinstalling the app, I will not hassle with that anymore. On to Words with Friends. It has a much better online experience than Scrabble. I have used the paid version of this app on both iPhone and iPad. Intermittently, the refresh for online games hangs indefinitely. Unfortunately, the only way to fix this, it appears, is to delete the app from the device and reinstall it. Doing this, of course, deletes all the game history from local game as well as the settings. Note this issue does not happen on my son's Android device. This is VERY DISAPPOINTING from a company with the excellent reputation of EA Games.
No way to contact friends
by Cup4drw
The option to play with a friend seems ridiculously useless. I know my friend's Origin account, but there is no way to enter it in order to connect.
I have higher score & people force forfeit me
by Ozziecookie
It is completely unfair to have the force forfeit system. People are cheating. I have been forced to forfeit multiple games when I miss a day of playing or even less-on all these, I have had a (much ) higher score. I was planning to switch from WWF to Scrabble, but won't do it with this unfair option. If someone wants to play a quick game, there should be an option for that.
Much better
by Kkvicknair
Update 10/27/17: Happy to see the developers giving this app the attention it needs. Almost everything is working as it should now. Still waiting for the ability to choose an opponent by rating when starting a random game. Update 10/3/17: Login problem fixed. Chat bar fixed. Notifications gone again. C'mon people... please just get this right one time and then leave it alone. Update 9/24/17: Haven't been able to log in to Origin for 5 days. I keep getting invalid username/password errors. Can't even log in to EA to get help because of the password error. Update 9/8/17: Game notifications have been working consistently since the last update. Thank you. Chat bar still not working. Also, please bring back the ability to see a guest rating before joining a random game. Either that or bring back the option to choose an opponent within a certain rating range. Fix those two things and I'll give you the last 2 stars. Update 6/10/17: Well, notifications worked for about 2 weeks, then it quit again. Now my chat bar only shows a few characters while I'm typing, so I have to type without being able to see what I'm typing. I'm happy to see that they are working to fix the app, but so far the updates haven't helped. --------------------------------- Really don't like the swiping to switch games. I accidentally switch games all the time while trying to place a tile. Also, really hate the no more turns window that pops up (even after it has notified me that it is my turn). 5/19: Notifications no longer work. There is a little red 1 on the app icon all the time, whether it is my turn or not & I have to actually open the game to see if it is my turn. Frustrating. Also don't like that I can't see the chat once a game ends.
Stats don't update
by Bibelstudent
Also has issues syncing. Otherwise would have been 5 stars.
Crashes
by Chersher
Scrabble has started freezing up and crashing a lot. Needs to be fixed. Otherwise, great game.
Still a terrible app
by Krogerfoot
Scrabble is the noblest and most elegant game in the universe, but EA's version seems to actively discourage enjoyment. Some of the worst aspects have been improved, but the UI is still overly busy and silly-looking. •• Very important point: If you play this via EA's Origin, prepare for daily exasperation. You have two choices - the Facebook interface and Origin. If your opponents don't use Facebook, you'll have to go through Origin, which almost never works correctly. Currently Origin often fails to update your scores and/or your tiles, so you can't be sure if the board you're looking at is correct, or whether you'll get an error when you make your move and have to start again. The worst is when the game fails to display tiles already on the board, letting you play a bad move. The Facebook interface is a little better, but it's puzzling that EA's own platform is so bad. Other word games such as Upwords have much better apps for them despite being far inferior to Scrabble as a game. It's astounding that Mattel and EA think so little of such a popular game and its players. Biggest complaints: Scrabble is a game of CAPITAL LETTERS. Using lower-case to look up items looks ridiculous. Why no definitions for words? Omits a very enjoyable aspect of the game for no good reason. The "teacher" is something I've learned to appreciate—it shows you what you "should have" played after your move, though the highest-scoring possible play is not always the best move. It's not available for PC players, which puts them at a serious disadvantage when playing mobile users. Conclusion: if you want to play Scrabble online, your only choice is this terrible app. Console yourself by keeping in mind that it could be and has been worse.
A fistful of tiles…
by DeAnza Days
•to quote Pete Townsend: the good's gone. Once again the Scrabble app requires logging in just to see if it's my turn. Oh well, even at its worst, Scrabble is way beyond WordFeud, Words With Friends, and any other imposters I've forgotten. Also, I appreciate that TileTracker is listing "all the letters we can not see" (apologies to Anthony Doerr) and no more auto-recall. •the bad… I wish we could still see a little info about recently completed games (e.g., consider allowing access to the last local game). Finally, please let us see teacher's advice regarding the last move of the game! But overall: if no one can tell me why I have to log in every time I try to play Scrabble, they it's hard to give it more than a star or two… •…and the aesthetics (or hue?) of the interface: I really like the emphasis on red. A lot of scrabble is played in the middle of the night by people pretending it will help them get to sleep, so emphasizing warm colors (and minimizing blue light) is actually very important.
OLD ISSUE?????
by Thc54650
Still not fixed!!! Where is the 3 and 4 player option button? I will tell you where, they had a problem and instead of fixing it they deleted the option! Shame on you! People purchased the paid version so they could play family and friends around the US. Another excuse was play it on Facebook. Well not everyone wants to join Facebook did support think of that, NO! Shame on you! Why not just hire competent people who really care about the people who support your products? Shame on you EA! Thc
Good game, glitchy app
by Rhomantic Warrior
I have to delete and reinstall this app every other month. Its a pain in the butt sometimes. Just work correctly already! Half the time I don't get notification. I would've deleted this forever ago but my elder Mom loves playing even though she has the same problems as I do with the app. Plus, I do enjoy the game. Just wish the app wasn't so wishy-washy.
Fun!
by Zahdhsjrjejdn
I wish the dictionary gave definitions like that other word game, and that the recall button was not right next to the play button. Too easy to hit play by mistake.
It works
by ESlike711
It's fine, but it's really stupid that if there are no moves left on the board, it doesn't just end the game. You have to leave the game completely. It's also annoying that toward the end, a screen pops up after every move that says how many tiles your opponent has left. Extremely irritating when you're playing the computer.
Quit making me enter all of my log in info in spite of the "remember me" option.
by Susan Bishop
The latest "update" ruined this app.
Old app better
by Trixie29
I've been playing the premium scrabble since 2012, since my latest update wouldn't update I had to delete it and repurchase the app, since the app developer wouldn't get back to me. Update to response from developer: I did get in touch with Apple and they told me to get ahold of you🙄
Scrabble
by P.Murf
A great way to connect with friends.
New Scrabble horrible
by Meadow 1
New version horrible for too many reasons to list. Why doesn't someone bring back the real game, which intelligent people, including adults, can play?
totally broken and now broken again!!!
by Halfbelgian
same connectivity problems as others. no update to fix. avoid installing at all cost! 🔥🔥😡🔥🔥 updated - they fixed it a few months back and now its broken again in the SAME way!!! Stooooooopppp! fiiiix it!!!!!
Good app, but invasive privacy policy!
by AstroPaul
Scrabble The app is well designed, and fun to play. However, Electronic Arts is gathering so much information on what you are doing -- even collecting all the *private* games you have played *OFF LINE* -- that we cannot recommend this app. It gathers location data, device ID, plants tracking cookies, and shares information with third parties! Worse, it does that even if you don't sign up for its on-line services or "play with friends". There is also no way of opting out of most of this data collection -- of course, it should be opt-in to begin with, but EA has no business exploiting users' info, habits, and browsing this way. We highly recommend reading their privacy policy. *You* may be comfortable with such data gathering, but we are not! See later on for some of the details. -------------- There are also a couple of game-app flaws. 1. Music and sounds are turned on by default. It woke my partner up when I first launched the game. Suggestion: have it off by default and simply have text on screen -- silently -- saying you can turn it on sound effects and music! 2. One is forced to go through a tutorial -- and it is irritating. There is a skip button (discovered later) at the beginning, but no way of exiting once you are trapped inside the tutorial. Suggestion: here, too, just a brief message saying tutorial available. 3. The game gets stuck at the end when player and computer have nothing to play! You have to go back and forth *three* times before it will finally conclude the game! 4. The app plays many unusual, even questionable, words and that detracts from the enjoyment. Suggestion: The dictionary should include definitions! That way, users could learn something along the way. 5. The Best Word feature is fine, but the animation is distracting and gets old fast! PRIVACY POLICY NEEDS OVERHAUL Cannot believe all that Electronic Arts is gathering! Here are some statements from their privacy policy -- that's a misnomer, in any case -- it's more like a "*Lack* of Privacy Policy"! Exclamation points added! "If you play a game offline, this data will be stored on your device and transmitted to EA when your device connects to the Internet." !! Can you believe that?! That's none of their business! "We collect other information automatically when you use our products, including: IP address; !! Monitoring you. Mobile and other hardware or device identifiers; !! Identifying your stuff. Browser information, including your browser type and the language you prefer; !! So, collecting data in your browser preference, but on your language! Is EA part of the NSA?! Referring and exit pages, including landing pages and pages viewed; !! In other words, where you are browsing! "Platform type; Information about your media, device, hardware and software," !! "your hardware settings and components," !! They're really being invasive! ... "Details about what EA products you use and your use of them;" !! "Use of them"?! and "Device event information, including crash reports, request and referral URL's" !! (Note error: it should be URLs.) Then, the coup de grace: "We also may collect and store information locally on your device, using mechanisms like cookies, browser web storage (including HTML 5) and application data caches." !! "We use cookies and similar technologies to help us understand things like what web pages, features or ads you view and what games you play." !! In other words, EA is tracking you, which is akin to stalking. NO THANKS!
Scrabble Deluxe
by BARSARA
Enjoy playing friends and computer to enhance skills.
Terrible Update
by SoBummmmmmmed
Once again you have ruined a great game with this latest update. Please un-update me or refund my money.
English educator
by wendingjam
I truly enjoy this game. The only fault I find is with the supporting dictionary. I have had this complaint for years, and reported it previously. Frequently I play common nouns, verbs, adverbs, etc., that I know and double-check to be actual words, only to find Merriam-Webster does not accept them. Also, many British-isms and slang words are considered acceptable, not so with similar American words.
Shrtcaks
by shrtcaks82
Cannot update new version because I have ios 7.1.2, and cannot keep older version. Help!!!
Come into this century
by Recordactg
The word choices that are considered words in this app seem to be only the words provided. So you will be frustrated when you find that you could really stomp your opponent, then scrabble tells you that your have not created a scrabble word. The developers should figure out how this game along with players can add to the dictionary and play in the advance mode. In the days without electronics we could look up words in the dictionary. Developers maybe set up an app that provides the dictionary then the scrabble app can search it.
Too Many Unrated Players
by slgood
The games still has issues. You can't see you opponents rating before you make you first move. As a result, you could get stuck playing an unrated player which is very problematic and unfair. If you are rated 2100 or higher, there absolutely no benefit in playing someone rated below 1600. If you win, you gain no points in rating. But if you lose, you could lose as much as 16 points. I've retired from playing this dumb game at 2150. There's no point in playing any more until this issue gets fixed.
Scrabble
by Sewthankful
Game is doing better since the last update, however, still running into problems. Mainly, it freezes up when attempting to open the app. In the last week I've needed to uninstall/reinstall the app nearly EVERY time I wanted to play. REALLY?! And yes- this is actually better than before when I couldn't play at all. Good grief, AE. Please fix the bugs. I like the game when it works, but is can be so frustrating. It's September 2017. 4 days ago I received a message that I should change my Origin password as a safety precaution... that it was good to go this from time to time, etc... So I did. Now I can't get into my Origin account at all. I contacted support (which was no walk in the park) and finally received a phone call. I was told others are having the same problem and to wait two days or so while Origin works out the bug. Well, it's been longer than two days and I still can't access the Scrabble game! Concerned my opponents will have force forfeited my open games due to my lack of play and I will thereby lose my standing as well as history . What's going on???? It's been almost a week and I can only play Scrabble on Facebook- something I've never done before. My new password still isn't working (and I tried changing but several times...). Us anyone else having this issue?? It's been two weeks. I finally got into my Origin account, but as I suspected, opponents have force-forfeited some games. My ratings have returned (they were not there initially). I really like playing Scrabble, but the technical issues have been a real pain...
Fun
by dee gee the car man
This is s really fun game
Scrabble
by Great family or group game
Best game ever! It needs to be friendlier so you can add friends right from the game so you don't have to go into Origin website!!!