Descrambler - Word game cheat
by
PBJ Studios
(3 user ratings)
FREE
Download size: 55.73MB
Version: 2.11.3
Released: 2010-02-04
For ages: 4+
Do you love the SCRABBLE crossword game? Do you struggle sometimes to find the best word to use? Don't worry, it's a common problem to be linguistically challenged. Let Descrambler come to the rescue! Whether you're a tournament pro wanting a quick word check, or just a rookie looking to hone your skills and learn new words, Descrambler is the ultimate resource for players of all skill levels.

Enter your 7 tiles, and optionally the board tiles you'd like to include, hit Start... and presto, all possible word combinations are displayed in addition to the word score. We can even output the words in tournament format if you're so inclined.

Descrambler also can track complete games! Enter your opponents words as they are played, enter your tile rack, and presto - you can see ALL PLAYABLE WORDS for your turn! This is the ultimate word game learning tool... you can see hundreds, if not thousands of words on each turn!

Descrambler uses a standardized dictionary of almost 180,000 words, so if a word isn't in here, then you're out of luck as far as the game is concerned! Descrambler uses a proprietary lookup mechanism to ensure that your searches are blazing fast. And no internet connection is needed unlike those other guys. You can use our app even when you're stuck on a deserted island! ... playing Scrabble I guess, while waiting to be rescued...

Descrambler also comes with a word check function where you can easily verify that a word really exists. This is great for settling disputes when your know-it-all partner invents crazy words and pretends they're real!

Descrambler also is a great tool for players of Words with Friends, Wordfeud, Boggle, Literati, Crossword Puzzles and all sorts of other word games. It can also be used to find Anagrams.

Go ahead and try it out. We think you'll find it an indispensable resource while you're playing the SCRABBLE crossword game. Plus it's FREE, so what do you have to lose!

Note: Some people seem to be missing the 'Start' button in the Descrambler tab. You must push the start button to start searching for words.


SCRABBLE is a registered trademark of Hasbro, Inc.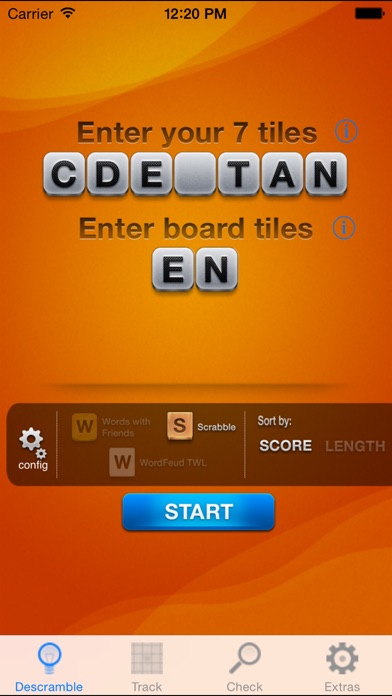 Powered by Facebook Comments
Customer Reviews
Not as good as before.
by 44Mamaw
Since the last update, it will no longer let you enter a ? For a blank tile. Frustrating. use to like it.
Crashes + ads
by Pankejo
Fix it please!!!
Upgrade Ad is OBNOXIOUS!
by aimmenorth
I have the purchased version of this app, which is supposedly ad-free (the only reason to actually BUY it...), yet EVERY time I open it, I am bombarded with ads for something called Rheo, which I neither want, nor need. I would never buy that app simply for the reason that it has been shoved down my throat so obnoxiously!!
Since 10/7 update...
by Roostnomore
...there is the inability to enter the ? Into the board to indicate a blank tile. Thank you.
Failed update
by johniemar
Since update on Oct 7, 2017, I'm unable to get into the descrambler game to see my boards, continually crashes on iOS 10.3.3..I'm playing 28 games...needs a fix quick..please..
New update crashes
by Pjcorntoo
With iOS 9.3.5
No longer working
by Private self
I have used this app for years to help with finding words.... I deleted & re-installed. Still nothing. What is going on?
Update: love it again. Old: Used to love it.
by Garden Gal TX
Update: they actually listened to their reviewers and fixed the issue!!! Old: Had to change rating as the app no longer works since the iOS update to 11. Frustrating.
Upgrade crash
by Star2dreamon
I just downloaded the upgrade and the ap stop working Iphone 11 ios. It starts up then crashes! Needs quick fix please
iOS 11 killed this app
by BigDaddyBob1
It won't display boards after update I hope they fix this I got the paid app and would like to use it
Update Please!
by DEMayo63
I like this app, but it needs to be made IOS11 compatible. It crashes every time I've tried to use it since the IOS update.
Crashes in iOS 11
by Pattimac55
Crashed in ios11 when I hit the track option.
I did love this app...
by CasNim
This app was great when it worked but they haven't updated to the new IOS 11 update so now I can't use it. I'm so frustrated!
Annoying Ads
by airtechwriter
Why would a good app run such an annoying ad as that Rheo ad? It takes you offsite if you so much as breathe on it. Are you trying to make me STOP using Descrambler? It worked!
New update needed
by Jamestown Dave
Since we updated the new IOS11, the boards are lost. Goes right back to the home screen. Update needed.
Needs update
by wedinc
Crash's after updating to iOS 11. Needs fixing.
Was a great app
by writaman
Great app until iOS 11. The game track feature now crashes the app. Please fix this.
iOS 11
by Gew2
Great app but does NOT work with iOS 11. When will you make it compatible??
Won't work with iOS 11
by Noyonana
Since updating to iOS 11 - app crashes. Would give a zero rating if I could😖
Not working in iOS 11
by old.duffer
Great app until iOS 11 update. Now it crashes every time I try to open the tracking function.
The program has glitches
by docmorg
After purchasing the program, it kicks me off anD today it no longer works with my iPhone operating system. I've tried contacting you on numerous occasions and have not succeeded. Maybe you can improve on the app.
Love it!!!! But with iOS 11 it's broken.
by Kawika-sf
Thanks for the fix!!!!
iOS 11 support
by scottlites
The app tracking doesn't work on iOS 11. When will you do an update?
update
by D Doody
After the last update, either through Descrambler or apple IOS 11, I can no longer open the tracking option on my ipad air2. Everything is working on my ipad2. what is going on? Please update your app so it works.
Bummer!
by kath5900
Descrambler does NOT WORK with the iOS 11. It WILL NOT take the question mark for a blank tile... bad. I tried to contact Descrambler for support but the link is a dead end.
Not working with iOS 11
by ravensfan74
Since I downloaded iOS 11, descrambler is not working for me. The track tab where I keep my games does not work whatsoever. Every time I click on it it goes blank and takes me back to my desktop. Very very frustrating as I am in the middle of a game I cannot get to now. Please fix it fast!
Freezing
by Mandm1945
Some of the ads freeze or the screen goes blank. Have to shutdown Descrambler and reopen. The track is not working in Descrambler for Words with Friends. No update for ios11??
Crash :(
by LJ_Blitz
This app worked great...until I upgraded to iOS 11. Now I can't load the games I'm tracking. When I try the app crashes - every time. Please update so the app will work again.
Does not work for iOS 11
by mcolvin
Bummer- works great before iOS 11
No longer works with iOS 11
by AuraBug
Loved the app for long time until now. It Doesn't work at all with WWF using iOS 11. Very frustrating to use for do long for it to totally Crash with new iPhone update.
Crashes
by Jusjokin
It crashes since the update.
Can't open app
by Joyce679
This was just updated and now the app will not open for me
iOS 11 and support
by Happycard2
I just tried going to development eebsite, link doesn't work. Emailed support and got a bounce back. The "track" option crashed on iOS 11 public beta 9.
Update 9/7/17
by Tacoma Guy
Update to iOS 10? iOS 11 is just around the corner!
5 Stars With Reservations
by My doggie's mom
This is a great app for helping you find words, but, someone should edit your dictionary. There are several vulgar words included in your dictionary. Makes me want to try another app like this, but a "cleaner" version.
iPad support
by GBEATY
Great app, I use it continuously. It would be nice for those of us using it on an iPad if it would rotate into landscape orientation.
Love this app!!!!!
by 12-6 Doodlebug
This is a most helpful app. I use it all the time.
Not Up To Date For Scrabble
by doctorellen
I love this app, but the Official Scrabble Dictionary was updated about a year ago with many allowable new words. This app has not updated its list of acceptable Scrabble words, making it less useful for those of us who play competitively.
I love this app!
by Snakes Reaper
I love this app! Unscramble your letters (including blank tiles) in order right by point value, with the option of adding additional tile (or two consecutive) into the search, simulating tiles already on the board. Also let's you check to see if combination of letters will be excepted as a word, and which games will except it. How it could be better: - some way you could import a game once it's already started and been going for a while. - you're able to add an option to letters to simulate letters already on the board, but if you use both optional letters, the letters are treated as consecutive, limiting the results to words that include those letters back to back. It will be much more helpful if the results were limited in this way, especially when you want to add a word to the board and happen to cross or letters from two other words (i.e. the words would include two additional letters from the boards that are not consecutive). Otherwise – totally amazing way to cheat and words with friends!!!
Makes scrabble fun to "cheat"
by Mindy-Minsk
As other people have noticed, the only way to achieve play level above intermediate is to "cheat". This is because the official scrabble dictionary is so unfair in that it uses MANY meaningless and archaic words while allowing some foreign words arbitrarily ("qi" is allowed but "zen" and "jew" are NOT). When I first re-discovered Scrabble after 40 years, I felt so inept and inferior. Then I discovered the weird and indispensable world of two-letter alleged words (again, arbitrary). So no matter how hard I sweated over anagrams, I just kept losing both to the computer and to random online opponents. Now, this kindly and well-written app has restored the fun of the word-chase and reassured me that it's not me, it's the Scrabble rules. This app is better than the two others I checked out. This one is indispensable.
Ads
by lilwheel
Tell me, I paid for no ads and I keep getting them😡
Love the app but.....
by Kiwibaby
I paid for the ad free version. Why can't get I rid of these ads?? I've made this request for help numerous times. Can't get thru to apple support!!
Wrong Dictionary
by Hessian9
by Hessian9 This app is still using the wrong dictionary for scrabble. It should be using the "official scrabble word list" which is the "Collins" dictionary! Because of that, the "track" section consistently misses much better words worth many more points! CHANGE THE DICTIONARY!!!
Needs wordlist updated
by DLR1949
List is way behind WWF's. otherwise useful app.
NOTHING LIKE THIS!!
by Worst f***ing game EVER
So far this is the only app/website that I know has the capabilities to cheat this much for scrabble! It is as simple as inputting the letters on the board, then inputting your 7 letters... and then... MAGIC! It finds every possible combination of words on the board and it shows which ones will score the most points. Bottom line is that if you are playing scrabble, and you have this app, you will beat everyone. Nuff said...
Misses a lot of bongos
by Mooneyguy
About one out of three bin goes it misses. Like tempore. Missed it. Scrabble dictionary had it. ???
Awesome app!
by Woodp123
Highly recommended app to play word games - along with a dictionary! Fun app for playing and learning new, unfamiliar words. Get it!
Love it
by Lumms57
Use it when board is jammed and no moves. It's gotten me out of some bad situations. Love it.
Cmmacy
by Cjubes
Love the app & find that most everyone that I play with use it, too! Wish they had an "ad free" app because I hate the ads! Your advertising is obnoxious!!!! Never ends!!
Don't Waste Your Time
by Mikievic88
This could have been great, but it's a waste. It requires too many keystrokes. The separation of letters into a) your letters and b) letters on the board is a needless and wasteful complication. Online descramblers are much better.