Dabble A Fast Paced Word Game
by
INI, LLC
(1 user ratings)
$1.99
Download size: 39.31MB
Version: 2.3
Released: 2011-07-29
For ages: 4+
Dabble has received over 1 million downloads! If you haven't heard of this game, you have to check it out and it's Ad-Free! :)

Dabble is an award-winning game perfect for kids and families. At the core of the game lies a fast-paced word game that will help everyone develop many useful skills - including vocabulary, spelling and quick thinking all while having fun.

Are you a word-game enthusiast? Devoted to crosswords, an expert at Scrabble? Crazy for anagrams? Then you will love Dabble!

PRAISE FOR DABBLE

"... Dabble is a great brain teaser that doesn't get old."

"... Good for young and old alike. Would definitely recommend it!"

"... I really enjoyed playing this game. Strangely addictive."

"... I meant to play it for just a minute & ended up playing for over an hour the first time."

"... I like how there are multiple words that you can come up with, so you're not locked in to a particular solution. There are badges you can earn for completing a level quickly, or getting high points, etc."

GAME AWARDS

Naturally, any family game that's this fun and educational is going to get some attention, and Dabble has piled up awards from experts including the:

* Oppenheim Toy Portfolio Platinum Seal Award

* 10 Best Games Award, by Dr. Toy's

* Word Game of The Year by Creative Child Magazine

* Parents' Choice Gold Award

* Top 10 PAL Award (Play Advances Language)

GAME PLAY

* You are given 20 random letters, and you have five minutes to spell five separate words on a graduated bleacher.

* One word must be two letters, the next three letters, the next four letters, the next five letters, and the final whopper of a word must be six letters long.

* Playing Dabble challenges you to think fast, think strategically, and dig deep into your vocabulary.

* Do you start with the longest word, or the shortest?

* How do you cope with a limited supply of vowels?

* Just how are you going to use that J, or Q, or X?

* Dabble is the kind of game that is as simple as it is challenging.

* It rewards players with quick wits, a large vocabulary, and perfect spelling.

* Rate Dabble The Fast Thinking Word Game 5 stars in the App Store, so we can continue making exciting new features for you!

If you like our app, Dabble is also available as a Board Game! Please visit Amazon.com to purchase the game.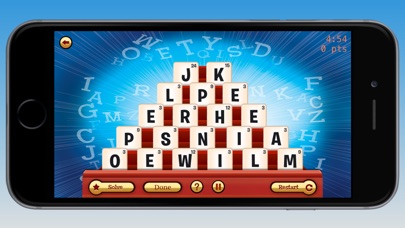 Powered by Facebook Comments
Customer Reviews
I am glad this new version is out but I like it when the old version would give you the words used
by completevil
Still waiting for iOS 11 update which was supposed to be done already when will it be updated
Updated Dictionary
by Sam I am Green Eggs & Ham
What happened? The updated interface looks better, but someone seemed to have left out over half the words in the dictionary. It only took several seconds to figure out there was something wrong when 3-letter and 4-letter words weren't registering as valid. There is no point in playing if the app can't even recognize the most basic words. UPDATE: It appears the full dictionary is in place, along with (gasp) abbreviations. The 7-letter option is great, as it makes gameplay very challenging. Overall, the playability of this app remains great. Now just place the streak counter back in place!
Great game - hate FB link
by Williq
This is a great game. I have the board game and the app. For a while, it made you link to FB. That totally sucked
Dabble
by Fleehappy
The prior version would "ding" if you set a new record...fastest time, highest score, longest winning streak. A small incentive, I guess, but that small reward added to the interest and to the satisfaction of improving your play. Accepts non-words, rejects real one. What dictionary are you using? The free version was better than this one I paid for.
Makes too much noise
by Lady624bug
I love this game, but can't find a way to turn off volume. Without turning off my ringer on phone. I want to play this in bed but it wakes my husband. Plus the sounds are just annoying to me.
Good. Game
by Jmart1497
Doesn't accept common words but accepts proper nouns
Doesn't recognize legitimate words
by kwrdogs
This app used to be such fun. Now it doesn't recognize many words, such as "jumper", "psychic", and words ending in "ed" such as caused, crazed, etc. Why?
Thank you for updating the dictionary!!
by frustrested
The older version was better. I really enjoyed playing this game before, but I find this version doesn't recognize correctly spelled words. Cannot even finish a game because a correctly spelled word isn't counted. Very frustrating. Please fix this issue. Thank you for updating the dictionary! Once again, an enjoyable game to play!
Loved original
by Abernathy23
Thanks for the update to 11 Wishing the interface was the same, doesn't have as smooth a feel. The dictionary seems to off as well, doesn't seem to know words as simple as Limp. However, less of a complaint than it seems, as I'm quite pleased to see its return!!
Issue with new versiom
by Bookyogi
New version doesn't recognize everyday words like "count" and "fun". Please fix. I love this game, but its really frustrating right now.
Dictionary bad
by MajesticMajestic
Game used to be kinda fun, albeit simple, but now about 30% of common words aren't considered words. Ask. Arm. Us. Loom. Wander. Whisks. Just a few examples. Ridiculous.
Sadly the update is disappointing 😕
by Phas100
After the update the app seemed to work. Now no six letter words are valid...I'll give it time for one update...then it's a goner.
Good game.
by Rus706
Better than your average word game. Would love to be able to turn all sounds/music off and play with another phone user.
Dictionary?
by WCJ
I don't know what dictionary they use, but it won't accept common English words like "fry" and "shore." At times it will accept something that even the ap's own dictionary cannot define. The concept is great, and very entertaining, but please update your dictionary database.
Not so much since the update
by pak2013
I liked it better before when it showed the correct answers at the end if you cannot solve all the lines. Also, I cannot understand why the words LIPS and KINDLY are recognized as words. I liked it better before the changes in the update to IOS 11. Too bad
Not as good as the previous version
by Steve Mac since 1989
Why did you go to five minutes from three minutes? Why is there not the nice exploding end when you finish? Why on the iPad is it so tiny at the bottom? You've got this entire iPad you could work with and you scrunch it down to 20% of the bottom of the screen. At least give us the chance to go back to three minutes give us a choice of time. It's not fun anymore. Very disappointing.
Fun, but
by Mcorange722
The 7 letter option doesn't work. It wouldn't score or accept any of the valid 7 letter words I came up with.
This is more than a game!
by Luscious Loadabowl
Dabble helped me to focus my eyes and concentrate on letter sequencing and word length, following a stroke. I really believe playing Dabble daily was the single best therapy, and I give the developers full credit for my recovery! How do I mute the clicking and other sounds without muting my phone?
Awesome game
by dilydily
Love this game. It's challenging and fun to play. I can't stop playing. My whole family is addicted.
Love the game -update is visually unapealing
by Argncfgnvxtbvcf
Go back to the squares and simple background- great game - keep it that way 😊
Estatic.
by Erle2bed
Thank you for working hard on an update for IOS. So glad to have Dabble back on my iPhone to play. Awesome job love this game. Addicting.
Too much background
by kspach
Do not like the background as it is too busy. Also letters/game board are way to small as the majority of the screen is light blue background. Also can not figure how to turn off sounds just the music.
IOS 11 upgrade issues
by IOS 11 update needed
5 stars for this app. But deeply disappointed that they haven't updated this game to work with IOS 11. Come on guys, help us out here.
Still waiting for upgrade to iOS 11.
by situate
Would love to play Dabble again.
Update Please!!!
by Pepe6934
Any chance of an update? I don't want to lose this game when iOS updates.
Great game - Update to IOS 11
by Plays2Win29
Great game. Please update to IOS 11.
Great game!!
by dumplin5
So glad I found it...fun, addictive and educational! And ad free...no in app purchases. Just play and enjoy!!
Dabble
by Ruota46
This is my morning "brain-wake-up" game! Please upgrade it to be compatible with iOS 11!
Scores not updating
by tinytim0429
My scores/ achievements are not updating in the all time achievements area when first logging in.
Challenging
by Justice258
I've only gotten it once!
Love the game but..
by Xxooxox
My husband and I love this game but are unable to play together because the game will not show anyone to challenge when connected through Facebook.
Can't challenge my fb friends
by Griffey8itall
I'd give this 5 stars if I could get it to connect to my fb friends. I've tried everything.. Even deleted and reinstalled the app, but it won't let me challenge fb friends. Help?! Never had a problem like this with any other game 👎
Great Game!!
by D-Tox10
The game is easy to learn and fun to play!
Tough Game
by Mrpe
Fun when you figure out the correct combo!
New go-to word fun ap!
by WordNerd TLM
Hard to put away. Wonderfully simple and addictive word play. Works flawlessly on my iPhone 6. When you move a letter, it simply swaps positions with the tile you are replacing. It's elegant and adds a challenge to the game. Having a workspace or tray for letters might make it easier, but where's the fun in that?
Love this game!
by Loading4sisters
Fast pace word game. Scramble letters to make words of different length within a reasonable time frame of 5 min. This allows you time to think about where to place the larger scored tiles (letters) in the longer spaces for a higher end score. Many layers to this game. Fastest time, highest score and completing each word. Many ways to create different words. Highly recommend. And it's free!
Fun
by iBuggins
And enjoyable.
My #1 Fav App!!
by Neil vohra
I can't stop playing. Very addicting. Download now you won't regret it.BEST GAME EVER!¡!¡
Waste of time.
by Flaco12Jaav
Game is slow, unresponsive and buggy. Letters are difficult to move around and at the end of each game not all words are counted so you just waste your time playing for nothing and seeing an ad for Barns & Noble.
Great game
by Kdupes
A pause with blurred out screen would would allow you to stop if you needed to without losing / quitting the game.
Fun
by Boss Chic 365
Great app so much fun Love it.. ******
Excellent game
by Gmaln
I am impressed with the balance between challenge and ease of play. Nice diversion when needed. Works well. Nice layout. Satisfying to play.
Love this game 👍👍
by Yiottaa
Just what I was looking for ... A word game for 1 player! Great fun & challenging! Great to play to kill time while waiting .. & just fun. Excellent for word game enthusiasts. Thanks!😊
Very good!
by D0gberry
Pros: Very nice game. Very liberal dictionary. Good replayability Cons: Interface is a little tricky on small iPhone screen. Game Center interface for high score list and achievements is even more broken than usual...
No iPhone 5 Support
by G. Luv
Seriously?!? Come on people... We're already onto the SECOND generation of 4" screens. You've had over a freakin year to get your act together. I no longer waste my time on app developers who are this dang lazy. DELETE.
Great!
by liannedavid
So much fun to play. It helps build your vocabulary and the board game is even better!
Major problem 4s
by Rly1957
Huge white block for name immovable cant see 2 rows of tiles terrible
Nice!
by Ronronronron
A clever and challenging word, a rarity nowadays.
Good game
by Win62
Addictive game makes you think and remember words that you may have forgotten due to lack of use.
Just like the board game
by Pinakamakapangyarihan
I have played this game with my family as a board game and loved it. The app is just like it. I was hoping to have wifi multiplayer, for a family experience, but I haven't found anything that distracts from playing this great word game. Overall a great game.