Walkmeter Walking & Hiking GPS
by
Abvio Inc.
(18 user ratings)
FREE
Download size: 70.42MB
Version: 10.7.3
Released: 2009-10-09
For ages: 4+
Walkmeter is the most advanced application for walkers and hikers ever designed for a mobile device. Built from the ground up for iPhone, iPad, Apple Watch and iCloud, it makes your iPhone a powerful fitness computer — with maps, graphs, splits, intervals, laps, announcements, zones, training plans and more.

• Obsessively complete... a killer app — Wired
• Records a wealth of data — Macworld
• Clean, easy-to-use — New York Times

Experience core features and dependability for free, then upgrade to Elite to add advanced features.

iPhone Powered
• Records an unlimited number of workouts — years of workouts only take up the space of a few songs.
• No website login required.
• Swipe across the stopwatch to see pages of stats, maps, and graphs - completely configurable.
• View your workouts on a calendar, and by routes and activities.
• View bar and pie charts summarizing all your workouts.
• Analyze your workouts on your iPad, updated with your latest data using iCloud.

Track
• Exclude stopped time with automatic stop detection.
• View terrain and traffic maps with Google Maps.
• Record heart rate, bike speed, bike cadence, and bike power with sensors.
• Records steps all day and cadence during workouts using your iPhone 5S or later.
• Supports the Wahoo RFLKT+.
• Automatically record the weather.
• Start and stop with your earphone remote.

Train
• Supports cycling, running, walking, skating, skiing, and many other activities.
• Keep on track with extremely configurable interval training, zones, and targets.
• Set up repeating intervals, pyramid intervals, or tempo workouts.
• Hear announcements that keep you in the zone.
• Analyze your split, interval, and zone performance.

Hear
• Select from more than 120 configurable announcements including distance, time, speed, elevation, and heart rate.
• Hear stats automatically at time or distance intervals, or on-demand with your earphone remote.
• Listen to comments from friends and followers on Facebook, Twitter, and dailymile.

Race
• Compete against your previous workouts along a route.
• See your virtual competition on a map and in graphs.

Plan
• Includes 5K, 10, half, and marathon running plans.
• Design your own training plans.
• Synchronize your plan with your iPhone calendar and your online calendars.

Analyze Online - See abvio.com/explorer
• View the Workout Explorer on your computer or on your iPhone.
• Shared by email, Twitter, Facebook, Strava, MyFitnessPal or dailymile.
• View within the app on any Info page for a workout.
• View your graph, splits, intervals, zones, and more.
• Select a zone to see your map path drawn with zone colors.

Share
• Post workouts to iOS Health app.
• Use email, Facebook, Twitter, Strava, MyFitnessPal and dailymile to share your workouts online.
• Automatically keep family and friends notified of your location and progress.
• Hear replies from family, coaches, and friends spoken using text-to-speech.
• Share your workout calendar with your friends and coaches.

Import/Export
• Import by tapping on a GPX, TCX, FIT or KML link or file in Mail or Safari.
• Export detailed CSV, GPX, TCX, FIT or KML files for use in maps, graphs, and social fitness sites.

Apple Watch Enhanced - See abvio.com/applewatch
• Set up, start, stop, lap and finish a workout all from the Apple Watch. Keep your iPhone in your pocket.
• Intensely configurable pages track any of more than 220 statistics.
• Includes beautiful gauge pages with zones for speed / pace, heart rate, step cadence, cycle cadence, and power.
• Splits and laps/intervals pages keep you seeing the trends.
• Force touch to start, stop, lap, or access settings from any page.
• Glance page quickly shows your latest workout stats.
• Notification pages prompt you with time, distance, intervals, and target alerts.

Does not support iPod touch, which lacks GPS capabilities. Continued use of GPS running in the background can dramatically decrease battery life.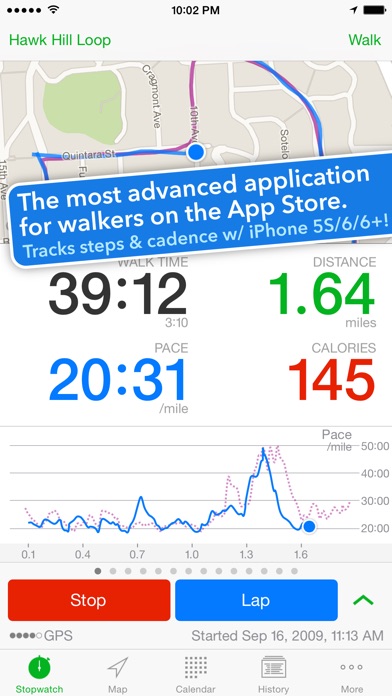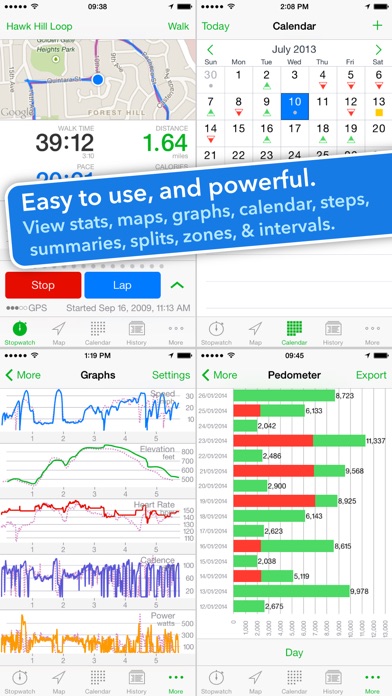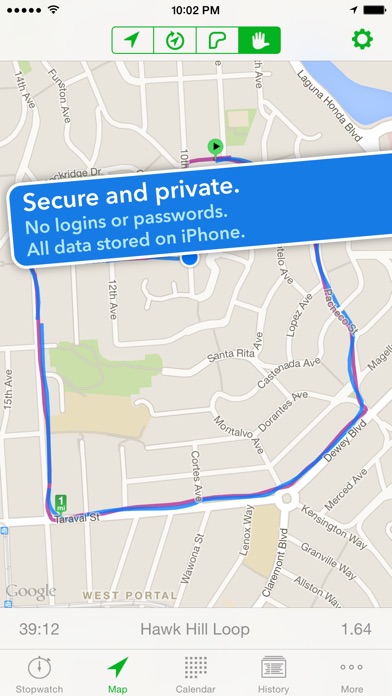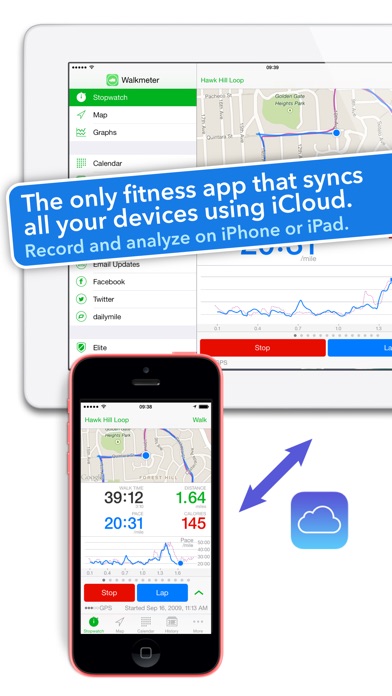 Powered by Facebook Comments
Customer Reviews
Beware of "indoors" setting!
by markdj
This is a great app with myriad settings and features but I was burned recently when I inadvertently switched to indoors on my watch. The only functionality remaining was stopwatch! Support was prompt (see below) in helping me figure out why, but the controls could be clearer and grouped more appropriately. Otherwise - superb! --- The indoors setting is used when working out on a treadmill or indoor track where GPS is not available. In that case, you would need to also enabled step counting and measuring your distance from steps (rather than GPS). When you turn Indoors on in our iPhone app it will give you a warning that it is only intended for outdoor workouts. Sorry that wasn't clearer when you selected it on your watch.
Good and Bad
by Morey54
I have used this app for around 3 years. I love that it has so much to offer. My favorite is pacing. But, there are some problem areas. If I forget to stop it and get in the car, it will still continue on adding up the miles! Also, if I get a phone call it will stop, and it routinely stops for no apparent reason, so I have to keep checking it to make sure it is still on.
Does not work with Apple Watch 3 alone.
by Msjudithlynn
I bought the Elite version of this to use with my watch while I leave my phone at home. Doesn't work without phone. This app is useless to me.
Best Walking/Running App Available
by exoticbirdphotography
I am a baby boomer and my primary form of exercise is walking. I am quite computer literate, Jasmine but I am not big on social media. The Pedometer Ultimate GPS+ that I previously used is not supported by iOS 11 and the app has been removed from the iTunes store. I spent a fair bit of time researching a replacement, reviewing "best" lists on the web and app store reviews. After narrowing down the candidate list to a few, I downloaded those apps and tried them myself. I have an iPhone 7 and the original Apple Watch. Walkmeter is far and away the best pedometer app currently available. It has a rich feature set that is superior to anything else out there. It works both outdoors and indoors. Step length is automatically determined by the GPS (Step length is required for indoor walking where GPS is not available). Alternatively step length can be manually entered. Customizable voice prompts give updates during the workout. Pros • Excellent feature set with unbelievable level of customization • Apple watch integration • Fantastic customer support – Support is by email only, but my many inquiries as I was learning to use Walkmeter were answered in about 24 hours with complete instructions to accomplish what I was attempting to do. • Cons • High price – Walkmeter is free, but the Elite in app purchase was important to me to unlock the features I wanted and is highly recommended. This costs $10/year, making Walkmeter one of the most expensive, if not the most expensive, pedometer apps out there. If you want steak, don't expect hamburger prices. • No user manual – There is built in help, which is useful but limited. All the features scream for a user manual. Without it, I found myself trying a lot of things by trial and error or contacting customer support. I debated whether to give this app 4 or 5 stars. The price is reasonable given the feature set and the development effort required. The lack of a manual is a real shortcoming and caused me to settle on 4 stars. When a manual becomes available, I will up my rating to 5 stars. That being said, Walkmeter is the best app of its kind out there and well worth considering. For the record, other than being a user, I have no connection to Abvio.
Wonderful for walkers/runners. Great app
by daschles
I'm really happy. I started using as a walker; Now I use as a runner. I get great data and the app is very sophisticated - it keeps track of stop times which is a great feature. The only thing I wish it had was a library of walk/runs for different areas. But I've now been a happy user for nearly three years as a paying elite member and though I've tried others I'm loyal to this. Great features. Great implementation. Also great and fast customer support whenever I've had a question or issue.
Thoroughly annoyed😡
by Zatannya
I'd been using the free version of this app for the longest, but decided to pay for it recently since I've been walking more. The stopwatch still stops at the most inopportune times on my walk. This morning I walked 30 minutes only to check my time toward the end & see it had only been tracking the first 5 minutes of my walk. I am livid...that was my first time walking that route & now I have no time to compare it to😡Why am I paying if this is the same issue I had with the free version. I will NOT be renewing.
Retracted Review of "Faulty"
by silvrtipgriz
I would've deleted my first review if I was more tech savvy. This is a follow up of a two star rating I gave walkmeter. Due to user error, (that would be me) the app didn't perform accurately following an update and I wrote the review while frustrated with the app. I should never do that. Ever. The app went haywire after an iOS update. I thought it was the walkmeter app at fault. I didn't take enough time to figure out the "how to troubleshoot" guide attached to the app. I did figure it out after I wrote the two star review. The iPhone needed a reboot after updating. It works as well as it did before the update and I'm satisfied with it. I was too quick to judge this very useful tool based on my own limited knowledge of smartphone capabilities. I contacted Abvio.com and explained my mistake, and Fran in support was most gracious and helpful. Good product-good team-good service. Four stars.
Great So Far
by Frankhj
I have only used it twice, but it has a lot of great features in the free with advertising version. The advertising is not overwhelming & I see no need in my case to get the subscription. To top it off I had some questions on saving routes and got email replies on a Saturday!!
Don't be misled by the app title
by ssteiner
It's name suggests it's just for "walking". But I do ultra-marathons and average 200 miles a month. This app, despite its name, offers awesome detail for the hardcore runner. I've had this app for over three years and swear by it. It's phone based and thus not dependent on a limited battery GPS watch. It provides extremely accurate distance measurement and records data at several levels - from cadence to pace to speed in mph to elevation gain and more. The distance numbers are consistently slightly under my Garmin measurements. The same is true with the elevation estimates. Despite this, I'm a huge fan of this app.
What Happened to the Map?
by Pd739
Just recently I found this is no longer displaying the map on Facebook shares, just a big logo with a few stats. Even on old walked where it used to show the map, now only shows the logo. What gives? I liked having the map there. Just noticed the map still shows on the Facebook app, but not on the Facebook web site (and it did until recently).
Full service app
by SB70
This app has worked great for me over the years and continues to do so with the current upgrade. It is truly a great app.
Stops itself
by Tmrphy
WalkMeter had been deleted because another app stopped it again.
No map details
by Skater90210
There are no longer map details (roads and streets) on the map, and the route traveled is simply the straight line between the starting point and current location. This app is a piece of junk.
Not worth yearly fee
by Mauijoe
Further review update: App stopped working for me once while in the Elite free period. Was tracking a long 5 hr drive. It appears to have stopped working when I dropped out of cell tower coverage. No audible signal no restart once cell signal reestablished. Glad I did not pay for Elite! Having to pay a yearly fee is just not worth the upgrade. Sucker you in with free 30 day Elite then say they need you to pay for continuous updating. Try expanding your market instead of ripping people off under guise of continuous app improvement. Would pay 9.99 for lifetime access to updates. Not a yearly fee. I liked the app because was able to switch modes walk bike drive. Don't use the app 24/7 so having an app on phone is convenience, having to pay a yearly fee is crap.
Needs work
by 120waterhead
I kept getting a memory low message on my phone while the app was tracking. I couldn't figure how to fix that.
Great App!
by EAAwht7
I LOVE the depth of details this app has! I have a number of watchs and My Series 2 watch work wonderfully with the watch but I tried my Series 1 today and it had communication issues when I tried to run a different app on my phone? I'm guessing it is a Apple issue as I can tell the Developer is trying hard!!!
Not bad but...
by casandrz
It's a decent app and I like the way it tracks. However, i was very annoyed to find out that after I paid for the app, now it wants me to subscribe for $10/year in order to do anything except track my stesp and show me where I walked. There are free apps that will do this. Had I realized, I never would have bothered to purchase this app. Exactly what did I pay for ?
Doesn't work
by Curt67
One of the most frustrating experiences I've had with an app in a while. Doesn't work on Apple Watch which was the primary reason I got it. (Walking and running without having to take my phone). Not an app I'd recommend.
Superb Offline Tracker
by Nomadram
Absolutely magical the way it can keep track your route when offline.
Suddenly get corrupted
by Boys1718
Works fine for a while then stopwatch stops counting and goes back to 2 seconds. Have to delete and reinstall.
Needs work
by Nursefire
A pretty good app. However, it needs to be up front to run. I walk 8 to 10 miles a day. If I get a call a text message or even just hit the home button it stops tracking. When I go to look it tells me another afternoon open or if it the home button therefore this is been shut off this needs to be addressed. Do this and I'll give you five stars. Currently I'm looking to replace this app
Great app!
by Tango!
For any of your walking, jogging and running needs this is the perfect app. I use it twice a week and it keeps all records on a calendar with stats, distance and a gps map of the route I went. I recommend it.
Buggy
by scottfmcc
Too slow to respond. Won't always reset. Locks up too often. GPS won't always work for Pace even when phone indicates a strong signal. Needs work.
Thanks
by DaveD67
I love this app. I've been using it for 3 years. It's tracked my activity since than and even saved data when I upgraded my iPhone! Thanks
Great app
by Pbfoot-79
Not sure why this one isn't mentioned more. It offers everything the others do but cheaper and fairly easy to use. This app has a lot to offer and has good depth. Like telling you if you are ahead or behind your best time. Well worth the money. I have been a user now will three years.
Working with a couple issues
by fbicking
Update 4-1-2017 So I have been able to get each of three apps to work but there are a couple things to making it work. First I have two series 2 watches and always would leave the three apps in the dock. This will not work. It has worked up till the latest version of IOS and WatchOS. Also finding that if I change watch shortly after using and app I need to reboot to get it to work again. Again this has worked till now. I could ride for 3+ hours with watch one, get off the bike change watch for fresh battery and jog. This now requires a reboot of the phone or the apps will lock up. Not a huge issue other than it slows the transition in training. I do recognize that a high end Garmin could do all this but I have been happy doing this with Apple Watch and these apps since series 0. Original review For the first time in about 6 years that I have been using the three apps from Abvio I am leaving less then 5 stars. There was 7 betas of IOS 10.3, how could not one of the three apps be ready and stable? I would be fine if you all communicate with your elite members but you don't. I am an elite subscriber to all three apps and all are broke and unstable on 10.3. Maybe send and email out to not update or here is a idea get a Facebook page and put up and update. Since I jog 3 days a week, cycle 3 days a week and walk on my recovery day I am hoping for a quick resolution. What I have done to try and fix the problem. Uninstalled all three apps from my phone and watch. Rebooted both phone and watch. There does not seem to be any way to make the apps stable. I get dropped heart rate, dropped distance even though it tracks on the map. Also the apps on the watch will crash and restart for no reason. I will add my weightlifting software works fine and tracks heart rate perfectly under 10.3 on my phone and watch. I downloaded and tried another running app and it tracks fine.
Accesses location while closed?
by HartAndSeoul
There's no need for that. Uninstalling.
No Apple Watch gps
by Dumbfounded user 12374295532
This iPhone app works great. My issue is with the Apple Watch app. You have to have your iPhone on and paired to the watch to use the gps. Good Apple Watch 2 apps use the gps on on the Watch so you don't have to kill your iPhone battery to use the Watch app.
Keeps me honest on walking
by cchdux
Inspires me and my trainer loves it she checks to see how far I walked every week when I go in it's a great app
Pause announcements on phone calls please!!!
by Tango Charlie PTY
Please have the app pause announcements on phone calls!! Please ! Please! Thanks, TC Calvo
Need O2 Monitor
by Bob Hunt
Need the ability to add Oxygen Level info from iHealth Oximeter or other Oximeter. Helps monitor O2 while walking for those challenged. Like Emphysema. Otherwise outstanding app.
Keeps stopping on its own
by elmo999999999
I've used this for over a year but now it can't seem to stay running for the entire walk. Hard to keep mileage and other data when it stops before you get going. Probably stops because I don't have the pro version.
Walkmeter
by Walked/ biker/hiker
I am discussed with having to read all that information and not being able to load the program and get on with my bike ride or walk. I liked it better when it was easy to go from wake, bike or hiking. I would like to go back to the original it is not worth a upgrade that want let me access the program.
Todd6883
by PsychLarry
Outstanding.
Last upgrade deleted al my data
by Barb in CA
I'm not training for anything so it's not critical, and maybe I missed the fine print, but the latest upgrade erased my history and all my routes. Just a note of something to beware. Other than that it had been a great, easy to use little tracker app.
Good all-around Walking App...
by Flash.Gordon57
By the name you would surmise that it would be all about walking, but the interface can overwhelm you with too much information...some of which was not desired, therefore just taking up space. Case in point, and the split data, and comparisons to historical splits, etc. is overkill when you just want to use it for non-competitive purposes. I suppose it's fine that it's capable of doing all that, but don't lead with it as a default. Start with a slimmed down Home screen, and offer alternative Home views, if you want certain other features. Also, I've never used an app that was sooo in your face about upgrading to the Elite subscription service. I can get most of what a want without Elite, which is great. I just don't want to pushy nature of what they've done. With regard to the Elite version, I would go for it at $3.99-4.99, but $9.99 seems excessive for what is delivered. I would suggest trying $4.99 or $3.99, and see if the adoption of the upgrade increases overall revenues. More Users * Lower Cost = Greater Total Revenue. They should blast that offer to users and see what happens.
I loved and easy for me
by Abuela40
I'm really happy is amazing
Complicated
by Crystal.Wright
It's not easy to use. It's Complicated
Now totally useless-
by Tlethal
- Except as a stopwatch. Sometimes. App stopped on its own the last 5 times I used it. Today, the timer works but it no longer records any distance. Map seems to be working fine.
Wonderful support
by dkajksk
I'm so impressed with this app, and with the personal, prompt, and intelligent response I received when I emailed the help desk.
Great Hiking App
by Ed and 69
I have been hiking trails throughout the US and Europe for over 20 years. This app is excellent for tracking my progress and I have used it for 2 to 3 years and love it. I would recommend it highly.
Subscription Based
by TOJOHNSO
When looking at activity tracking apps with Apple Watch functionality I came across this one. The screens looked interesting (both watch and iPhone) too. Once I loaded it, it seemed as all the functions I was interested in were ONLY available if you paid the $9.99/yr subscription fee. I'm not against paying for software as I have paid for a number of apps. Including ones with annual subscriptions. But none of those were so severely crippled unless you went with the subscription. So, I deleted the app. I gave this app 2 stars because it may work in its crippled state. And it does have a watch "app" in that crippled state that shows you three things. Woo.
Great App
by Love my 6
Love it keeps me walking !!!
Like this app a lot!
by 1GCFAN
I have used it nearly every day for over a year. Has a lot of features and is very accurate. I like the history and being able to access my data on a PC. My one support issue was answered promptly. Only drawback is indoor distances are inaccurate. as GPS access is blocked by the building steel, etc.
Quits without reason or warning
by adwerfg
I used this app for almost a year and each version got better at serving up obnoxious loud ads and worse at working. The past few weeks it started just stopping without warning. I'd get back from a 60 minute walk and find it stopped 30 minutes into it. Time to find something that works. DELETED
Great App. This has been my favorite app to keep track of my daily walk
by Artichoke1971
This has been ideal. I travel extensively and this keeps track effortlessly. I particularly like the ability to compete against earlier runs on the same course Update: still our goto walking app, but now I learn that customer service is top notch. We had the issue that was solved by the 13 March 17 update. Last week we notified them of the problem by email. The next day I received an email with a temporary work around and a follow up email indicating that found the problem and would update the app
Update broke Functionality
by Hard to fit
Since the last update, this App stops frequently in the middle of hikes. Notice says I pushed a button or started another App. If this is going to happen every time I get a text or email, it's worthless to me.
Bad update
by 3mteacher
I've been using Walkmeter regularly since 2012. 4 years and no problems until the recent updates! I've always listened to music through Apple Music or Spotify but now Walkmeter stops in the middle of my runs and bike rides, stops tracking my time and location and says that another app opened or I hit the home button. Uhhh...no I didn't. It always seems to stop after an announcement. App good. Update bad.
Houston, you have a problem
by TruroRider
I used to love this app. I am another user for whom the app is quitting unexpectedly. The error message says that I have opened another app or have pressed the home button. Nonsense. It's a bug that seems to have been introduced with a recent update. I've had extensive email correspondence with Abvio tech support but they refuse to admit they have a problem. It's not as though they're not responsive. They are. But they can't fix something until they admit it's broken.
Great app!!
by Judy in Upstate NY
Updated review – dropped to three stars. Walkmeter has developed a problem. Are you aware of it? When I am ready to start out on my walk, I start the app; sometimes it works as intended, and sometimes it quits. The message I get is that I have started another app and they are not compatible, or words to that effect, so Walkmeter has been stopped. But I am not doing that. It is really annoying to do a whole walk and then find out that it has not been tracked or recorded. Could you please fix this? Earlier review - 5 stars I love this app - it's easy to use and very intuitive, and gives me the info I want when I walk.