Fooducate Healthy Weight Loss
by
Fooducate, Ltd.
(34 user ratings)
FREE
Download size: 44.27MB
Version: 5.06
Released: 2010-11-04
For ages: 4+
Achieve your dreams and goals with Fooducate, a weight loss coach for people who want to eat a healthy, real food diet. Track your food, activity, sleep and mood. Get motivated by the most supportive community in the world.

THE BEST WEIGHT LOSS & NUTRITION APP
• Apple's Best of the iPhone Health & Fitness category
• 1st prize - US Surgeon General Healthy App Challenge
• Media praise: USAToday, NYTimes, Dr. Oz, Oprah, WSJ, ABC, FOX,. . .
• Recommended by doctors, dietitians, fitness trainers, and your friends

USER REVIEWS
***** "I have lost 55 pounds with Fooducate. I've learned how to eat healthy once and for all."
***** "I am eating healthier, losing weight and enjoying food shopping again."
***** "I love learning so many helpful new things about healthy eating."
***** "Use it daily and I've lost over 15 lbs the correct and healthy way."
***** "Fooducate is undoubtedly the best app!"
***** "This app has helped me lose that final few pounds by helping me make better food choices."

YOUR HEALTHY DIET PARTNER
+ Track your food intake and exercise (seamlessly integrated with Apple's HEALTH App)
+ Track the quality of calories, not just quantity
+ Track your sleep, mood, and hunger levels
+ Add your own foods and recipes to track
+ Scan over 250,000 product barcodes to see a personalized nutrition grade (A, B, C, or D)
+ Get suggestions for healthy foods based on foods you scan
+ Ask questions and get feedback from the community
+ Share your tips and success to motivate others

FOODUCATE TEACHES YOU TO EAT FOR HEALTH!
Fooducate analyzes information found in product nutrition panels and ingredient lists. Scan to discover things manufacturers don't want you to notice:
- added sugars
- tricky trans fats
- high fructose corn syrup
- MSG
- controversial food colorings
- GMO - genetical modified organisms (premium feature)
- additives and preservatives
- artificial sweeteners such as aspartame
- and more...

PERSONALIZE FOODUCATE
- age, gender,weight, height, activity level
- desired weight loss rate
- carb control
- health conditions (low cholesterol, pregnancy,...)
- dietary goals (non processed foods, vegetarian)
- avoid MSG, HFCS, GMOs and other scary acronyms
- Gluten free and other allergens
(Note: some personalization features require upgrade to a premium account)

Health App integration:
- import your exercise info from other apps and devices
- export your meal nutrition data - calories, carbs, and more

IN-APP PURCHASES
Get the most out of Fooducate with these premium features:

* Pro
—> Low-carb diet
—> Paleo diet
—> GMO warnings
—> Weekly health & diet tips
—> Priority support
—> No ads.
Subscription options: monthly auto-renew ($4.99), annual auto-renew ($29.99), one-time purchase ($74.99)


* Gluten & Allergies
—> Gluten-free diet
—> Uncover gluten and allergens in your food
—> Choose allergen free alternatives
—> Includes gluten, milk, lactose, soy, peanuts, tree nuts, eggs, fish, and shellfish
—> Priority support.
Subscription options: monthly auto-renew ($2.99), annual auto-renew ($19.99), one-time purchase ($39.99)

* Diet Kickstart
one-time purchase ($3.99)

* Pet Food
one-time purchase ($9.99)

Notes:
- Payment will be charged to your iTunes Account at confirmation of purchase
- Your subscription will automatically renew unless auto-renew is turned off at least 24-hours before the end of the current period
- Your account will be charged for renewal within 24-hours prior to the end of the current period
- You can manage your subscription and auto-renewal by going to your iTunes Account Settings after purchase
- When your subscription ends, you can still use the app, without premium features
- You can always renew your premium features once your subscription ends.

Our terms of use: www.fooducate.com/terms
Our privacy policy: www.fooducate.com/privacy
Our website: www.fooducate.com

NOTES:
* Requires iOS 7 and higher
* Product analysis on US products only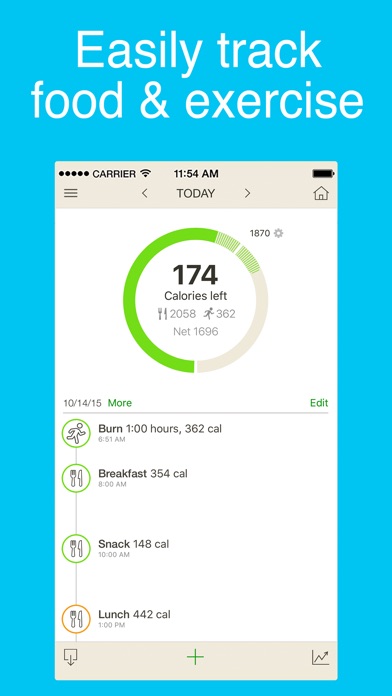 Powered by Facebook Comments
Customer Reviews
So far it's great!
by Laura Lee 23
So far so good! New to the app :)
Very informative
by Neeack
Great way to learn about food.
Sketchy sh#ty app
by Sensible1
This app consistently locks you out and doesn't let you log back in on top of that doesn't have about 50% of the inventory that you put into it.
Exceeded Expectations...
by Eggychick
Downloaded when needed to change my diet due to high cholesterol and didn't know where to start. This app is so much more! Set a goal and it will help you achieve it. Simply scan bar codes or type in and search what you plan to eat. Reduced my cholesterol. Don't use it daily but refer to it when I want to find a healthier food alternative. Wonderful diet tracking app. Thanks!
Food Tracker
by llawrence71
I love how easy it is to find restaurant meals! Love love love this app! Easier than Fitness Pal!
Love it!
by Crazylou86
Really wakes you up to what is going in your body when you can scan the food and gain insight almost immediately. Been looking for a way to take care of my nutrition and this is it.
Great app!
by dtagduf
Love the food search function to locate calorie & protein count.
Great tool for nutrition and weight loss!
by PatannT
Thanks to the creators of this wonderful app! I'm finally on my way to success after many years of struggle with my weight.
This app is great
by Sir Lance 'Alot
I love the grading of food really helps me
Alternative product suggestions
by Lbsmith
Love the scan feature with alternative products suggestions
Helpful
by Cake Baker 20
I like the articles and motivation stories.
Love it
by Maya27889
Very helpful when grocery shopping and also has good recipes!
Amazing
by SusanKCZ
This app is everything it says it is. Makes dieting so much easier.
So far it's great
by jazzzgrl
Using this app to help my diabetic patients carb count. Love that it has pics of foods and brands.
Very Helpful!
by dmf4455
Lots of food product information!
Great App
by Sully2306
This is a great app for really understanding what you are putting into your body. I love that it also gives you healthier alternatives to replace unhealthy foods with. It's so easy to scan the barcode of the food you want to know more about and instantly you can see the grade of the food and why it received the grade it did. There are so many hidden potential dangers in our foods today. If your scanned item isn't in their system you can have them add it by submitting some data to the makers of the app and they will return with your item added and graded. Fantastic app! It makes transitioning to healthier eating seem more attainable by providing knowledge and makes it fun because it's interactive.
Life necessity!
by Veede89
CANNOT SURVIVE WITHOUT!!! This is what helps me with everything & anything as far as food,diet,exercise,life style change,grocery shopping& many many more things! Thank you so much whoever invented this AMAZING LIFE CHANGING APP!!!👌🏼👌🏼👌🏼👌🏼
This app changed my life!!!
by nicworley
This app is educational, motivational and keeps me accountable. Love, love, love everything about it. It has truly has changed my relationship with food in a positive way and kept me on track with healthy eating throughout my pregnancy. I would recommend to anyone who wants to be more knowledgeable about what they are putting into their bodies.
Confusing
by BBBBAbreu
I imagine it would be effective if made simpler
Not happy
by IamMissHun
App signed me off and won't let me log back in. I remember my password but I tried to reset it thinking it would help with the issue. It doesn't recognize my email address... So the last 8 days of data I put in is all gone...and all the time I spent getting to know this app. Not cool. Well, everything happens for a reason I'm sure I'll find a much better app than this :-)
Very Helpful app
by Luke hg11
Fooducate has been very helpful with tracking my food intake as I try to lose weight. It is easy to use, and the simple, clean graphics are cheerful and keep me on track. It's definitely helped me recognize how much "unconscious eating" I was doing in the past.
Rate app:
by Blueril
Once you catch on to how to use app it's pretty awesome. I would recommend.
Great App!
by Daynadaynn
Has a very large selection of food products to choose from!
Great App!!!!
by Matt62734
This app really helps me keep track of what I eat an sets goals for me.
Great up to the minute information
by Wendy Taylor
Fooducate stays current and seems to really do their homework. It's my go-to for ingredient and nutrition food facts.
Outstanding ratings
by La Ron Martin
I am 100% happy with Fooducate. My only problem is I wish it was able to scan all food items. There was a few items that it was unable to scan. Overall I think this app gives you the ability to know what type of food is healthiest for you!
Love the App
by Auntpj
This app is my "go to" when looking at new foods. Love to scan at the store before I buy.
Why did I stop using this?!
by autumnr82
This app is even better now that it has a health tracker. I don't know why I deleted this app but I am glad that I re download it!
Great nutrition app!
by crystalrose29
Love this app, user friendly and love the alternatives tab. Will use it every day!
Super Tracker
by Cobi vB
This is the easiest way to stay on track. I appreciate the emphasis on healthy foods and the nutritional breakdown. You have made the way clear. Thank you.
My helpy helperton!!!
by Margeasaurus Rex
I love this app. Even when I'm not tracking my intake i can simply search foods to give me a clearer picture of what I'm about to put in my body. Some items are not there but if you have a moment you can send a picture and the nutritional info to the app and they make the item for you! Love love love it! Thank you Fooducate!
Love this App
by Ladyhntr
Very easy to use!
An excellent calorie tracker and educational too!
by Staygold415
I love this app! It is far different from the other calories tracker app because it also educates you and grades certain foods. It informs you whether the food or drink you consume is healthy for you by grading it. For example if the food is healthy enough to eat the app grades it at A+ or close to that and if the food is unhealthy to eat, the app grades the food closer to a letter D. This really has educated me based on the grading scores of the foods. It truly helps me stay away from the bad and unhealthy foods out there. It's also community based so the list of foods just keeps growing and growing. I totally recommend this to anyone trying to get fit/healthy.
This app helped me lose weight
by Isabella458
This app is amazing it helped me lose 12 pounds in a month! Unfortunately, my eating habits became sloppy and I put weight back on but I'm working to lose it again. I highly recommend this app.
Fooduation a must have!
by Deltawoman
Very good resource when grocery shopping.
Losing weight.
by Dan Rathbun
Love this app! Fooducate is helping me slim down through easy accountability. It allows me to instantly compare my food intake with my exercise, and real results follow!
Very informative!
by Dlavenders
The info provided about food is very helpful in keeping my daily diet healthy. Wish there were more info for dishes and meals.
Love It
by Ima Knutt
Signed hubby up for his own, on his phone. Very helpful! Good tool for shopping healthy, love the scanner n product info. Love that we can snap a pic n send so they can update. Love this app- thanks team Fooducate!
Have not found a better one
by Mrs. Goldfish
I love the amount of items it tracks. I also use it at the grocery store to see which item is better to buy. And I have sent reports to my nutritionist which is so convenient, no more hand written food journals.
Keep It Between The Lines
by Sounds Like Music!
This app really helps me keep my goals in site. I've tried other apps but this is convenient and easy.
Must have app for anyone who takes their health seriously.
by Keaton94544
This app is an excellent resource for learning about the nutritional content of your foods. I love that it gives alternative recommendations to healthier products. This is a must have app for anyone who takes their health seriously.
Best calorie counter/food tracker
by Princessgabgab
I have tried so many different food trackers and calorie counters to try to improve my eating and monitor my intake but previous trackers never gave me the information that I needed in a way that was motivating like this app does. I recommend.
Educational
by Mimi from PA
Love it❗️💕
Great resource!
by Alaska Nana x 5
I love the ability to scan food items to determine their health value. I have made some conscious decisions to change to healthier alternatives to what I had usually been eating. I love the nutrition articles that educate us to make healthier choices.
Good way to track diet
by Jtdjr03
Does what it says. Can't manage calories and such if you don't track it. So this app is a great way to track! Some of the product ratings seem a little inconsistent.
Keeps my inline. calories intake food info
by nando410
Makes Counting calories much easy, the info on my food options helps me fight the urge to eat unhealthy. Never really considered calories burned from exercise before using this app. It logs time and calories consumed and calories burned. Also a great feature is the "goals" section. All around the free version is top notch. An absolute game changer! This app is the ONE.
Love it!
by estrellablanca58
It has so much information to help me choose the best option
Fooducate
by Tbtsga
This is a great app. What I like best about this app that it provides a grading system from A to F. A being the highest and most nutritious., but it also offers alternatives or better choices. Overall I give this app an A+
Great
by Judah X
I like the app a lot, helps me with watch my diet with detailed info in the foods I consume. It also recommend my daily calories, sugars, etc.. for my weight which is helpful
Amazing!
by Eth@n76
For someone who is a vegetarian and looks to eat healthy things, this app is perfect for finding foods and giving details on them! Never question any food if it's healthy... this app will tell you!