EatBetter
by
Blue Cross Blue Shield of MA
(21 user ratings)
FREE
Download size: 2.48MB
Version: 1.0.0.2
Released: 2011-07-13
For ages: 4+
EatBetter GoalGetter is like having a personal nutritionist to help you get in shape and feel great. It tracks what you eat, how many calories you burn from working out and even how many glasses of water you drink every day.

Getting nutritional info on foods is fast and easy. You can save your favorites, too.

EatBetter GoalGetter will calculate your daily calorie allowance. This will guide you toward the target weight you set for yourself. Every time you eat, you'll see carbohydrate, fat and protein percentages as well as your progress. And you'll get motivational messages all along the way.

It's simple to use and it's free. So you have nothing to lose except maybe a few extra pounds.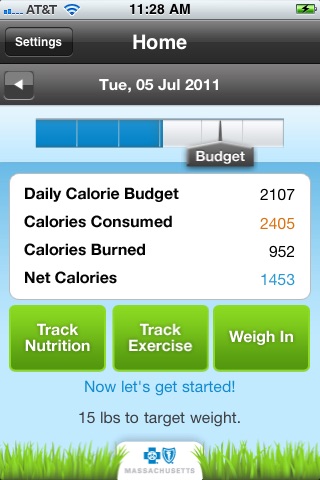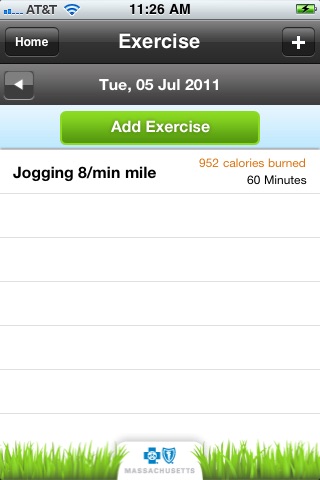 Powered by Facebook Comments
Customer Reviews
Does not work
by CDMMommy
I just tried to log my first item eaten and when I searched, a blank box came up and the app froze.
Crashes
by Cienna144
I have iOS 10. When I search for a food item it says no results, shows a blank white box and then becomes unresponsive. Tried 3 times with same issue. It appears to be an am last updated 2011 so maybe it doesn't work well anymore.
Unable to add food
by Dljk789
How is everyone adding food? I can add exercise but not food. Typing in egg or orange or blueberries in the search produced nothing! These are very common foods so you would think they would be included in a food database. Too bad because it seemed to be a promising calorie & nutrition app.
Scientist
by lvwarren
Good app. Swipe to delete. Manual calorie entry. Protein counts run low gives 4 stars instead of 5.
Great product.
by Granite 71
Simple and easy to use. No registration it works immediately. Very fast and has a large data base on food products. So far I have found optimum nutrition shakes, quest protein bars, calorie countdown milk, south beach diet bars tuna; just to name a few and the program auto fills all of the nutritional info automatically. No down side.
Best weight loss app I've seen!!!
by pr-quezada
This app is the best from all the others I've tried. Very user friendly.
Good, but needs Improvement
by Sil X.
I second the words from other users that wrote a review. This app has a good concept, but is not user friendly when it comes to food information and registration. How about saving data? I cook my food from scratch and I am not planning on changing it. I would love to save food information from today and use it tomorrow w/out typing it all over again. PLEASE FIX IT!!!
Bad connection
by Nickxx
Doesn't connect to their food database most of the time. No way to manually enter info.
Great dieting aid!
by EdKaye
For the 1st time I am tracking my calories. Easy to use, but I had to read reviews to learn how to delete items I entered in error. More ways of entering food please. Units in oz/gm for every item; composite meal builder for meals we eat every day.
Not bad for 'free'.
by Pugfarm
App crashes and loses the info you were in the middle of trying to input. I couldn't figure out how to remove an item if I made a mistake. Could be improved in many ways, but does has potential.
Loved it now hate it! BEWARE loses your progress!
by K'Poh
I lost 7 kilo's thanks to this app. It helped me a lot to keep an eye on my calories, although all the complaints before got to me too, ie no deleting possible, having to put all ingredients in everytime instead of saving my own homemade meals, and having diffeent quantities everytime ( what is a serving????) but because it helped me I loved it. BUT NOW IT LOST ALL MY DATA!!!!! This was the only place I kept all my progress and after flying for 13 hours I came out of the plane and ALL IS GONE! I am so upset. I was planning to keep this as a future reminder and motivator. ( have still got lots of weight to loose) now I am looking for another app. Any suggestions?
Lots of problems
by tayybake
I have this installed on my iPod touch and I always have problems when trying to input a food item, I receive an error saying there is no connectivity to the food database even when I am connected to working wifi. I'd also like to input my own food and calorie number from the box nutritional value rather than counting on the information already in the app.
Ok
by sophiecedw
There are a few things that could be improved. But the main one should be being able to add your own food!
well.
by thehpurpp
i really love this, and i am at a very low weight because of some heath issues so this can help me make sure i'm getting enough throughout the day, but it would be really great to be able to have more food choices and (a few bites) as a selection as to how much. a little hard to find school food and such :3
Database lacking
by B Lar
Would like to be able to add my own favorites. Cannot find many foods in the database.
More functionality would make it my go- to
by Kim dunk
I cook a lot from scratch and I'd like to be able to create a meal and save it as such do I don't have to keep entering the same recipe over and over when I eat the leftovers the next day, for example. The extra five minutes to do that daily adds up. Otherwise, I really appreciate the intuitive use and clean design. Lively little app, but isn't my daily go-to yet.
Pretty Good, but one major bug -- please fix
by ousterround
I think this is a pretty good app. I especially like that you can track glasses of water per day. Also, the complaints about not being able to delete are unfounded (or fixed)... you can delete an item by sliding your finger across it from right to left, and then hitting "delete" (the way you delete something from an itunes playlist). ONE MAJOR BUG is that if you are interested in having a balanced diet, the formula that the app uses calculating %fat, %protein, and %carbs is wrong. Just look at the screenshot above! It acts as if calories were measured in grams, and divides the grams of, for example, protein by the number of calories to get a percent. Stupid! This makes it look like you are constantly under the percent fat, carb, or protein that you are supposed to be. The grams of each nutrient should be divided by the total # of grams consumed. This SHOULD BE AN EASY FIX. PLEASE FIX! Also, adding more exercise options would be good.
jkm2204
by jkm2204
Must be able to edit data entered. Without ability to change/remove entries, for whatever reason, App is ineffective. PLEASE upgrade! Thanks.
Great app but needs editing added
by Debster16
Clean UI, easy to navigate, really helpful info displayed in a meaningful way. You can't edit items once you've added them to a meal (big difference between a half and a whole serving of many foods) and it would be great to save meals to favorites too in addition to saving single food items. Overall a really great app!!
Good app. Could use more though
by Jay~333
Very uncomplicated & simple app. Can't delete items once you save though. Would be nice if you could save foods together that you have all the time so you're entering so much.
Great
by NewVinlander
Great app, easy to use and you don't have to register or sign up to anything unlike other top rated calorie counter free apps.
Nice app
by Bill Tetley1
Sweet looking design, nice and clean. I haven't found a food not in the database yet, very easy to search foods! A++++
Simple and intuitive
by Nutritionguy
Nice interface and very easy to use nutrition tracker. Haven't had a chance to make use of the exercise options, but was looking for a new calorie tracker that was easy to use... Can't beat the price!
No foods found at all
by Jd098
It looks nice but when you try to add a food the search comes up empty. Chicken, egg, milk... Nothing.