Angry Weight Loss Guide
by
1st Imp
(36 user ratings)
FREE
Download size: 5.15MB
Version: 1.1
Released: 2010-07-30
For ages: 17+
Angry Weight Loss Guide

You won't find our weightloss teacher at any special clinics, groups or societies.

Our teacher "Mr Angry" will shout, abuse, insult and bully you into not eating bad foods.

Fancy some chocolate... then press the chocolate button to see what our man says.

Fancy some fries or chips.... press the button and he will let you know his thoughts.

Don't even dream about having a take-away... press the button and you will hear Mr Angry's harsh abuse

You can use this app on yourself or on your partner.... but be warned, Mr Angry does not like quitters!!!!

If you see your partner about to eat some crisps, a burger, sweets or candy.... quickly press Mr Angry's buttons and watch their reaction!!!!

Do you have what it takes to take on Mr Angry, then good luck!!!!!!!!!!!!!!!!!!!!!!!!

PLEASE DO NOT BUY IF EASILY OFFENDED.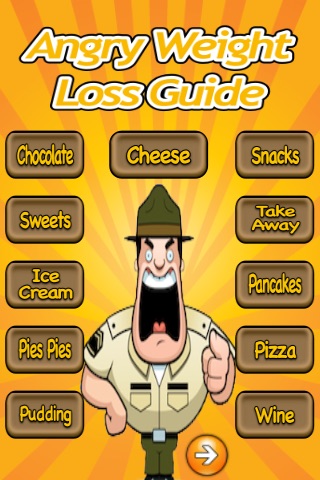 Powered by Facebook Comments
Customer Reviews
Not working
by Jesse lalala
Mines not working don't get it
meh...
by 01101110-038
voices arent over the top enough. i expected more
Lol
by Dyamond Enaj
This is nice i guess !!
Lol
by Sorina
Exactly what I needed! Been trying to get my husband to tell me to put down the sweets. But he won't...this app does the trick and is a reminder to stop eating junk food and it's hilarious.
Hahahah
by katieandrade:p

Ummm ???? Dont get the point of this app except for it's comical
by Slimcris
So I didn't really know what to expect when I got this app. But it is annoying but yet DEFINITELY funny!! I wouldn't think it would help persuade you to lose weight or NOT eat chocolate fatty foods etc... But if you want a good laugh then hey, why not?