Try These Related Apps!
---
Surfing!
---
Best Surfing Beaches
---
California Surfing
---
FUEL TV
---
iSurfer - Surfing Coach
---
OTF Surfing
---
Pod Surf TV - Surfing Video App
---
Pro Surfing
---
Shralp Tide
---

Surf Report
---
Surfer Magazine
---
Surfing Magazine
---
Swell Info
---

US Open of Surfing
---
Line Surfer
by
Robert Szeleney
(868 user ratings)
$0.99
Download size: 12.6MB
Version: 1.5
Released: 2011-05-17
For ages: 4+
★★★★★ Surf beautiful designed waves, perform incredible stunts and use all your skills to avoid obstacles and execute perfect landings. ★★★★★

★ From the makers of Wingsuit Stickman, Rope'n'Fly 3 - From Dusk Till Dawn, Stick Stunt Biker, Stickman Cliff Diving, Line Runner, Line Jumper and more….

★ Line Surfer is #1 app in various countries! Thank you guys so much, we will of course continue providing updates and adding new features!

FEATURES:
• Beautiful designed dynamic waves
• Simple "one touch" and fast paced gameplay
• Uses accelerometer for agil stunt control
• Various game modes
• Time modes, Stunt modes and Free mode
• Free mode for 'Just for fun' surfing
• Online and Offline highscores and leaderboards

UPDATES:
v1.1:
• fixed jump off bug where surfer flickered and stayed on ground
• adjusted jump height
• improved performance
• added social elements
• added fishes
• new icon
• updated more games with line birds

v1.2:
• Changed gameplay
• Changed modes
• Swipe to steer the surfer
• Increased tilt sensitivity
• Changed some graphical elements
• Added clouds
• Reduced crates count
• Changed rating labels
• Changed score system
• Surfer does no more slow down now if the landing was bad
• Jump off is rated instead of landing
• Bonus for mega & hyper jumps
• New tutorial
• Landing must be more exact
• Added hints if surfer jumped off in time
• Corrected rotation while drowning
• Improved performance
• Added some small water effects on the waves
• Decreased jump height difference on up wave
• Added ingame tips
• No more crates directly at game start

v1.3:
• Easier controls: Touch to jump, optionally hold to reduce speed and optionally swipe down for faster landing

v1.4:
• Now compatible with new iPad

NOTES:
Touch and hold while in air to slow down / brake for perfect landings.

Feel free to post your ideas, we will try to implement them as soon as possible
Thank you very much for all your support and interest in our games! We would love to hear your suggestions!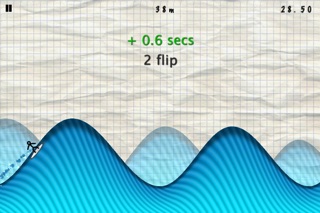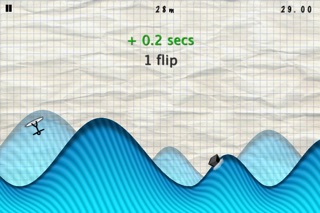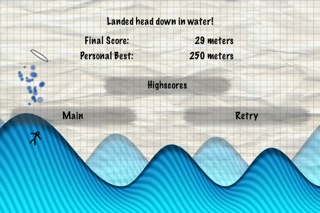 Powered by Facebook Comments
Customer Reviews
Needs updates
by Mysterious lights
This game is good love the music on the main menu but how about keeping the music while playing the game with more ocean wave sounds. Also says it may slow my iPhone down and that developer needs to update the app. Don't make the update to crazy like all of these apps now a days keep it simple man.
Awesome game
by Blondie7405
The best game ever.
GREAT GAME
by Bomethius
I could play this game for hours. This game is so funny the waves are huge!!! You do flips and stuff it's fun
Crap on iPhone 6
by Dizzwalker
Please update for iPhone 6 please please please
Line surfer
by Jmj075
This game is awesome and I just got it
Not bad 😊👍
by J-Girl💖
It's great
Love it!
by NJMoores
This game is AWESOME!!!!!!!!!!!!!!!!!!!!!!!!!!!!!!!!!!
iPhone 5 Support
by partyhardsparky
Please optimize 'Line Surfer' for the iPhone 5.
Boring fast
by G Vibes
Rope & Fly is way more entertaining time waster. Also devs, if you're gonna put a giant ad on a game I paid for, don't. But if you do, make the stupid close button big enough to get that piece off the screen and let me play the darn game I paid for! Not cool!
Best game ever!
by Zech kennedy
this game is so fun I love it so much . The jumping is the best part! You should come out with line surfer 2!
the best
by linesurferlover3000
this game is really fun . it is also very intertaning. i think you shoud buy it!!!!!!!!
Great but ad
by Fam guy lover
Great game but an ad keeps popping up and freezing my game. Its really annoying that i paid and still get an ad.
Love it
by Ebo123875
I really like this game it's amazing I just think it needs some power ups u can get to make it more interesting :)
Awesome
by Sdcihrfrgtcgygdxgbvug
This is an awsome game, p.s.Plz add another update! with different modes!
Line surfer
by Nini407311
This game is freaking awesome you should come out with line surfer 2
Line surfer
by Precious berry rose
Love this game!! But doing flips are hard sometimes
Addicting as Doodle Jump
by Abovesnowline
Love this game. I love the physics, the aesthetics, the subtlety...everything!
FREAKING AWESOME!!!!!!!!!
by Alberto :)
Its FREAKING awesome i lost my ipod and "i need line SURFER!" i wish i could put 6 stars!
Awesome
by Brownie1234321
I love this app I mean it is hard at first but when u get the hang of it it is super addicting
best ever!!! put as a 3.99 game plz
by I love you alottt
AWESOME DOWNLOAD NOW
I WANT MY MONEY BACK!!!!!!!!!!!!!!!:|
by Lulu1429
DON'T BUY THIS APP I THINK IM GONA SMACH MY IPHONE!!!!!!!!!!!!!!!!
I want my money back
by Andersonreno
This was a was of my time and money.
Fun
by Carmen Marchman
Noone will beat me this is history
Ads in a paid app???!
by alkalinewish
Really? You put pop-up ads in an app that I have to pay for? This just makes it not worth buying. The pop ups are near impossible to close due to the tiny "x" in the corner. DON'T BUY THIS APP!!!
Surfs up
by JodiMomOf6
Great but uhhhh it's awesome
Good
by Iceyfire527
Hard to control I almost put tocontrol wich made me think of toccos. LOL
Linesurfer
by Cesar lua
The best game ever
Tank
by RD pilot
Can't put this game down I was a big fan of line rider . This game kills thanks.
Line Surfer # 7.6.99
by Batmankiller99
Awesome :D
iPod
by Nerdy geeks
I have played it on my friend's iPod. I believe it is better than my iPad. But still a good game overall
Amazing😄
by AustinCruz
Music is awesome and the game is really addicting. This app it is AWESOME!!!
Funnnnnn
by Booklover123:]
This game is really fun but it gets annoying sometime becuase I'm not really good at this but overall this game is pretty fun so I would like to give it three stars
Really addicting...but
by 123taytay321
I REALLY love this game but unwise it had more surf boards and upgrades to speed and ect. Otherwise you should totally get it!
Fun Times!
by Caspac2
It makes me smile when I smack my face in the drink! Hafta try harder next time. Can I fly the plane, too?
Broken
by Mike da haole
Can't play for more then 20 sec before being kicked out to a screen to buy their new game. Game is completely broken, please fix as it looks to b a fun
Seriously .
by Savethedollars!!!!
Ok so a $1 right ... I'm not gonna cry but I'd rather throw a dollar into the wind and watch it blow away then play this game. The designers parents should be proud of them if they were 2 years old and made this. This is nothing remotely that resembles surfing. Bought 100s of Apps this is my first review. The kook that made this should be embarrassed ...
Cool game
by Dachrafyesgv
This game is fun and I like the clouds
Hmmm...
by Tstaud
I like it!!!
OK
by harshtruth11
Its not AMAZING but you just wanna play it over and over again
Short, ok
by Yggdrasil013
It doesn't have much content, there are a lot more free games with more substance but its fun and addicting to a certain extent
John
by JohnDogg517
Wiked
BEST!!!!!!!
by Jack morson
Omg best most adicctive iPod/ipad/iPhone gameEVER!!!
line surfer
by HyperionDraws
awsome
Okay
by 20544321firebird
A like it but.... It's not that good.
Amazing game
by Aqua surfer 25252
I like the game amazing flips.
Fun I guess.
by Cayla beth BRO.
Fun game but seriously impossible. Could be way more fun if you could last longer.
Cool app
by BACKSTAB-_-KILLA420
It's a really cool app,my ps3 name is BACKSTAB-_-KILLA,stay cool people
Awesome
by bobcat x 2
It is the Coolest game ever!!❄❄❄
Awesome
by 15884347
My best game addictive