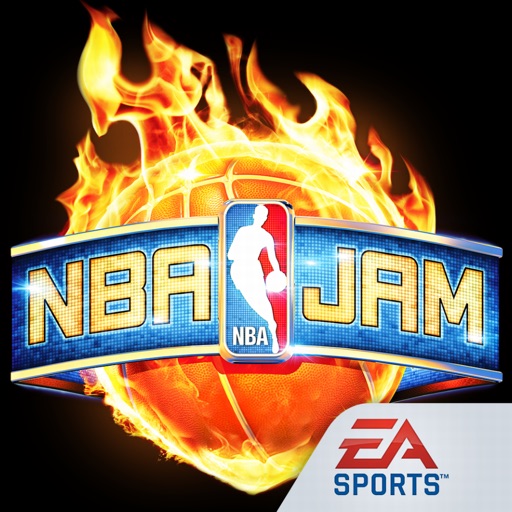 Try These Related Apps!
---
Flick Home Run !
---
World Cup Table Tennis™ Free
---
Baseball Superstars® 2012.
---
FIFA SOCCER 13 by EA SPORTS
---

Goaaal!™ Soccer – The Classic Kicking Game in 3D
---
Flick Soccer!
---
NFL Pro 2013
---

Action Bowling Free
---
10 Pin Shuffle™ Bowling
---
Gutterball: Golden Pin Bowling FREE
---
Hit Tennis 2
---
Madden NFL 25 by EA SPORTS™
---
NFL Pro 2014 : The Ultimate Football Simulation
---
NBA JAM by EA SPORTS™
by
Electronic Arts
(656 user ratings)
$4.99
Download size: 391.41MB
Version: 1.1.35
Released: 2011-02-10
For ages: 4+
Read on for important info below!

BOOMSHAKALAKA!!! Jam with a friend in Local Multiplayer and rock your iPhone or iPod touch with all the over-the-top, high-flying, 2-on-2 arcade basketball action just like you remember it – and like you've never seen before! Go to the hole. Go strong. Go for the monster jam. KABOOM!

This app offers in-app purchases. You may disable in-app purchasing using your device settings. See http://support.apple.com/kb/HT4213 for more info

FANS & CRITICS ARE ALL ON FIRE!

"NBA JAM brings arcade hoops directly to your pocket — no quarters required." (App Store "iPhone GAME OF THE WEEK")


"…overwhelmingly satisfies in every way if you were ever a fan of the original NBA Jam series." (Jared Nelson, Touch Arcade)

"4/4 MUST HAVE…a sports game that action or arcade gamers will love…" (Andrew Podolsky, Slide to Play)

"…solid controls, great graphics, and fun on-the-court action" (Tracy Erickson, PocketGamer)

"It performs flawlessly in every way." (IntoMobile)

HEAT UP ON iPHONE & iPOD TOUCH
Jam with all 30 NBA teams and your favorite NBA stars! Unlock legends from the classic arcade era like Scottie Pippen, Dennis Rodman, Dr. J, Scott Skiles, Karl Malone, Detlef Schrempf, and Danny Manning – plus some secret players you can only get on iOS. Open up outrageous cheats, too. And if you can't wait to go big, all the unlocks are available for instant purchase and download in the JAM store!

PLAY NOW! PLAY CLASSIC! PLAY HEAD-TO-HEAD AGAINST A FRIEND!
3 modes of play let you ball the way you want:
• Play Now – Select a team and jump right into the ballgame
• Classic Campaign – Defeat all other teams to win the championship, and unlock legends, hidden players and cheats
• Local Multiplayer – Go big head 2 big head against a friend on iPhone/iPod touch or iPad via local WiFi and Bluetooth
Also select from two different control schemes (D-Pad and gesture-based) and take advantage of the outstanding versatility of your iPhone/iPod touch. Is it the shoes?

YOU'RE ON FIRE!
If you're from the Old School, you'll feel the '90s nostalgia while you play the hottest new arcade sports game on the App Store. Featuring the voice of Tim Kitzrow (the original NBA JAM play-by-play announcer), you'll hear all the classic catchphrases plus a few new ones recorded just for this game. This JAM is all about "boomshakalaka"¬– and beyond!
_______________________________________

Be the first to know! Get inside EA info on great deals, plus the latest game updates, tips & more…
VISIT US: ea.com/iphone
FOLLOW US: twitter.com/eamobile
LIKE US: facebook.com/eamobile
WATCH US: youtube.com/eamobilegames


User Agreement: terms.ea.com
Visit https://help.ea.com/ for assistance or inquiries.

EA may retire online features and services after 30 days' notice posted on www.ea.com/1/service-updates.

Important Consumer Information. Requires acceptance of EA's Privacy & Cookie Policy and User Agreement. This app: Contains direct links to the Internet; Collects data though third party ad serving and analytics technology (See Privacy & Cookie Policy for details).

By installing this game, you consent to its installation and the installation of any game updates or upgrades released through your platform. You can turn off automatic updates through your device settings, but if you do not update your app, you may experience reduced functionality.

Some updates and upgrades may change the way we record usage data and metrics, or change data stored on your device. Any changes will always be consistent with EA's Privacy and Cookie Policy, available at privacy.ea.com. You can withdraw your consent at any time by removing or disabling this app, visiting help.ea.com for assistance, or by contacting us at ATTN: Privacy / Mobile Consent Withdrawal, Electronic Arts Inc., 209 Redwood Shores Pkwy, Redwood City, CA, USA.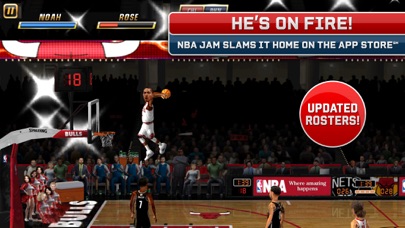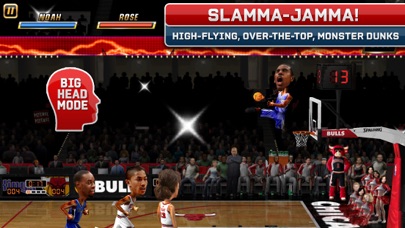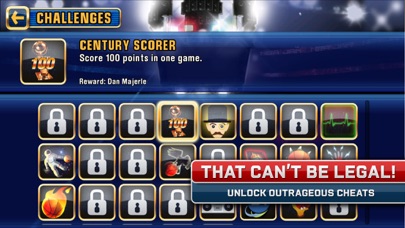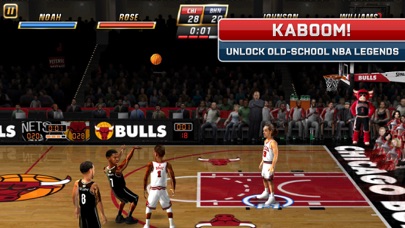 Powered by Facebook Comments
Customer Reviews
Update rosters
by Jareddbaker
I love this game! I don't play it much anymore because the rosters are so outdated! If you update the rosters regularly this game would be 5 stars!
Unplayable
by Liveroy
Unless the game is updated it crashes frequently and doesn't work
Would be 5 stars but..
by Curly Sanchez
Can we PLEASE get updated rosters?!?!
Fun
by Pastoroffering
Same ol school fun I remember. Just please be more ambitious in updating the rosters. I'm sure there is an algorithm that can be set for this. Overall good game! Smooth with no problems.
Online Play
by Beliegh
This game would easily be 5 stars if you can play your friend online over LTE wherever are its 2017 almost 2018 let's make this happen
No pudo jugar en línea
by Yanki mora
Tengo iOS 11.0.1 y no puedo jugar 👌
Nba jam
by Emmanuel Juarez $avege
The best game so far just update the roster and it's perfect
Crashes
by Mista Carolina
App has been crashing since iOS 11 update
Plz update rosters
by The facts 725
I wish EA would have current rosters and this game would be legendary
Roster
by Gumina10
Please update rosters, please please please
UPDATE THE GAME!!!
by dhogs1
GIVE THE PEOPLE WHAT THEY WANT
Needs update
by Hbshzhedgeduhx
Awesome game but needs roster updates Nash still on the lakers, Knicks have smith and baragnani but don't have Kristaps no giannis, no Isaiah Thomas, or jokic Russell Wiggins and towns.
UPDATE NEEDED
by Saaddabruhbruh
i just got the iphone X and bought this game so i can enjoy it full screen but i was so disappointed
Needs new update
by Ckc34
This game really needs an update Steve Nash is still in the lakers and Kobe is to Chris Paul is in the clippers and has the old logo this really needs an update
Update Rosters
by Ripper731
Fun game a lil glitchy at times but ea you need to update to the most current rosters. Please do a recent roster update
Needs a update
by OzzyAARGL
Update the rosters and the player rating.. Update the stadium floors to the signature. Add new challenges to unlock new characters.. Or add new dunks and celebrations.
Needs an update!
by CountryRap Tunes
Don't get me wrong I love the game, but it needs a roster update!! I have quit playing based on that reason. That's why i only have it 3 Stars. Besides that it's alright
Update rosters
by Funkyunker
This game is super fun but it would be better if the rosters were updated to this year other then that this game is super fun
Shameful
by Bauhauser
I don't understand how this is even still an app for sale with such outdated rosters. We're talking not since 2014 (e.g. Rondo on the Celtics), maybe longer in some cases. How hard is it to, if not adding new players at the very least switching players from the latest update? If not EA doing it, then give us the ability to swap them. I just can't enjoy playing it anymore.
Needs Roster Update
by Duckberg Slimm
Greatest Game Ever upDate the roster and make an open online game play platform whereas you can play anyone anytime anywhere just by hooking up not only wifi.
Please Update!!
by Biggy Magoo
This game needs to be severely updated and upgraded. The rosters old af, the players stats have more than likely changed since the last "update".
Update
by Syndicate 124563
Update the game
Need an update...
by Mr. Mariom
The game really needs an update. The rosters are so outdated. Other than that the game is great!
🏀🏀🏀🏀
by bleedcubbie
Needs a roster update
Needs an update
by lilgieblet24
I loved this game and I've been playing it for years but the rosters are really messed up. And the players ratings are unrealistic. Now this game is kinda boring. Needs more players. And a new camera view.
Update plzzzz!!
by Brickzallday
Good game but update the roaster already!!!!
Boomshakalaka
by TanN?R
This is possibly the greatest game of all time. There are a few adjustments to be made though. Rosters should be changed to where each team has 4-6 current players every year and 1-2 legends. For example add klay kd and dray to the warriors and Kyrie and Hayward to the Celtics. It would be cool if you could make like a myseason mode where you play 41 games and then the playoffs or a way to play multiplayer with people around the world. Also you could add trump and pence to the republicans. If you could add Kareem, Jordan and older players. The best way to keep this game alive is to spice it up. Take players a give them a dynasty to build. This will be a very good game if y'all can keep it updated.
Where is the 2017-2018 Roster?
by RASGTSALT
Where is the 2017-2018 Roster?
Great game
by Ry3423
Can you update the rosters for 2017-2018 season EA you all do a nice job on all your games Love them Thank you
Game logic is almost non-existent.
by KLCEO
Game is RIGGED. I was "On Fire" and missed 7 in a row and on 8th attempt I faked out defender and knocked him down. He recovered and jumped across several feet to block my shot before I could release the ball. If I make an attempt to steal, I can't get off the ground to block a shot. Too many inconsistencies and stupid bugs. You're under the basket and jump to block and your player automatically jumps away from the ball. Play on rookie level and the other team plays like expert. CPU players can steal from you several players away from in front of you or behind. Game does not have integrity... a POS! No stars. Correction negative five stars. Seen your updates and the game went from poor to a waste of space. Calmly put, the game under performs. Turbo seems useless. Controlled & CPU players on my team randomly move away from the ball. My CPU player rarely attempts a block and fails the vast majority of times when he does. Almost impossible to block short range jumpers around the hoop when my player jumps away from the ball.
UPDATE PLZ
by Joshua0331
We need accurate rating please, updated team rosters and maybe add game modes. But please update, I really love the way the game feels and it's fun but Stephen Curry should have a 10 three pointer rating and ur missing players. EA where you at?
Where's MJ ?!?!?!?!
by Love it guy 21
I love the game but I want to know why the G.O.A.T is not in the game!!
...
by ThePizzaMan02858
Great game but update the players.
NBA jam
by hunternels14
Can their please be a roster update it would make the game amazing. D Angelo Russell is definitely needed 🙏🏻
UPDATE!!!!!!!!!!!!!!!
by slimtdj11
can we get an update with new rosters & game fixes ASAP PLEASE
Update please
by drefrmbrowrd
An update with new players and old players on there new team would be nice.
Fine game and App
by StuPitt
The whiners of this game annoy me. The rosters here are from 2014. Everyone understand that. Stephen Curry although still on GS was not the same player in 2013 that he is now. I'll use EAsports NBA game on consoles as an example. Every year they release a game at $70 a pop. Why would this $2.99 App be updated with rosters every year for free? Use your heads people! Additionally, game play is great for a phone. Also great graphics.
Controls are terrible!!
by michael.hill.10
The game is fun, but the controls are nearly unusable. Whenever using the turbo button, there's about a 50/50 chance your player will do what you want. Far too often when you want to shoot, he will pass and sometimes the player will shoot for no reason. It makes the game pretty unplayable when that happens.
update !!!
by Tisonman100
please update the rosters !!!!! i love this game so please update !!!
Rostee
by Tyler Conlee
This game is only fun to play but not fun with the rosters... UPDATE THEM
Update the Rosters to 2017-2018!!
by gcontreras1221
This game would be way better if they updated the rosters
NEEDS A BIG UPDATE
by Mr.Sketch
The game is fun and really smooth on my phone, but these players are really outdated, you still have love even though he is retired and Kevin Durant is on the Thunder even though he should be on the Warriors. Especially this offseason, a lot of moves were made and players like Gordon Hayward and Jimmy Butler went to different teams.
NEEDS UPDATE
by Kimmie2142
The game is extremely fun but I wish you guys update the rosters. If you guys make small fixes and update the roster this game will be even more AWESOME! The warriors won the finals and this awesome game still hasn't gotten an update yet? Did the developers just forget about this game!? I've been waiting for so long!!! PLEASE UPDATE!!!!!!!
Update
by Sloany03
It's a good game but the rosters are never updated
Update roster
by Bankman214
Roster is never up to date
THERE IS NO FOUL WHEN THEY PUSH YOU!!
by Ipeealoy
I like the game but when I get the ball he enemy pushes me right away and the enemy keeps doing that for like 12 times so please but a foul when the enemy pushes you!
Good game but
by Eazyaction2151
Please update the rosters
Needs an update
by TooHot32baller
Game is good but needs updated players. lebron is better at 3 pointers than Curry!
Update The Rosters
by Drizzy Gambino
Alot of people who are retired are still on the game and as a small addition add Penny Hardaway
Rosters way out of date
by OptimusJarrod
This game needs a roster update. There may be one or two teams where the rosters are actually accurate because no players have moved other than that you still have players like Steve Nash in the Lakers roster. This sort of takes away from the experience because there have been a lot of new players to the league that are missing. Please update the roster EA!