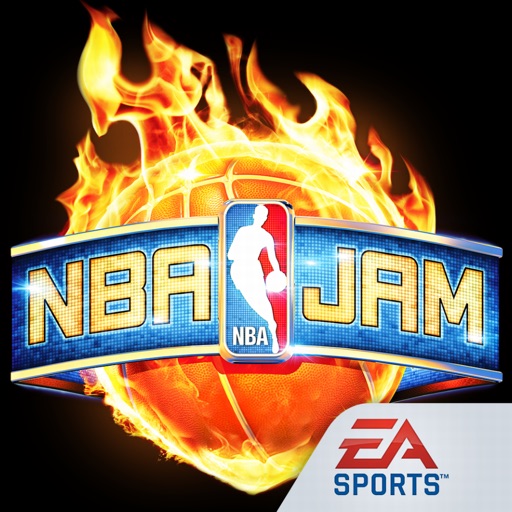 Try These Related Apps!
---
Flick Home Run !
---
World Cup Table Tennis™ Free
---
Baseball Superstars® 2012.
---
FIFA SOCCER 13 by EA SPORTS
---

Goaaal!™ Soccer – The Classic Kicking Game in 3D
---
Flick Soccer!
---
NFL Pro 2013
---

Action Bowling Free
---
10 Pin Shuffle™ Bowling
---
Gutterball: Golden Pin Bowling FREE
---
Hit Tennis 2
---
Madden NFL 25 by EA SPORTS™
---
NFL Pro 2014 : The Ultimate Football Simulation
---
NBA JAM by EA SPORTS™
by
Electronic Arts
(1,060 user ratings)
$4.99
Download size: 391.51MB
Version: 1.1.35
Released: 2011-02-10
For ages: 4+
Read on for important info below!

BOOMSHAKALAKA!!! Jam with a friend in Local Multiplayer and rock your iPhone or iPod touch with all the over-the-top, high-flying, 2-on-2 arcade basketball action just like you remember it – and like you've never seen before! Go to the hole. Go strong. Go for the monster jam. KABOOM!

This app offers in-app purchases. You may disable in-app purchasing using your device settings. See http://support.apple.com/kb/HT4213 for more info

FANS & CRITICS ARE ALL ON FIRE!

"NBA JAM brings arcade hoops directly to your pocket — no quarters required." (App Store "iPhone GAME OF THE WEEK")


"…overwhelmingly satisfies in every way if you were ever a fan of the original NBA Jam series." (Jared Nelson, Touch Arcade)

"4/4 MUST HAVE…a sports game that action or arcade gamers will love…" (Andrew Podolsky, Slide to Play)

"…solid controls, great graphics, and fun on-the-court action" (Tracy Erickson, PocketGamer)

"It performs flawlessly in every way." (IntoMobile)

HEAT UP ON iPHONE & iPOD TOUCH
Jam with all 30 NBA teams and your favorite NBA stars! Unlock legends from the classic arcade era like Scottie Pippen, Dennis Rodman, Dr. J, Scott Skiles, Karl Malone, Detlef Schrempf, and Danny Manning – plus some secret players you can only get on iOS. Open up outrageous cheats, too. And if you can't wait to go big, all the unlocks are available for instant purchase and download in the JAM store!

PLAY NOW! PLAY CLASSIC! PLAY HEAD-TO-HEAD AGAINST A FRIEND!
3 modes of play let you ball the way you want:
• Play Now – Select a team and jump right into the ballgame
• Classic Campaign – Defeat all other teams to win the championship, and unlock legends, hidden players and cheats
• Local Multiplayer – Go big head 2 big head against a friend on iPhone/iPod touch or iPad via local WiFi and Bluetooth
Also select from two different control schemes (D-Pad and gesture-based) and take advantage of the outstanding versatility of your iPhone/iPod touch. Is it the shoes?

YOU'RE ON FIRE!
If you're from the Old School, you'll feel the '90s nostalgia while you play the hottest new arcade sports game on the App Store. Featuring the voice of Tim Kitzrow (the original NBA JAM play-by-play announcer), you'll hear all the classic catchphrases plus a few new ones recorded just for this game. This JAM is all about "boomshakalaka"¬– and beyond!
_______________________________________

Be the first to know! Get inside EA info on great deals, plus the latest game updates, tips & more…
VISIT US: ea.com/iphone
FOLLOW US: twitter.com/eamobile
LIKE US: facebook.com/eamobile
WATCH US: youtube.com/eamobilegames


User Agreement: terms.ea.com
Visit https://help.ea.com/ for assistance or inquiries.

EA may retire online features and services after 30 days' notice posted on www.ea.com/1/service-updates.

Important Consumer Information. Requires acceptance of EA's Privacy & Cookie Policy and User Agreement. This app: Contains direct links to the Internet; Collects data though third party ad serving and analytics technology (See Privacy & Cookie Policy for details).

By installing this game, you consent to its installation and the installation of any game updates or upgrades released through your platform. You can turn off automatic updates through your device settings, but if you do not update your app, you may experience reduced functionality.

Some updates and upgrades may change the way we record usage data and metrics, or change data stored on your device. Any changes will always be consistent with EA's Privacy and Cookie Policy, available at privacy.ea.com. You can withdraw your consent at any time by removing or disabling this app, visiting help.ea.com for assistance, or by contacting us at ATTN: Privacy / Mobile Consent Withdrawal, Electronic Arts Inc., 209 Redwood Shores Pkwy, Redwood City, CA, USA.
Powered by Facebook Comments
Customer Reviews
Old
by Goldy 1366228248844357521
This game was awesome please update the rosters EA
Great but iPhone X needs help
by ScottF974
When it plays its amazing. But on iPhone C the game crashes about 2 and a half minutes into an exhibition match. Sometimes a little shorter sometimes a little longer. I hope you guys can maybe fix it because the game itself is quite good. Happily change it to 5 stars if it gets ironed out.
Don't bother
by Racer_king
Game keeps crashing won't let me play past tip off. Roster needs a serious update. EA so you not care about this game anymore haven't got an update in a year!
PLEASE UPDATE
by Kingstuffs
we need a roster update the nba has changed so much since the last update!
It used to be fun.
by drummer man
Now this game continues to crash on iPhone X ios 11.2.5. It's been a good while since the last update for the game. So what gives?
Game
by DrillaGod
This Game Need To Be Update And Fast There Are New Team And I know a lot of people would want the same thing thank you and have a good day...😔
The game crashes every time before I can finish
by larsenrj
Please update!!! The game crashes every time. I deleted and reinstalled the app and it still does. Update or else the app is worthless for future buyers. I really liked it before it crashed all the time!
Crashing immediately
by STOP SCROLL
Crashing immediately in iphone X after tipoff of game
Needs an Update!
by Is it the shoes!
They haven't updated rosters in at least 3-4 years
NBA jam
by ED321
I loved this game as a kid, but I can't even play a whole game. Keeps crashing.
Crashes almost every game
by HearYa
Just bought it and it crashes ALL the time in iPhone X. Can get through a complete game 10% of the time
GIVE PEOPLE WHAT THEY WANT
by dhogs1
Fantastic game, but update it...
Out dated
by Player1milla
The rosters are very out dated, they still have Durant on the thunder and LeBron on the heat, it's just very pointless to have a game that's so subpar and pay for it then to download a free game and get constant updates. Save yourself the money and get something better
Crashes on iPhone X! Fix it or pay me back my money
by Badbuzpractice
I had this working great on my iPhone 6s but since upgrading the last month to iPhone X the app opens u start playing and it crashes every time about 1min Don't buy unless they fix app!!! Rip off these apps that u pay for and they just stop debugging apps ?! Idk
BommShakalaka?
by Doc 1980
No iPhone X screen support yet...
Crash on iPhone X
by novus seclorum family
I paid for the crash app?!
Update
by GwopUpGooch
Same teams as 2013 need to update
JW
by Jdub22ou
Love the game, but it keeps crashing on the iPhone X. Please fix!!
Update
by Kaw1312
Good but, update to roster would be nice as a Celtics fan 😂
Add iPhone X support + updated rosters
by DEADITES23
Also crashes constantly on my iPhone X running iOS 11.2.5
Facts
by YRN_Amarus
New update with all rookies and trades 2017-2018 season
Getting kicked off
by Jason wiley78
Bought the game for iPad worked great. Then bought game for iPhone X and I get kicked off after playing for 5 minutes. Very annoying
PLEASE UPDATE FOR IPHONE X
by JordanN8230
I cannot play it on my iPhone X ☹️ please updated so it can be playable. Thats all i ask for is for it to be playable.
Crash
by nepats5
Love the game just like the arcade style but it crashes every time come mid 3rd quarter So annoying to have to re open it and start at the opening tip again and again and again Please fix
STILL AMAZING
by Yung niggah
I STILL PLAY !!! I love the game give roster updates and better legends
Update
by ⚡️shad
Just update the game with new player and more stuff in the game I have been waiting for years for a update for nba jam please update the game with new players
Update
by Ñøname
Great game but please update the rosters.
Bruh
by ChicagoBull121
Update the rosters
Games been crashing none stop
by El-wiro mannnnn
Every time I play a game it crashes
My brother playing basketball 🏀
by 247 savege caue
When my brother and me are playing basketball he will say to me that my skills are weak and his are better.but my skills work on my brother and his don't so I always beat him.I thought he would get used to my skills but he doesn't and he's 24 Years old
Great great 👍🏼👍🏼
by JAG_the_Poet
Love this game been a fan of NBA Jam for years, only thing that bugs me is not being able to use my SteelSeries Nimbus controller to play it instead of using the touch screen controls, making this possible would be an excellent update to this game.
Please just take time to update rosters. Would make the game much more enjoyable.
by jfalt_30
Update rosters and jerseys and courts to match the new NBA please.
Game crashes
by Mikehxfnb
Game crashes on iPhone X Starts up and when playing the game shuts off. Can you please fix this?
What's up with the update for 2018?
by THE ReAL CASTLEGATE rd
Great game but we need an update 🤷🏽‍♂️🤷🏽‍♂️🤷🏽‍♂️🤷🏽‍♂️🤷🏽‍♂️🤷🏽‍♂️🤷🏽‍♂️🤷🏽‍♂️🤷🏽‍♂️🤷🏽‍♂️🤷🏽‍♂️🤷🏽‍♂️🤷🏽‍♂️🤷🏽‍♂️🤷🏽‍♂️🤷🏽‍♂️🤷🏽‍♂️
Crap
by Akapod
Doesn't work on iPhone X
Needs an update!
by RZQMS
It's been a year! Update this sucka!
Updated Rosters
by easymoneyhawks
need relevant rosters
Needs update
by Mr.turnyoazzout
No iPhone X support
Iverson
by someoneudontkno6625
WHY DID U GUYS REMOVE ALLEN IVERSON FROM THE GAME😭😭😭😭😭
Glitchy on IPhone X
by Zeta Ape
Ever since I bought my iPhone X, the game constantly restarts itself.
Sprite team and updated teams/current players
by AJ123715
This is an awesome game with nice graphics and good controls, but I was wondering if you could add all the other secret teams and players from the console versions for people who bought the big man pack that are not on the phone and can you update the rosters plzzzzz
PLEASE UPDATE ALREADY
by Elevi
This game is the sh#t only if the developers weren't lazy. What's the problem I will repay for this. Update rosters, effects etc... let go.
Great game, needs updating
by Pepetravieso
This has always been a great game on iOS. However it has lagged behind and needs updating to support iPhone X. Game crashes consistently and is almost unplayable.
Unable to install NBA JAM
by XDreamth
It says this app is not available on the App Store anymore. I was wondering what's wrong with it? Is it really deleted?
No pudo jugar en línea
by Yanki mora
Tengo iOS 11.0.1 y no puedo jugar 👌 por que solo wifi si ya está LTE
Update please
by nickinsn
A new update would be nice
Crash city.
by AWESS
The game crashes within 30 seconds of playing every time. Waste of money.
Good game needs a update
by Burnsmier
This game is still in the dark ages. The game needs lots of updates
Can we getta roster update
by Snakenator
Please
Doesn't work on iPhone X
by Eddy vi
Is someone there??? To fix it it keeps crashing on iPhone X!!!!! Please fix!!! I try deleting app and reinstall but is the same