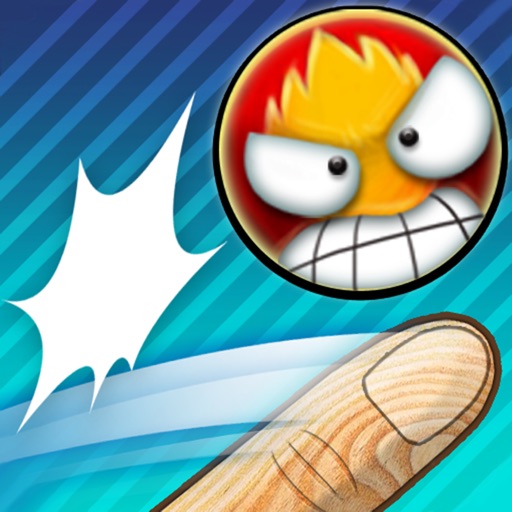 Try These Related Apps!
---
NBA JAM by EA SPORTS™
---
World Cup Table Tennis™ Free
---
Baseball Superstars® 2012.
---
FIFA SOCCER 13 by EA SPORTS
---

Goaaal!™ Soccer – The Classic Kicking Game in 3D
---
Flick Soccer!
---
NFL Pro 2013
---

Action Bowling Free
---
10 Pin Shuffle™ Bowling
---
Gutterball: Golden Pin Bowling FREE
---
Hit Tennis 2
---
Madden NFL 25 by EA SPORTS™
---
NFL Pro 2014 : The Ultimate Football Simulation
---
Flick Home Run !
by
infinity pocket
(558 user ratings)
$0.99
Download size: 25.95MB
Version: 1.7.2
Released: 2011-10-15
For ages: 4+
■ ■ ■ Appstore BEST of 2012 (PAID/GROSSING) ■ ■ ■

Flick your finger and make a homerun.
You can experience a real baseball batting through the physical pendulum.

This is a game in which you can experience various throws based on the pendulum. The ball will fly further if you can hit the ball directly with the quick flick. Experience a "real-life like" batting simulation.


■ Easy Control---------------------------
You only use flick to control the batting for this game. The more accurate you flick your finger to hit the ball; it is more likely that you will be a home-run hitter.
The rule is simple. Flick your finger with the same feeling in which you would swing a bat in real life. Think of your finger as a bat, and flick it with speed and accuracy. That's all.

■ Movement of the ball------------------
Various kinds of throws are materialized into "real-life like" feelings. Different pitches pull out different various kinds of movements. Thus, the batter may miss the timing and would be hard to hit.

■ 10 GAME mode------------------------
You can enjoy this game through 5 kinds of mode.
Minor & Major Mode- Hit as many home-runs as you can; as far as you can.
Multiplayer Mode- You can compete with other players via Game Center.
Moon-Star Mode- Try for a record with the given 9 balls.
Training Mode- You can practice with different kinds of pitches.
*Bunt mode ( need minor 15step): Drop the ball on the target of the floor correctly.
*Total mode ( need bunt 10000 point ) : You'll meet many different types of the balls from the beginning of the game.
*Faster & faster ( need total 25000 point ) : Head-to-head with only fastballs.
*Jiant mode ( need F&F 10000 point ) : Match with a Giant pitcher
*Cutter mode ( need Jiant 12000 point ) : Match with cutterballs which can cut the baseball bat.

■ add 28 Achievement Bonus--------------
1 Achievement = 1 level up bonus!!!

■ Level Up System-----------------------
You can choose and upgrade 1 of 3 skills every time the exp becomes full.-
Power: You can increase the power of the bat
Accuracy: You can increase the accuracy of the batting
Batting Eye: You can know ahead of the next ball's pattern

■ Home-Run Tip!---------------------------
1.Make a full swing with a fast batting-speed!
2.Hit the ball followed from the various thrown pattern with an accurate swing!
3.Let's keep an eye on the ball until the end and predict the change of the pattern!
4.Let's be confident and make a full swing!

■ FAQ -------------------------------------
Q : How does STEP UP SYSTEM?
A : STEP UP = More balls
ex) Minor 1 step = 3 balls
Minor 2 step = 6 balls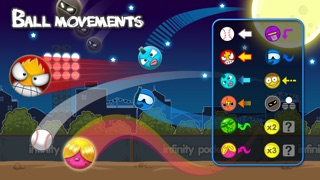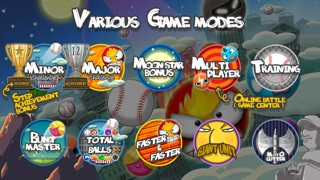 Powered by Facebook Comments
Customer Reviews
Best game ever
by Viking2k5
Great
Fun but glitchy
by jr6522
Really fun but super glitchy. Just completed a rank to unlock a new mode and it froze and quit the app causing me to lose my progress.
New phone, all my accomplishments have not come back
by Jerrod710
I want all my accomplishments to come back from 2015 since I got this new phone. I spent money on this game back then to get a lot of big upgrades. They should t have just vanished because I got a new phone.
Crashes
by Atius
Crashes constantly
Great Gane
by SoleMan27
I don't understand why there are so many negative reviews. This is a unique game and I've been playing it for years. I did loose my ranking which sucked as it is harder to level up now.... but I'd rather have it harder than too easy and then your done too quick...!
Rest in peace
by Dontcareowo
What was once a fun game has been ruined by greedy developers. Nothing else to say other than don't waste your money.
What happened?! Crashed constantly.
by NYSubway18
I paid for and have loved this app for years, but it just crashed constantly now. Probably needs an update but nothing has been done for so long. So disappointed right now.
Crap
by Rgf island freak
When I hit it sometimes it don't even work
Freezes too much
by spaghettiDan
When I restart a round too much it freezes and won't let me press pitch. If I didn't spend money on it, I would delete it.
Refund
by TheBeast2425
I payed ten dollers to upgrade everything 5 times I need help but good game
Infuriating
by Alecto73
To call the touchscreen functionality of this game hot garbage would be an insult to hot garbage. Unregistered "flicks" will make you insane.
This is dum
by mcgaha1016
I got this game thinking it was going to be good but it would not even download
Rigged
by Dustinhodel
Don't buy this game. If you want to compete you have to pay. Your bat will stop working if you're doing well without paying. Frustrating to play. If I could give 0 stars I would.
Five Stars
by Dead kill z
Best game on the market No talent needed
Good game gone bad and seemingly abandoned
by settsu
Played this originally awhile ago. Leveling up was consistent & satisfying. Now I'd be shocked if anyone was able to progress in any meaningful way without hours upon hours of obsessive grinding, an absurd notion for what should be a fun, casual game. And if you do spring for the in-app upgrades, don't piecemeal it—go big or go home. And even when you do drop some coin (say, 10x the original app price...) expect to be quickly disappointed by the seemingly decreasing returns of the power ups. In other words, the first few upgrades seem worthwhile and productive but the curve seems to trend flat by 10/99 (and above.) Power & Contact are better but not THAT much. Compare 5/99 to 20/99 side by side and you'll see for yourself. On top of that, too bad that development seems abandoned since there's minor, occasional, but no less annoying, glitches (Pitch button stops responding, swings unrecognized, etc.) And it would be nice if that one pointless ad at launch was killed off...
Major Bug with the bat
by Louisianaman95
The same problem everyone else has mentioned but developers refuse to fix...the bat. The bat which basically makes up the whole game is glitchy to say the least and gets worse the more you play. The game would be a lot of fun if they could get this part right. Otherwise it just makes things frustrating.
Ummmm
by apple id2017
I like the game so I decided to buy the level power up and never got the power levels and took my money
Terrible game
by JORDANL*nhart
Don't play this game
Good, but...
by thejamspot
UPDATE: Definitely some shady business here. Recently I was at level 20 and leveled up two times. Not thinking anything of it, I didn't even bother to look at the actual number of the score. I recently leveled up for the third time, and noticed that my score was still at 20 in power. Absolutely unacceptable. When a company makes you pay him for leveling up and then doesn't give you the levels when you actually do it just shows that something crooked is going on. Leveling system is completely ludicrous. It would take weeks upon weeks of casual playing to level up one time once you've gotten to higher levels. Like another reviewer mentioned, 5000 points nets you only 50 XP and at my level, it'll take 5448 XP to reach the next level, only to receive 1 lousy point to use. The achievements are also far-fetched. 2000 stars to complete a level 1 achievement, whereas my average stars is between 10-20 per game. Definitely needs some sort of updating to facilitate the leveling system.
Glitches
by Halieeeeee!!!!! (:(:
The game is a pretty good game besides all of the glitches it has, constantly. And multi player doesn't work. Once you get all of the levels achieved, you have no other incentives and they're all like each other.
Don't buy this game
by Rovio wanna be
It's trash
Update
by Huckster :)
Can you please update the giant level get rid of the statue and make the buildings taller
Bad
by Dominick111
When you get to the last level you fail
Money grab and glitchy
by Why not zoidberg?
The game itself is designed well and can be fun but the amount of time it takes to earn points to level up is absurd. It is designed this way to make people pay for upgrades if they want to make progress. Another thing is that the game doesn't register swipes frequently, causing you to miss the ball and this can be detrimental to making progress.
Crashes way to much
by Blakleys
This app crashes way to much. I'll be having an amazing game, then the app just freezes and crashes. Other than that it's a good app, but it crashes so frequently that it's hard to play.
Repackaged trash
by Gabriel Carrier
This game used to be so much fun to play. Now it's just advertisements and in app purchases. Really disappointed...
Frustrating
by AzNxCiVicR
Although this is a fun game, Giant Unit mode is extremely frustrating to beat. Get rid of the stupid statue or lower the amount of points needed to pass the level. Why would you put a statue there?!?!
OPTIONS!
by Im Sasha Banks
Fun app! I'd prefer more options
Crashes
by Callofduty123456789
The app keeps crashing. Please create an update to remove the bug.
Not worth money
by Meggy ruby
It's a good thing I installed this game before it costed anything, it is definitely not worth whatever price they put on it. Upgrades are too much work to get unless you want to pay more money, the sound system is absolutely broken, and sometimes they game won't register when I touch the screen. The game is fun, but quickly gets boring once you realize that there is no advancing without upgrades, which are unnecessarily hard to get. I just want to say that you could download this game, you could enjoy it for a day or two, but don't expect the money you spent to pay off.
Greed is always the downfall of the greats
by BAK_yn
I purchased this game wayyy back in 2012 when and when it first arrived in the AppStore it was amazing, heck almost all the games back then were amazing! Back then the games were true games, no energy bar waiting 2 hours to power back up, no full page ads, not all these "clash of clans" like game models. But here we are in 2017 and everyone is just out for a payday instead of delivering a quality product backed up with the passion to please their audience. This ideology is pretty much why I no longer buy games or apps in the AppStore. The only game I really play now would have to be egg inc because you don't "have" to purchase any micro transactions to succeed. I do NOT and will NOT recommend this company or game.
Over priced in app purchases
by Ninesenza
The game play is fun enough to keep me interested but tedious enough I considered the in app purchases. Until I saw how much they are for how little you actually get.
Bad 💸💸💸💸💸💸bad
by This is ####
Really bad all u do is swipe up when the ball passes by. Waste of money don't buy
They gave up on it
by Cjgdwn13
This game is a good idea. The only problem is that the developers gave up on it. If they didn't, then this would probably be a 4 or 5 star review. Would not buy :/
Fix
by Love everything but this one
I had this game about a year ago and believe me l loved it..... this time when my finger flicks the ball it doesn't appear on the screen to hit it. When it does it is like a half swing only hitting it 5in.
Freezes
by md121669
Regretting spending money on this game. Freezes on me a lot.
Good game
by Chris24124H
Good game could use a few updates a bit clunky some points but is overall good and very fun
I love it
by XxNinjazProxX
I don't know why everyone is hating on this app, but I honestly love it. It lasts a long time, and doesn't end right away, thank you.
Very fun app!!!
by Brooklynny6978
One of my favs!
Bad
by Don't worry about it weirdos
This game is trash don't buy it it's a waste of money #trash
CRASHES
by This guy 57829462
This app is very poorly created. This thing crashes all the time. It's extremely frustrating. Save yourself the aggravation and download something else.
How
by AI is horrible
I swing completely level, yet the ball pops up every time. I'm not saying I'm the best at this game but there is no way I hit 100 ft pop ups every time. Please fix this.
Crashes Too Often
by Thecom.bomb
I had a decent amount of achievements and upgrades but i tried to open it one day and it kept crashing so i deleted and re-installed. Everything was gone. They should fix it.
fun game
by sush::li
It's a fun game, but why does the paid version contain ads???!
Get good
by EejjAamm
Please learn how actual baseball is, the ball doesn't go sailing backwards if I hit it forwards
Fun app
by ReaperMan707
Biggest issue I have is I've been playing for a long time. Trying to get the golden bats. I have all but 1, on multiplayer! No one plays it! I wait and wait and wait. Stupid that golden bat is on their since no one plays this game!
Super annoying
by Adrian Polak🔥
This game gets me really mad, it's not even realistic
Still my go to game after 4 years but....
by PartnersInTheField.com
Dear Developer, please release another update. If nothing else, can you add unlimited, or even just more, moons and stars to the Moonster Bonus One game??? Super please!!!
Crashes
by Angryasaph
Won't stay open past one or two pitches. Crashes constantly on iPhone 6s+.
Good idea. Not so good execution...
by Jedi_master Havens
The concept of this game is awesome and is in general an okay game. But one of the major things that anyone who designs a game for iOS has to get right is optimization. If the game looks awesome but is laggy, it is a horrible game. If the game looks okay, but is extremely optimized, then the game is great. Just saying. The game on my iPhone 7 is just slow enough to be extremely annoying. I have had the game for a long time and there has never been a significant UI upgrade. The thing looks just like it did on my old iPod touch 4. The fonts look old and the animations are old. There are no new features that would make me play this everyday either. The app would be worth it if the developer was constantly making this better. This game could be in the top 10 list if they put some more effort into it. But that's just my opinion...