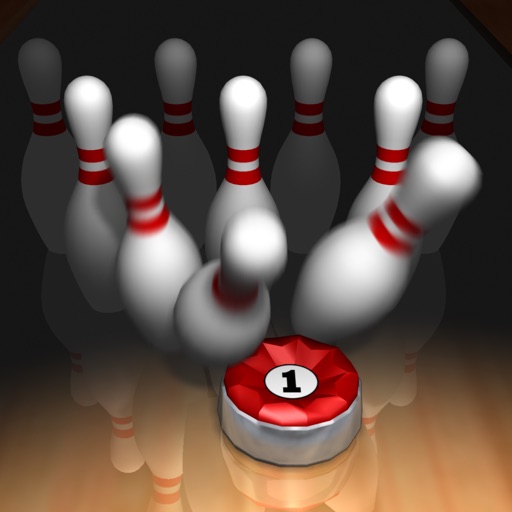 Try These Related Apps!
---
Flick Home Run !
---
NBA JAM by EA SPORTS™
---
World Cup Table Tennis™ Free
---
Baseball Superstars® 2012.
---
FIFA SOCCER 13 by EA SPORTS
---

Goaaal!™ Soccer – The Classic Kicking Game in 3D
---
Flick Soccer!
---
NFL Pro 2013
---

Action Bowling Free
---
Gutterball: Golden Pin Bowling FREE
---
Hit Tennis 2
---
Madden NFL 25 by EA SPORTS™
---
NFL Pro 2014 : The Ultimate Football Simulation
---
10 Pin Shuffle Pro Bowling
by
Digital Smoke LLC
(313 user ratings)
$3.99
Download size: 34.92MB
Version: 2.01
Released: 2009-05-25
For ages: 4+
10 Pin Shuffle Pro contains three great games in one, played in a realistic 3D environment! One of the most addictive, "pick up and play", 3D bowling games available in the App Store, this Pro version features traditional 10 Pin Bowling, 10 Pin Poker and Shuffleboard, peer-to-peer multiplayer and is completely Advert free with no In-App Purchases.

10 Pin Shuffle™ is now available for the new Apple TV and is a Universal Purchase! Pay once and play on all your devices - iPhone, iPod touch, iPad and Apple TV. Game Center leaderboards and achievements and Retina display optimized graphics are available on all devices. If you play 10 Pin Shuffle on your Apple TV then you can install this Pro version on your iPhone or iPad too and use that device as a second remote control in two player Apple TV games.

10 Pin Shuffle Pro contains three great games in one!

[1] SHUFFLEBOARD the game you've enjoyed in your local bar. Play against a friend or a computer opponent trying to out-shuffle each other's weights or blast them off the table.

[2] BOWLING with real 3D pin physics! Similar to 10 Pin Bowling except played on a shuffleboard table using weights/pucks instead of a bowling ball. If you liked Wii Sports Bowling then you're going to love your 10 Pin Shuffle™ bowling experience.

[3] 10 PIN POKER is a combination of Shuffleboard, Bowling and Five Card Draw Poker. Earn playing cards for Strikes and Spares. Draw new cards when you have five. The player with the best five card poker hand after 10 frames wins.

PEER-TO-PEER MULTIPLAYER !! Challenge a friend to a game of Shuffleboard or Bowling using either Bluetooth or a local Wi-Fi connection. You can also play against your Android friends over local Wi-Fi.

The powerful "Newton" 3D physics engine provides the most realistic pin collisions of any ten pin bowling game available on the App Store to date. Play on your own, against a friend or against one of several computer opponents of varying skill levels.

Features:

* Amazing Retina 3D graphics with shiny chrome weights, shadows and reflections.
* Universal Purchase - buy once and play on all your devices.
* iPhone, iPad, iPod touch and the new Apple TV.
* Use your iPhone or iPad as a second remote control in Apple TV two player games.
* Scores and statistics are shared between devices using the iCloud.
* Hi-resolution graphics on all Retina devices.
* Hi-definition graphics on all iPads and Apple TV.
* Game Center leaderboards and achievements.
* Real 3D physics engine and accurate pin physics.
* Peer-to-Peer multiplayer with other iOS devices over Bluetooth or local Wi-Fi.
* Peer-to-Peer multiplayer with Android devices over local Wi-Fi.
* Instant replays of great shots.
* Play against computer opponents of varying skill levels or practice on your own.
* Crowd reactions that reflect your moves in real time.
* Realistic sound effects capture every nudge, bump, and collision on the table.
* Controls that are easy to grasp, but challenging to master.
* Turkey rewards and winners animations.
* Bowling statistics and game scores are tracked and saved each game.
* Listen to your iTunes music library while you play.
* Resume game if iPhone is interrupted.
* Three fun games for the price of one!

Visit our website: http://www.10PinShuffle.com
Facebook: https://www.facebook.com/10PinShuffle
Twitter: 10PinShuffle

From Digital Smoke, developers of the popular Solitaire City® collection and Silly Saucers™, also available on the iTunes App Store.
Powered by Facebook Comments
Customer Reviews
Great App
by Wiesiu33
Wonderful app with great graphics. Works great on my iPad Pro. Please update app so it fits my iPhone X screen.
Vino17
by Vino 3
One of the most well constructed apps I've played in a very long time. 10 pin shuffle is an extremely no nonsense, sophisticated app that looks and operates very realistically. It's a pleasure playing it. It's a bowling game that is the closest to playing the real thing in an app that I've encountered any where. And, if you think shuffle bowling is great, the included, shuffleboard game itself, is sensational! It reminds me exactly of hanging out at my local bar playing shuffleboard with my friends. That's how accurate and realistic looking it is!
Great game to keep off those stupid adds and suggestions
by Lovejameyjohnson
I like this game to keep off the adds, here's suggestions...... a practice thing where you can practice for 5 or 10 minutes and a thing where you can scope in at the target so you can hit the spot where it gives you a strike, spare, or a good amount of pins, a extreme button if you finish the expert after that suggestion then I may put a challenge (where you try to get splits) button. And the last one is more is more things (the thing's that you play against each level ,expert or easy). I hope you add these cause I'm also a bowler in real life. Thank you for reading this!!!!!!!!!!!!!! PS:❤️ this so much I may play this every day!❤️❤️❤️❤️❤️😡❤️❤️❤️❤️❤️❤️😍😍😍😍
Fun!
by FB-NI
Fun, easy to learn, and addicting!
Better than cigs!!
by menahuneman
Great way to kill time , plus it's lots of fun and it can't kill you! 😎
Still the best game on the iPad!
by Rokslyd™
I downloaded this game the first day I got my iPad and It still is the best game for iPad made.
Lots of fun for all
by bkFlip
Have played this app for a while and it still brings me much joy
A lot of fun to play
by Ascott03
It's a cool spin on bowling and poker.
iPhone X Update
by WHEELS 555
Can you please update the screen to fit the iPhone X.
Great, it needs to be brighter in the back though.
by Richie Andree
Great, Just make the walls not as dark for me.
Problems w/ great game
by Kquilz
The newest version of the game does not work with iPhone X and other iPhones. Huge problem. Please fix and back to 5 stars!!
Fun!
by Cdrbob by
Great graphics!
my favorite potty game
by gothdaddy
been playing this game for years and i love it, but the physics in shuffleboard drive me nuts! the feel is so unpredictable that two tosses that feel indistinguishable in strength to you gives wildly different results! that needs to be fixed so there is a greater degree is finesse available... nice that you added the slo-mo replay! i wish that was replayable from different angles...
Really a classic
by Jet9918625
So, I've been playing this since it came out way back on my iPod Touch! And it's just as fun then as it is now :)
Great Game
by I b c n u I p freeley
Great Game
Great game
by Relax, This Won't Hurt
Very relaxing and fun. I've had it a long time and it's still a favorite!
Love it
by Bgdady00
Be playing this foe some time, the best bowling game
Like it
by Viclynsmastiff
I love this game a very good app and I've not ever had a problem with it working.
Great for passing time....
by R J E 3
Great game for passing those endless hours in the doctor's waiting room, or while your spouse is in the langerie store picking out something special to wear during his night out with the boys.
Excellent
by Sajennj
The graphics and response time are phenomenal. Set up of next frame is quick, not leaving you to wait. Great that it can be played with other devices via wifi- nice feature.
I like it
by Mrmm10312
I like the game good graphics and sound.
Great game
by darkrai445
Outstanding game. Love the play
Nice
by Jazz Lover from DC
Love the game. Nice graphics and sound
🎳🎳🎳🎳
by Four____star
👍🏼👍🏼👍🏼👍🏼
Bowling
by Mojonsandwich
When you are in a Border Patrol Dentention Center awaiting Trump to deport you back to Mexico nothing is more entertaining than this great game.
10 pin shuffle
by E3536iron
This game is addicting and make you always try to improve your game each time you play I love playing this game I also played on my iPad you will not be disappointed play this game there different levels for everyone
Nice
by Me120@
A super time killer. Never had a problem with the app. All should try.
Bowling
by Rciccc
Great game for killing time, doctors offices DMV, sitting around with nothing to do. Love it!!!
Lots of fun!!!
by jzgne
Really enjoy playing 3 of the games offered in this app!!! Can be a challenge to stop!!!
A wonderful game
by Frog jump
This game is great, I have been playing this game since it came out, I may have lost my progress somewhere, but it is a phenomenal game , simple and fun.
Best game ever
by Casgg1229
I find myself in public places reacting to a strike or a missed spare. It's my most favorite game I've ever downloaded. Never miss a day playing it.
Good game + my wife likes it!
by Skeatoni
Just want to say that I think this game is simple, elegant, and extremely fun. Even my wife likes to play and she "ain't no" gamer! LOL! People need to download this; I look forward to any good updates. Over www multiplayer would be an amazing upgrade... Thank you developers!
Strike!
by Cooperstown USA
What a labor of love! The physics. The graphics. The generous price without in-app purchases. Thanks to all who participated in this app's development! Bravo and blessings!
Great Game
by Info-SPPro
This was one of the first games I purchased, and I've been impressed with it ever since. Clean interface, good action and believable results.
Great game
by Dmichaell
I've had this for years on Android and iPhone. Love it. It would be great to see an update. It's been the same for a long long time. I was thinking of a field goal game. Put one or two pins up and try to hit them at the correct angle with the puck to fling the pin through a field goal.
Fun
by Dan-gin!
Fun game to pass the time.
Effortless
by SavyNannie
No annoying ads, just a fun challenging set of games.
Super real
by L. FREE
Love the play and choices. An old fashioned yet totally current game of still. Love it!!! Love not having to kill something to have fun.
10 Pin shuffle
by Pink Mountains
It needs a replay button so you don't have to go through the tedious process of playing another game (several clicks). That said, it's a hell of a game with great graphics. Very realistic movement.
Fun Time Killer
by Can'tThinkOfName!
Good game to pass the time. My one specific suggestion is that on the 10 Pin Poker game, you should be able to replace one card twice when you get a strike. As it stands, if you choose to replace one card you only get to do so once on a strike. This makes it the same as a spare.
Always fun!
by Frank V
We love playing this simple and fun game. Well done!!
Fun games
by Pegotescalarca
Fun games to play on both my ipad and my ipad pro.
Fun, entertaining, and challenging
by FlaPhillyFan0126
Thoroughly enjoy the game! Play at nearly every day. Terrific graphics shuffleboard is a challenge to. There's a lot to learn to maximize your skill in the game. You should give it a shot.
What you would expect
by Solo Tinman
Great game, for what it is. Easy enough, almost too easy, on the novice levels and very challenging on the expert levels.
Good game!
by afrik
Good app- feels like real shuffleboard.
Great
by Woman's world
This is a great game
Game review:
by Vpe mision
This game very great. It offers more realistic features. It's really offer the skill set set challenges you look for in a reality game.
Great game
by Domino1209
I love this game. Have played it 1000's of times. Easy & hard to get good at it. Worth the money.
No effort
by Hearing aid man
It's bowling without the gutter ball!
Great time waster
by silent2112
Enjoy it when sitting around waiting for ride