WhatsApp Messenger
by
WhatsApp Inc.
(31,638 user ratings)
FREE
Download size: 149.24MB
Version: 2.17.80
Released: 2009-05-04
For ages: 4+
WhatsApp Messenger is a FREE messaging app available for iPhone and other smartphones. WhatsApp uses your phone's Internet connection (4G/3G/2G/EDGE or Wi-Fi, as available) to let you message and call friends and family. Switch from SMS to WhatsApp to send and receive messages, calls, photos, videos, and Voice Messages.

WHY USE WHATSAPP:

• NO FEES: WhatsApp uses your phone's Internet connection (4G/3G/2G/EDGE or Wi-Fi, as available) to let you message and call friends and family, so you don't have to pay for every message or call.* There are no subscription fees to use WhatsApp.

• MULTIMEDIA: Send and receive photos, videos, and Voice Messages.

• FREE CALLS: Call your friends and family for free with WhatsApp Calling, even if they're in another country.* WhatsApp calls use your phone's Internet connection rather than your cellular plan's voice minutes. (Note: Data charges may apply. Contact your provider for details. Also, you can't access 911 and other emergency service numbers through WhatsApp).

• GROUP CHAT: Enjoy group chats with your contacts so you can easily stay in touch with your friends or family.

• WHATSAPP WEB: You can also send and receive WhatsApp messages right from your computer's browser.

• NO INTERNATIONAL CHARGES: There's no extra charge to send WhatsApp messages internationally. Chat with your friends around the world and avoid international SMS charges.*

• SAY NO TO USERNAMES AND PINS: Why bother having to remember yet another username or PIN? WhatsApp works with your phone number, just like SMS, and integrates seamlessly with your phone's existing address book.

• ALWAYS LOGGED IN: With WhatsApp, you're always logged in so you don't miss messages. No more confusion about whether you're logged in or logged out.

• QUICKLY CONNECT WITH YOUR CONTACTS: Your address book is used to quickly and easily connect you with your contacts who have WhatsApp so there's no need to add hard-to-remember usernames.

• OFFLINE MESSAGES: Even if you miss your notifications or turn off your phone, WhatsApp will save your recent messages until the next time you use the app.

• AND MUCH MORE: Share your location, exchange contacts, set custom wallpapers and notification sounds, email chat history, broadcast messages to multiple contacts at once, and more!

*Data charges may apply. Contact your provider for details.

---------------------------------------------------------
We're always excited to hear from you! If you have feedback, questions, or concerns, please email us at:
iphone-support@whatsapp.com

or follow us on twitter:

http://twitter.com/WhatsApp
@WhatsApp
---------------------------------------------------------

Note: WhatsApp is a telephony app, so iPod and iPad are not supported devices.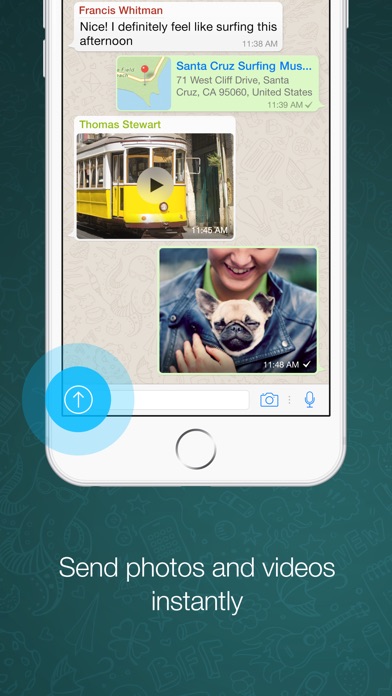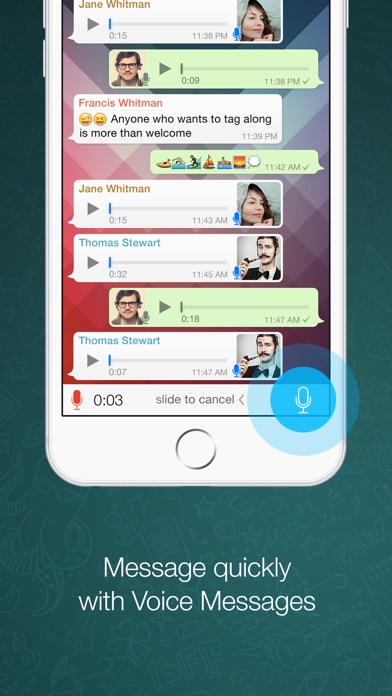 Powered by Facebook Comments
Customer Reviews
Love the app BUT....
by inga_daya
Great app. I love that I get to speak to my friends over seas, however, the voice message portion of the app can be frustrating. I don't particularly enjoy texting so I always us the voice message feature and a lot of the times when you record your message the slightest movement can throw your message into the garbage bin and then you have to re-record the whole message. Often times you cannot recreate the moment or verbalize exactly the way you did in the previous message that very inconveniently jumps into the bin. I think the microphone should be moved else where, away from the bottom right corner in a more convenient spot where this does not happen. Whatapp, can you please PLEASE PLEEEEAAAASE do something about this?
Excelente !
by mcbonp
Felicitaciones al mundo por tener WhaTsApp !
Best App
by minhson.nguyen
Amazing App!
Thank you
by Bush bush 748
It is very good
It's good
by bigharr12
WE REALLY NEED GROUP VIDEO CHATTING!!!!!!!!!!
Great App
by King of Romance 2
I really love this app , Great 👑 app ...., thank you so much WhatsApp admin 🌹..
Phone app integration
by Dvargas135
This has come to be the most annoying "feature" of whatsapp. Please remove it, or add an option to remove it. It's really getting on my nerves.
ECHO!
by Clovers01
The echo that has been going on is absolutely ridiculous. I don't know if it's the newest update. But whatsapp used to the perfect way to do long distance calls, though now the echo is so bad that I can only truly hear a parrot of my voice instead of my partners.
Very Helpful!
by Clauisela
Love the app, its the easiest way to keep in touch with family and friends, love the group chats, and i can call my siblings in Mexico with no cost and good conection
Lo mejor
by Corronguera
Es una de las mejores aplicaciones, práctica, amigable y útil.
Awesome
by luisalva18
Works great sounds great overall awesome app!!
Esta lento
by joako0312
Corre muy lenta la app en este movil
Appreciation
by nasser mogammed
It is the best application I have been seen There is no comparative at all with the other application
Splendid
by Akinsanmi
Awesome and wonderful
America
by SweetyTheBoss
America
Wow this great app
by Martin Addon Aguilar
This is more chats then massager I will take as 10/10
Keeps Family Closer
by cruzelady777
I so appreciate being able to keep in close touch with family that lives out of the country. Thanks a million for this.
Incredible
by Arin Troi
I absolutely love the features
bad
by brrliner
viber better and more options
Good
by Turkinan
Amazing app I use it a lot when I am traveling
Apple Watch app - initiate new message
by srknc
For me the only missing feature is Apple Watch application. I can reply messages but cannot initiate a new one. Sometimes I just want to say, Km arrived, call me etc, but I cannot. I'm using messages app just for this.
Feliz navidad y próspero Ańo Nuebo.
by Chino Chef'sPaella
💕❤️❤️❤️❤️❤️❤️❤️❤️
TEXT BUBBLE
by deema :)
pleaaaaase make the text bubble thinner again. like in update .50 not THIS ONE. my phone's text size is the smallest but the text bubble is HUGE. please fix this issue!
部分国家使用不通畅
by No 1 A
在中国使用不是很通畅。
تحديد الأسماء
by أبوعبدالملك .
الحمدلله الذي وفق . البرنامج رائع ..
La huella
by Rey de los borrachos
La huella
I love the app but there is one problem keeping it from 5 stars
by RBEATS81
For some reason the app automatically saves the images that are shared from group chats to my phone. This is a problem and you should be able to share photos with the app with it automatically downloading everything and saving it to you personal photo library. Please fix this!!
قطر - الدوحه
by علي شهواني
البحث عن موقع راعي الوتس اب وتحديده على الخريطه بعمل دبوس حتى يتسنى لان لمس الأصدقاء بل قرب من الموقع وشكرآ على تعاونكم
On IPhone
by Joeywestlosangeles
Can't Download Photos While FaceTiming Still Having WiFi...Love This App Just Need To Give You More Choices To Customize It To Your Choice I Mean I Hate Seeing Myself On The Screen..Also Add More Filters In Mexico WhatsApp Is Snapchat
Bravo‼️❣️
by Yanashaska
Thanks for your fine service ❣️👍🏼
Compliment
by moha jirac
Best app I ever used in my life. It makes easy for you to access internet and to keep eye on your friend or stay connected.
Iwatch?
by King Nino23
I love this App, im able to communicate with my friends oversea with no issues but there is no support for the iwatch why? This is Bad Bad Bad.
ladycane64
by Ladycane64
I love this app!!!! Very useful this app
Cam nhan
by hung tulanh
Uing dung thật tuyet
WhatsApp
by Greghuh
Very very good. The best app ever . Very useful for me.!!
احبكم ياناس
by abo mnok
والله الوتساب حلو كاستخدام ممتاز يناسبيني كثير ..وشكرا لكم
Can't restore conversations
by Ssrus403
This was a great app until i switched to the iPhone X! I am unable to restore my messages and contacts. It just keeps crashing. I'm struggling trying to remember contacts or forced to search for them on the internet, Instagram and or Facebook. PLEASE FIX RESTORE FUNCTION
iPhone glitcher
by Gsrboy171
Makes my iPhone go crazy when receiving a video call. I have to finger unlock, swipe down to my notifications. then click on the WhatsApp. then click on the call to answer. Fix this
Excelente
by Julio Valero
Excelente!!!!
Needs a Profile switcher
by AAA2324
In settings we should be able to have two so amother person could access there profile on the same phone
Love but...
by Sativa_JDC
What happened to the "PiN CHAT" feature I had only just discovered before I put the last two updates through.....???? Need that back A.S.A.P., thanks.
Buena APP
by Haritte301
Una aplicación muy buena, tienes la facilidad de enviar videos, fotos, audios, música y localización dónde estés para otras personas, de verdad, es muy buena aplicación. La recomiendo.
Love it
by Yonezii_
I use this app all the time to talk to my family and friends back in the states. Love how it has video chat and just regular messaging and voice messages. If you're out of the US I definitely recommend this app.
Volume problem while on Cam
by Hot As Ice
There's a problem with the volume when I'm on cam, lowering the volume doesn't work, I can still hear the person loud and clear even if the volume is at "one". This needs to be fixed!
☹️
by gardynia's flower
With last update I like it the delete option But it's call became so bad I don't know why is that It was better than now That's how i see it ☹️
AD
by Ludyana Soares
I Love Whatsapp thr best app ever! Thank you team, one of the most helpful tool created.
Annoying glitch
by Maggie of E
After the last update all the messages in the thread suddenly scroll rapidly backwards to the very first message when you try to use the back arrow. This is beyond annoying as it takes ages to manually scroll back down to the most recent message again. Fix this glitch please to get back your 5-star rating
Excelente
by sergioJhovani1
Muy buena aplicación .
Fallas
by CarlitoMaraña
No puedo realizar llamadas de vos ni de videos x la aplicación WhatsApp en mi iphone X