Try These Related Apps!
---
American Sailing Association
---
MotionX GPS
---
Sailing World Knots and Splices
---
Knot Guide (100+ knots)
---

WeatherMap+
---
Speedometer+
---
Windfinder
---
Sea Tow
---
Windfinder Pro
---
Marine Charts
---
Transas iSailor
---
TideTrac
by
Rivolu Pte Ltd
(223 user ratings)
$2.99
Download size: 6.3MB
Version: 2.3.1
Released: 2011-11-17
For ages: 4+
The one and only Tide app that you've been waiting for!. Now with retina display support, works like a charm on both iPad and iPhone. Use TideTrac daily for info on tides, Moon and the Sun. It downloads your tide data and stores them locally for later offline use. Fast, accurate and easy to use. (Note - TideTrac supports coastal US Stations only)

Not only does TideTrac tell you when a high tide and low tide event occur on a given day, it is the only app that can tell you the days of a month when the tides are highest or lowest in one quick glance with a graphical visualization.

Swipe the graph to the right and view a four day preview of tide graphs. Add multiple tide stations to your favorites list and switch between them easily. Any station marked as a favorite will have their complete tide table downloaded automatically for the entire current year and will be available for offline viewing. Great for taking the phone with you and lookup tide data at anytime even when you don't have internet connectivity.

On the first launch, TideTrac will automatically select the nearest station closest from your current location. But if you need to pick a different tide station, pick one easily from browsing the map visually!

Advanced feature - TideTrac lets you lookup tides by hour of day (currently available on the iPad version only). For example, if you are interested in visiting the beach at 7 am for a walk, TideTrac can tell you on what days the tide are lowest and highest at this hour. Plan your visits or travel using the easy lookup table.

TideTrac comes in a beautiful interface and also tells you the sunrise, sunset times, moonrise, moonset times.

Whether you are going sailing or just planning ideal times to hit the beach or interested in finding the best times for viewing tide pools or finding the best times for fishing, knowing the tide level at any given time and day becomes essential. TideTrac presents all of its data efficiently without over-complicating the user interface. It is extremely easy to use.

With the convenience of offline viewing, users can take TideTrac to remote locations and continue to view the tide predictions.

What is not included in TideTrac is information on currents and local weather. Before purchasing the app, please take a look at the list of supported tide stations from http://www.tidetrac.com/stations/

Features

+ Includes thousands of tide stations in United States (coastal US stations only).
+ View all tide stations plotted on a map for easy browsing and selection.
+ Add tide stations to 'favorites list' with one simple touch.
+ Offline viewing of tide events & tide graph enabled for all favorite stations.
+ Lookup tide predictions until 2017 (more will be added as available).
+ View high and low tides for the selected day.
+ View tide data for a whole month.
+ View highest tides of a month & lowest tides of a month.
+ View tide graph and using a time slider find the tide level for any time.
+ Quickly shift from month to month or move from day to day and watch the tide change.
+ Requires internet connection only the first time a tide station is selected.
+ View Sunrise, Sunset, Moonrise and Moonset times.
+ Accounts for daylight savings time and different timezones.
+ Includes a Moon calendar with different phases of the moon displayed.[iPad only]
+ Includes a tide look up table to lookup tides by hour of the day [iPad only]

DISCLAIMER - Tide data displayed in TideTrac are based upon astronomical tide predictions and does not take into account the effects of wind, storm, rain, freshwater runoff, floods and other meteorological events. The tide graph rendered uses the predicted high tide and low tide events of the day and the segments between these tide events are approximated. Do NOT use TideTrac for NAVIGATION purpose or any other purpose that may result in personal injury or property damage. Use it at your own risk.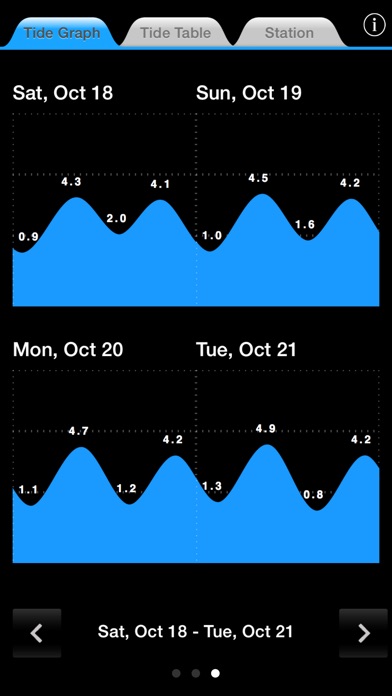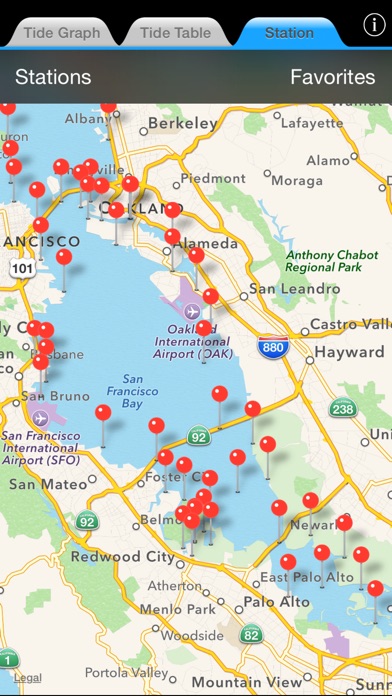 Powered by Facebook Comments
Customer Reviews
Does just what is says
by bgraham55
I would give 5 stars except display elements appear over top of the times and height information. Can barley read when covered by shaded area indicating day time. Also reference lines go over text. Would be nice to display sun and moon rise set times numerically as well as current graphical display.
Great app
by Rosealovepearjs
So far so good like the ability to quickly know the depth at specific times of the tide
Wonderful graphics
by didnotrun
Unlike "just tables" depictions of tide data, this app has multiple super-intuitive graphics that allow you to easily get a view of what has happened, will happen, and the upcoming low/high differences. Very cool. Tried a bunch, this is the winner.
The best tide app by far !!
by BeyondBeauty76
I deleted all the others, this one is all I need. It's excellent. Easy to use and very accurate.
All the info I need
by FLYwME4FUN
This app defines what an app ought to be. Just a couple of clicks to set a nearby station. Then view a graphical depiction of times and tides. Provides all the info I need. Quick and easy. Easily a 5+ rating.
Does the trick
by yellerjacket
This sure beats looking up the tides on line or in the paper. I live in an area dominated by shallow water and oyster bars, so I rely on the tides to keep my boat afloat.
Stop asking me to review
by RogerYoung3
Wake me up. But it is annoying to be constantly asked to rate the app.
Pretty close to 5
by whatevernameWORKS
I too would like an easier way to select a nearby location, but if you are stationary and pick your regular location, it is most useful. Clear and attractive
Great app
by mglangley
This app is very accurate. Love it!
Useful App
by Jlkrsbbhf
I agree w CAB. The midnight cut off is frustrating. But the graphs, stations,etc are good
Great App
by Ernesto64
Just moved to the waterfront, use it all the time
Has proved to be very useful
by msmith7
This is the only tides app I've used so I can't compare it to others. Never the less it has been very useful and easy to use.
Nice App and useful app
by .?????
This is a very practical and useful app and I am grateful to the developers. The interface could be improved a little for 5 stars. 1. Faster way to selected a station close to you 2. Tide graph screen making it smoother to check tide for the night. Current screen cuts off at midnight but I am often interest in evening to morning (i.e overnight anchoring). A sliding graph would be fantastic or the behavior of the time slider could be improved when moving to the next/previous day so that it automatically moves to the left/right of the screen instead of staying on the same time. 3. Finally I would add a fixed current time marker to make it easier to think by difference the current situation. CAB
Use this every time at the beach
by Skohlmeier
Works great
Useful App
by jchambre
Easy to find tide stations and to scroll through multiple days.
Love it
by Cookingin2213
Only tide app I know where you can adjust time to see changes to tide
Easy!
by $kuzzie
I like the ability to move the timeline and see exactly where the tide will be.Also, the Lunar phases keep me current on when to get ready for the Full Moon! Love this!
An everyday tool
by ptowndoc
I live on Cape Cod Bay and use this app daily certainly in this season. It loads quickly. Gives me a tide graphic that lets me explore timeframe around low or high tide.
TideTrac is the BEST!
by Books I like
I love this app!
So helpful
by tourist-teller
And attractive
Captain Kevin.
by capt.Kev
As a motor yacht captain,this info has d Saved my bacon on more than one occasion! Great tool for every boat captain to use!!
Perfect
by GlaswegianCamel
Does what it says on the box! Plenty of stations to choose from. Move the charts!
Location problem
by Pmnpt
Location is CA. I live on the east coast. Cannot find way to change my location. Cannot change in settings either.
Love it!
by SBeach
Really no complaints. Seems to do everything I need it to do. Kinda wish it had an option to alert me on my home screen what time high and low tide will be occurring each day. Maybe an upgrade to next version? Would also like an Apple Watch app version. Please add!!
Great design and visual view of tides. Does exactly what it should.
by Smithalino
Great app
Extremely useful, quirky interface
by casdvm
This little app is a huge help when watching tides, and the alarms are very cool. The graphs and charts make sense, but the charts are a lot busy. Switching from station to station is clunky, and could be simpler.
Best tide ap I've seen
by Gms gms
Outstanding
Tide trac
by hood canal dweller
Totally reliable, so much so that we plan many things in our year around its info, especially summer events here on Hood Canal. It's always accurate to the minute
Great app!
by debkayak
Very accurate and easy!!
Awesome
by WRJoeD
This is great to let me know when we can walk the beach!
Excellent graph
by DuckyDiva
The graph analysis is easy to read and offers quick visualization of the tide.
Very good overall app
by slsutl
No app is "perfect" but this app does a very good (and beautifully presented) job of presenting current overall conditions along with several options for further, more detailed information. Wish it were available on an iPhone format.
Good App
by SaltyPirateDad
I find this app very useful. The only suggestion I would make for improvement is an indication of Spring & Neep tides - or something about the phase of the moon so you can infer spring & neep tides.
Packed
by Fringe shift
Lots of great data and I dig the visuals.
Great app
by Sabiny101
I'm an open water swimmer in San Francisco Bay and use this app all the time to plan my swims. A must have for every swimmer.
Great app
by Tagman23
This is the best tide app I have used. Purchased several others, and none compare to this one. Information is presented wonderfully. Highly recommend if your looking for a tide chart or clock app.
Useful and user-friendly
by Coolmom87
This app gives me the information I need in one place. Very easy to use.
Fantastic
by K1r573n
As an avid sea glass huntress, this app is indispensable! I have nothing negative to say.
Perfect
by JStirpe
Great App. Very helpful on the fly... thanks !
Great for fisherman
by bass5aday
This is the best tides app I've seen, the map that shows all the tide locations is perfect. Easy to use, excellent!!!
Nice app!
by Therese Kathleen
Been using this app for over a year now. Very quick look at tides and never any issues with it working.
My go to app for surfing
by mimi.babyy
This thing saves me so much time. I really value how it shows me how many feet of water there is any any given time-historically as well. I used to try to guess given the times of the highs and lows but I am usually off by a foot or more since the water movement is non-linear. Calculus, anyone?
iPad version beautiful!
by Subaru owner since 1976
I love having the moon phases for the month as a graphic. You don't get that with the iPhone version of the app. It has all the information I need, and the app works flawlessly.
Does everything it should do!
by VUDU is Crap
Does everything it should do, and does it beautifully!
Great Basic App
by RalphTomaccio
It's simple and straight forward. Does what it was designed to do in a clean, easy to read format.
Great for Puget Sound
by Melody_Mania
Use it every time I head out to kayak.
Good Resource
by Wct238m
A terrific app that gives the user easy to use details in graphic form.
Most Helpful
by HK_CDV
I live in coastal south Central Alaska and use this app almost daily. Highly recommend this app.
A Small Glitch
by sorry4ever
5/5/17 Really good. HOWEVER I think that there's a problem. I tapped on "More Apps" and instead of going into the App Store, it keeps going into my Apple Native Music app. It's probably just a glitch. I will monitor this and contact the developer if there's no improvement.2:32 am. Found my contacts Apple Native app opened. I very rarely open that app, especially on iPad. I hope that was just a mistake on my part.