Try These Related Apps!
---
American Sailing Association
---
MotionX GPS
---
Sailing World Knots and Splices
---
Knot Guide (100+ knots)
---

WeatherMap+
---
Speedometer+
---
Windfinder
---
Windfinder Pro
---
Marine Charts
---
TideTrac
---
Transas iSailor
---
Sea Tow
by
Sea Tow Services International Inc.
(90 user ratings)
FREE
Download size: 82.06MB
Version: 2.08
Released: 2012-03-26
For ages: 4+
The Sea Tow App is the number one boating accessory to keep with you at all times - whether you're preparing for an upcoming boating trip, need around-the-clock assistance or fuel on the water, or encounter trailer issues en route to a ramp.

This FREE app offers hourly and 10-day Marine Weather forecasts, hourly and 7-day Tide forecasts, Compass and Speedometer functions, precise Longitude and Latitude location, and One-Tap on-water assistance directly through Sea Tow's 24-hour Dispatch Center.

You don't have to be a Sea Tow member to enjoy the peace of mind our app brings for safer boating and more enjoyable travel. But if you are, you can easily access your membership info and renew your Sea Tow membership right from the palm of your hand.

WHAT'S UPDATED IN THIS RELEASE:
Fixed issue with the display of tide information
Fixed missing settings for some users

SEA TOW FEATURES

Know The Tides
Get tide forecasts, moon phases, & next tide countdown in both analog and graph format for as many locations as you would like. Let the Sea Tow App serve as your annual tide chart, forecasting tides one week in advance. Access up to 20 tide stations for each area to give you the best information that will make your trip on the water a success.

Check The Forecast
Detailed weather report available including wind/gust speed & direction. Plus water temp, wave height, visibility, barometric pressure, detailed marine forecast, UV index, humidity, sunrise/sunset times and much, much more. Seven day forecast available for as many locations as you wish to add.

Get Your Bearings
Direction and location are no longer an issue*. With the compass and speedometer functions, get your heading, lat/long, speed over ground and course over ground. Pinpoint your precise location on a map. Designed for inland and coastal use, the single map interface gives you access to the tools you need to enjoy your day on the water.

Help Is On The Way With A Tap
Have peace of mind knowing you can reach Sea Tow directly for on-water assistance in addition to your VHF Radio. Just tap to call no matter what screen you're on to contact Sea Tow's 24-hour Dispatch Center. Captains are standing by, ready to help. The App is designed to forward your contact and location information to our Dispatch Center so we'll know your location, even if you don't.**

Learn more about Sea Tow and the benefits of Sea Tow Membership at www.seatow.com today!

We appreciate all of your user feedback as we continue to look at new services and capabilities for boaters everywhere. Keep the feedback coming! Email us at appsupport@seatow.com or tweet @SeaTow.


*This is a GPS repeater so the accuracy of our data is solely based on the accuracy of your phone's internal GPS - your location services must be turned on.

**The accuracy of our data is based solely on the accuracy of your phone's internal GPS and requires you to have a data connection that enables the information to be sent.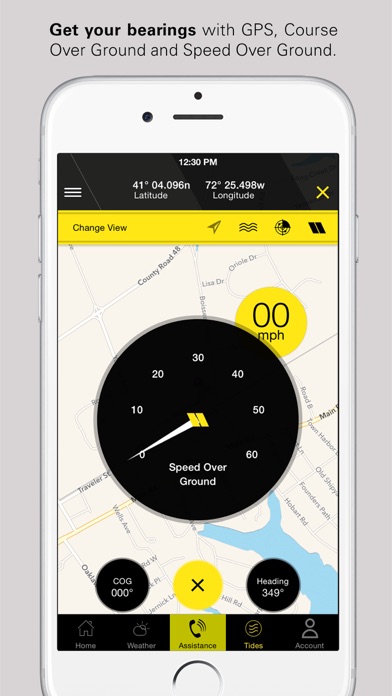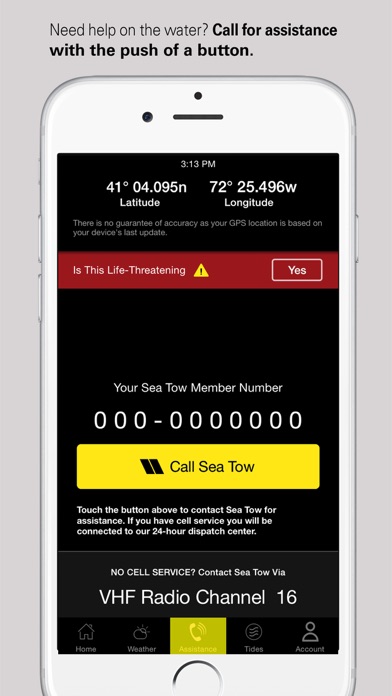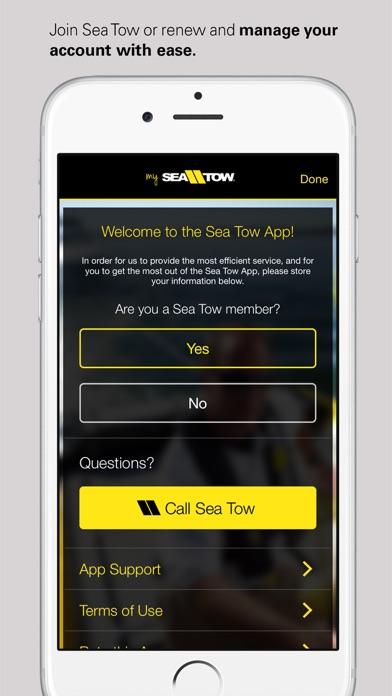 Powered by Facebook Comments
Customer Reviews
Sea Tow app
by Apsjr
Even after getting suggestions from App support (which I had already made sure were in place) still just shuts down when trying to access wealth and tides. Hate I wasted any time with it at all. Removed the app and started over. The only good thing so far is it will locate me and provides quick access the sea tow phone number
BAD APP!!!! February 2018
by viappc
SeaTow where are you? Your app does not work!!! Your support people are embarrassed to try to fix an app that they know will not operate! FIX IT OR TAKE IT DOWN! Larry VENICE, FL
Terrible App - double charges- better watch them
by the_crafts
This is a terrible app, that is full of functional issues. It is definitely not worth the time or trouble. Call to report issues with the app, told they'd check on issues, that resulted in double charges on my credit card, which they denied, claimed was simply a hold that would go away, but they would check on it and call me back. I called back after five days only to be told the same thing. Whatever you do, dont renew membership on app, results in double charges which they deny, after the second call and proof i was double charged, they agree to refund second charge. Guess they were hoping i would forget. Absolutely no follow through on their end. Gotta watch these guys.
Needs work
by tjdelray
The old app would at least give me good Tide times. Now I use other apps for that. Always signing back in and can't get weather either.
Not so user friendly
by n2357n
This app could be so awesome!!! But it's not. Needs a lot of updates and to be more user friendly. Sea tow awesome! App not so good.
Why bother
by DaveInCharleston
Am able to login online, apps will not connect. Worthless.
Overly complex with functions that do not work.
by DrTomPls
1st seatow app was simple and worked well. As an attempt to increase functionality the app fails. It does not render on IPad properly. Will not allow orientation to allow keyboard with IPad Pro. Will not update membership after renewal for proper use in wallet app.
App needs help
by Minus $9.99
Most Reviews are spot on, this app needs tweaking. On my home screen, I can not access tides nor weather. Only account information and assistance can be highlighted
Great concepts & layout, unfortunately too buggy to use.
by Fail.1234
Gave up after handful of app crashes and location services errors. Keep working. If you could make the app do what it advertises it would be a great tool.
Poor
by Stop working after 10 days
Why when you renew the app won't except the new expiration date and the app now won't store your information?
Just OK
by wavernrr
The app keeps shutting down. I know it's not my phone and I have to keep restarting the app. It only stays up for a few minutes and while I'm in the middle of doing something it will just shut down...I give it two stars because the info it provides is great, but there are some fixes that need to be made.
Not a good app
by cbird5052
App is good for weather and tide info but not keeping track of your account with Seatow. The only way to keep your account synced with the app is to delete app then downloaded it again every time you renew. Can't get wallet function to work. Not a good system.
Still needs work
by KeninJax
This app has definitely improved but still needs more work to be equal to others with more superior tidal informal and quicker responses. In addition to shutting down when changing functions, the locator must be either always on or never on without the option to be on only when the app is being used.
Works for me
by Helderberg complainer
When I needed a tow, I called through the app and they knew exactly where I was without my having to tell him. They have the coordinates. I can't ask for more
Bad
by DaveyM09
Laughable
It might be a hot day on the water, but this app is certainly not hot
by BrewDude694u
This app needs a lot of tweaking to get things right. I noticed a lot of errors, such as not being able to use the Wallet functions, constantly asking for member update information when you click the weather underground icon, and forgetting locations that were saved. I think that they should probably start over from scratch and try to make an app that is functional, rather than just a nice piece of eye candy.
Will not update
by cpt Rich
No mater what I do it still shows me expired. I am good and up to date on web logon but unable to get updated on passbook.
Boat owner
by Kid understand
Very good app, I try many app only this app work that what I need.
Jersey Boater
by Jersey Boater
This app is terrible, can't get tides or weather in Little Egg Harbor, NJ.
Still can't save member info
by wb boats
Every time you try to save member information or address it kicks you all the way out of the app. It sure would be nice to have my member number when I need help on the water.
Doesn't work with Wallet.
by Dave in Scituate
Used to work with Passbook but doesn't work with Wallet. I asked App Support about it. This was their reply: "Thank you for contacting Sea Tow. Unfortunately Sea Tow data is not compatible with Apple Wallet. Our apologies. If you need a plastic member card or other assistance let us know." Obviously Sea Tow isn't paying for a quality App developer. It could be updated to be compatible. Sigh...
Simply terrible.
by BradAA
Sea Tow's services are great but this app is terrible. It won't accept and apply membership details, which is pretty essential for the AAA of the sea. Plus the app is very unstable crashing with nearly every session. Come on Sea Tow, make Capt. Joe proud and get your act together with this app.
Frustrating
by glewt
It has great potential, but it suffers from reliability and interface issues. SeaTow is supposed to be trusted... this software fails on almost every count. Imagine how cool this app could be if someone poured some love and skill into it.
Sea tow is awesome, this app is not
by Driftwood3345
Sea tow is a must have and is great, but this app is almost very frustrating. As other reviewers said, it forgets your locations and often provides wrong (stale) data. Sea tow, please correct or rewrite the app. If it worked correctly it would be great.
Sign in???
by DiverDoug
Why do you have to keep signing into the account? I don't even have to do that to my bank account? This app needs some simple updates
Deserves 1 star
by Kardmon
Crashes and does not create wallet passport when you click on it.
The Worst App maybe ever...
by Fyjbgjjj6
This just simply doesn't work...
Love hate relationship with this app
by Jloomis007
I really like the tide schedule and the knowing if I get in trouble I can call for help. What could be improved would be the wind forecast and the ability to save tide stations. As a paddleboarder, there is nothing more frustrating than to plan your trip around the tide and wind, only to find out that the wind was underforecasted.
Tides not correct
by VB VA
The tide chart tracking tides is horrible
Don't waste your time
by NCjinbob
Not a darn thing worth paying anything for
Terrible app
by XhuZzz
Tide data "unavailable". What's the use??
Arggggggh
by LuvKimmy
Ditto: love SeaTow but the app leaves so much to be desired. Every time I open it I have to log back in with a password.... why???
Doesn't work, poorly coded
by bkreason
This company clearly considers app development as an afterthought.
R Huff
by R Huff
Hate the App I can't change the location from the East Coast of FL to the West Coast of FL. Why? Not helpful at all for tides, garbage if I need a tow I hope it's better than the app.
Love seatow. App is useless
by Jp111aer
Can't find information Not user friendly Every version update is worse Has forced me to find other apps.
Does not update membership expiration date
by Hvbaker
Limited utility. Does not update expiration date we one renews membership. Dissatisfied.
Simply Awful
by HopeIDontNeedSeaTow
I am canceling my SeaTow service based on their inability or care to fix what is the worst app I have ever downloaded.
Looks pretty: looks can be deceiving
by chipztaughts
I love Sea Tow. I hate the app. I agree with most of the comments. I had various sites I frequent set up. In SW FL coastal waters you deal with passes everyday. Depending upon the tides and other considerations, you select an option based upon reliable information. This app FORGETS most settings and does not provide accurate data. Fortunately I have never had to call Sea Tow via app. I think Sea Tow should get rid of this app all together and start fresh. This app is nothing if not frustrating.
App bombs
by Spear_fish
Not sure why but this app will not even run on my iPhone. Opens then just shuts down.
Stinks
by Dieu Man
What were you thinking? Old version was better in all respects. Please bring it back ASAP. Everyone hates this one! No future tides! Bad graphics! To manic! Hard to navigate! Did anyone other than the designer even try it?
Unstable and confusing
by Mr Physics
I'm a big fan of Sea Tow services. Whoever wrote this app isn't. This is your AAA of the water and it is confusing, unreliable, and unstable. I keep it up to date and try to understand the constantly changing interface, but it not intuitive. This is the app you should be able to rely on when you are on the water. Seriously Sea Tow, start over, figure it out and get it right.
Crashes and wants to location "always"
by scar1900
Will update review and rank higher when the apps stops crashing on the tides view and changes location request from "always" to "when in use". Also, if I don't want to give you my location allow me to set a default location for weather and tides.
Wallet Apple Watch
by GlenPG
Please display membership number on Apple Watch within the Wallet App. Nice Seatow bar code shows in Wallet on Apple Watch, but most marine gas stations that offer Seatow gas discounts are not sophisticated and do not have bar code readers. You must read off the memebership number to the attendant as he writes it down. Thanks
Snapper Snatcher
by Mepetcat
I have learned not to depend on anything the app produces. Very difficult to use.
Crashes
by .:Dookie.:
Just downloaded and cannot open it without immediately crashing. Iphone5.
Constantly crashing app
by Denncro1
SeaTow should be embarrassed to have there name on this junk app. Have some scruples and fix the damb thing already. Unsatisfied soon to be X customer.
Tide app is frustrating
by Seahunt 44
Every time I get on the boat I turn on app to check tides, and every time the saved locations are not there. I have to go in while driving and reset saved locations if it lets you at all. 1/2 the time it just says tides unavailable. Also the Wind speeds & Gust say 0 or 2 MPH always. It can be blowing 25-30 it will say 0 or 2 mph every time. Love Sea Tow. Glad I have it , But app is worst one in my phone.
App clearly not tested by sea tow
by Paragone
The app constantly crashes, goes into a loop, times out. Don't waste your time...this is very disappointing for a good company. SeaTow, hire some competent software engineers...you should be embarrassed!
Sea Tow App
by Chas Y1
Doesn't include Texas Bays that I fish such as W. Galveston and East Matagorda. Doesn't provide key tide data on Texas Bays. App itself is not user friendly.
C Tow
by Docksweeper
Just ok app. Doesn't seem to know that you're a member