Gangstar Rio: City of Saints
by Gameloft
(1,179 user ratings)
$6.99
Download size: 1736.83MB
Version: 1.4.1
Released: 2011-11-10
For ages: 17+
The acclaimed Gangstar series is back on iPhone and iPad to offer you a whole new place to have criminally good fun!
You'll never experience a better way to discover Rio de Janeiro!
SEE RIO… AND FIGHT
For the first time ever in a sandbox game, explore the city of Rio de Janeiro, Brazil. Discover 5 different neighborhoods including the favelas, business district, beaches and jungle.
Also, for the first time in the Gangstar series, explore indoor environments fully realized in 3D.
IT'S A LONG WAY TO THE TOP
Over 60 varied missions to complete, plus dozens of random events to give you hours of fun.
Kill corrupt politicians, protect witnesses, deliver special packages, steal cars and find out who tried to kill you and leave you for dead.
SAY HELLO TO MY LITTLE FRIENDS
Access a wide range of weapons, such as handguns, rifles, bazookas and grenades, plus a new local specialty: the explosive Football.
Also, drive dozens of vehicles including planes, helicopters and a tank, and of course, you can rob, purchase and collect dozens of cars or motorbikes.
HAVE IT YOUR WAY
You can now customize your character. Unlock numerous shirts, pants, hats, glasses and more, that you can collect and use to customize your character.
ENTER THE REAL BRAZIL
The realism has been pushed even further thanks to various radio channels broadcasting hip hop, electro and funk music with several licensed tracks:
- World Town - M.I.A.
- Office Boy - Bonde do Role
- Lingua de Tamanduá - MV Bill


_____________________________________________

Visit our official site at http://www.gameloft.com
Follow us on Twitter at http://glft.co/GameloftonTwitter or like us on Facebook at http://facebook.com/Gameloft to get more info about all our upcoming titles.
Check out our videos and game trailers on http://www.youtube.com/Gameloft
Discover our blog at http://glft.co/Gameloft_Official_Blog for the inside scoop on everything Gameloft.

_____________________________________________

This app allows you to purchase virtual items within the app and may contain third-party advertisements that may redirect you to a third-party site.

Privacy Policy : http://www.gameloft.com/privacy-notice/
Terms of Use : http://www.gameloft.com/conditions/
End User License Agreement : http://www.gameloft.com/eula/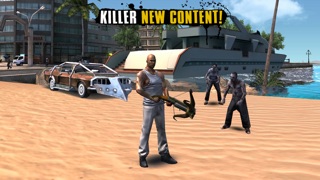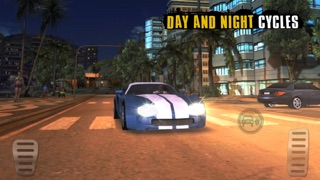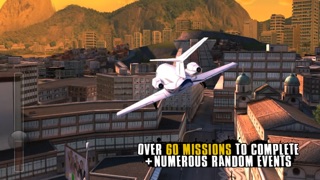 Powered by Facebook Comments
Customer Reviews
Doesn't work for ios11
by JayzFan101
I want to play this game again because it is one of my favorite mobile games but I can't because of iOS 11... upgrade please!!!
حرام عليك
by mamoon nooro
حرام عليك حدث التطبيق لايعمل مع الاصدار11
Kinda short for 7$
by Lecharev
Beat this game in less than a week. For 7$ I thought the game would be a little more thought out. Not a very good story line. It is a good game but gangstar vegas is definitely better. This game is better than New Orleans for sure. Going to try west coast hustle next. Hopefully not going to be disappointing.
Please update to iOS 11
by Caleb Bastin
It won't work anymore with my phone because it said it needs to be updated
Abandoned game with so much potential...
by PUFFERWARS333
This game was AMAZING on my iPod Touch. I played it for hours. I didn't touch my ipod for years but then I found out this game was still on the App Store. I really want to get it on my IPhone 5s but they never updated the game to IOS 11. It's pretty much abandoned so I'm not even going to keep hoping for an update 😞
Update please
by Chin22231
I've played this game before on another phone and I love this game, I wanna play on my new Phone too. Please update the game so we can play.
Update this Game
by Emmanue1
I have always loved this game since it came out until the last update (3 years ago) with iOS 8 everything was ok. When iOS 11 came up the game stopped working, now we are in iOS 11.2.1 and it looks like there isn't more update. Why you guys can't update this game?
Great game!! But....
by Sara Uscanga Perez
Pleaseeee make available to iOS 11!
New update
by Daniel Wicentowsky
You better make an update cause we can't play this with iOS 11 so if you don't update Gangstar rio now I will mess someone up
Why won't you update app to 64bit???
by Jblack1188
It's funny how developers gets consumer to invest their time and money into apps and then deny to support their purchase with updates. iOS11 killed this app but it doesn't mean that it cannot be restored to its full glory. PLS UPDATE TO 64bit!
Game for iOS 11
by Fvm11021984
Please update IOS For iPhone 7😢
Please update
by Machiato24
Since i updated my iphone to ios 11 this game need some update by administrator to the latest firmware.
Please Update
by KSA DAMMAM
Please We Need Update For ios 11.2
Needs to update
by needs new horns
Gameloft can you please make Gangstar rio for iOS 11
Missed this game!! 😭😭
by Sisksksksldlldldlslssl
Gameloft I've been playing this game since 2013 please make a support for ios 11! Thank you!
please
by El conjunto. Anochecer
please. update to ios 11
Update
by Roxen_powershrings
Can you update your game so then iOS can play it again thank you :)
WANT MONEY BACK
by Jaylegs
This game needs an up date
Needs IOS 11 Support !!!
by Skandal sas
IOS 11 Support Needed
Doesn't work on iOS11...waste of money.
by teh.FunKiller
Doesn't work on iOS11...waste of money.
UPDATE TO WORK WITH IOS 11
by HannyAziz18273
This is a great game and is really fun to play. In my opinion, it is the best game in the Gangstar series. But, It would be great if I could actually play it again. Please update it to work with iOS 11
Review
by Charsles10boyd
Amazing
Update for iOS 11
by ChrisRocks9797
Please update for iOS 11! I love the game but no longer can play it :(
Please update the game!
by João Pedro Barbosa
Update the game'
Good Game
by Princezho
OMG! I love this game....I thought I was in a movie with all them actions or something
iOS11
by Akwid1
PLEASE!!! Update this game to be compatible with iOS 11
Cool
by Samaj3k
But how can I update the game It won't let me update the game
IOS 11 Update !?!
by Karon_lazy_boy
PLEASEEE UPDATE THIS FOR IOS 11
Game used to be fun but now seems to be abandonware
by hsampsoniv
UPDATE: App is now completely unplayable on iOS 11. Gameloft says it's working on updating it but we'll see how long that takes considering there hasn't been an update in 3 years. This game used to be a lot of fun to play and if they'd actually update it again it could still be a very viable and fun game...but it seems the developer has rendered this game abandonware...since they haven't updated it for THREE YEARS. ATTENTION TO DEVELOPER: PLEASE UPDATE GAME STAT OR ELSE REMOVE IT FROM ITUNES STORE. NOTE TO APPLE STAFF: Situations like this, where developers cease updating apps and abandon them, especially ones the public really liked, should incur some sort of punishment by iTunes/Apple for clogging the iTunes App Store with abandonware. Therefore I put forth the idea of instituting a 'developers must update all released apps at least once every 3 months, or else any non-updated apps get removed from the App Store until they update them
UPDATE TO IOS 11 PLEASE!!
by JoHo187
This is by far hands down the best Gangstar that has been made. New Orleans is terrible and Vegas was great for graphics but didn't hold a candle to Rio's storyline and gameplay. Please update. I didn't pay $7 bucks to have the icon on my screen. Thank you.
Update!!
by Garrettmbridges
This game NEEDS an update because I purchased this awhile back and it's not compatible with iOS 11 so I can't even open it anymore
Update please
by Gdyhyhuebduebx
This app does not work with iOS 11 on my other devices. LOVED this game before it now I can't play it!
Nice!!!!
by Cjtusing
As this review i made is edited" kinda thought itd be better to give more detail, Ive played all these games-> vegas, new orleans, rio, miami vindication, urban crime, 9mm, and west coast hustle. West coast hustle is like" kinda weird because when you pause the game it makes a glitchy noise repeatedly. 9mm is highly detailed which is a good thing but at the same time it is extremely hard to get use to. Urban crime is basically a remaster and later released version of miami vindication. Miami vindication ive never beaten because its more complicated in alot of ways that is hard to explain but i am at 94% of game completion right now. This one aka rio is the most advanced gta category game created by this developer and provides more stuff than the rest. New orleans even though was alittle longer ago than recently released is kinda awkward because of the graphics and how enclosed the city in the game is another words theres not much stuff you can do like vegas. Vegas is a good one but they need to add safehouses you can buy, even a garage would improve it.
Need update
by Hanyhamza77
Plz this game need update
Love it
by Dhonig1979
I love this game it is so fun
It's ok
by zcu9747
Same thing like Gangstar vegas but outdated
Controllers, please.
by Sapphire Colonel
Please add controller support to this game. Thank you.
Good but
by JakeG2023
Well good but I lost my progress after completing the mission one final job I lost EVERYTHING plz give it back
Gangster rio
by Jk gaming channel
I love me I completed the game amazing story line love the game
Doesn't work good on iPhone plus
by Queteimportababoso
The controls are very very very very very small like ants. Only on iPhone plus. But on iPhone 6s is very good
Meh
by Bizwayne
Wonderful game, the funnest game that I have ever played to be honest.... but I just paid $7 for controls that are way too small for my iPhone 7+ due to the fact that it is not updated for ios 11. Please help!
Gangster rio
by toozi1
It is a well rounded iOS game
Baaaaaaaaaaaaaaaaaad
by Lopez Lori
That's all I have to say
Needs updates and better graphics
by Unknown4prez2020
It has very limited weaponry and limited vehicles as well, The graphics are very crappy, And cars and helicopters de spawn when you leave the area for about a minute
Review
by The sav age
This game is awesome
Sniperpro
by .hogygytuh
Awesome just a awesome game
lol
by Darienlake0123456789
Lol
pls update
by smiley_10
pls update for when ios11 comes out!!!