Try These Related Apps!
---

ERA Mobile Real Estate
---
Foreclosure Real Estate Search by USHUD.com
---
Homes.com Real Estate Search - Homes & Apartments For Sale or Rent
---
Homesnap Real Estate & MLS Homes for Sale
---
HotPads Rentals & Real Estate
---
MLS Source - Northern California Real Estate & Property Search
---
MN Home Search - TheMLSonline.com Real Estate - Minnesota MLS Search
---

Real Estate and Homes for Sale – ZipRealty
---
Real Estate by Estately - Search Condos & Houses For Sale
---
Real Estate by RE/MAX Professionals Springfield- Find Illinois Homes For Sale
---
Real Estate by Redfin - Search Condos, Houses, and Homes For Sale
---
Real Estate by Zillow – Homes & Apartments, For Sale or Rent
---
Realtor.com Real Estate - Homes for Sale and Apartments for Rent
---
Tumlis Real Estate: Homes, condos, lofts, townhouses for sale
---
Trulia Real Estate
by
Trulia
(3,121 user ratings)
FREE
Download size: 65.55MB
Version: 10.18
Released: 2008-08-21
For ages: 4+
Trulia helps you discover a place you'll love to live. Whether you are ready to buy a home or rent, we go beyond the typical facts about homes for sale & homes for rent to give you a feel for what it's really like to live in a home AND a neighborhood.

We get you straight to the information you need (no more digging through piles of properties). And you get instant updates on the real estate & rentals you care about, so you'll never miss out.

Now you can choose your new home and neighborhood with confidence.

Key Features
• What Locals Say: Learn what's to love about a neighborhood—like whether people feel safe walking alone at night, if there's easy parking, or if people decorate their homes for the holidays —from people who know it best: the locals!
• 34 Interactive Maps: Get a complete picture of the neighborhood with different overlay maps such as crime, schools, amenities, affordability and commute.
• Open House Scheduler: Save time by letting Trulia help you quickly plan your weekend visits to Open Houses with calendar sync and mapping directions.
• Instant Updates: Get personalized real-time push notifications when a new MLS listing matches your search or there's a status change on your favorite homes—including price drops and when properties get sold.
• Daily Digest: Stay in the know with a personalized summary of upcoming open houses, new listings that match your searches, and suggestions all just for you.
• Affordability Calculator: Calculate the full cost of owning your dream home, including mortgage, homeowners insurance, and property taxes.
• Local Legal Protections: This feature highlights, by location, the LGBT non-discrimination laws that exist for housing, employment, and public accommodations.
• Similar Home Recommendations: From any property page, Trulia shows you similar homes you may like.
• Flexible Search: Use filters to quickly find any type of property, such as a condo, apartment, or single-family home—even a foreclosure property.
• Diverse Rental Listings: If you are searching for a rental, search a wide range of rental housing including apartments, houses, and rooms for rent.
• Historic Sales Info: Leverage pricing info on recently sold homes to spot high value properties.
• Connect with a Realtor: Easily contact the listing agent on properties you're interested in, or find a local realtor to help you buy or sell your home.

We love feedback and requests! Send us yours anytime at iPhone@trulia.com.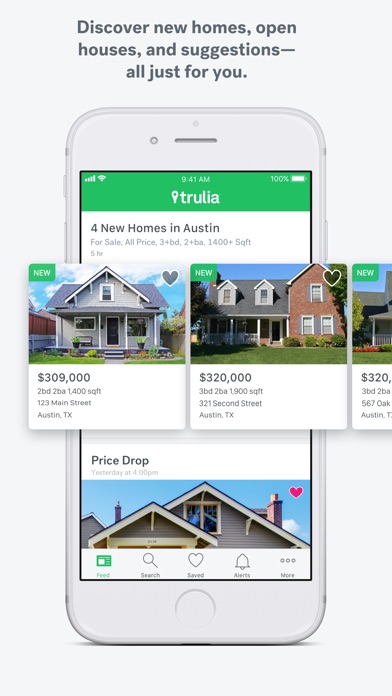 Powered by Facebook Comments
Customer Reviews
Easy to use
by Ltlmtnman
Great app that is super easy to use.
Bad bad bad
by Cheryon3
This is by far the worst real estate app out there.
Hide Option
by mickeyj3345
Need a feature to hide places that you don't want similar to Zillow
Add the ability to hide ones we don't want!
by crozzerius
This is such a waste of time...
App doesn't work
by Smelsiemarieff
The trulia app has never worked on my phone. The only settings I selected are max price of $2,900 a month for a rental and to have a dog. It always tells me "no results" even when I look within a 40 mile radius. Then when I go on my laptop and use Trulia's website I have a ton of results. So what's up with the app? I do not recommend it.
Put the non crime color back to green
by Blondieohva
Put the non crime colors back you cannot see the light blue color at all
Recent Updates to Neighborhood Info Data
by Cat2224
The new color ramp for Crime Info is useless. The green-to-red was perfect and easy to read. The new shades of blue are difficult to differentiate quickly and make me think someone without a cartography background made the decision to change it.
Pros and cons
by Mgionnnn
Cons: The major issue I am having right now is that the app won't recognize that I've changed my alert settings. It keeps showing me homes for rent in an area that isn't in my saved searches, and I have unchecked showing homes in the surrounding area. I am purchasing, not renting. Currently, when I try to go to the alert settings it gives me an error message and shows a blank screen. Pros: I enjoy this app for its street view, and it gives more information than other home search apps don't have. Sometimes it even lists homes before Realtor. The price drop alert is a great feature. Other than that, it does what all the other similar apps do.
stop it
by jk rdc
stop asking me to review ur app. that's y i give i one star
Needs better pending and sold info
by Pfehrman
Needs better pending and sold info without having to load the whole page. What a waste of time with incorrect info to deal with.
Great site but....
by SRTMAC
This is a great app. Unfortunately some of the homes on the list were sold over 6 months ago. Update the status on the homes.
The 'favorite' feature needs work.
by SkHebert
It takes an act of congress for me to be able to favorite and unfavorite a house. I have to tap it four or five times for it to work, and as someone who is on this app every day it has gotten very old very fast. The draw feature on the map also yields no search results somehow.
Great app
by G Greek.
Easy to use and provides a lot of info.
No maximum or minimum settings
by Hajdhff
The only thing I dislike about this app is the lack of clarity when selecting room and bathroom number. I should be able to select that I want 2 bedrooms at least, but not 5. When I list only wanting 2+ bedrooms, I see results for 5 bedrooms still. I don't need that! This is so frustrating! No wonder people use Zillow instead
Great but....
by Jae 804
I really like this app but as recently as 4 months my saved menu doesn't show up all the time it shows it as if I haven't saved any homes and every once and a while it shows up. I just find it to Inconsistent for my taste I've kept the app in hopes that you guys will fix the problem.
Athan
by Alex/CT
Best home website
Lack of homes
by Cecil90210
The app is not picking up many homes that are on the market in my area. I have to go to the individual realty companies to see homes for sale.
Terrible
by Appsux1
The app shows houses in your feed not even close to any of your search criteria. In addition, if you try to save homes, they don't even appear in your saved homes! What's the point of having the function if it doesn't work? Tried signing in and out with no avail.
Updates takes time.
by Sultana587
You guys should update rapidly as soon as a house sold. Ok
First stop for property search.
by peppy zanadu
Provides great information and a starting off point towards your home venture.
Instant 1 star for annoying rating request
by kev.mc
Leave me alone...
Filters set to find all properties. Search results = 0
by MikeD1202
This app is completely useless. I have no idea what the concept is behind providing a real estate app that does not provide any real estate properties. I guess that's Trulia's business plan? In the words of Mac from "It's Always Sunny In Philadelphia", "There's got to be way to make money from this?". But it is lost on me. I entered in very specific filters and I received zero results. I expanded the search area. Zero results. I modified my filters. Zero results. I eliminated my filters to provide all properties. Zero results. 🤔 Great job Trulia on providing the equivalent of the paper weight of applications. 😡
Research source
by MKKKat
Many many "map views" are off by miles, sometimes by entire towns.
Review
by N. Costello
It's a very easy application to use.
Worse real estate app-
by Stephen Sabo
They won't let me edit details to my home. False info and old photos cannot be removed. Reckless company. I thought Zillow was bad but Trulia is worse. Oh I just find out they are the same company now. Go figure. Even spoke to the prior agent who sold me the house and now they are getting involved to help remove old info. Lawsuit would be easier.
Pretty easy to use
by Tightlinesinc
Seems to help give balanced market values and provides easy to view details. I do wish it would bring up more-specific area details, as in only homes for sale on a certain street. It may be that I don't know how to use it properly. But right now it seems it displays all the listings in a city, even tho I've typed in one street address.
Essential App !
by Emekah G
Easy, Fast and Smart App to buyers and sellers... You can try it and you will not be disappointed. Thank you Trulia!
Not helpful
by Nfgood
Had no listings in the area I wanted to search. Played with filters and still nothing. Zillow has hundreds. I was looking in Puerto Rico.
More
by biguy6982
U really need more pix
Consistently delivers
by el em en o pees
Where ever I am I can rely on trulia to pull up properties.
LUIS
by LOVEFASHION09
I went to see a house with appointment and the house was already sold this app needs needs more accurate updates, we lost our time not good
Good
by LaBonita87
The only bothering thing is when they recommend a home for you, but can't see pictures at all...
App doesn't work
by Cutt DeVille
So I downloaded the app a few days ago but it doesn't work. Keeps saying "please check your internet connection and try again". Sure would be nice to actually be able to use the app instead of having to get on the website.
Great app!
by DarlaG
Love looking at houses inside and out. But it keeps sending me houses in Illinois! Why on earth it's decided I want to live there, I just can't figure out! My searches are clearly in my area. Tried fixing it, no go. Anyway, cool app and tons of houses!
Boards feature removed 👎
by bniesz
This was my preferred app for looking around for homes, especially because I could save listings to a board that was shared with my significant other. Now that Trulia removed the board feature, there's not any great advantage to using this app over any other real estate apps.
Having an issue seeing photos after IOS update
by Dlquackenbush
Don't know if this is a Trulia or Apple issue. Since the most recent update I can't see photos on my phone or pad. I even deleted and reinstalled the app in both devices. HELP!!!
SIMPLY THE BEST!!!
by Greatfull big time
I now have found my last two homes on trulia. One was beautiful lake house and then a huge move cross 7 states and it was just as discribed on trulia. Thanks trulia for a free app and all your hard work. God bless.
best
by alzawati
best of the west
Terrible
by Kristinem8908
Won't let you set prices ranges that aren't preset. Looking at the map I see stuff and then go to draw the area I want and then it tells me there is nothing there even though it just showed me a bunch before I drew.
Is the best app I like it
by Merche65
I like it
Can't edit profile or add homes
by Thebell0991
Unable to edit profile or save homes on iPad or iPhone
Contact for estimate???
by talmaguer2010
The whole point of an APP is to avoid going to stores or communicating with representatives too early. What is the whole point to have the app if I still have to call to find a price. Then if you call for a price... GAME OVER, they don't leave you alone
Awesome way to fine your home
by MagicCabbietime
I love that I can do searches. Look at crime in the area. I can keep ones to look at again by pressing on the heart to mark it as your favorite.
Crashes randomly while using.
by vanliewn
iPhone X 11.2.5
Outdated Information
by Rowling_Ana
Most homes are NOT available
Boo
by daneph
No longer runs on older iPad mini so switched to realtor.com
Trulia ROCKS!
by Greatman28
I've had Trulia for a year, the only app dealing with Real Estate I use faithfully. The information alone, buying a home is top notch. Trulia real estate app is by far the best, I've ever used to find a home.
Useful app
by JennyA1985
It's useful and easier to navigate compared to other apps. The listings go up a bit later but if you aren't looking in a super hot zone where days matter, it's a pretty good app. There needs to be a cancel for request information and the DTI meter I think is backwards too. There definitely need to be some fixes but like I said, it's easier to navigate. Also, foreclosures, more are listed on this app than the other apps I use, and they more often than not, they pan out to still be up for sale. I actually type the addresses into Zillow, as they sometimes provide pictures inside. Trulia provides a street view always so you can get a rough feeling on how the neighborhood is and if the house needs a lot of TLC on the outside or not. Trulia's maps of disaster, crime and what not are extremely useful and accurate thus far. It has its flaws but it also provides some aspects other apps don't.
Things they need to have in list:
by Scourgethehedgehog
Need to have garage listed. Need to have pictures of all sheds and garages..well listed..age... How large land is.. Roads dirt or near pave roads.. If it is in subdivision and have restrictions...have pictures front ... back ...sides.. If sold take it off!!! Other wise love it.. not wanting to do surveys... was in mont and left for a sec went to California.