Try These Related Apps!
---

ERA Mobile Real Estate
---
Foreclosure Real Estate Search by USHUD.com
---
Homes.com Real Estate Search - Homes & Apartments For Sale or Rent
---
Homesnap Real Estate & MLS Homes for Sale
---
HotPads Rentals & Real Estate
---
MLS Source - Northern California Real Estate & Property Search
---
MN Home Search - TheMLSonline.com Real Estate - Minnesota MLS Search
---

Real Estate and Homes for Sale – ZipRealty
---
Real Estate by Estately - Search Condos & Houses For Sale
---
Real Estate by RE/MAX Professionals Springfield- Find Illinois Homes For Sale
---
Real Estate by Redfin - Search Condos, Houses, and Homes For Sale
---
Real Estate by Zillow – Homes & Apartments, For Sale or Rent
---
Realtor.com Real Estate - Homes for Sale and Apartments for Rent
---
Tumlis Real Estate: Homes, condos, lofts, townhouses for sale
---
Trulia Real Estate
by
Trulia
(5,797 user ratings)
FREE
Download size: 98.76MB
Version: 10.14.1
Released: 2008-08-21
For ages: 4+
Trulia helps you find your home and your neighborhood. Because when it comes to a place to live, the house is only half of it. Immersive photos bring houses to life. Interactive maps provide crime reports, school ratings, and the scoop on local places—like restaurants and shops—to give you a feel for different communities, wherever you are or wherever you're looking.

Starting your search is simple. Trulia instantly shows beautifully detailed real estate listings based on your location and automatically remembers the properties you like to provide better recommendations. Or, if you know just what you're looking for, you can search homes for sale, homes for rent, or apartments for rent by location, feature, size, price, keyword, and much, much more. Then Trulia can send you real-time updates about your favorite listings and notify you when new homes hit the market that match your preferences. When you find a house or apartment that looks interesting, share it with your friends, family, or significant other, or contact the listing agent directly.

Whether you're a serious home seeker or just curious about real estate, Trulia is the fastest, smartest, simplest way to get the real estate info you want.

Key features:
• Flexible Search: See nearby homes for sale, apartments for rent, and open houses. Or, search by price, neighborhood, number of bedrooms and bathrooms, and more.
• Interactive Maps: See neighborhood maps with crime stats, school ratings, traffic info, average prices, and more.
• Local Info: Get to know nearby restaurants, bars, shops, playgrounds, and entertainment venues.
• Instant Updates: Get notified when homes near you hit the market, when new properties are listed that meet your search criteria, or when the status of homes you are following changes—including a drop in price, when homes are sold, or open houses are scheduled.
• Full-Screen Photos: Scroll through vivid, full-screen photos of homes.
• New! Rooms for Rent: See roommate info, utility costs, and lease terms for individual rooms for rent.
• Video Tours: Step inside select properties right from your phone.
• Collections: Browse collections of homes and discover new properties in a beautiful, intuitive way.
• Boards: Save and organize all of your favorite homes and share them easily.
• Housing Type: Find whatever type of property you're looking for, including single-family homes, apartments, condos, and townhouses.
• Affordability Breakdown: Calculate the full cost of owning your dream home, including mortgage, homeowner's insurance, and property taxes.
• Anytime Access: Log in to see your saved searches and homes across all your devices.
• Connect With Realtors: Quickly contact local real estate agents.
• iMessage Support: Send your favorite homes to friends and family through iMessage to coordinate open house visits and share property details.
• Spotlight Support: Search Trulia directly from the home screen of your iOS device.
• Multi-tasking Support: Conduct side-by-side comparisons in split view and slide over views on iPad.

We love feedback! Send us yours anytime at iPhone@trulia.com.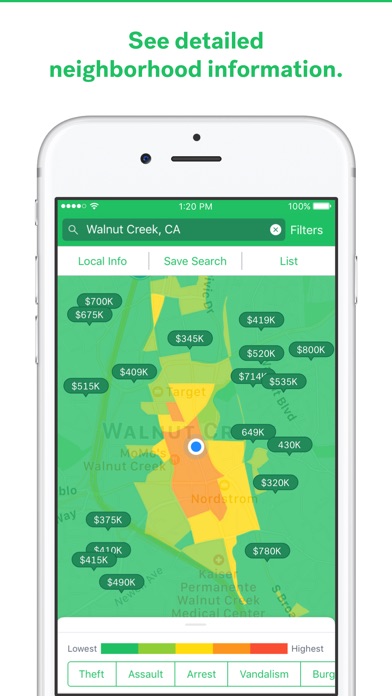 Powered by Facebook Comments
Customer Reviews
Good job but should be excellent app
by Shen wu
This app could be doing better instead is doing now
Not so fun
by martinez123124luiz@gmail
Some of the home sales prices are not the correct one and sometimes the information about the property is not accurate Ok ....
Latest version doesn't work
by Musicdrink
The app will not load. Loved two versions ago. The last version was slow but worked. This one won't even load.
Lacks school information
by Beyer73
Truila is a great app, but should add schools to the map.
crashes
by shardrix
Crashes before it completely opens on my old ipad.
Love this app
by Sirena3
Love it!!!
I ❤️ Trulia
by Brad the indiscriminate yuppie
I almost moved to the "Nawfside", luckily Trulia offers all the demographic information I need to avoid areas infested with minority residence.
Trato
by kuko1980
La mayoría de los contactos no responden y el trato de esa gente es malísimo
Love it
by Milosztennis
I love scrolling through pics of million dollar homes and imagining I live there.
Good
by Retro1984
- WAY too many alerts/emails - Skip the celebrity updates. The people who use your app have to work hard for their money (unlike celebs). Still -- overall good, informative. Better by far than realtor.com or Redfin.
Crashes and inaccurate
by Ppppppo645
App crashes a lot. Properties are not updated. Most are sold or pending.
Trulia Home Search
by Trulia Home Search
Good Site. Would like to be able to delete alerts once they are viewed. The homes that include photos covering the inside & outside of the property, in full, are the only ones that interest me.
Faster posting
by sodhejsk
Of new listings. Thank you!
Very Useful
by Musiq08
If you are looking for a home or want to sell a home to see what the market prices are this is the app for you. Great app, easy to use and filter house types, prices, rooms etc. I would highly recommend
iPad crash...
by Munkymyk
The app recently started crashing on ipad, but not on iphone. What's the deal with that?
Great app
by Jabbar 2037855
Everything new it send me alerts many options I really loveee this app wow thank you seriously
Suddenly will not open. At all.
by Kristyray21
Just as I really needed this app to work, it stopped. Crashes as it's opening every single time. Trulia was always superior to me, but I need to find a place immediately and so Zillow for the win! Sorry y'all, fix the tech issues and I'll be back. Unless, I find a place to live in this ridiculous housing climate. You may have time!
COULD be great
by Nwahs c
But there are many technical errors that happen all the time. For instance, once a home has been sold and is off market, you can't take it off your list. Super annoying and just makes the app feel and look really cluttered and inefficient. Notifications are always inaccurate and pictures won't load sometimes. I feel like these things could be fairly easy fixes but I've been having these issues the entire time I've had the app. Going to uninstall and try Redfin.
New update won't even open
by 1-bigmac
This app used to work very well but as of a couple of days ago it won't even open on my iPad. I tried deleting and reloading but that didn't fix it. I powered off my iPad in hopes that would clear out anything that might be hanging it up but still won't even open.
Keeps crashing upon opening
by Bama Shreds
Trulia app has been crashing immediately upon attempting to open ever since the November 7 update. Please fix.
Updates should not log you out
by JoelCheck
Nothing worse than getting an app update and it requires you to log back in.
Keeps crashing upon opening
by Pine Hill Gal
Since the last update this app keeps crashing on my iPad3. Completely unable to open and use. Anyone on the other end working to fix this? I even deleted and reinstalled the app, still crashes! Please fix!
App problem
by Dusty Rider
The app won't open anymore even though I uninstalled it and re installed days later. Also you can't delete saved homes from the app.
Crashes after Nov 7 update on iPad
by Ajdtymco
I am unable to open app after November 7 2017 update .
Spam calls
by D1845730
Got contacted by 20 brokers when I only reached out to one.
Update
by Coachvolleyball
Ever since I updated my app will not connect
Great site
by Slither2011
We are looking to move to the hill country in TX and this site has been my complete go-to for house hunting. I can't imagine how you'd make a move without Trulia.
It's cool
by johnnieB130
But the app doesn't show anything apartments and most of the pictures don't show up
Crashes
by daneph
Loved it but latest version won't run on iPad mini
Great site for first glances.
by Just look'n
Just hoping your info is up to date. However I do use your leads.
Yay
by Aaron Chris
Cute little app
Complete real estate tools at fingertips
by xpertTech
Other Apps are following and starting to add features this App has offered for a long while: neighborhood crime maps, schools in map, commute times, flooding areas, shopping in map. I can go and on... Try it and you will agree... invaluable tools we had to get from different sources in the past. With this tool, you can make better informed decisions.
Keeps closing
by Xcoplmn
Tried downloading older version since I don't have 10.0, but still keeps closing.
UPDATE TO iOS 11 or Stop sending me email!!!
by SuzyLew
Please keep up with the iOS updates or remove all the emailing that we can't open!!!!! You have forced me to give you a much lower rating. I really did like this app, a lot. Thanks
Searching
by Timweaverpa
Lots of times while using the app, I will search for a certain town. Then somehow I end up in the middle of the ocean near Africa. Very odd. Otherwise, informative, simple and easy!
Hide results?
by Ahooh
There really needs to be an option on the search page to hide results. Tired of filtering through the same no-info, no-picture listings.
Disappointed
by Fritlover
I can't even open the app any more. If I get notifications on my phone I can't see anything but a green screen. On my iPad it just won't open at all from any where.
Useless
by Anon9779
App keeps crashing!
Photo Issue!
by Bus player321
When hovering over the map to check house there's a photo glitch. (I'm a use House 1 & House 2 for example) If I'm on photo 7 of House 1 while still hovering over the map and click House 2, it takes me to photo 7 of House 2. This is a very annoying problem, Please Fix.
The Best Real Estate App
by Dee design guru
I love y'all 😍
I like it
by StephieLove20
Still looking for a place, but I like this app.
Worst place to look for apartments!
by Shannade
I hate any apartment apps because they say it's available. When you request information it do an inquary about the apartment listed. There is never a response back. So for a year and a half I should have found a place. But not helpful or useful at all. Or when I did get a reply back from a place. The property manager and a realtor shared information about someone else, and said it was me.
Real Estate-YES. Rent Estate-Maybe.
by Kuppycake.atx
I like how easy it is to search, and that this app shows crime Tati ga block by block. Rental properties are harder to list in this medium.
Lacking street views
by Bunnie68
Missing street views for many properties and auto default to homes for sale when requesting information. Shows apartments when that has been filtered out. Need a swipe left/right function to eliminate reviewing the same undesirable properties over and over.
Gwill6542
by Gwillnmwill
Greatest app! Very informative and easy to use!
Usefull !!
by Leonesa1971
It's a good one, easy from your confort zone.
Nice app
by Juan Morel
Ok
Dissppointed
by grannypg
Since the last update this app will not open up on my iPhone 6s Plus ! 😡😡😡😡😡
Not always consumer friendly
by Medimic
Please consider to provide clarification when house is displayed with comment "Estimate price".
Useless with constant crashing issues
by Psp628
Local retail market information is often not updated and info on for sale, pending and sold is out of date. App constantly crashes, rendering it unusable. There are more reliable apps out there.