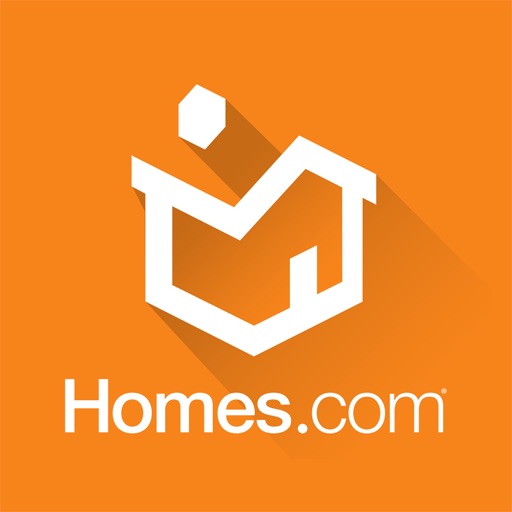 Try These Related Apps!
---

ERA Mobile Real Estate
---
Foreclosure Real Estate Search by USHUD.com
---
Homesnap Real Estate & MLS Homes for Sale
---
HotPads Rentals & Real Estate
---
MLS Source - Northern California Real Estate & Property Search
---
MN Home Search - TheMLSonline.com Real Estate - Minnesota MLS Search
---
Real Estate - Homes for Sale, Apartments for Rent
---

Real Estate and Homes for Sale – ZipRealty
---
Real Estate by Estately - Search Condos & Houses For Sale
---
Real Estate by RE/MAX Professionals Springfield- Find Illinois Homes For Sale
---
Real Estate by Redfin - Search Condos, Houses, and Homes For Sale
---
Real Estate by Zillow – Homes & Apartments, For Sale or Rent
---
Realtor.com Real Estate - Homes for Sale and Apartments for Rent
---
Tumlis Real Estate: Homes, condos, lofts, townhouses for sale
---
Homes for Sale, Rent & Home Values - Real Estate
by
Homes.com
(2,950 user ratings)
FREE
Download size: 27.39MB
Version: 9.4.0
Released: 2009-03-01
For ages: 4+
Discover your new home.

Homes.com gives you access to millions of homes for sale and for rent across the United States. With our real estate app, you can procrastinate for days searching interactive maps, high-res property photos and other nifty things. Peep on the neighbors with our home values. Explore houses, condos, apartments, bungalows, dungeons and townhomes.

"It's an app." -- one of our users

We believe in a simple approach to home search. Our goal is to provide the best features. We believe the true way to your heart is through your ribcage and/or building a groovy product.

More homes, better data.

To ensure quality listings, we partner with local data providers across the country. People often mention they find homes on our app that are not listed anywhere else. This makes them happy, which makes us very happy.

At a Glance...

• Homes for Sale: Browse millions of real estate listings for sale across the U.S. including Foreclosure

• Homes for Rent: Find rental homes, condos, townhomes and apartments.

• Home Values: Research neighborhood market conditions through our home value estimates.

• Full Screen High-Res Property Photos: Everyone loves pretty pictures.

• Map Search: Find nearby homes with the GPS driven location finder. Quickly zoom and navigate neighborhoods with interactive maps.

• Sharing: Share the houses you love with the people you love via text message, messenger, email, Facepage and MyFace.

• Mortgage and Payments: You want mortgage calculators? We got the sexiest mortgage calculators you could ever ask for. You wanna refinance? Check this action. Thinking of a second mortgage? Bam, here's that hotness.

• Foreclosures: Search over 400,000 foreclosed homes for sale. Bank owned real estate listings, REO, HUD and more.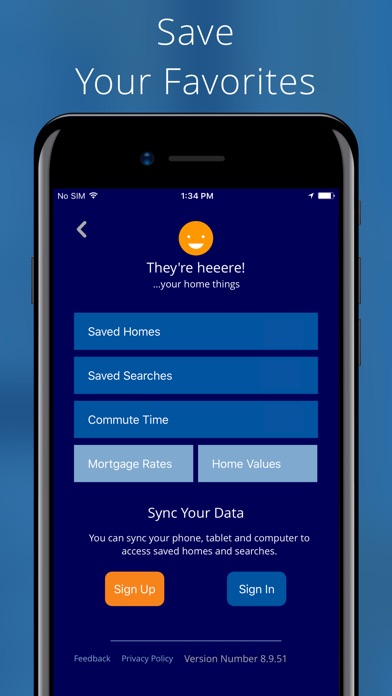 Powered by Facebook Comments
Customer Reviews
Location Search
by grngecko
The location map search should be expanded to more than one city / town.
Interesting app
by Monka24
Very nice app very good pictures and features!
Saved "Favorites" button disabled???
by Anonymous2011
Thank you for Fixing this!!! AWESOME
All saved homes are deleted
by Adre91
Very aggravating
I hate this new format!!!
by Covette92
So the only way on the IPad to read this, is sideways. No matter how cramped or space confined! Plane, chair or bed. Fire the idiot that okayed this! I will not be using you site to buy my new home.
It great app
by Logan Rue
It help me out a lot
Cool App
by Little_White_Dove
Plenty of information available. Although all homes should require photos.
All bs.
by Marks ark 123
Before you login the houses are great and after you login in they disappear. It's a scam
Great app
by runninggirl165
I love the ease of searching for my next home. Just typed in the zip code and listings loaded with very clear pictures of each property.
Cannot Get Past Home Screen
by Princess Q
I am not able to get past trying to put in the zip code or use current location. The app does not search.
Great App
by Dev_dogg
Nice User Interface
Call me 😠
by lg69hydros
Every house we see "call me" that just makes me go to a different competitor to eliminate that game. Time to delete the app
Lot info
by Vicki Payne
Your listings need to clearly state the size of lot!! The entire listing should pop up after you touch the property you want to see, shouldn't have to arrow up to view it!
Doesn't show homes that are pending or under contract
by SellerLetMeIn
Redfin, Trulia, Zillow all show when a home is under agreement or pending. Waste of time
Good app
by 0038ad
Good app and has lots of listings
2nd real estate agent
by Trohn
This app is like having a 2nd real Estate agent. Sometimes it doesn't work even after you change the filters.
Tried for a few days..
by Teyanna
App was used for a few days. I tried searching for location other than my own and the app wouldn't let me type anything in. So I tried selecting an option they had available instead. Nope, pressed so hard on my screen and those options weren't working either. Okay, well let's choose the surprise me button. Nope, doesn't work. Spent 30 mins attempting to get that to work. When it finally did, I got through. Only for the searches to be extremely slow. Then - the locations began changing. It was super delayed for the times I pressed a million times for location. It kept changing location, when you move the map it showed a city that wasn't even nearby, but in another country. It kept randomly choosing locations and when I tried to change location again, didn't budge. There is some kind of issue with this app, can't figure it out. But then again it isn't my job to. This app is being uninstalled as I speak.
Home sweet Home
by Murial9113
The only thing that I see is that the property owners need to do is to check on the houses that are posted because some of the houses are getting vandalized!!
Great App
by shadowgpro
Easy to use. Used this to buy my first house.
Easy
by ADGGJS
User friendly
Love it
by Nany09
Show me what I want in a house. Thank you
Happy
by Glenweed
Pretty good
Great map search, love the home values next to homes for sale and rent
by pdm0628
The option to turn on the home values in the area you are searching is really nice. The other sites I've viewed require you to search again. Super easy and the detail is great. I could spend hours looking at homes and their values. Thanks!
App with issues
by app with issues
Great app I just keep getting logged out for some strange reason and when I try to log back in it says my info isn't correct. So I use forgot password put in my email and don't receive a link to reset🙄
Poorly designed
by Tag2bag
Hours of frustration using app You do not get what you think you are getting The links for credit help are even worse I'm afraid I got into a scam No
Unable to search
by Baconator419
I love this app and prefer it over some of the others. However, for the past few days I cannot search? I am unable to enter my location, I can type it in but it won't search. I tried deleting and re-installing the app but am having the same issue. Wondering if there is something I can do to fix this.
Almost pointless
by MelRiv64
You cannot see any pictures, and no update has been provided. One of the key elements when searching online for anything is the pictures provided. *Update- lake county IL is the area I was searching. I hope that helps.
So far so good
by GTA great!!!
So far so good if I find me something nice and decent I'll come back and rave even more lol Thank you 😊 for making such a app like this
Homes
by Michael D.C
I rate this app at 5 Stars !!!! This App is Perfect too have for me . Shows all the nice Homes . Thanks From ,Michael Crawford
Ok
by Rahnas2
Doesn't really update houses to often, But does the job
YAAAS😍
by BriBri[;
Love this app! Finally I can literally look for what I want, look at multiple listings, easy! never confusing. Even made my friend download it! she loves it also. Good homes!
Overall it's a good app but.....
by Celebrican
Am I the only one that's having issues when I click on the pictures they come out blurry?
Nice but...
by kalenanani
The only thing that's irritating that I dislike about this app is the fact that I'll save the house and I go back just a couple hours later and the house hasnt saved, I have to resave them again. It also has been showing the houses are no longer available even though they are. Very irritating. Other than that I really like the app. Easy to use & look through homes.
YES!!
by Malerz
Finally I can browse easily and view amazing homes!
No money
by tciwon
I am so happy that I don't have to pay just to look at houses on line.
Great app
by Domino304
App is easy to use.
Love it!
by Lori12344
Great all zero issues
Easy to use
by Jgfdethbnjik,
I loved that it was so easy to access the pictures of the property.
Great and easy
by Historias hermosas
Great and easy to use!
Awesome!
by yoshigirl22
Awesome!
Doesn't work
by superkheto
I repeat doesn't work
Best Realestate App by far
by Nc1532
Very smooth and user friendly
Amazing
by dannimeade
The filters have everything you will ever need!! Puts Realtor.com to shame. (There I said it!!)
Not updating
by Shippo32
I like the way the app is setup to search. However I find properties and then google them and find out that way that they are sold or pending. It is making it difficult when I find a house we love just to see it's not actually available.
Doesn't pull in updated data
by Warren blackhawk
I've had my house listed for 10 days and the listing won't show up on this app.. it works on the homes.com website, but the app is worthless if it's not pulling in live feeds.
Awesome
by Dofoohlt
Easy and fun to use
Great app
by Bigboss816
Love the app!!! Very easy to use
Awesome
by Totellity
The Homes.com app has been an awesome app for quite a while now. The new design is even easier to use and provides a lot of homes in my area.
Easy to use
by Butterflymc2000
This is a great and easy to use app . I just started using it about a week ago.
Worst
by EffUrMom
Homes for sale are priced wrong, tons of "No Photos" and horrifically organized. There are lots of better apps, even the classifieds in an actual news paper would be better. Update: 4/21/2017 Still receiving "saved searches" emails. I've unsubscribed numerous times. I even tried to send an email via their "contact us" link and it comes back undelivered. This site is a scam.