StarMaker-Sing Karaoke Songs
by
StarMaker Sing & Share
(155 user ratings)
FREE
Download size: 157.73MB
Version: 6.3.3
Released: 2010-03-05
For ages: 9+
StarMaker is one karaoke singing app that lets you pick your favorite songs from a massive catalog and sing karaoke with 50,000,000+ friends all over the world! Edit top quality recordings with a huge range of voice effects and sing and share your covers with all your friends! Music is life, to sing is to live it!

StarMaker 6.2 New Functions!
We've added a bunch of amazing new features for a better singing experience!

- Popular songs for you to sing! You can choose from our seemingly endless (never ending) song collection!
- The best quality soundtracks, up to 320 kbps!
- Brand-new features for singing and making friends! COLLAB MODE for singing with friends and your favorite artists! Make friends from all over the globe through singing your favorite songs!
- Become an artist! Our App gives you cutting-edge technologies such as vocal guidance, real-time pitch correction and a large range of awesome voice effects!
- Powerful recommendation engine gives you the best, hottest and most awesome audio & video in our pocket karaoke app that will bring surprises.

All the Songs You've Ever Wanted to Sing!
All the Songs You've Ever Wanted for karaoke!
Pick from all the top new hits. Share your voice!
Sing with friends and artists!
Including:

- Shape of You – Ed Sheeran
- Starboy - The Weeknd Ft. Daft Punk
- Closer – The Chainsmokers
- Million Reasons – Lady Gaga
- 24k Magic – Bruno Mars
- Don't Wanna Know – Maroon 5
- Side to Side – Ariana Grande Ft. Nicki Minaj
- Green Light - Lorde

The Best Music Community!
Welcome to our great community of more than 50,000,000 users! Make friends via music from all around the world when you sing karaoke. Enjoy the best audio and video from your friends or friends-to-be. Let music be the bridge! There even be competitions for chances to win amazing prizes! Or you can just sing your song and keep it private! Either will do with your own pocket karaoke app! Make friends via singing! Music can be a better part of our life with friends!

STAY CONNECTED!
Check out our THE VOICE : Free To Sing, the official singing app of the worldwide hit TV show!
Having trouble? Contact our customer service at appsupport@starmakerinteractive.com, we'll be happy to help and answer all your questions!
Sing Songs - StarMaker Karaoke Official Website: https://www.starmakerstudios.com/

Like us on Facebook (fb.me/StarMaker)
Follow us on Twitter (@StarMaker) & Instagram (@StarMaker_App)
Subscribe to our YouTube Channel (@StarMakerNetwork)

IMPORTANT *UNLIMITED VIP SUBSCRIPTION* INFORMATION
StarMaker offers several VIP Subscription packages that unlock unlimited access to our Weekly new releases, plus our premium song catalog.

One Week - $2.99
One Month - $6.99
6 Months - $27.99

Subscription purchases are charged to your iTunes account upon confirmation of the purchase. All subscriptions will AUTOMATICALLY renew unless auto-renew is turned off at least 24 hours prior to the end of the current period. Your iTunes account will be charged a renewal price equal to that of the original subscription within 24 hours prior to the end of the current period.

You can manage your subscriptions and turn off auto-renew by going to your Account Settings after purchase.

Subscriptions are non-refundable and may not be canceled during an active subscription period.

Any unused portion of a free trial period, if offered, will be forfeited when the user purchases a subscription to that publication, where applicable.

Privacy Policy: http://www.starmakerstudios.com/privacy
Terms of Use: http://www.starmakerstudios.com/terms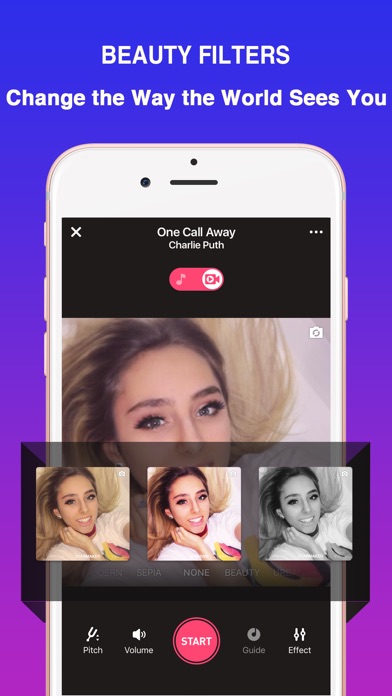 Powered by Facebook Comments
Customer Reviews
The Best App Ever
by RhnReelł
This is A Very special app and its free shipping those who are familiar with music engineering would say the he same😋😍😍😇
Nice App but VERY BUGGY
by Lafandar
I like the app quite a bit and would rate it much higher except for all the bugs and annoying fake accts. The most annoying bug of all is that quite a few posts and songs are inaccessible when connected to networks other than my home Wi-Fi. Might have to do with secure vs unsecure networks.. not sure. I have emailed their app support with screenshots and other details and received an acknowledgment that they'll look into it but haven't seen any fix yet. Will change my rating if/when this issue is fixed but at present the app is not very usable despite its positive aspects.
NO WAY TO EDIT POSTS
by Topbridge
StarMaker asked to put on a cover photo after my recovering so I went to my photo album to crop something when I went back to the app the whole thing had turned off and my recording had been POSTED. I wasn't able to add my cover photo or hashtags or a description. All I'm asking is for StarMaker to allow users to edit their posts.
My account was deleted.
by _SVAJ
I used this app during the summer of 2017. I deleted the app and went to log in on Tonight and got that message "login failed, check connection" There was absolutely nothing wrong with my internet connection. I was instead, forced, to try other methods (facebook) which has the same email address as my original account, low-and-behold, it registered my same email address as a new account. All of the videos and followers I had previously were deleted. Why is it that we can't simply delete the app and log in later when we please without losing all of our data, our account? Makes me not want to bother using the app anymore. Also, the staff comments on user "rk..." who had the same problem is very unhelpful. If the user is telling you they cannot log in, how can they send you a screenshot of their profile? Be HONEST and admit yall deleted the account and it's data. That simple. Don't drag it out and act like you can help. Not pleased.
Amazing app dudes I swear
by R😘ch3l
I write it here that this isn't a paid review. This app is actually really really good and people have to give it a chance. Besides the fake profiles and anything that doesn't make sense, it's still FILLED with amazing, talented, or not talented people. It's just fun. But I've been verified since before the rooms occurred and I was hoping that soon you would conjure up a new thing where truly talented people got more attention.
Attention
by sandy cherry
I absolutely love this app. I spend about 3 hours a day on it. And thanks to you all I believe I'm getting better. Here's my question. Alot of my friends have ask me for a cd. Can you make it so we can choose the songs and our cover and we could order the cd through you all? I've paid for 3 months. But I wasn't given a tutorial on using reverp and how to use sound options. Thank you love this app love it.
I HATE IT
by Stefi love
Omg it says 9+ but it is lying
It won't show party rooms
by Starlet42
I have contacted customer service a number of times. They have contacted me back but Have offered no help. The app does not show me party rooms except for one at a time in my notifications. When I try to get to party rooms it says that there are none available. It says there is no content and the page itself is just blank. Even if I look up the six digit code in the search it says there is no room even though I know 10 of my friends are in there. I have an 8+. It was doing it on my iPad air2. I Will happily give the app 5 stars once it does what everyone else's does.
Please read
by TheLearningOne
The app is cool in terms of being able to sing and upload them and all that jazz and they don't make you pay to sing songs so that's good. But it's the comments that bug me. Sometimes I don't think they are real people cause my singing if you listen isn't that great and people are like "omg you did so good." I feel like I'm being toyed with by AI's. ESPECIALLY having a disturbing comment that said "Can I have your babies?" Twice by the same person(If it even is a person) and I clearly sound very young so I'm surprised that's a thing someone would say to a teen. I would rate this 4 if I was able to sing ANY song and I would rate it 5 if I can tell somehow the comments are legit but I can't. Developers, can you tell me how to tell if there legitimate and all that Jazz??
My age
by Seymoine W
You have to be 9+ to get this app I turn ten in 2 months and I put in my b day and it says I am not old enough to use this app like what yes I am 😡😡
Starmaker is Heaven sent
by SageLTLM
Starmaker has filled the empty space I felt inside it is a gift from God and the people are so kind you can be free and no one will criticize it's sure brought me a lot of pleasure
Good app
by Bellotte7
Lots of fun for karaoke! There is no way to download songs you sing to your phone so the songs are only accessible in app unless I am missing something.
Collab/Video Problems
by MzTangel
The Support Email you have provided doesn't exist it came back as a Mailer Deamon several times.😳Funny really and then you are surprised that your customers are upset with you? And complain? 😓 I asked for help and I get provided with an Email that doesn't even work😳great
It's good but a lot of spam
by The1ilove
Sometimes there's difficulties with the lyrics either not appearing right or at all. Also I get spam comments a lot. I have a couple of videos that have the exact same comment about something sounding exactly like from the movie but some of those songs were never featured on a soundtrack.
Love it!!!
by dovscollection
I have so much fun singing and posting! I feel I've even improved my singing, Hahahaha! One of my favorite apps Just 1 thing that would be great if you could adjust: I recently posted a song and forgot to add the cover photo. I would really appreciate if we could go back and edit that, lol
Good app but Filled with bots
by 636363627622
Nice app but I'm unable to get feedback on my singing from real people. The comments are always the same and seems to be from bots with fake pics. Please fix this issue and it will be come 5 stars
Problems
by Brayden2495
This app only loads certain genres when your searching for songs. It only loads the pop, try your luck, and VIP genres. Terrible. Please fix
Unauthorized charges
by unhappysinger
After canceling my 7 day trial, 3 days prior to renewal, they still charged me! Beware!
Nice but one problem
by Suggestion Box 1
Sometimes when replaying audio from your profile does not play and stays at 00:00 (this happens often)
No verification for the unattractive and over the hill talent.
by Cheekeez
I've been with Starmaker, for over two years. I've hit the top 3 and # 1 spot with covers many times with community likes. What is sad is I get asked by followers why haven't I been verified and it comes down to this I'm not in my 20's although I look younger the app will ask you for media username and get your age and access to your photos. I believe research became to much home work so now asked for your bday on the voice app. It ticks me off that a younger person that hasn't been on the app more then a month will get verified or gets trended in the trending section due to their age and looks by getting hits from people that are forced to see their repeated postings from the app. A Leader of the Starmaker, community Nick Radd, who by the way was a strong advocate of real talented singers regardless of age & looks brought this issue forward to the Starmaker, management. As Nick, grew tired of the prejudices and unfairness in the app and how it's profiling talent he decided to make a freestyle video which he had shared his frustration and because Nick, did share he's views SM, removed him today from the app. Nick's, account was deleted and his party room closed. No goodbyes..., nothing...! There's is a lot upset followers of Nick's, because he was the most caring individual who cared about the unverified talent. The SM, community is mourning Nick's, ejection from SM, and upset by the drastic measure SM. took to quite the one being heard. This looks like it won't go away as easy as the ejection of Nick Radd. The way to quiet the those upset is to allow Nick, to return. Thank you for allowing this review and hopefully being heard by SM, management. Thank you, Outdated Talent
Simplemente bella
by carmelygaby
Amo tanto esta app que sinceramente creo que nunca se va a ir de mi teléfono. Gracias por hacer tan buena aplicación 😍🤩
Please explain😭😭
by DaBigGuy75
Ok I'm from Virginia. I traveled to California for work and everything is gone. I can join any parties and all my recording are gone. Is it a California thing? Please let me know
Please include search song box in user's account
by R S 111
It's very annoying to search the song in user account for collab and listening, otherwise app is great, for clear voice recording good mic is necessary, can you include voice change option? And some time app crashes when song is saving to draft, I faced it many time..
Reviews
by LJ Weave4
Love this site
I was at 5stars!
by Josiah Edwards
Over 500 songs that I used to sing are now VIP only! FIX IT!
Glitchy
by Jefvwdanjnrje
When the app actually works, it's great! However, it sometimes goes into these periods of weird glitches. Sometimes, I can't see all the songs. Other times, my followers can't see all the songs I post. Normally, my songs get around 80-100 plays, and this figure is consistent. However, during these weird times, it randomly drops to 0 plays or something like 5 or 6 plays. Yes, it's possible that people just didn't click on it, but I have 994 followers, and it's really weird when my plays drop by a factor of more than 10, and it's likely that my followers just can't see the posts.
Get rid of bots!
by PilyongHusband
And get rid of that stupid DEVENDRA🇮🇳OFFICIAL!!!
Reviews and comments are FAKE
by Kauldee
The App is not the best karaoke type App on the store but is fun. What annoys me is the obvious fact that the reviews and comments are definitely either fake or bots. e.g. My 7 year old sang or rather read a song just for fun and he is not a singer at all, but he got great comments and likes almost immediately. The fake review is very annoying and not mark of an App which is otherwise serving its purpose. I dont think I can continue using it because what worries me is the genuineness of the App makers. Apple Store needs to take note of this and do an audit check on the makers of this App.
Too busy
by Music468
It's nice that you can create videos and sing songs... but the videos that are not live, look cheap!... especially with random pics floating by in the background. Otherwise, this app is too busy for a "singing karaoke " app! All this mess about points and gifts... that is not what singers want! This is almost created like a game... I assume in an effort to connect people, but for anyone who can actually "sing"... it's not attractive! To search for songs and open collabs is not easy, especially considering you have to type in the song/artist in the search field, choose someone who's sung the song, go to their profile and THEN look through to choose the song you originally wanted! It's almost as exhausting as writing this! Update: 02/02/18 After receiving a notification of "points " ... I decided to delete this app! If you want to sing.. actually sing... then download Smule Sing! Simple and user friendly... gets to the point without the BS... and CHEAPER! LAST update: I get a generic "developer" stating there "not enough info and to add a screen shot! No screenshots needed, just look at the app!
GREAT!!!!!!!!!!
by pug power 45
I know that I am only 8 but I love all of the different things and comments about your post they give you feedback about your posts. They are also so supportive worldwide!!!!!!!!!!!!!
StarMaker needs to lower VIP rates
by Keng210
I think that this app is very cool however the VIP rates are way too high! You can get a full year subscription with Smule Sing! For $39.99 whereas StarMaker you only get three months. This app could be very successful but it needs to be affordable. Right now it is not.
Nice app
by Sergey Levchuk
Really good and useful karaoke app. Well done!
LIVING FOR THIS APP BUT ONE ISSUE
by CurlyDon
I really love this app I'm not going to lie❤️💕 the only flaw is that iPhone users don't get the same treatments or privileges as android users. When I say that I mean an iPhone can't broadcast / Live and android users can. Other then that it's lovely 😊
SENT FROM HEAVEN!!!👍👍👍
by Screaminguitars
This app is awesome! All you shy people who love to sing, give it a shot! You can upload your songsm, it even has a setting where they can't see you!!!!!
Best Singing app!!!
by nvw388
This app is everything!! I've learned to love the sound of my own voice
Tha shiznit ... download this app
by MoWavy
Like me @MoWavy @OfficiallyMoWavy
Can't use app at all
by Amnesia1985
I've updated the app several times and still nothing loads! All of my previous recordings are lost! Songs the I PERSONALLY PAID FOR are gone! Contests entered are gone, EVERYTHING IS GONE! I've given this app to much of my hard earned money. Will be removing and not recommending to anyone! If i could give -5 stars i would gladly do so!
Nothing is loading!
by Christalize
"Unable to load content. Please check your network and try again." It's not my wifi! Everything else is working. Please fix! iPhone X 256GB iOS version 11.2.2 (15C202) The Voice app works perfectly fine. Also reconsider making almost every song VIP only & crack down on fake accounts!
Great, but..
by MelissaIsCool,Lol!
I really want to be able to live broadcast! Please change it so you can live broadcast in America too, or if you're verified
Christian Brenner
by Brenner1969
Great app! It would be great to eliminate all songs that haven't been prepared for use with the app, a lot of trial and error with song choices. That being said the app provides really good sound editing and quality. If you love to sing this app is really a lot of fun! A+
Horrible
by Boozer12❤️👑❤️
I accidentally put the vip thins and now it doesn't let me cancel the thing so now I'm stuck paying every 7 days. Ok so you know how there is a VIP accord not but you have to pay monthly.... well I accidentally press it and I have the finger print and it charged me. But what I didn't know was it was monthly at the time so I didn't care but I checked my emails a week later and I was like what?! So I go to star maker and I see if I could cancel it but it says I was to late you can only cancel in this amount of days......! So I don't even play the app anymore because I don't singing. I downloaded it because my friend loves this app! So please cancel me. My account was boozer 12 I think...
Beware!!!!!
by Sedonary 1313
Do not sign up for the free trial because it's a trick!! It charges you anyways as soon as you cancel!! And they will do everything they can to NOT give you a REFUND!!! All they are is money hungry and they charge people WITHOUT CONSENT!!! they are thieves!! I will never download this app ever again and I recommend that everyone just uses sing by SMULE!! These people are SCAMMERS!!!!!
Costs money
by Didi1881
Liked it when it was free
Try canceling your account
by Bird J
I tried this app for a period if time and found it fun for a moment. The trouble is once you allow access to banking information you will be double and triple billed for bogus membership charges. Also the option to delete is removed from your account so they will keep billing you. SCAM!! DON'T DO IT. Im sure there are other singing apps that are more forthcoming and not using scammy tactics to lock you into auto renew and swipe your cash.
Can no longer share to Facebook
by Brennie56
I love this app and I loved that you could share it. I had no problem sharing it until recently and although I wrote to StarMaker I've never received a response. When I can share to Facebook again I'll update the rating.
Great but tips added
by gamerunknown
This is a great game!To the free songs to the awesome parties!I love this game a lot and I can tell others do too.The thing is I've read other people's reviews and found that some profiles are fake.Yeah I could definitely use help getting more followers but really??I must ask why you make them.To make people feel better about there singing??Well really your only making it worse when people find that the account is fake.Its really difficult when you don't know which comments are real or fake.It hurts when you find out though.But I also have a problem with the party's.You can't make a party unless your level 45 or super rich and willing to give a lot of money for one party.Its also a wonder whether you'll ever make it to where people in TX (plus more) will ever be able to do a simple live chat!!This game is definitely good and I'd advise you get,but it still definitely needs work.
StarMaker how do I recover my old account ? Pls help me
by adamle77
It's owe some app, only I have one prob that I couldn't able to join party it's not showing on my app pls improve my I log out my StarMaker account, and when I log in again it won't show me my previous account pls help me to get my old account. My account is is shraddha _star 679 Can you guys pls help me, I can't able to sing in party room it gave me msg that you cannot sing normally pls help me it has lots of problems
MoneyMaker for StarMaker
by CreateNickname4review
So far from TheVoice you should not be able to use for the name anymore. Customer service is non existent, auto replies and false assurance they are working to solve and improve. They have only made changes to turn an about dead app to a money maker. Still have not updated website, the talent program is gone, no way to share videos to YouTube for sure. No way to listen or view songs outside of app. No consideration for long time users in making their changes. Songs previously earned with coins are not available now. Fake profiles to give users a false sense of popularity. It makes no difference about qty of voice or talent. Money is what drives your cover up, the more you pay the higher they go.
WTH?! Where did all the songs I earned go!
by JadeGradeA
Ok, so a couple years ago you could buy songs with tokens you earned. Pretty sweet. Then it changed to where you didn't have to, pretty much every song was available to sing. Even better! But now, the update has it so even songs that you bought before hand can't be used. They are gone! Now they are VIP and I can't access them! Well, no point in going on this app now. If everything I earned is gone and the app is WAAAAAY over priced, no point in staying.
I love this app!
by Friendlife
But i wish that all of the song is free again without the vip and we me more real people not fake