Zynga Poker - Texas Holdem
by
Zynga Inc.
(835 user ratings)
FREE
Download size: 203.63MB
Version: 21.35
Released: 2010-05-14
For ages: 12+
"The LARGEST POKER SITE in the World…" - ESPN.COM

Join the world's most popular Poker game with more tables, more tournaments, and more people to challenge than ever before. It's Texas Hold 'Em Poker the way YOU want to play!

==ZYNGA POKER FEATURES==

VIP PROGRAM – Earn benefits and features by reaching higher Tiers in our new VIP Program! Enjoy exclusive chip package offerings and special game modes.

FREE CHIPS – Get a welcome bonus of 60,000 FREE chips just for downloading! Plus, win a daily bonus of up to $45,000,000 in in-game money!

AUTHENTIC TEXAS HOLD 'EM – Stay casual with the classic Texas Hold 'Em Cash game or turn up the heat and go for the high-stakes jackpot. It's up to you how high the stakes go!

FAIR PLAY – Just like a Vegas casino! Zynga Poker is officially certified to play like a real table experience.

VARIETY – Play Poker however you want! Join a Sit n Go game, a Shoot Out tournament or a casual game, and win generous payouts! 5 player or 9 player, fast or slow, join the table and stakes you want.

LEAGUES - Join millions of players across the World competing in a Season competition. Win the most chips to come out on top!

SOCIAL POKER EXPERIENCE – Challenge your friends or make new ones. Zynga Poker has the strongest community of any poker game.

PLAY ANYWHERE – Take your favorite card game anywhere. Play seamlessly across all web and mobile versions -- just log in with your Facebook profile!

Zynga Poker is the destination for casino fans and Poker players alike! If you play slots or blackjack, you'll feel right at home in our friendly Poker community!

Download Zynga Poker and start playing today!

TALK TO US – Let us know what you'd like to see next by hitting us up on Facebook or Twitter:
Facebook: http://zynga.tm/PokerFanPage
Twitter: http://zynga.tm/PokerTwitter

Collection and use of personal data are subject to Zynga's Privacy Policy. Both policies are available in the Application License Agreement below as well as at www.zynga.com. Social Networking Service terms may also apply.

Additional information:
· This game is intended for an adult audience and does not offer real money gambling or an opportunity to win real money or prizes. Practice or success at social gaming does not imply future success at real money gambling.
· The game is free to play; however, in-app purchases are available for additional content and in-game currency. In-app purchases range from $0.99 to $99.99 USD.
· Use of this application is governed by Zynga's Terms of Service, found at www.zynga.com/legal/terms-of-service.
· For information about how Zynga uses personal data, please read our privacy policy at www.zynga.com/privacy/policy.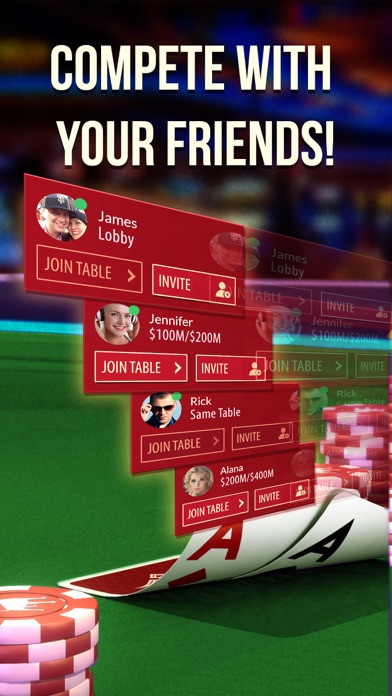 Powered by Facebook Comments
Customer Reviews
Great Time Good Poker
by Lalani@2918
Excellent past time
Bull
by tara-bite
In my experience, the people who purchase coins and are at Higher levels, and apt to bet all in very often are the ones that win most often regardless of circumstance.
ITS NOT BINGO PEOPLE
by haus6.0
I think it's truly ridiculous that people who spend there good hard earned money on this pos game get beat by people who play it like bingo. It's Texas holdem not let go all in on 2 6 off suit against pocket aces and flop comes up 2 2 6 like how is that even possible , especially when you know who does and doesn't give there money to this garbage game and this garbage company. One of the worst games I've ever played.
Don't waste your time
by Stealth42o
Game is clearly rigged to get you to buy in game cash.
Zynga does scheduled maintenance & you lose all your money!!
by Crias R Cute!
10-20-17 zynga down for maintenance, site comes back up & my 50 million bank is gone!!! Is this their way of making you buy more chips!?? If i could rate no stars or negative stars , i would! DON'T USE THIS SITE!!!!!!!
Glitches
by Leoblond
It's more than glitches going on. Someone working for zenga knows about the transferring of money and other things that aren't fair to others playing. I've reported things but nothing is ever done. People transfer large amounts out to several other players and they transfer back, it's billions of dollars. They have a way to make sure you loose at times... they want you to buy chips. The site goes off at convenient times and when people are transferring it want let you on the table when seats are empty... ? Strange. If it's drones other players are using zenga can stop it if they wanted to!!!
Missing chips
by Nicowm96
Yesterday I had almost 11 million chips in my account. Today, when i tried to play I saw I had 0 chips on my balance. How is this possible. Can you return my chips please. I've been playing this game for more than 4 years and its the first time this happend. Help me please so I can continue playing.
Decent
by Jlongway
It's decent just like all poker apps; when you're wining it's good.
awesome
by Fernando Gamarra
good game
Excellent except
by pgp
Connecting ... For some reason Connecting ... it loses its Connecting ... connection quotes a bit. I've never experienced an app that had such Connecting ... sporadic connectivity issues. Glad they didn't build the App Connecting ... Store; reviews would take Connecting ... forever. Seriously, the app shows simultaneous users, usually below 100,000 and typically way below that. So how does this app have issues with connectivity?
Great game needs more bonus please
by Lucksssss
Great game. Tysm
Not a good day but...
by Buds4
I've been playing this game for appx 5-6 yrs this past yr introduced to new updated version like it even more I'm playing on iPod is visible enough to see others aren't other features like daily & weekly challenges are a plus
All in
by Saint P27
Welcome to the land of no skill. Where people go all in every round and you don't really play cards. That and the fact that good cards are rare at best. I have had this on my phone for a while and stopped playing it, but for some reason came back to it and was quickly reminded why I walked away to begin with. Deleting the app.
Zynga
by The real jack cucuy
The best but sometimes it makes u
BOTS EVERYWHERE!!!!!
by Brett88242829362
Don't even waste your time, especially any money.....I've had this app for many years, and it keeps getting worse!!!!
Scam
by Tpainhimself
This app is a scam to make you buy more chips. I've been playing this game for at least three years and I seen the most impossible hands ever dealt. I'm a professional poker player and the adds of some the hands played here are slim to none. Don't waste your money to buy chips from zynga because zynga will make sure you lose them.
Great App, I only play this poker game, wish I could give it 10 ⭐️⭐️⭐️⭐️⭐️⭐️⭐️⭐️⭐️⭐️⭐️!!!
by SS Jim
It's the best poker game there is I've tried others but this one is the one I enjoy the most been playing it for years now! And I will not play another!! This one is best, I love playing it! Laid out just right!! It just gets better!!! I can't say enough about how great this game is!!!!!!!! Look forward to every hand!!!! Still the best game there is!!!!! This is still the very best poker game to play, recommend it to everyone I know!!!! I'm giving it 25 stars!!!*************************, just add to my review, this is so much fun to play and it as I've said before just get better!!!!
Great Game
by 123aaric
If play like real poker is challenging and fun.... I fought one 5 dollar package years ago
Addictive
by Katzjamr
I like the app. I am a better online player than in real life for poker, one app that doesn't drain all your money in one day
BS odds
by Micro1199
This game says certified for fair play but the odds of all the donkeys hitting hands constantly is unreal. I know the odds in poker and the number of times I catch people all in with a dead card and I'm over them and they still hit is way beyond the normal statistics. I don't recommend this game to anyone who wants to play proper poker with real odds. Theirs are definitely not statistically correct. Not even close.
Best
by Mansoor ahmer
Good game
Ripoff
by isiemple
Don't get scammed by this app. Notice they never mention the third party who certified their rip off algorithm. It is geared to rip you off and your guaranteed to lose all eventually. They only shuffle one deck and then run a series of scenarios.
5 Stars
by Abu_guevaea
5 Stars !!!! Zynga really deserves them , most for the free spin every 4 hours and the daily challenges .
Great game!
by T gill
Fun and fair
Good game
by Therer3
Good game
Crashes
by Czerr
Not a bad poker app, but they've got way too many glitches and issues to fix. Jump is absolutely the game that needs it most. I can play a hand or maybe two if I'm lucky before getting locked up. Also the chat option is ridiculous in the way it's designed. May as wall not have it.
Get it!
by Deanomite442
Just get it!
Great game
by Joeb105862
Great game No comparison to other similar games 5 Stars plus
Perfect
by Korosh 1890
Perfect
per
by soheiloloumiyazdi
perfect very good👌🏻👌🏻👌🏻👌🏻👆👆👆👌🏻👆👆👆👆👆👆👌🏻👌🏻👌🏻
No Facebook
by aila_tan
The app is great when it works with Facebook. Unfortunately, it doesn't allow my fb to connect.
Love it
by van slaughter
I love Zynga poker pretty easy app to use
Addictive
by Xtce702
Can't put it down consumes all my time
Amazing
by Alo00one_77
I like the game
ZYNGA :(
by Dried blood of Gomorrah
The hands are pre-determined. I don't believe the flop is inaccurate. The probability of the opponent getting that certain card to win somehow is very likely in this game. The cards aren't physical with glitches the impossible happens. In my opinion not suitable for poker players looking for fair play.
Best game in the world
by shabz422
I don't know what to say... I just know this is the best game I've ever played... I don't know what I will play in future if zinga serving like this I promise I will play this game until my death..,,
Lot chips
by flubthedub
On 9/11/17.... 200mil chips disappeared along with my game. When I opened my game it was like I am a new player....contacted customer service several times with no answer....I quit.
Good game. Sometimes bad players
by Renegade Chauffeur
Been playing this app for many years, both on Facebook and mobile. It's a good and classic game, save for the "bingo" players (who have large numbers for highest hand won, but have little to no chips, and go "all in" with a bad hand just to see if they can win others chips) and when you report people for, as one reviewer said, being a "douche" player, Zynga doesn't really do much about that. They claim they are certified for fair play; get rid of the "bingo" players and the "douche" players and maybe it will be an even field.
Better
by Maddaug
Really like the jump tables for fast, competitive play.
Poker
by HGrumpy
It's great!
No good
by Thesnake586
This app only want your real money ! The must you buy , the most you lose !
All in
by Kalic4u
This is fan app I play often
Amazing
by Yitsr
Really awesome game! It is worth downloading.
Rigged... not so fun anymore
by rOwrOw21
I have been playing this game since 2009 . It was fun and all and got to meet different people also I spent hundreds of dollars here.. i stopped for awhile and went back playing again just 2 weeks ago.. for that 2 weeks I bought 20 dollars worth of chips and not a single hand I won on that table, players including a bot tends to win with low cards off suit( the heck right ) . So I bought in again for another 20 dollars , went to play on the table for 20m , I've had about 130m in my bank so if I lose my 20m that I bought in I will still have 110m, nope I lost the 20m and had about 87m left ( what happened to the rest?) I wrote a complaint twice or 3 times already and no one ever seems response. I am just over this game and ripped off.. beware for whoever going to download this game , it is highly addicting and eventually ripping off your pocket slowly .
Great but terrible bug
by Braiden D
My Facebook account for this game can't seem to get the new look and when I use a zynga account it has the new look but as soon as I login with Facebook it's the old version that doesn't have auto re buy in or collect and even I can't receive gifts anymore either
Disconnect
by Kzhimel
This App Disconnects If I Go To Home. It Disconnects Of I Get A Message. It Disconnects It My Battery Says Low Power Mode. Lets Say I'm Playing A Hand I Had Aces I Raised And Then Battery Says Low Power Mode Suddenly Connecting Came Up and I Lost All The Money I Raised. You Should Fix That...
Happy
by vinceginger
Its a good game
Subpar at best
by Disappointted!
Crappy odds. But also crappy ppl. Only zynga game I played but I will find another app where I'm not forced to racist sexist comments all the time.