Zynga Poker - Texas Holdem
by
Zynga Inc.
(712 user ratings)
FREE
Download size: 207.16MB
Version: 21.47
Released: 2010-05-14
For ages: 12+
"The LARGEST POKER SITE in the World…" - ESPN.COM

Join the world's most popular Poker game with more tables, more tournaments, and more people to challenge than ever before. It's Texas Hold 'Em Poker the way YOU want to play!

==ZYNGA POKER FEATURES==

VIP PROGRAM – Earn benefits and features by reaching higher Tiers in our new VIP Program! Enjoy exclusive chip package offerings and special game modes.

FREE CHIPS – Get a welcome bonus of 60,000 FREE chips just for downloading! Plus, win a daily bonus of up to $45,000,000 in in-game money!

AUTHENTIC TEXAS HOLD 'EM – Stay casual with the classic Texas Hold 'Em Cash game or turn up the heat and go for the high-stakes jackpot. It's up to you how high the stakes go!

FAIR PLAY – Just like a Vegas casino! Zynga Poker is officially certified to play like a real table experience.

VARIETY – Play Poker however you want! Join a Sit n Go game, a Shoot Out tournament or a casual game, and win generous payouts! 5 player or 9 player, fast or slow, join the table and stakes you want.

LEAGUES - Join millions of players across the World competing in a Season competition. Win the most chips to come out on top!

SOCIAL POKER EXPERIENCE – Challenge your friends or make new ones. Zynga Poker has the strongest community of any poker game.

PLAY ANYWHERE – Take your favorite card game anywhere. Play seamlessly across all web and mobile versions -- just log in with your Facebook profile!

Zynga Poker is the destination for casino fans and Poker players alike! If you play slots or blackjack, you'll feel right at home in our friendly Poker community!

Download Zynga Poker and start playing today!

TALK TO US – Let us know what you'd like to see next by hitting us up on Facebook or Twitter:
Facebook: http://zynga.tm/PokerFanPage
Twitter: http://zynga.tm/PokerTwitter

Collection and use of personal data are subject to Zynga's Privacy Policy. Both policies are available in the Application License Agreement below as well as at www.zynga.com. Social Networking Service terms may also apply.

Additional information:
· This game is intended for an adult audience and does not offer real money gambling or an opportunity to win real money or prizes. Practice or success at social gaming does not imply future success at real money gambling.
· The game is free to play; however, in-app purchases are available for additional content and in-game currency. In-app purchases range from $0.99 to $99.99 USD.
· Use of this application is governed by Zynga's Terms of Service, found at www.zynga.com/legal/terms-of-service.
· For information about how Zynga uses personal data, please read our privacy policy at www.zynga.com/privacy/policy.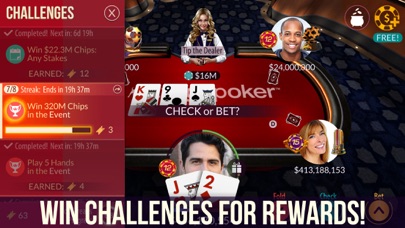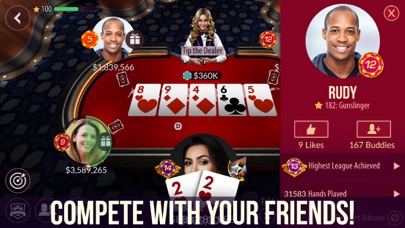 Powered by Facebook Comments
Customer Reviews
Z poker
by Granny$1
Love the game that keeps on given, More and more
Stress reliever
by Sonic boom23
Wonderful game
Zinga Poker
by Kittykoo2
Great game! Been playing it for years!!!!
Best Interface ever Great Job ZyNgA
by Duece's
Best Interface ever Great Job ZyNgA
Rating
by Cjumpman23
Great Game!!!!
Getting better all the time!
by Mickstones
...
Big corporation, they don't care. Uh, no. But it's Zynga.
by MusicManical
Downloaded, deleted, and redownloaded. It won't let me play at any table, anywhere at anytime. Seriously. It's 2018, figure it out.
Very nice I love it
by Silvert5
I like this game always when I play I keep playing for hours thanks for make this game
Great game
by Pradis
I've been having a blast with this game! I just wish folks could't buy millions of chips. Way more fun to earn your way up. Really fun app though. You'll get hooked.
Greta van fleet
by Zski hobo
Great game
Good luck
by Behnam.sh
Best poker game till now. I love it
Game
by Tool 22
It's fun reasonable price is for chips
Im the best
by bo rezaz
Im the best
Love it
by kurac ti
Some h0s in here but you known
Great poker I enjoy the game immensely!!
by Biercord
Awesome poker
Poker
by martyh2121
This app is the best I love Zunga poker. Thank you for being so great
Hold em
by rm729
Enjoy playing a lot of variety too
Love Zenga
by WAJ007
Awesome fun! There are some real rude idiots plying but mostly great entertainment!
Loser
by tom tyco
Game sometimes is fixed
Zynga
by dimondeb
I also like how the chat window how used to be! You could make friends easier! Definitely best poker game on here
Fun game
by Haveuge
Super fun
Fun but can be frustrating.
by SuperSayin'
After my first two star review I still visited from time to time. In that time it has grown on me. I am still not a fan of the bell sound, and the call/fold icons switching to the second second position still gets me from time to time. But after getting used to it, it doesn't bother as much as it once did. Only time will tell in the end, but I really want to like this poker app. So far this one has most of my time. That says something. I'm going to bump it up to 4 because it can be a fun and relaxing way to pass time.
Hola
by Tolentino30
Donde esta? Zynga pokar clásico, me gusta mucho esa aplicacion..
ZYNGA POKER
by JustinGonzo
Been loving you guys for years!
Totally fun. Great app!
by svfdfireman
Loads of fun. Good app!
Retired
by snakebit twice
Thank you being retired makes my day with something 2 do . TY
Zynga
by Chuunyah
This game is so addictive!!! Thanks miss kelly for the invite!!! Can't stop playing.
Awesome game
by Chito uknowmeman
Two thumbs up
Freezes
by TaDowSki510
Too many times I bet n freezes then I lose but don't know how
Amazing gAme
by Soso moso
Loveeee it
Zynga poker review
by wrecked put it in my avatar
Way too much fun but I think your computer has a virus or a biased because it still as handsome as that I'm looking like that and it pays off someone with a lower hand and does all kinds of sneaky I don't lose by one point of the kicker carloads of the one you know I'm is Lucas is way too obvious and the four of a kind you're coming up to much this past few days check out your logbook I'm a mathematician I can tell you from point of you
Nothing to hard
by proublem3
The buttons kinda little the issue is in the choices I make it's hard to keep up with my discussion
Good game
by Spywmn
I enjoy this game. Wish the graphics were better.
The best poker game
by Antokski
Love the game of poker...
Poker
by Nick Keiller
Zynga Poker is really funny enjoyable and great to play with friends online. Definitely one of the best poker apps out there.
Great game
by Rainydais
Really fun and easy to play. Don't forget your extra coins, wins, and challenges...check menus. Best Poker game I've played
Played great play!
by phil402
Good entertainment
Love it
by seratbabu
Love it. Period.
Great game
by Rigger-1
Great game I get kick out of it great !!!!!!!!!!
Review ok it fast I like that I like the clock. Plus the bonus spins
by Hackensack58
It fast easy
Freaking great
by Malia 96706
Allot of fun to hard to explain so just play and you'll see what I mean
Addiction Realized
by addicted David
This expression of the venerable game of Texas Holdem Poker has May delightful manifestations realized. It is very easy to place your bets. You can create a list of "buddies" to play with and give and receive points from. The graphics are clean and sharp. The avatars are well rendered—or if you log in using Facebook you can use your Facebook photograph. The only problem is this game is highly addictive and can consume countless hours of your life!
Addicting good fun
by EzWeezee
Perfect way to practice! Although not seeing your opponents face makes it hard to bluff especially with a chronic all inner!
Time Killer
by Jk MeOff
Like the challenges Easy to get into Jack MeHoph
Nice game
by The Big Cotton Gin
Great Game.
Great Game
by XS/DVS/Quix/Rapid
Ive had this game going on 4yrs now. Luv it! It's international so i play people from around the world. Thanks guys. Good job.
Fun for ride to work
by radiators fan
I live to pass the time riding on train!!
CHEATERS
by Nregulater
This game will cheat you. But I'm learning to play better
Poker
by oskiluv
Very fast paced and enjoyable game.