The poker calculator
by
Itchigoo
(1 user ratings)
$2.99
Download size: 32.44MB
Version: 5.4
Released: 2010-05-19
For ages: 12+
*** Past reviews talk by themselves. Have a look at them ***

The poker calculator is an elegant and powerful poker odds calculator that helps thousands of serious players around the world. It has become a top ranked poker app in all the appstores around the world for several reasons:

# Intuitive design
# Fast calculations
# Relevant indicators
# Elegant layout

Check-out our facebook page for a demo movie and detailed pictures: https://www.facebook.com/PokerOddsCalculatorForIphone

Available in 9 languages: english, french, italian, japanese, spanish, russian, german,ukrainian and chinese.

-----------------

"An excellent tool and from what I can see the only poker odds calculator you will need on your iPhone. [...] Excellent graphics and speed as well. Product is reliable and professionally designed."

Pokercalculatorreport.com
Top resource for rating poker odds calculators

-----------------

Core features:
- Starting hands characteristics (win or tie percentage/odds, ranking over 169, expected value depending on number of players and position, Sklansky group, Hellmuth group)
- List of outs on flop and turn, chances to get the outs
- Win or tie percentage/odds vs random players (from 1 to 9)
- Ranking of the hand on flop, turn and river
- Hand ranges against your best opponents. Ranges include Top starting hands, pairs, broadway, flush draws, straight draws or any pairs you selected
- Random cards selection
- Odds calculation against given hands, pre-flop and post-flop, up to 7 opponents
- 4 color deck option
- A lot of bonuses on poker odds
- Video demo embedded



Hereafter, some of its outstanding features:

- EASY CARDS SELECTION: Selecting cards has never been so easy. Move your thumb on the piano-like keyboard and tap the selection cards.

- STARTING HANDS EXPECTED VALUE: Even more important than your chance to win, this indicator corresponds to what you can expect as average gain/loss from your current situation (Pocket cards + number of players + position). By this way, you can accurately know the value of your current situation and play accordingly.

- NUMBER OF OUTS ON FLOP AND ON TURN: This screen has been made to avoid you any headache while counting the outs. As shown below, the table displays the number of outs and associated draws. Move your finger over the table and you will get the outs displayed. Just easy ...

- CHANCES TO WIN OR TIE AGAINST 1 TO 9 PLAYERS: You will get all those results in a few seconds. All the chances calculated in this software could be displayed in % or in odds by tapping the figure.

- CHANCE TO WIN OR TIE AGAINST GROUPS OF CARDS : This feature is a breakthrough innovation ! In a few seconds, you will get your chance to win or tie against a set of representative pocket cards (between 30 to 70 pairs depending on the board and your own pocket cards). Those pairs are identified thanks to a powerful algorithm. You can then sub-select the groups of cards you are interested in, whether it should be the "top starting hands", straight draws, flush draws, ... or any combination of your choice. This feature is really powerful, especially for high stakes games, when you want to know your chance against the cards you think your opponent might have.

- ODDS AGAINST 1 TO SEVEN KNOWN OPPONENT POCKET CARDS. This feature could be used after the game, once you really know your opponent cards, or to build some scenario and enrich your own experience.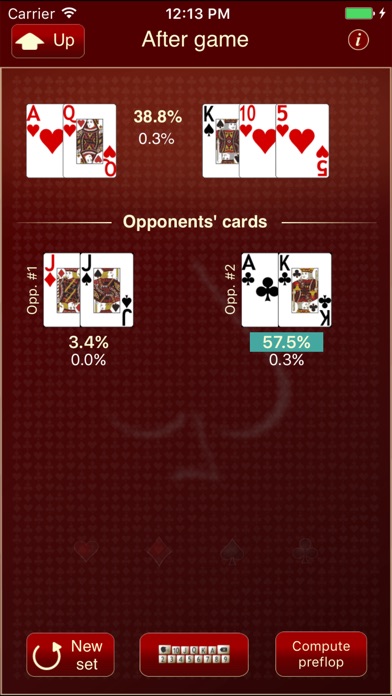 Powered by Facebook Comments
Customer Reviews
Easy so to use
by jtalmon
Great ap simple good stuff
Love it
by SeekethJesus
helps me memorize stats
Nice app
by Grant Ge
Great poker app, gives a lot useful help
I would rate this app 5 star.
by Hiking mem
If there's pre flop head to head percentage.
Great App.
by HamFmd80
Good tool for calculate Poker odds
Great app
by Tapouttazz
App is great for use at the tables or when playing online
Awesome
by Lukepearcollect
Fun
Fun
by Lukedanny
Danny says this is stupid but it's not
felt
by BIOS-RAPE
this app should be illegal. golden.
Cardman
by Pokerstar61
Awesome app. Very accurate and better than others.
Hey
by Erdenator
Anything that helps your poker game is a good thing and this does
Selfless
by Crtemois
Helps.
Great app
by Byasi
Very helpful and easy to use
Great app
by Volfenhauser
Accurate data and easy interface
Awesome
by Laurg
Easy to use and best way to choose the cards
Needs tester
by Drewfos
Great info. Needs a Random situation generator where you need to state odds etc.
The best I've seen.
by Play-all-day
Gives all the info on hands you need and more
Two thumbs up
by Lostinherb
Really awesome app
Great App
by Cliffdog12
Great App. Easy to get to useful information.
Great
by big bad mojoman
Does just what it says. Handy
Top Notch
by Slyfusion
Great tool for pre-flop % and full version offers post-flop, turn, and river stats on the fly. The biggest attraction for me is the voice recognition. Running fast hands, it's a must.
Get the free one
by Eddie Hazel11
It's easier to use anyway...
Good app!
by Bnc1967
Very useful!!
Great App
by JBeck923
Very helpful an interesting
Pro
by ADZ124
I used it in a big 40k pot against Ben Lamb at Aria as a joke, and it made the right decision!!! Nice ehhh!!!!!!
Poker calc.
by Ttizzle
Best poker calc I've ever used!
Poker
by Mm6069
It's okay a very hard to use not really user-friendly
Awesome app
by poker-brat
Show your competition how bad of a hand they had!!
Worthwhile
by littlesubnpa
Very beneficial app!!
helps out any poker
by ssssmokin
have gotten a lot better from this app. helps me realize what my real chances of winning are!! MUST HAVE FOR ANY POKER ENTHUSIAST
Better than expected
by Cmbmlb4ever
Awesome!
Sweet!!
by crazy girlz
Very useful!
Awesome!!
by Roolie
Impressive!! Great for educational purposes!
Needs improvement but good...
by ITGNPhoenix
This app is good but needs a way to quickly get rid of the card drawer.
Great!
by funny bunny 76
Perfect app for working on your card skills.
Great Poker App!
by PETV
There was a glitch ... emailed the author and received a prompt response. And the update was already in motion ... all that to say this is a great program for learning the odds and creating your own possible scenario's. I am new to Texas Holdem a great learning tool. The interface is very nice and easy to use! Thanks Herald!
Great app
by Dave32891
I absolutely love it!
Best poker odds app there is!
by Matt8643
I have a few poker apps on my iPhone and this is by far the best there is!
lots of info
by cromer
Well done app. A wealth of information for poker rookies and pros. Tip: watch the help video that comes with it.
Great
by Rmiles87
Love the program. I really love how it shows me the number and percentage of out I have. My only gripe with it is that I bought it for 6 bucks and the next day it was free. But it is totally worth the six dollars I paid. Keep up the good work.
phenomenal.
by darknote
lots of options, lots of information in an easy to understand and flexible interface. will easily use this for quick reference to double-check my live and online game decisions. well done.