PocketChris Photography Basics
by
Chris Marquardt
(14 user ratings)
FREE
Download size: 17.56MB
Version: 1.5
Released: 2010-07-11
For ages: 4+
"It's like having a photography class right in your pocket!" - Brent Morris

- Ever wondered how depth of field at f1.4 compares to f11? - What does an exposure difference of two f-stops feel like? - What makes a subject a subject?

Just try it out with the flick of a finger in this interactive book by photography instructor Chris Marquardt, host of Tips from the Top Floor.

PocketChris is the photography instructor in your pocket, helping you learn about photography in a brand new way!
Reading about settings and the effects they result in is one thing. Actually seeing the effects with your own eyes is something entirely different.

Learn the visual way!

PocketChris Photography Basics contains these chapters::
- Exposure I
- Subject
- Depth of Field
- Exposure II
- White Balance
- Distance
- Holiday Special

More chapters will be provided as free updates.

Look at examples, change dials, touch the settings with your own fingers and literally grasp photography while reading along in perfectly bite-sized bits of information, with everything put into easy-to-digest words by Chris.

Questions? Send mail to chris@pocketchris.com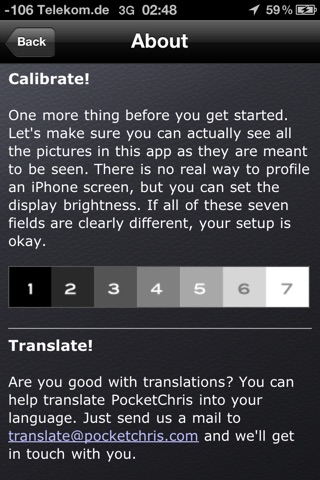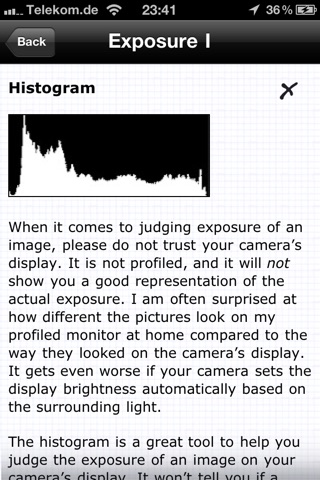 Powered by Facebook Comments
Customer Reviews
Great free app for learning basics of photography
by MDeas1
I have improved my photography shots since I have read everything this app had to offer. I also recommend his other 2 apps for photography, I learned more detail about photography.
Great app! Thank you Chris!!
by Rydinhi
Great app!!! And I love your Podcasts!! Thank you so much! I'm going to buy the other 2 apps!! :)
Wahoo
by 411guy
Lots of fun info! Very enjoyable and easy to understand photography basics.
Great app!!!
by davikabo
Thanks for sharing your talent. I am so hooked on your tfttf podcast. This month I am catching up on your first 400 podcasts. Thanks again, David
Thums up
by rsegrell
Great app. Highley recomend it.
Five star review!
by robotdjs98
Entertaining and Useful!Both great for beginners and Pros in photography!
Useful Tool
by Dustin R.
This is a great app for my photography class. I use it to demonstrate exposure, white balance and depth of field.
Nice
by XianWhite
Sad one jerks review can drag this thing down. It's got good info and examples to play with. Much appreciated.
Thumbs up
by YamiG
Informative, good guide to have.
Lame
by Kyles ipad12345678901
Don't bother
Beautiful
by Brent_M
This app is gorgeous, but beyond that it's very informative. It's like having a photography class right in your pocket! Good design and great information. It's simply awesome.
Beautiful
by neven maricic
I always find myself opening this app when I need some inspiration or just forget some photography terms!
Great introduction to the Basics!
by Sylvia Garcia
Explains the basics of photography in a concise and easy to understand format. Can't wait for the upcoming update.
Great app, great tips, top presentation
by phycg
Very nicely presented app with great tips for basic photography.
Great for beginner and advanced photographers
by Willatl
I'm surprised Chris is giving this app away for free. It contains great photography tips (updated version includes special holiday photo tips), and includes accompanying photographs to illustrate the tips. Also, it's nice to have this info with you on your iPhone / iPod / iPad as a refresher while you're out taking photos. This app is listed for the iPhone / iPod, but it works and looks great on my iPad as well.
Must-have for photographers
by tapped-out
Nice coverage of key aspects of photography, with excellent presentation and tips to boot.
Great app
by vergentino
Recently updated. Simply, if you're interested in photography you need this app.
This app is awesome!
by CJBII
PocketChris contains easy to follow and top information on basic photographic techniques from a top photographer.
Great tips
by Don Tujax
Simple but great tips from the TipsFromTheTopFloor expert.
Great guide to taking pictures
by labtec7
No matter what level of Photography you are on this app is a great guide to all the things you need to get a great picture no matter if you have a point and shoot like me or an DSLR pro gear this app gives great advice and interactive examples that make what hes talking about quick and easy to learn!
Was good
by GloriaandGary
I've had this app for eons and still no update. Are we getting one or Gould we free up space? I thought it was great and informative but now it's just there.
Very Easy to Understand
by LITL DVL
I like this app because it gives camera instructions and advice in layman terms instead of technical jargon. The photographic examples are beautiful and seem easy to create on my own. Overall this is a great app and I highly recommend it.
Wonderfully visual
by Zooey47
What a fun and easy way to understand photography basics. A novel approach that works. We all need a sequel. Or a expanded pro version. Thank you for creating Pocket Chris.
Please update
by Bummed/waiting
This I'd pay for. Keep searching for something to help with a new dslr. Great app 7stars. Please make a pro version!
4 1/2 Stars - Actually great!
by Emely...<3
This app is great! But I keep waiting for the updates and they never come :(
Great tips on photo basics
by CraigMacf
I was surprised at the amount of tips and techniques I learned from this free app. Chris did a nice job, especially compared to a book. In the app, photo comparisons are interactive and easier to understand. I'm looking forward to updates or a pro version (yes, I'd pay!)
Very informative, and fun
by Snakeman555
I just got my first DSLR camera this month, and this app has really helped my grasp some of the basic principals of the different settings. It has also encouraged me to venture into tweaking the settings rather than relying on automatic mode. I can't wait until the other pocket Chris apps come out.
Excellent
by logantrox
I cannot wait for the extra chapters! These are great tools with awesome example pictures to go along. Thank you Chris!
One of the Best Appe on Itunes
by photojunky
If you are interested in learning photogaphy This is the App for you. Apps like this are great to cary with you so you can pull it out and learn any time or any place. Great job Chris!!!
Not Bad
by Leeshots Photography
This app is a good visual aid in understanding basic exposure concepts. Looking forward to seeing how more advanced concepts will be applied and demonstrated here.
Great Learning Tool
by DuckByte
This is a great tool and the price is right - particularly inthemorning with noagenda.
A worthy app
by Anbu s
Super app. But you can start right from the very basics . Fstop, aperture
Good core
by Citizen6
The way the images are used and controlled to demonstrate the concepts is very good. I listen to Chris regularly and I'm confident that he'll continue to upgrade the app's content. That and some UI tweaks would raise my rating. (And anyway, it's FREE!)
Awesome
by too much boy
I always wanted to explain my wife these things and it was so hard in just words. What a great idea this is, now I can show my ppl very easily.
Great!!!
by Off/kilter
This is on of the best designed apps I've seen. The interactive examples really help illustrate the concepts. I can't wait to see more!
Great App!
by Whipple
Although a lot of the tips and techniques are aimed toward DSLR users, there is a lot of helpful information here. This app has a really slick interface IMHO and to top it off, it's free!
Thank you Chris!!!
by Gearjamingranny
This is just wondeful for people like me who's eyes glaze over when hearing photography terms. Having the image examples is such a help.
Sorry Chris... But...
by DSLReviewer
Chris, I'm a big fan of your podcast... But I'm a little disappointed, maybe I'm expecting too much for the beginner level... Good start though...
Nice visual guide
by Rmrf
Great start, Chris! Awesome guide for beginners and intermediate photographers. Keep going!
PocketChris
by JamesLG
This is a very good app. for those of us that find it easer to learn visually than just reading about it. Chris you have really created a quality product. Jim G
Not Good!
by The Jazz Listener...
This is not that great of an app. If you are already an advanced photographer you won't need this. If you are not an advanced photographer it's hard to understand. These people rating this app five stars are all fans of twit, Leo LaPointe and Chris Marquardt so am I. I listen to every show also. I remember when Leo discovered this app was not approved last week, then gave Chris congrats this week. Now, come on guys this is not a good app. The demo photos are not evan good examples.
Nice app
by Socal MB
Great little reference for guys like me who always forget!
Very helpful resource!
by soomi_inc
this is an amazing resource for budding photographers. thank you for releasing this! btw i downloaded this because i'm watching TWiT right now with Leo Laporte and they just mentioned that this app is finally out :D
Great teaching tool
by K.Allen
Saw leo download it so I got it to try it it's a great app
Great Value
by Mattb4rd
Great app. Explains the basics very well.
Nice UI
by Seneschal
This is a really nice app for visually learning how cameras work.
Awesome to learn! Awesome to teach!
by ThumbSkull1968
Chris Marquardt has been a teaching photographer for a long time (just check out his podcast, Tips From The Top Floor) and this newest edition of his reaching out to teach photography to everyone is truly fantastic! Not only does Chris explain the various concepts, but his design of this app illustrates the points and variations discussed in his explanations. The addition of the user interaction helps the learner to retain the information. If you are even the slightest bit interested in becoming a better photographer (whether you are a novice or more advanced) then this app should be on your mobile device. If you are mentoring a photographer, this app is a great resource to help them understand. Get it!
Photography help in your pocket
by Mike Walter
This app is exactly what a prosumer needs. It is nice to see an app that actually shows you the differences in the settings on you camera when in manual mode. Very helpful. I highly recommend to all photographers.
Great place to start
by i8fizh
Chris has a great podcast and now this app. The app has some great information for you to visual see what changes on your camera will do to your pictures. I can't wait for updates and more information!