Photography 101 (Free Tutorials)
by
Pacific Spirit Media
(514 user ratings)
FREE
Download size: 0.38MB
Version: 1.0
Released: 2011-08-11
For ages: 4+
Want to learn how to take terrific photos? This app is a great introduction to photography basics. You will learn the abc's of depth of field, framing, lighting and composition with a few fun surprises in the mix.

If you are a budding photographer, or if you want to improve your skill with the camera, this free app is for you. There are over 12+ excellent video tutorials within the app. You'll also get balanced reviews of the iPhone 4 Camera, Canon Rebel T3i and T3 cameras.

You'll need to be connected to the internet to view these videos.

Download the free app now and learn how to easily take great photos!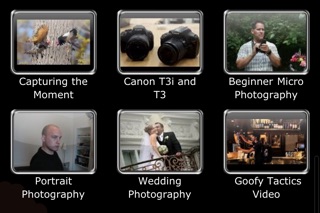 Powered by Facebook Comments
Customer Reviews
Photography 101
by Ben3058
This app does not work with ios11 .....needs to be updated to work with latest IOS systems
IOS 11
by Soncat07
When will you update this app for IOS 11?
Update?
by 8675309/Jenny
Any chance on getting this updated to run on iOS 11?
Won't open
by ShadesFan
I can't open any of the videos. They look like they are loading but nothing happens.
Needs an update
by jmmcintyre
Horrible app, doesn't work well with the latest iPhone versions.
Out of date since iPhone 4s
by Grunster
Out of date. Videos don't play. Pass on this one. Made when iPhone 4s was new.
App does not work
by Dennisgp
This app has not work for the past year. Do not waste your money.
Slow
by Wortiz33
One of the worst tutorials the app does not work it is extremely slow doesn't work at all that I mentioned that it slow and it keeps lagging even on a high-speed connection at home Went to the guys YouTube channel and it's just terrible waste of money I would like a full refund
Needs a huuuuge update.
by Skateboard Ninja
App is suuupppper buggie. That maybe due to the fact that it was created and lasted updated in 2011. My set-up: I phone6s, IOS 10
101 review
by uncaled
These files won't play on my iPad 4 mini, even though it took Apple's software team close to 4gb out of the 16gb it ships with for the OS that's on it. Since that what I want to run it on, this app is of little use to me.
Videos don't play.
by Jaime TC
Multiple installations and re-starts on an I-Pad Pro, 9.7, the videos never would play. Turned out to be a big waste of time.
Can't use any of it
by Photogdebbie
i can't get it to play, it says to restart my I pad to get it to run the videos and they do not play not worth going crazy for it
Doesn't work!
by canuck60
Deleted this app after several failed attempts to start videos. Waste of time.
Macphoto
by Rowdy super chk
The App does not work. Continually received a notice advise to restart device if video does start...restarted device several times with no success.
Can't get in!
by Rordh
Would love to rate this but I can't seem to get into the app?????
Can opened the lessons
by Tulsatigerzzzzz
I downloaded this app but I can't open the lessons. It's really sad cause the reviews are great but I haven't been able to use it At all.
Please help
by Firedog1624
Don't know what's wrong with the app but videos don't play the icon just keeps spinning like the video is loading and never plays. Please help
Nothing works but the ads!!!
by arson13
Nothing works but the ads, and only way to exit is to hit the home button and then kill the app!!! Delleted it!!!!!!!!
Doesn't work
by Big Fan Mom
Never get the videos to play.
Do not work on iPhone 6
by Aal vbt
It's just something that do not want to work. What to comment on that?
Cannon
by Ham Radio Guy
Apart from the somewhat nifty vids it's an obvious advert for cannon products, it's not bad
Crashes
by Thekernel
I downloaded this app to learn more about photography but all it does is crash and that is pretty much it. Nothing else, it doesn't want to load anything. 5S 8.1.3
Crashes
by Baldsaul
It crashes. I don't believe it is updated to work on OS8.
Videos don't load
by madebymatt
App frequently crashes and videos never load.
Videos don't play
by Vadnan
Terrible app!
Not a photography class.
by jonyota79
This will teach you the basic functions of your DSLR. Photography takes creativity, imagination, and experimentation. It puts the basics of your owners manual into video format. But, to be a true photographer, you must go way beyond an app.
Very basic
by Russellsix
Too basic and too many ads.
Ew
by Niggawitabigdick
Why is that ugly lady featured in the example. Her arm bends backwards, what a freak.
Review
by Aljadaa
My rating one star because I cannot find u so influential and benefittable
Photography 101 misses
by Deboas
Several of the videos are missing, okay, most are missing. Others aren't worth time to watch an gave no useful instruction. Better to go old school with a photo magazine and practice.
Broken links
by JimmyC23
Videos that some are private and others really dry.
Disappointed
by The Deb-meister
Videos didn't even load
Great Info For Beginners
by rnl0803
I appreciate the basic information in these video lessons. Too many other videos, books, magazine articles, etc. assume that a person already knows the basics, but that's what I need to learn! Is app does it right.
Picture Me
by My Ecard
Easy to understand . Helpful to beginner I will recommend.
Photography 101
by Ninjanell8
Clear explanations, easy to follow.
Good app
by Shooter8719
Good app for those who are try to get a feel for photography.
Informative and Entertaining - nice job
by U235PhD
I literally take dozens of photographs per week, yet I still found this Application highly informative and well presented. Thank you.
Informative
by redhogbill
This app has good info
Fun and great basics
by Brandi Engel
Funny twists an great basic tips. Informative for beginners!
Wonderful app for Beginners
by Kassahun T.Filate
As understanding of the subject grows the use of the apps gate rare
Photography 101
by MississippiMudrat
Most of the videos that are given are either 'private' or have a 404 code, can't be found. Waste of money.
Photo 101
by Love zuma games
Terrific app
Not helpful
by kadesummer
Videos labeled Private or Unavailable. Look for a different app.
Awesome
by Jwebbie
Great app, I found the snapseed app through it. That's another great app,
Good ap
by Missjen010
Plain and simple, helpful videos that help you understand photography.
Great help
by LAC db
Whether a novice or someone who needs refreshing, like me, this app is very helpful.
Decent
by Roooooby
Tutorials are short and to the point but unfortunately they're all videos that you can't quickly reference.
Excellent
by Doremipasol
Very Excellent for New Beginners!!
Good App
by FisheyeSalmon
I knew very little about photography and after downloading this app you should see the pics I'm shooting!