Long Exposure Photography
by
Go2Share
(15 user ratings)
$0.99
Download size: 6.01MB
Version: 1.2
Released: 2012-03-09
For ages: 4+
Long Exposure Photography

Long Exposure Photography is something that can take your breath away when you get it right. Time Exposure Photography App make it easy.

Time Exposure Photography App using lot's of video frames to sharply capture the stationary elements of images while blurring, smearing, or obscuring the moving elements.

When a scene includes both stationary and moving subjects (for example, a fixed street and moving cars or a camera within a car showing a fixed dashboard and moving scenery), a slow shutter speed can cause interesting effects, such as light trails.

Long exposures are easiest to accomplish in low-light conditions, but can be done in Time Exposure Photography App.

Night photography

By exposing an image for an extended period of time, not only can detail be seen in the dark areas of the scene, but the lights become streaks. Long-exposure photography is often used in a night-time setting in order to produce a near daytime effect in the photo. By leaving the camera's shutter open for an extended period of time, more light is absorbed, creating a brighter product. If the camera is stationary for the entire period of time that the shutter is open, a very vibrant and clear photograph can be produced.


Light painting

In this technique, a scene is kept very dark and the photographer or an assistant takes a light source°™it can be small penlight°™and moves it about in patterns. The light source can be turned off between strokes. Often, stationary objects in the scene are illuminated by briefly turning on studio lights, by one or more flashes from a strobe light, or by increasing the aperture.

Water and long exposure

Long exposures can blur moving water so it has mist-like qualities while keeping stationary objects like land and structures sharp.

User Guide
Step 1: Click [Load Video] button to select a night video from Photo Library or click [Record Video] button to take new video
Step 2: Reset start and stop positions to trim video with top thumbs bar
Step 3:Click [Choose] button to start auto merge process.


Features:
1:Recommend video length 5-600s
2:Automatic Video Stabilization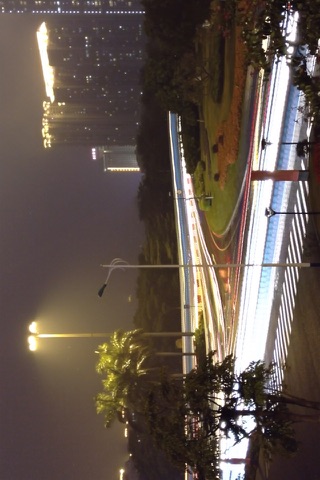 Powered by Facebook Comments
Customer Reviews
Great results, terrible UI. No features. Nice logo though.
by motiongraphics
Still using the old aspect ratio. The OS warned you the app could slow down your phone. Held is make sure to quit the app when done using it.
Quite good actually
by musicnator
This app layers the frames from a video to create the effect of a long exposure picture. It's nice if you've taken videos of fireworks and would like to have long exposure images of them. It makes a nice, dense picture. Bug free. The only annoying thing is that the developer hasn't yet formatted the iPhone 5 and above screens!
DO NOT BUY
by xtalentoso
Crappy and just takes video!
Amazing
by SlyferBR
Like a professional camera!!!
Great app.
by RAW iMAC
Easy to use and provides results as advertised. Great to be able to review result prior to save. Curious as to difference between the two apps that appear to do the same by the same developer, one is 7+ Mb (this one) vs. 3+ Mb for Slow Shutter. Could have bought both and compared I guess. Would be nice if they included a zoom in the program. Great program though and there are work arounds for stacking videos to process later (Independence Day fireworks), and digital zoom as the program allows you to process any video!
Light fan
by Mayan foundry
Simple, basic, easy to use. This app is just the tool I needed to take simple long exposures in my garage.
Not really a still camera
by Mike_bee
I wish I had looked at the reviews. This app gives no options for shutter speed control, it just blurs video images. THIS IS NOT A LONG EXPOSER APP.
Yup
by jruckman
Great. Better UI/controls and iPhone support would = 5 stars.
Do not buy
by Don't buy 4577
This is not a camera for long exposure photography. It is a really crappy app to create light trail videos, do not buy!
So far...really cool!
by artistjsudler
I haven't had any crashes on I5 and the effects are really cool. I use this app as a resource for creating abstract paintings. Absolutely love it!
Beautiful
by What's that Domingo erthehill
Just keep the camera still
Best long exposure app
by Golferdude556
Love it
Crashed second I downloaded it. Blurry, horibble quality
by Apugach
I would not say app is worth anything. It doesn't work. :(
Don't waste your money
by Jinchao 87
Worst app ever. Don't waste your money
----------
by MGhandour
Not good
Not all that great
by godcola
Does not enhance exposure of dark scenes but basically only creates trails if you are shooting someone juggling glow sticks.
Works great if you don't use stabilization switch
by Malathar
This app works great if you don't turn on the image stabalization switch. If you do turn it on it crashes. That needs to be fixed. It produces really good images otherwise!
If it worked...
by Jjoelc
If it would actually produce any output instead of crashing almost every single time, it MIGHT be worth the dollar. Out of 37 short videos shot (and attempted to run through this app) only two of them completed. The app crashed every other time. For those 2 that completed rendering the results were... Mediocre at best. I am willing to conceded that could very well be my own doing, shooting poor subject matter, or just plain poor shooting. Perhaps if I could reliably get a final result out of the app, I would be able to learn what does and doesn't work. As the app stands right now, I just want my money back. I have more use for the half of a candy bar that dollar would buy me than I do for an app with this propensity for crashes.
different
by Amanda Teuw
nice change from the other photo editing options.
Love this!
by Kurtisaaaa
Takes a little while to load the video into a picture, but with a great outcome.
Creative
by Eanoart
Like it...,..
Just so creative app loved it
by Nishitkumar
Just so creative app loved it
Really cool, but buggy.
by Christopher Pratt
Yep
Umm... 5.1 crashes
by 4ndr1o
Every time i try to shot anything... Seemed so hopeful
Thanks for the app
by One Seven Seven
Crashed on the first try. Then on the second it didn't even alter the picture. Also for other users, it uses the video cam to record then uses that to make the photo.
pics are bad
by CharlesDavid
The pictures aren't very good. SlowShutter takes better pics.