DOFMaster
by
Viewpoint Photography
(238 user ratings)
$1.99
Download size: 0.1MB
Version: 1.0.1
Released: 2008-12-30
For ages: 4+
Use DOFMaster to calculate the depth of field in your photographs. You'll be able to select the lens and f/stop combination that provides the zone of sharpness you need. Use it to calculate the hyperfocal distance for landscape photography.

DOFMaster calculates total depth of field, near focus limit, far focus limit, and hyperfocal distance.

Depth of field can be calculated for any film or digital camera. Select a pre-set format (e.g., Canon DSLR, 35mm film, compact digital, Super 16, etc.) or a custom circle of confusion.

F-stops range from f/1 to f/64, with 1/3, 1/2, and full stops. Focal lengths range from 3mm to 1200mm. Use feet, meters, inches, or centimeters for input and output.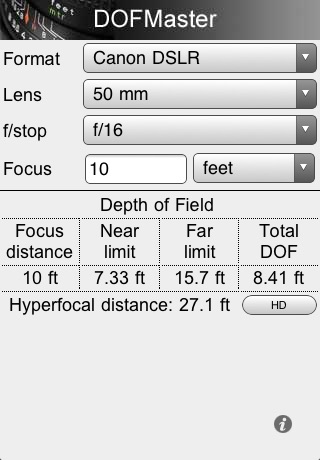 Powered by Facebook Comments
Customer Reviews
Do not work with iOS 11
by AugustScott
Need to be updated!!
Broken on 6s
by Jcdonelson999
Won't work should be delted
Terrible
by FlameM
This ap does work at all!! It won't even allow a single change input! Every feature is stuck as it came.
Obsolete
by Practical
App will not run with the newer iPhones or IOS versions.
Does NOT work!
by Bart-P
I paid for an app that does not work on my 5S. It only displays the default settings and I cannot change ANY of the "available" settings. I e-mailed the vendor twice and they did not answer my e-mails. DON'T BUY THIS APP!
SHOULD BE REMOVED FROM APP STORE!!!
by DJ.Davex
Falsely states it works with iPhone!!! App does not work and should be removed from the app store!!!
DOF Master: Worthless
by Lou273
I purchased this app for my iPhone after seeing it online and, reading the review in MAC Magazine and many of the reviews on App page. WELL IT DOES NOT WORK! It will not let me input any information about my camera or lens. To make matters worse, after purchasing it I received a message that states that this App will not work in future versions of IOS. Should have said it won't work for current version. Worthless.
Doesn't working
by Camelopunk
This app doesn't working. I wanna my money back 😤
Don't buy this POS
by Yzhenry
It does not work at all Still a POS, does not work at all. 7/03/2017
iOS 10.3.2. App doesn't work
by Abispa2
Just purchased the app and can't select anything from any of the rolling menus. Why isn't it removed from the store if it doesn't work? How do we our money back?
Terrible
by Hjm17zz
Doesnt calculate anything for my iPhone 7
Do not buy until they update
by BigDWarEagle
This app was highly recommended. Unfortunately is does not operate with the latest IOS. Do not buy. Do not waste your money like I just did.
Unsupported App
by kreygscott
Considering this App works flawlessly on my iPhone 3GS and not on my 5S is nothing short of unacceptable. Moreover that it's not free is even more disturbing. Sadly I cannot in good faith give anything more than 1 Star or recommend downloading.
It's broken. Not working.
by JustJus
Can't select any options. Can't chose my camera (Sony a7) No good.
DOF or POS?
by BooIsMyCat
App was created in 2009. It's now, 2017. I downloaded this app to my iPhone 7. Opened OK but can't change to the camera I try to select. I get the dropdown list and can scroll through this list but can't change the default selection of Canon DSLR. Same with trying to change the Lens. Same with trying to change the F-Stop. When I downloaded this app, I got a popup that said something to the effect that the author needed to update the app. Nothing indicating I needed to pay to unlock the app. I don't even give this app 1/2 star...
Waste of $
by OrchidRich
Doesn't work with the latest operating system. $ should be refunded.
Flissy
by Flissy's
Does not work cannot make selections. Why would you sell something that does not work
Do not download
by SuperD1949
Terrible app. If you are a Canon shooter with a 50mm lens, then you're all set. That's the only setting one can use. App will not change to any other camera or lens.
DOF Master
by KyivJon
Does not work with my iPhone 6s. At all.
Worst app ever
by rmagnum1
This doesn't even work on a iPhone 7 can't select any buttons waste of money
Doesn't work!
by Gr8KateC
What a waste of $2. Can't select any options. Should have read the reviews before purchasing. I've had it for all of a minute and a half and I'm deleting it.
Unusable
by Monsieur Marques
I have an iPhone and the app is utterly unusable. I'm not even allowed to change it from its initial setting of Canon DSLR to Nikon. Complete waste of money. A refund is likely not gonna happen so save yourself the disappointment.
Aggravated
by C Kess
I bought this app as I have been in a photography class. It does not work. After reading reviews I should not have done so. Why are there so many folks complaining it doesn't work and you are doing nothing to address the problem. Our teacher recommended you but she has an android phone. I have an iPhone 6s. Please fix this problem or give people refunds. This is wrong. 😡😡😡😡
Piece of junk app!!!
by ztllt
THIS APP DOES NOT WORK ON MY IPHONE!!! THE APP IS A WASTE OF MONEY AND TIME!!!
DOESN'T WORK ON IPHONE 6+
by audioforge
WASTE OF MONEY!!!! Another failed app costing apple users their hard earned money. Sure it's only a couple of bucks, but when you multipy that times all the phony apps on the App Store it adds up after awhile. It also gives you that creepy "just been had" feeling that makes you want to take a shower. This is one of those "creepy just been had" apps that Apple shamelessly allows to be sold to their loyal customers. (Shame on you Apple). Your phone is starting to give me the creeps too. Anyway, this app falls down the first second I opened it. It only allows me to select the default settings because it's totally unresponsive to touch. When I try to select "Nikon" it just lays there flipping me off and laughing at me. Nice. Nothing like being disrespected by a freaking app. Real funny DOF Master, you guys got my money for nothing more than a graphic image on my phone which I probably won't even look at all that much. Kinda worthless really when you consider the fact that I purchased this as a DOF calculator. Oh well, jokes on me I guess... Is there anyway to give this negative stars?
Worthless.
by Yuukis1
I downloaded the DOF for my I phone. The only part that worked was the distance. Couldn't change anything else. Contacted the developer twice and no response. Money is not a big deal at $1.99 but don't waste your time.
Doesn't work on iPhone 6
by MarkyMark Taylor
Should've read the reviews. You can't select anything on an iPhone 6 which renders this app completely useless.
App doesn't work on iPhone 6
by Nhrphoto
Can't select camera or lens. Please fix or refund the money!
DOF Disaster
by KKT72
This app isn't working on my iPhone 7. Which stinks! I can't choose which camera I use let alone the lens and distance. Hoping the developer sees this isn't working on newer phones and does an update on the software.
Doesn't work on IPhone-Multiple emails gone unanswered.
by Mr. Blah Blah-da Blah-Blah
I paid for and downloaded this app after reading the developers article on hyper-focus. The app is supposed to be made for the IPhone. The app doesn't work, it opens but will not allow any selections other than the pre-selected items. I have emailed the developer multiple times for a fix or refund. All emails have gone unanswered so customer service is out the window at this point.
Don't buy! Does not work!
by Yeyet123!
This is nothing but a scam!
Does not work!!!
by ChickCNC
This piece of garbage is totally nonfunctional and tech support does not respond. I do not understand why Apple has not pulled it yet.
APP DOESN'T WORK ON THE iPhone 6
by Jennalll
Don't buy this outdated app. It should be removed from the App Store.
Does not work with ios10
by Michaelsongxd
Needs update.
No longer works on ios 10
by Kpfilms64375
Won't work on ios 10 Don't waste your money on dofmaster like i did.
No longer works
by ScooterB8
This app used to be fine, simple, easy to use. No longer works, press on lens length, f/stop, anything, it just stares at you and does nothing. Removing.
DOFMaster Does Not Work
by PhotoMacTexas
Installed on my iPhone 6s running current iOS 10.1.1. Unable to change any of the input parameters. Does not produce any results whatsoever. Camera choices out of date by a decade (and you can't change it from the default anyway).
Useless!!!! Do not buy!
by David1438
I wish I had read the reviews first. You cannot change any of the default settings on an iPhone 6s. I want my money back. This app should be removed from the App Store. Do not buy!
Terrible functionality
by Aa0520
This app is a great idea but a terrible execution, especially for $1.99. The app hasn't been redesigned to accommodate the taller iPhones, the user experience for selecting the multiple options is not only an outdated design from iOS 5 but is incredibly difficult to use. Simply using the app is frustrating. I would not recommend purchasing.
Why is this still in the APP store? 2009 last update?
by Tamadu
Just downloaded this today - 11/23/16 - Why is this app still available in the app store? Downloaded due to latest reviews - which were good, didn't realize the Last update & reviews were 2009! Received message that this app would slow down my iphone as it needed to be updated. My error for not looking closer, but honestly, really, 2009?!? The app does NOT function in the latest IOS with iPhone 6S+. It should be removed from the app store. I want my $1.99 returned! What a rip off!
0 stars if I could.
by TheRealAce005
App doesn't work. Simple as that. Waste of money.
Doesn't work
by Graham Gross
I am completely unable to change my lens and aperture settings.
Frozen ap
by Stealth 851
Absolutely worthless. Doesn't have the ability to change settings.
Does not work with iPhone 7!!
by Uday Watwe
Why is this in the App Store? It does not work! Cannot change anything- stuck on Canon 50mm
Does not work with latest IOS!
by RV7Pilot
Don't waste your money. It simply has not been updated and IT DOES NOT WORK WITH THE LATEST IOS!
Product doesn't work
by TheHoyles
Unable to choose selections.
User
by Dudeboy51
It doesn't work with IOS 10.0.1
Useless on iPhone 6. READ ONLINE REVIEWS BEFORE YOU PURCHASE!
by doctorharrison
$2 wasted
I should've read the reviews before I bought this crap.
by Quadflyer
Like a lot of you have said in the reviews, this app does not work on the 6+. It won't even let me select the type of camera. It is stuck on Cannon DLSR. This app is unusable and should be taken off the App Store if it's not going to be updated. These people are just making money with something that doesn't even work. If I could've given it a minus rating I would. Shame on the developers.