Super KO Boxing 2
by
Glu Games Inc.
(5,697 user ratings)
$0.99
Download size: 99.9MB
Version: 1.6.0
Released: 2009-10-01
For ages: 12+
BEST BOXING GAME ON THE APP STORE!!

READY FOR AN OLD FASHIONED BEATDOWN? As the K.O. Kid, you return to the ring to face the most outrageous face-breaking opponents who'll use sneaky tactics and dirty distractions to knock you out. To be the champ, figure out each fighter's tells, avoid their signature moves, and when the time is right unleash a super punch to knock 'em out!

15 OUTRAGEOUS OPPONENTS
Go toe-to-toe against a cast of bone-crushing boxers with unique moves and personalities including 15 Cent, Shogun, and Ka-Rak Übones.

DEVASTATING SIGNATURE MOVES
Use quick reflexes to dizzy opponents, throw powerful hooks, unleash flaming super punch combos, and land one-two lightning KO's. To go the distance, you will need to watch out for opponent's weaknesses and avoid their signature moves.

CIRCUIT MODE
Box your way through 18 bouts across 3 circuits to become the Champion of the world!

CHALLENGE MODE
Would you be able to defeat your opponent if you weren't able to dodge and couldn't get hit? Face this and 16 other unique challenges that test your skills.

ENDURANCE MODE:
Test your courage to see how many fights you can win without ever getting knocked down against increasingly tougher opponents.

ACHIEVEMENTS
Earn over 65 unique achievements to unlock concept art that includes character sketches, early concepts, and boxers that did not make it into the game

NEW - GAME CENTER
For devices with iOS 4.1 or higher, you can now earn your achievements within Game Center and share those with your friends.

NEW - ROID RAGE
Are you coming unstuck against some of the trickiest bone-crushing contenders in the game? Just purchase a dose of Roid Rage to turn into a monster fighter, with more powerful punches and become almost impossible to take down. Use your Roid Rage whenever you've exhausted your natural abilities to take down the toughest opponents!

PLEASE NOTE:
- This game is free to play, but you can choose to pay real money for some extra items, which will charge your iTunes account. You can disable in-app purchasing by adjusting your device settings.
- This game is not intended for children.
- Please buy carefully.
- Advertising appears in this game.
- This game may permit users to interact with one another (e.g., chat rooms, player to player chat, messaging) depending on the availability of these features. Linking to social networking sites are not intended for persons in violation of the applicable rules of such social networking sites.
- A network connection is required to play.
- For information about how Glu collects and uses your data, please read our privacy policy at: www.Glu.com/privacy
- If you have a problem with this game, please use the game's "Help" feature.

FOLLOW US at
twitter.com/glumobile
facebook.com/glumobile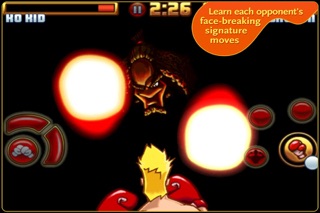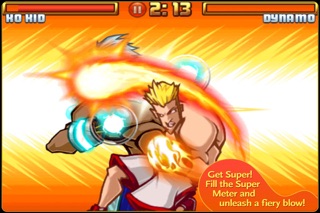 Powered by Facebook Comments
Customer Reviews
Update
by XxcoolkidxX
Pls update this for Ios 11 i dont have any other devices to download this game again
This app needs and update!!!!
by Dudeitscool
I usted to play this game a lot but now I can't because of the new ios. Can you please update the game if possible thanks
Updates?
by oldatarigamer
Can the game be updated for the latest iOS please?
The best boxing game ever
by Bole siah
It is very nice and hard;)
Update for AppleTV
by Styles427
Would be great on AppleTV!
Repulsive
by dcram76
I played the first round with an opponent named baby face which was the face of a toddler complete with pacifier and small arms. I know the creators were trying to be clever but this is the most DUSGUSTING concept, creating characters like that! Create ordinary people for christs sake!
RETURN OF THE CLASSICS!!!!!
by JamminAllTheTime
I think we would all want a sick remake or new version of the Glu classics that we all love like this game, or GUN BROS!!! Gun Bros 3 could definitely make it on the front page of the App Store, Gun Bros 2 was my favorite game for at least a year.
Way better than 3 stars
by PhillySaint
This game is great, from the graphics to the difficulty, and people who say it is unbeatable are idiots. Someone gave it a one star because he said you had to use roids to beat the second opponent! Are you kiddin me!!!!! If you can't beat a guy, look up a strategy guide. Each person has a weakness you have to exploit
Amazing, challenging game
by ManBo1690
This game is absolutely phenomenal. The graphics are great and there is no lag. The difficultly builds up all the way to the end. It is a challenge to complete the game but it is possible even without roids.
Female avatar!
by Minecraftin' Bloke
Add a usable hot babe to box! Then you'll get your 5th star!
Wooooo
by Huh CDC vkkbbjjbbhczjek
Really fun. Oops sorry i didn't want to rate it 4 stars
great game
by keven042495
Needs update i love this game more fights and iphone 5 optimize
Why are people complaining about roids?
by Garrett1317
I haven't bought any, I haven't used any. The game isn't that hard, you just need to watch the telegraphs for your opponents attacks. Pretty solid game, waiting for S.K.O. Boxing 3.
Loved it
by Barzalloc
I enjoyed this game. I beat it in like 3 days without steroids so stop complaining this game is worth it.
ABANDONED APP NEEDS UPDATE!!!
by The.Big.Guy
Wish this game would get an update for iPhone 5 AND for retina!!! Another abandoned app that is a great game.
Three Words OMG
by Pikachu Fighter
Ok this is probably one of the most addicting games I have ever Played, one thing though, you should be able to buy new gloves and other items using coins u can earn by Beating the game, winning challenges, and beating opponents in versus mode!
Worth it
by Good game!!!!!!!!!!!!!!!!!!!
Guys this is a great game. Totally worth it and have played long after I beat the game. And all those haters are wrong. Buy this game
Awesome
by Hirededgkd
Best game ever
Stupid game
by Miss Tiffany Cristine
U can't beat 15 cent. Not worth buying roids
Game Data Lost (Add Save Syncing)
by Zelda Ray
Please, add game Sync capability to this game and its FREE version, also add Sync between FREE & Prior Paid versions for those who had upgraded to show you their support...
Awesome
by Miami star
This is so good and a time killer. Beastly
Challenge
by stdrgh14
It is fun because its challenging its better to not buy roids and find the weakness you get a free roid in the earn roid section just tap on it.
Poor
by Jb97401
Game is fun, but everytime you loose it asks you of you want to buy more "roids" which costs $1.99 each time and helps you win.
Multiplayer
by Juan Mendez2909
Do it multiplayer please!!!!
Amazing game
by Beastness1
This is a very catchy game that you cant stop playing! I recommend this game to anyone.
Help
by Slayinalpha
Im trying to defeat king tun but his health keep coming back. Plz somebody tell me a way to defeat him plz
Stunning Graphics, Hours of Fun
by Eight_ball8
Animation and graphics are amazing - this belongs on an iPhone commercial. I don't understand those complaining about the difficulty. I, for one, have frequently complained about all the iPhone games that are easy and require no skill or strategy. This game makes you work and I appreciate the challenge of 100 hours of gameplay before I finally beat the game. The charecters rival the fun of Punchout. Yes, they are strereotypes, but in the same light-handed way as the old NES. One of the best iPhone games yet and an incredible value at $5.
Awesome
by Crazymont
I f ing love this game- why 3.5 stars?
Amazing!
by Docal T
Executioner can be lightning ko'd. Just use your lvl 3 super punch a few times on him without getting hit (unless you block it). Also, stop complaining about the roids. I had a fun an easy time beating it and only used one thing of roids for the second dynamo. --UPDATE-- I've beaten all the challenges, all three exhibition matches, got all of the achievements, and found all lightning KO's. Update! :(
Fun animation
by KingLentend
But if you want to play it as a game then you'll get in to a rage mode and throw your device at the wall and chant a series of forsaken curses.
Great
by alohanoswag
Good game
Great Game!
by Congojoea
This game is awesome, reminds me of punch out back in the day, I hope for a third title someday, also it would be nice if you guys rereleased the first ko boxing. I had it for my old phone many years ago. Be nice to play an updated version for my iPhone now! None the less this is a great game and worth every penny, especially for those that liked the old NES punch out!
Simplemente demáciado bueno!!!
by Tom87654
Yo y todos mis amigos en la segundaría tenemos este juego, nos encanta! E pasado mas de 24 horas de juego con este genial juego!! Glu, por favor mas de 25 personas que conozco suplican que desarrollen Super Ko Boxing 3!!!!! Y quien sabe cuantos mas! Gracias Glu por este genial juego!!! :) :) :D
Suckish
by Daff man
Almost all other glu games are better this 1sucks I did something to get a r rage and I did t get it and bigger Gip is impossible for me I hate this game for those 2reasons
Fun
by juggalo2close
Got stuck near end
Bad
by Drock85
Don't waste your money!
Cool Game Like Punch-Out
by Shoryuken9025
I sort of like the game but it feels impossible without roids. And about the racism. Anyone here ever heard of punch out? You know those old famous games full of stereotypes? Don't complain unless you know your boxing games.
Only for bosses
by Cjoseph070498
Best game ever!!!!!!!!!!!!!!!!!!!!!!!!!!!!!!!!!!!!!!!!!!
King tub
by STiLL_BLAZiN
How the hell do u beat king tub? Can't knock him down his health just goes back up a little every time u punch him. Beat all the other guys like sake bomb and the chief and stuff. Stuck on king tub plz help.
Super Punch-out for I-Pod!!
by Rasputant
This game exceeded my expectations; it was perhaps the best punch-out game I ever played and it was free! It is beatable without Roid rage and without strategy guide (I did this), and I think that it's difficulty is what made it so great. The other punch-outs were difficult as well; this is what makes games great in my opinion. It's something that will test your skill and give you a challenge and something you can boast about when you beat it. I hope they make a super ko boxing 3 and just as challenging!
Great
by BanjoDK
Awesome game
Awesome
by Tommy of the Gee
Great!
Fun but I hate it
by Jeanneg4of4
It's addictive but it's impossible from time to time
ssssssuuuucksssss
by Thallest
hhhhhfsgvjjfb
Fun game
by Jack In The Can
Please update this game with Retina support thanks.
Great game.
by appleseedered
I didnt need any guides to beat If you play this game hard enough, you dont need any roids to beat this game, even the final stages guy.
Awesome
by Chris0586
This game is great. Doesn't force you to buy anything so don't mislead people. It does get challenging but isn't that what a good game should do? Just learn your opponents patterns and thats it...I'm in the last circuit and didn't use roids once
Review skob2
by Lakersjesse
Awesome game if u love punch out for nes this is a must
Not good
by Apple_Music_One
I suppose it's ok for free. I paid for it when it first came out and after the first couple of boxers, it's way too hard...and I refuse to pay more money to improve my boxers and make the game playable. Epic fail!