Racing Penguin: Slide and Fly!
by
Top Free Games
(28 user ratings)
FREE
Download size: 82.54MB
Version: 5.8.8
Released: 2011-06-16
For ages: 4+
Racing Penguin (or Flying Penguin) is a physics based slide and fly game!

Slide down the mountains of Antarctica and flap your wings to fly.

Go as fast as you can to escape from the polar bear.

5 addicting worlds, 40 racing levels.

Clear levels to earn stars - the faster you go, the more stars you get.

Use your stars to unlock new worlds!

Multiplayer! You can challenge your friends!

Get it while it is FREE!

● What our players are saying

- If it where a $10 game I would buy it. I can play it everyday for the rest of my life

- This is the funnest mobile game in the history of mobile games

- This game was so much fun I lost my job and my wife left me. I sure hope they will reimburse me for my life.

- Fantabulous. Hide this one from the kids, you're gonna want to spend some quality
time playing this one yourself

- This game changed my life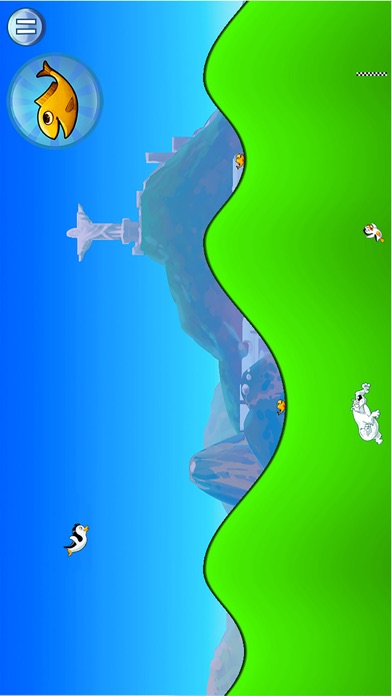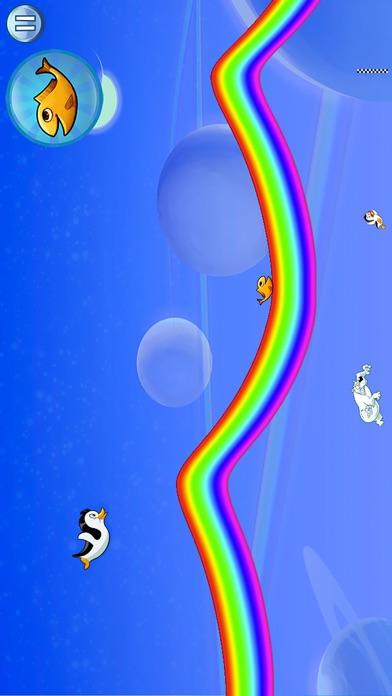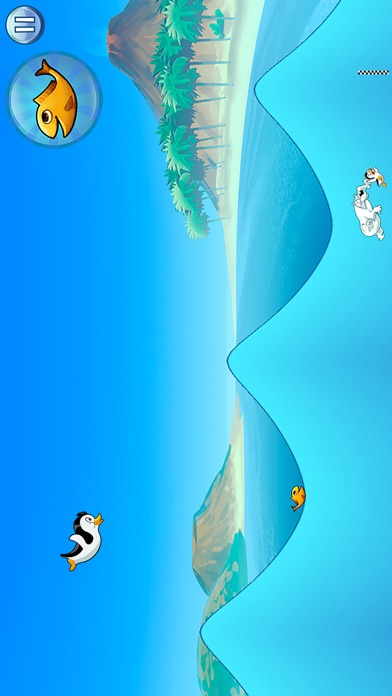 Powered by Facebook Comments
Customer Reviews
Decent fun
by Fungun111111111
Just started playing.
Ads!!
by Alexddoza
I enjoy the game for the most part, I'm working to getting 3 stars for all of levels but cmon, every 4 or 5 or so try I get a 30 seconds video ad and it gets annoying because i would play for about 2 mins, get a video ad, then play 2 mins again and get another ad... I'm hooked on this game but atleast give us a free fish per ad... I probably go to 10-30 video ads a day. Also in some levels when you restart, you end up in a different position than before when starting and of course there's many other glitches which is disappointing to see in a game that's been around for years too
Been playing this game ever since I was little I am glad I got it again on my new phone!
by Reese the peice
I LOVE this game!!!! I got my first iPod when I was 6 or 7 and this was one of my VERY first games I downloaded. I am SOOOOOO glad I found it again and got it on my new iPhone 7 I am 10 right now so it was like 4 or 3 years ago!!💖💖💖 Peace out ✌🏻🦄🦄
This game
by ColdNullcolteno
This game is so fun I love it so much I have to get back to beating the bear
Love😍😍😍😍
by love peuguins🐧
Get it #matt
Amazing
by Alainapa
I loooooovvvvve it sssoooooo much.
Eh
by Ms.Rachel Love
I didn't really like it every minute I play a level it offers a "great deal" well no 14.99 for a dumb game like this yeah I ain't spending my money or time on this.
Best game ever 😁😁😁😁fun too
by Daniel Filkin
Best game ever
Great
by Vchzudhdsgey
This is the best app
Average
by Team StringBean 🌱
So first and foremost. This game is obviously for toddlers. If I wanted to teach my children hand eye co ordination then this game is great. Five stars. But for anyone over 10 to 12 years or older it is a very complacent or repetitive game with no actual challenge in the game. Make harder levels for everyone.
Fun game, and hilarious!
by Anonymous313131
When they advertise the different penguin skins for up to $29.99, it makes me laugh 😂 So funny!
DOESNT WORK WITH IOS 11
by itsambernicole92
This was my favorite app until I updated my phone and could no longer use it!!
So fun
by Henpen45
MUST DOWNLOAD!!!!
Great Game
by makestypos2much
This game is awesome. I get like 280 fishes everyday because I've been playing so much. I beat the game with all stars on all levels. Me and my brother play this game together on multiplayer sometimes. We like to try and beat each other while only using the fish button. The in app purchases are useless because you can only buy up to like 50 fishes at a time and I get like 280 for free everyday. Also, it's ridiculous that you have to pay so much to change you're penguin. I have never paid money for anything in this app because you don't need to. 🐧🐧🐧🐟🐟🐟
Fun
by Bobby_Harrell
Fin game... get it?
Penguin race
by Meteorologist studier
It's fun and good
Bruh
by epicdragon585
HEY WHATS THE BIG DEAL IT SAID I GOT T WO GIFT CARD AND I CANT USE THEM FIX THIS OR SCREW U
Not sure if this will work.
by Me-oh-Me
My 2 year old figured this out on the first pass. I can't imagine this will last long.
Kaitlin
by 5674gamer
Start
Amazing
by shudoodle
It is the one of the best games it is very fun you can play for a long time it is so fun
Really fun
by 😊😊2017
This game is really addicting and super fun to play
Love it
by Anticipation19942014
Love it
Good game
by claud1711
Good game
Fav animal game and races are so relaxing!!!!! I love it
by Lorranbrown
I have nothing too say but I type a little good I just wanted you too know so it would be so fun too play multi player xd so so fun!!!
Pretty addicting
by SombodyOnceToldMe
This game is pretty addictive
AWESOME GAME
by Xjorddonscheetz13
I used to play this game a looooong time ago and I remembered this game... now I got it again and it's still good.
Awesome
by Klove1117
Rush game is the best
Time consuming
by Sparklecorn14
I wouldn't recommend for a game to play all day ,though it is fun for about 20minutes at a time it's fun to beat your scores.
Good game
by GabWabGab
I won three stars!!
Love
by Pokémon craft
I love playing this game
Good
by pizzafoodriloo
Good
By, _DisneyOrDie_. RacePenguin!
by 4leftla
RacePenguin is a good game. I have one Additional request though, Level 1. Polar Bear. Level 2. Polar bear. Level 3. Polar Bear. All the levels have the same monstrosity chasing the waddling creature, also known as the penguin,Maybe a different Villain each level?Overall,RacePenguin is great.Try this application and tell the creators how you feel.
I
by Legolover66600
This game is awesome totally play it
Love this game
by 💩💩💩💩💩💩poop😍😩😆💕
This game is so fun you should get it
Good
by Fi rocks
Great app
Beware
by person98
Game seemed fun, but didn't play long enough, as I received an unauthorized charge to my account and deleted the game asap. Be careful as pop ups occur when playing and not clear that there is a charge and no confirming notice that you are about to be charged "do you want to proceed with purchase" etc.. Deceiving and not worth it.
Love this game
by dbzj s
Love this game
Fun game.
by Bike Racer 123454321
Lots of fun.
Cool
by Qwertyjsmdnjskxbwklxnns
Best game
My review
by gymnastlover154
This game is so much fun and I am so addicted
Amazing
by tortoisely5
This is like the best game I've ever played. It's so addicting and fun. I just got it and I have no idea how many times I've played it. Definitely recommend it, 5⭐️'s for sure.
Good
by ViperXXDragon49
It's so good!!! Man I wish there where more games like this!!!
Football l8
by EJACKI
I love this game its really fun"I would recommend that you play it. Plus you I have fun teaching your friends this game" Hope other people hear about this!
Grrggrrrrggtggrgrrgtgrvggtrrgfvfrgvrfvgggrvgbffggrbgrgb
by hhtgrhuztrzgtzuhzzbtrujzn
Recrefvfcfgvrrfgrvfrgvrrgvfrgvfgfechhuvfcfezguerfcuuvrfceiuhvfrecvugircfeiuvhrguivcfreiugvcrefiugvercigugcreiugefrcgiguervfiuggrecfiuugvfreiguefcrhguiefcrgiuurecfiguufrecgugirecfgugifrceviugrefcviugrfecviugerfciuvzrefciugfrecviugrceuzierfcvugicrefvigufecrviugrecviugrefcivugfrecivugrceivuzercivguerfcguicerfivugfecfiugfecvurefvvuigvreiuvgevrfvgifrecvugierfvvugiffcevuigfefcvugirfecuvigfceuvgievcuvercfvguifercgivuercfviugerfcivugrfceviugefcviugcrefviugrcefivugcfevigufefcvhicedvhiuffcevihuffecivugfefcvihufcrevihufercivhuerfcvigujihvccdeuvihdcecvuhiecviuhecdcvuihefdcvuhicfdeuibhfz fg b
Hfkfjdjdjdj
by Ayenamores
Sudbdncjdhdk
Great app but freezes all the time
by ljkirk
Fun game but after a few games the app freezes. I have to close the app and restart it. Then the same thing happens.
Great game!
by Puppy#90000000
I love the game! But runs a little slow.