Racing Penguin: Slide and Fly!
by
Top Free Games
(23 user ratings)
FREE
Download size: 82.63MB
Version: 5.8.14
Released: 2011-06-16
For ages: 4+
Racing Penguin (or Flying Penguin) is a physics based slide and fly game!

Slide down the mountains of Antarctica and flap your wings to fly.

Go as fast as you can to escape from the polar bear.

5 addicting worlds, 40 racing levels.

Clear levels to earn stars - the faster you go, the more stars you get.

Use your stars to unlock new worlds!

Multiplayer! You can challenge your friends!

Get it while it is FREE!

● What our players are saying

- If it where a $10 game I would buy it. I can play it everyday for the rest of my life

- This is the funnest mobile game in the history of mobile games

- This game was so much fun I lost my job and my wife left me. I sure hope they will reimburse me for my life.

- Fantabulous. Hide this one from the kids, you're gonna want to spend some quality
time playing this one yourself

- This game changed my life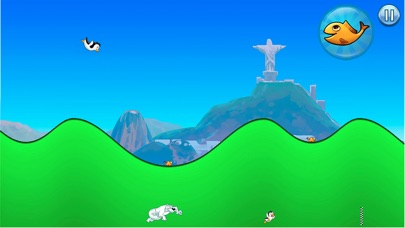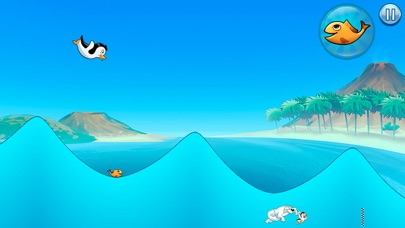 Powered by Facebook Comments
Customer Reviews
Loved it -now HATE it!!
by Frigtoes
It was perfect fun, no brainer addictive game. Great time waster game to turn on and off as desired. Then, they smothered it with virus like ads that put porn ad viruses to shame. This app totally abuses the ads and makes the game near unplayable! Every click, there see multiple ads that follow and stack one after another. I would buy a non-ad option to the game, but as of now, it is removed from my phone.
Grate BBBBUUUUUTTTTT
by Alleigh cat 1234
Great but the bear could just a tad bit slower and I think everyone could be more happy
REMOVE ADDS
by ddffgg gcgc
THESE STUPID ADDS MAKE ME SUICIDAL I HATE THEM I HATE THIS GAME BECAUSE OF THEM REMOVE THEM THEY ARE ANNOYING
Wacky
by wacky y
It was too hard always made you die I would like that
Great game
by Ssarah1805
I like this game because it's very entertaining especially on my free time
Good game
by lilcervantez
This is a good game to play
Gman g
by TheVineMan32
This is the best game ever
Penguin run
by Aidan (firelors on youtube)
This game is so addicting
successfully took fun out of app
by savannah404
app used to be super fun. then they put a million bs things pop ups in here that all lead you to buying stuff. half the time is spent getting out the ads and just back to playing the game. not to mention you can't let your kids plat now cause they'll end spending tons of money thinking it's part of the game. way to take all the fun out guys!! won't be playing this ever again....
Hate
by Awsome DEVIN
This is the worst game ever you should give more time away from the bear 🐻
Peguin
by Nena12345667890wg
trash game tbh
It's ok
by Graciegirl🤣🤣🤣
Could be better 😒
SUCC
by Celtic~Kell
SSSSSSUUUUUUUUCCCCCCCCCCCCCCCCCCCC
lit
by Kin..Kin.!
it's so lit🔥
-2/10
by If.Maggie.Dies.We.Riot
It was ok at first. I remember having this game on my iPod before and it was awesome. But now it's just extremely annoying. All the ads just popping up constantly, and sometimes it'll just play and you'll have to sit there and watch it for no reason. And even if you get out of the app, it'll glitch and do the same thing. I really thought it was gonna be as fun as before but it's gotten really bad.
.?
by kk3see
Soooooooõooooooooo cool
This game stole $20 out of my bank account
by Tra-c sha-vez
This is a scam. It had me playing the game and then out of nowhere an ad came up and said thanks for your purchase of $20. Sure enough when I went to check my account, $20 was taken by RacePenguin. I'm telling you right now that if you want your money. DONT GET THIS APP!!!!!!!!!!! I'm furious
Way too many ads
by Free couns bs
Its good untill ure on wifi and have to sit through ads every 10 seconds. Deleted it
Please add iPhone X Support
by Apollo98
This is a no brained developers, get on with it.
Seriously.
by 💚c💚
You made this game too frustrating and difficult! I have gotten to the very end of the level and passed the mark and then the bear eats me! The penguins are ridiculously expensive and fun mode should be free. I don't like how the bear can get faster then you are and there is no way to pass the level....I hope you make changes!
Amazing.
by unicorn 2020
Amazing game love it so glad you made it thank you so much great game bye
Fun
by Badtuzi
Love this game!
Ugh
by Hannahanne01
Way too many ads that pop up after every 5 seconds.
😊
by Taha Big Boss
funny , nice
Amazing
by Illtelya
I love this game so much
Dudu
by cjdkxkxkdjdjxjxjxhx
Hi I have a lot of fun with my dog and I have a lot of fun with my dog and I have a lot of fun with my dog and I have a lot of fun with my dog www and I have a w I have a lot of fun with my dog and I have a lot of fun with my dog and dog so much I love my family so I
Fun!! but...
by jackkkkFP
I really like this game!!! It is really fun and super addicting, but the thing is that there are SO MANY ADS!!! I can't even play 3 rounds without getting a 30 second ad. Also, the upgrade penguins are super expensive. But besides that, I love this game!
Awesome game
by Drumrjeff
Merry Christmas
Love the game
by Magma destroyer
So much fun
The best game
by SharpZingo
The game is so fun you get such a good feeling when you beat a level please make more games like this one
Winner of most ads on a free version
by Scwuerz
👎🏼👎🏽👎🏿
Help
by GaacticSailor__
So I was trying to exit the game and something came up and I have my Touch ID app purchasing on and I tried to exit the stupid game and I purchased something for $11.99 which idek wut it was so 😒👎🏼
Super Game
by katie and kelsey
This is a really great game. You sure outdid yourself this time.
Awsome game
by Splatoon made
This game is fun and cool!!!😎Try it for yourself
DONT BY THIS GAME.
by Lil'Benson
It was a fun game at first. It gave me some apparently "free" money to spend in the shop, and when I bought it, it charged my credit card!
Pretty fun but...
by Katelynn Marsh
I really enjoyed this game at first, but the polar bear just gets faster no matter how fast you are going. If your going slow the bear is slow, but if your going fast so is the bear. I also HATE how offers pop up, making things look free but they actually aren't. 😐
Fun And All But...
by RileyR.
Fun game but they are such money hungry! After life every 3 levels they bribe you to buy something. And when you use all of your fish booster things it automatically brings you to the purchase it does not even ask you first!
🐷
by kodak4prez
❤️❤️❤️❤️🐟🐟🐟🐟
Good game ⭐️⭐️🌟🌟✨✨
by lardaddy
I love it amazing game
Great game, horrible adds!
by Kadylodge
My issue is not with the game itself. The game is a lot of fun and super easy to play. The issue I have with this app is the type of adds that are played after each "level". This game is designed for ages 4+ and it has very adult themed adds. It's very inappropriate seeing how young children are playing this game. I certainly wouldn't want my child to be exposed to such adult themed adds. I understand it's a way to make money, but there's no reason the adds can't be more kid friendly. Boo to the developers! 👎🏻👎🏻👎🏻
It's just eh
by Hsbgdksndhxnnd
It's a very fun app,but the penguins are way too expensive I've experienced many glitches, and I was playing the game one day and I tried to collect my 1-day gift and I clicked it and all it did was make me go back to the home screen and it kept happening. So it's a fun app but I do not recommend it because of all of the cons.
Bad popups which tricks you to click to purchase. Please return my money
by 6097911
Same as above
AAAGGGHHH
by Fmsicjwjcjwjcj
This game is kind of unfair. If your looking for a game where you rage quit and have to redo the entire level, get this game..🤬
Astounding!
by brownenene
This game is PHENOMENAL!⛄️ Gets my heart❤️🏁 rAcINg🐧when I play😊 Such a good use of my time! This game changed my perception on global warming and racism in America and ALSO creates a happy holiday mood🤗 Overall: 6/5 stars! Fun 4 the whole #fam
Decent fun
by Fungun111111111
Just started playing.
Ads!!
by Alexddoza
I enjoy the game for the most part, I'm working to getting 3 stars for all of levels but cmon, every 4 or 5 or so try I get a 30 seconds video ad and it gets annoying because i would play for about 2 mins, get a video ad, then play 2 mins again and get another ad... I'm hooked on this game but atleast give us a free fish per ad... I probably go to 10-30 video ads a day. Also in some levels when you restart, you end up in a different position than before when starting and of course there's many other glitches which is disappointing to see in a game that's been around for years too
Been playing this game ever since I was little I am glad I got it again on my new phone!
by Reese the peice
I LOVE this game!!!! I got my first iPod when I was 6 or 7 and this was one of my VERY first games I downloaded. I am SOOOOOO glad I found it again and got it on my new iPhone 7 I am 10 right now so it was like 4 or 3 years ago!!💖💖💖 Peace out ✌🏻🦄🦄
This game
by ColdNullcolteno
This game is so fun I love it so much I have to get back to beating the bear
Love😍😍😍😍
by love peuguins🐧
Get it #matt
Amazing
by Alainapa
I loooooovvvvve it sssoooooo much.