PAC-MAN
by
Namco Networks America Inc. Games
(701 user ratings)
FREE
Download size: 114.69MB
Version: 6.4.7
Released: 2008-10-18
For ages: 4+
One of the most popular video games in arcade history!
2015 World Video Game Hall of Fame Inductee

Who can forget the countless hours and quarters spent outrunning pesky ghosts and chompin' on dots? Now you can have the same arcade excitement on your mobile devices!
Guide PAC-MAN through the mazes with easy swipe controls, a MFi controller, or kick it old school with the onscreen joystick!
Eat all of the dots to advance to the next stage. Go for high scores and higher levels! Gain an extra life at 10.000 points! Gobble Power Pellets to weaken ghosts temporarily and eat them up before they change back. Avoid Blinky, the leader of the ghosts, and his fellow ghosts Pinky, Inky, and Clyde, or you will lose a life. It's game over when you lose all your lives.

NEW MAZES!!!
In addition to the pixel for pixel recreation of the classic original maze, the game is packed with new different mazes. Challenge your skill to beat them all! We are constantly updating the game with new maze packs that you can buy to complete your PAC-MAN collection.

HINTS and TIPS!!!
Insider pro-tips and hints are being made available for the first time in-game! Use these to help you become a PAC-MAN champion!

FEATURES:
• New tournaments
• New Visual Hints and Pro-tips
• New mazes for all new challenges
• Play an arcade perfect port of classic PAC-MAN
• Two different control modes
• Three game difficulties (including the original 1980 arcade game)
• Retina display support
• MFi controller support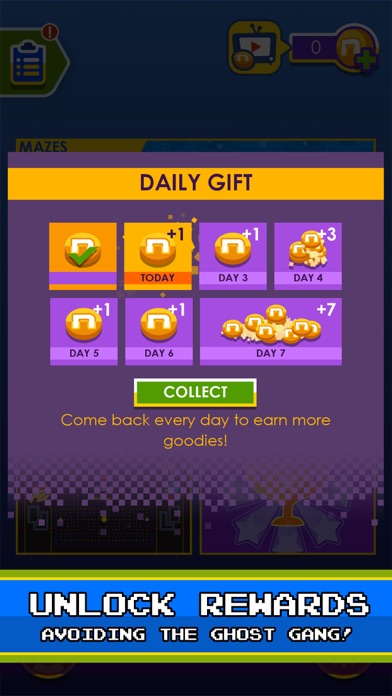 Powered by Facebook Comments
Customer Reviews
Old School
by Anisa Blue
I love PAC Man. Do your self a favor and just purchase it!!
Tokens bad
by Alexboy122
It was a good game but the tokens are something I don't like about this
Very good game and great time killer
by David GWF
This game honors the originals adequately. I spent countless hours on the originals and couldn't be more happy with a new game to fill my time. This is a great time killer and I would recommend this to anyone. Fan of the franchise or not.
Too many Ads.
by Baseball Scout-CA
Too many ads. Makes it difficult to get to the actual game.
Fun
by Dancer 3
Fun but I would like to play free of ads.
PAC-Man
by tbrockin
I've been looking for something to keep me occupied on that long train ride home. This ole skool game is it!!!
All time classic!
by wvangie
Love me some pac man
PAC-MAN is my #1
by #1 PAC-MAN fan
Great game. Great characters (PAC MAN n' ghosts). ) This captures the experience of the original game with new mazes, and the tournament mode. AWESOME!
Rating
by 193501881871
Nice
Fix the tournament glitch
by Happy bw
This game is fairly great, however it's frustrating that when I play a tournament, my progress isn't saved. I played and completed a tournament earlier today and earned 15 coins, only to come back to the tournament later and it's as if I ever played.
Ad-ridden microtransaction hell
by Chase McCaskill
I just wanted to play Pac-Man and the game keeps trying to sucker me into paying real money by throwing ads and rewards in my face. No thanks. Avoid this cancerous game.
Love it
by BAXTERCATLOVER
I love this game I play it every day. Also it has a good amount of adds in it.
This is fun!
by DestinyDrawLPS
I get bored real easily and this saves me from boredom.
Yes!!
by princessjasminet_
This game is so fun. The only bad thing is that it's super addicting.
Great game, but glitchy
by StormWolf1971
I love how they have taken an old game and breathed new life into it. The new mazes and the tournaments really bring a much needed update to this game. But it does glitch a lot... when being offered to continue for watching an ad, it will freeze and sometimes the screen will get stuck while flashing. Game play is unaffected, however, so a force reboot will solve the problem. If they can fix the glitch I will update my rating to higher stars.
PAC man
by Bambam0756
Seriously disappointed. The entire reason I downloaded this was to play the original game. The designers for this app have once again lured me in and are asking for money to play the original version or you can try the first level.
So much better
by the goood game
I like it because I thought you have to use a coin
Classic is 4$ extra!?
by Alias10
Literally the only reason I got this was to play just normal PAC-MAN, not this microtransaction plagued token needed pile of bull. You could have just put ads on normal PAC-MAN, and that would have been perfect.
One of the most money hungry games
by Gnome2232
Wanna play classic pac man? That'll be $5. Literally everything in this game, they found a way to monetize it. What a lame excuse for an app. Maybe, Namco, you could try making a new game instead of using something like Pac-Man to earn a few pennies. One creative thought too hard?
PAC man
by klokay
I love this game my scoore is 19199
Me encanta PAC MAN
by smilie4christ
It's so authentic. Super cool and graphical.
Glitchy
by George34j9
When I'm doing well in tournament mode. The app glitches and kicks me out in the middle of the round. Or I will randomly have a commercial pop up in the middle of a game. You can't coins without spending coins which makes no sense.
PAC man is amazing
by Awsome unicorn person
There are no in app purchases nessicary unlike MARIO RUN!!!!
Colors pack
by danishop
Can you get me the colors pack which has 20 stages on each maze with the same maze on each stage before 2018 please? PAC - man on my app has a bug after finishing the game. Could you please fix the bug on that app, please.
Love love love it!
by carterstambook
This is a perfect revival of the old retro game! Complete boredom buster!
Kristara
by #1JazzFan
Love, Love, this game !
Too life's and you're out
by insanetnt
Only too life's and you're out 😭😭😭😓😓😓😪😪😪😢😢😢😥😥😥😰😰😰
Money
by zorroscion11
I don't know if this app costed money, it is my first time playing an app could some one help me.
Great game, but no
by Priscila ☺️
Really good game, but i hate that you have to be connected to the internet 😑
Best Of Both Worlds
by Biged142
I love you get to play old school PAC Man with cool new worlds. Even though you have to use tokens to open the next worlds. You get to do daily activities to gain those tokens.
Controls are garbage.
by RyanSchear
Goes the opposite way, not tight at all. I know, please email us and we'll open a ticket, blah, blah, blah.
Requires internet connection
by Anonymous User 23579
Won't work in airplane mode. Says it needs internet connection to update maps. Really? Maps should be included with the original app download. Any game that cannot be played completely offline is a no-go for me. Deleted.
ads!
by swiftouch
ads...delete.
Not loading
by Ashley_denise
The app keeps closing on me every time I click on it and it keeps getting annoying I really want to play this game but it won't let me
Terrible
by Mricks
This game crashes the minute I tap the screen
Not playable
by Gvhdsulgfkncfjssyhff
Game keeps crashing every time I open it. I have an IPhone 6s Plus and everything is up to date, but it still crashes.
The app keeps on crashing.....
by Zac0929
I love this game I played the arcade version many times but when it comes to opening up the loading page it suddenly crashes, I tried re-downloading but it keeps on crashing....plz fix
Won't Even Open
by LadyFair07
Can't review as the app won't open. The opening screen comes up (the credits for the game makers) then it closes. iPhone 8 Plus updated to current iOS
Too many in app purchases
by MikeNNikeGamer
It's a huge money grab, every single minute I am in this app I get a pop up to spend money. This is what apps have come to.
Awesome
by dhdygfv
Love it
Mimmy
by Mimmy59
This game brings back memories!! Had to play to reminisce. Enjoying the game:)
Fun game
by Footbrawler80
I like this game. Only real downfall is the slow tokens and excessive ads but I realize that's how the make their money. Worth the download.
By Mido
by Midosho
This game is AWESOME but the ghost keeps killing me but I still can kill the ghost by eating the GIANT ball I can collect a strawberry,and,cherry,and in the cute maze when I eat all the balls in the end of the cute maze there is mouse you can eat the name of mouse is CHUKEE CHEESE only if you go there you will now the mouse?!?!?!?!?!?!?!!!!?!?!?!?!?!?
The game is awesome
by lovergirl_lol
I've had the game for a couple weeks now and it is a great game really enjoyable too!
Just a bit hard
by Hewey55744
Very well done and addicting but just a bit hard. I love competition with the AI/Ghosts but kinda cramped when they trap you it's kinda annoying.would love if they weren't so smart it would make a huge difference in category's like easy,mild and hard.
Pong was the first game icon
by god doesnt exist
Pong was the first game icon
What the heck happened?!??
by Gosh Jomie
I used to have an LG phone... I didn't have to pay to play the classic version! Does this just consist in the Apple version? I came here to play the classic endless arcade, but for five dollars, I would rather see it come to a screeching halt!
Great game, only one flaw
by Glanderson Booper
I've been enjoying this version of Pac-Man a lot, but I do have one issue, which is the tokens. I would rank this a five star game if tokens weren't used to unlock levels. I think it should just be the traditional you beat a level you unlock the next level, but you have to earn tokens to unlock the next level which takes some of the fun out of the game. I paid the dollar to get rid of the ads, but I'm constantly feeling pressured to spend more money to get tokens so I can play more levels of the game.
Game looks like crap
by The Tazman
Don't waste your time or money