Need for Speed™ Most Wanted
by
Electronic Arts
(125 user ratings)
$4.99
Download size: 1941.41MB
Version: 1.0.71
Released: 2012-10-30
For ages: 4+
APP STORE BEST OF 2012! Thanks to all our fans for making Most Wanted one of the year's biggest hits.

"The street racer that iOS devices have been waiting for" (PocketGamer, 9/10 Gold Award)

"It pushes the mobile platform to its utmost limits and doesn't even break a sweat" (Capsule Computers)

Buckle up, hit the gas and hold on tight; you're in for the ride of your life. Outrun cops, outsmart rivals – and outdrive your friends – in the most dangerous Need for Speed yet. Do you dare to be the Most Wanted?

Note: Due to its revved-up graphics and gameplay, you'll need 1.8GB of free space on your device in order to install this game.

MAKE TROUBLE, GET WANTED
Evade a relentless police force while you clash with street racers. Race and chase hot cars like the SRT Viper GTS, Porsche 911 Carrera S, Hummer H1 Alpha, and many more. Feel the intensity of no-brakes-allowed street racing with realistic full-car damage for the first time on mobile.

LEAVE YOUR MARK
Log into Origin to check the Wanted List and find out who is the Most Wanted across platforms and among your friends. Then, challenge your friends and prove your racing skills in nonstop competition.

GO FROM ZERO TO MOST WANTED…
• Choose and customize over 40 unique cars
• Race the way you want! By popular demand you can now touch or tilt to steer
• Use Mods to enhance your car and get ahead of the pack in style
• Experience the action with mind-blowing graphics and intense full-car damage
• Earn Speed Points to unlock new cars

Your rivals will do everything they can to stop you from getting to the top – but in this world, there can only be one Most Wanted.


Requires acceptance of EA's Privacy & Cookie Policy and User Agreement.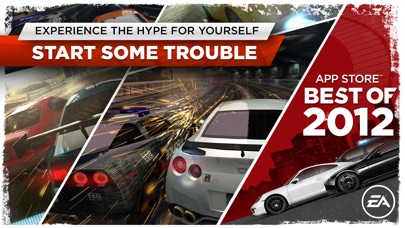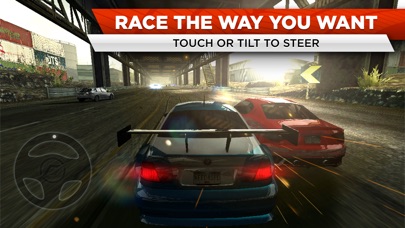 Powered by Facebook Comments
Customer Reviews
Broken?
by samuelrg
This used to be one of my favorite racing games, but now every time I try and play it it freezes and then crashes. EVERY TIME!!
No Way to Restore Purchases
by BroadClarity
Bought a new device and reinstalled the game only to realize there's no way to restore purchases. Yikes! Won't be purchasing any more EA games until that happens! Too bad; this was an awesome game.
Needs update on iPhone X
by Maybach777
Best game ever
Micro transaction trash
by Hermiz Conrad
Ea is the worst of the worst when It comes to micro transaction junk.
:(
by Plop ops
First of all, this is NOTHING like the Xbox version and I spent 5 whole bucks with this piece of junk. Why is this such a ripoff?!
compatibility with all wireless controller
by Tu Kukito
this game needs compatibility with nimbus steelseries wireless controller, with asphalt 8 you can use that controller to play and on this crappy game you have to be turning your iPad or iPhone left and right
One of the best iOS racing games I've ever played when functional
by MISTER MEECHE
Repeatedly freezes even after uninstall and reinstall. Plenty of power on iPhone 8+.
i love it!
by karakira
this game continues to be one of the best in the mobile platform and certainly the best in mobile racing games. you pay once and play for years without it ever getting boring. i have at least one awful thing to say about most every video game that exists: not this one though. it's an absolute delight. seven stars out of five. seven and a half.
Really?!?!
by Tugudfuru
It's not letting purchase any NFS Edition vehicles and it won't show any for sale are you serious I paid money for this game fix this problem 😡
Save your money
by milehighdrew
Not worth it for $5
App crashes iPhone 8 plus
by Macztyrd
App does not work. It crashes constantly after entering a race.
Best
by I have two peas
This fun I like it because the police make it fun
Latest version keeps crashing
by vmedina05
This game is awesome. However on my new iPhone 8 Plus, the game launches all the way to actually starting the race and then crashes. Please fix.
Bad app
by wistuk
Bought game for 5 dollars. The game continuously closes out and has no vehicular modifications. This is a terrible app and I would not recommend this to anyone.
Great game, terrible app.
by bshawi
The app crashes mid way through every race. Save your money.
iphone5s
by natshehdxb
للاسف مش راضية تشتغل علي تلفًوني ٥ اس not working iphone5s
I want my money back!!!!
by TalG212
The game crash every time I'm playing. I have the iPhone 8, it shouldn't be like that. I'm extremely disappointed!! Do not buy the game!!!!
NFS mst
by Cravenjewl3100
Graphic look downgraded
WHAT HAPPENED TO THE FREE ROAM?
by Spider_man37592
This was one of my favorite games. Until...Somebody from EA decided to take away the free roam. I didn't really like to race in the game. The only thing I liked to do was the free roam. Why did they have to take away the free roam? Now we can only do races and time trials. Someone needs to fix this.
Great game
by gains doc
This game has great graphics , gameplay is fun and challenging in an able to win but have to work for it kind of way. Only issues is after about five races the game has crashed and no longer loads the races.
Won't stop crashing.
by Amywithtwins
I can't progress in the game because every single challenge I have to do crashes the app. It's REALLLLYYYY annoying.
Jumpnig car an laggy
by Carodsau
Ive got an 6s plus and the game its not running at 60fps as it was used to.Jumping car problem is present too,lag when nitro is on and crash with other cars. Iphone 6s plus ios 10.3.3.Please fix this great game.
Not what some people think
by Bob 1283
We have people crying about it not working for my phone it's not downloading well it worked fine for me the only reason why I'm rating 2 stars is because it's not what need for speed most wanted is yes EA did make the original but they were like oh well lets make a crappy version on mobile thinking no one would find out well someone did listen there's no free roam in the original I loved to just drive around and make the cops chase me. And u would find the cars spread out cross the map and then u would be able to drive them but apparently no one that buys this game played the original
NFS Edition Cars?
by 極致者
The game experience is overall smooth and all. But NFS edition cars have never been available for purchase since I started playing. This is a bug.
NFS Edition?!
by greghmn
What happened to all of the NFS Edition cars? Collection of those is necessary to complete the game!!
Freezes
by David_Owens
Like other reviewers have stated this app freezes during takedowns. Also for some reason the the special edition cars won't unlock. There is supposed to be a new one every week to buy but I haven't had the first one unlock for purchase. I can't complete the game without these cars unlocking. Very frustrating!
Unexplained stuttering
by ashrafnfs
This is coming from an iPhone 7 Plus. Please fix
🙂🙂 soo gooood
by Silly bands rock go by them
Thx so much beast game ever!!!!!!!!!!!!!! But maybe if I could lower 2 gb that's a lot if not under stand
LAGG
by Jayc3eee
I use iphone 7 plus and when i use a fast car with nitro it start lagging lol fix the fps
Don't like it
by anything for views
It doesn't want to download anymore fix it please
What happened?
by Nat E.
I was so hoping that the update was going to give it FULL CONTROLLER SUPPORT. Oh well. Maybe the next Update will give it FULL CONTROLLER SUPPORT.
The only thing I can find
by ADKEDAAU
I love the game so much that it's a fun game and I'm just gonna start getting more ea games
Please fix it
by arman2oo6
This game is not compatible with apple's new file system (APFS). Because it faces some terrible problems after ios 10.3 update. Please fix it.
Gamestar
by Yori21245xd
This game is my favorite game!!!!!!! I love you EA games thanks for making all this game!!!!!!
What happened?
by ThePugtatoChip
Not even like the console version.
Still the Best Racer Out There, and UPDATED!
by jkeitz
I have to start with a thank you to EA. This game is five years old, and when it started with the jittery screen (and was still 32 bit) I started getting used to the idea that this great game was a goner. Imagine my surprise when EA updated it to work again and with 64 bit support for iOS 11? No other racer gives you the visceral feel of speed like this one (F1 2016 comes close). Knowing that it is still developer supported means you should buy this now!
Please add more cars
by banisher of horrible games
My favourite game I have reset 24 times but still fun game all it needs is more cars
😡😡 CLOSE but no CIGAR 😡😡
by Matt Seal
Current update seems to solve most issues (jumpy car and freezing upon race completion) but app still freezes during police takedowns and other crashes. Fix that and restore this game to its original glory. Doesn't look good for a brand as large as EA. PREVIOUS REVIEW: This used to be one of my favorite games to play when killing time. This last update is terrible. When I finish races is freezes (iPhone 6S Plus with latest iOS software) and racing in car view the vehicle bobs up and down like it has broken suspension. How has this most recent update (January 2017) made is so long without EA patching these bugs? I expect more from EA, we all do.
NFS EDITION CARS ARE NO MORE AVAILABLE
by tonnadim1
please,what has happened to the NFS edition cars...cause on my ios device, it has not been ava
NFS CARS
by Arce_antrax
NFS special edition cars aren't working for ipad
NFS car problem
by Twisted m f
I bought the app a good while back. It was the bundle with hot pursuit. I loved the most wanted and had every car except the last because I hadn't completed all the driver accomplishments. But i had gotten an software update for my phone and the app. Quit working so after a few months of not being able to open the app I deleted it. I recently re-downloaded the app and by luck it worked and i started to play from the beginning again. But for some strange reason the NFS cars are not available and they are not being sold like they were before. So I'm stuck not being able to do a good bit of the accomplishments with out them. If anyone know how to fix this or who to email please let me know
NFS edition cars
by Andrew Teyf
I have had Need for speed most wanted on my phone for quite a bit, but it just recently started bothering me that I couldn't get nfs edition cars. In the top right corner there used to be something u would sign into but know it just shows my driver details. Ever since then it hasn't allowed me to get nfs cars. When I press the nfs edition car icon it just shows me my cars. Please help me fix this problem.
Finally
by P ode1
You guys after a year plus fixed the loading screen problem, don't know why it took you so long now alls you have to do is stop telling me how to drift, I expect it'll be about 5 years before that happens for ever
They finally fixed the game so I can play with it. 😁😁😁😁😁😁😁😁
by shawn😃
Last update made the cars bounce all over the road thank you for fixing the game .😉😉😉😉😉😉😉😉😉😉😉😉
Best racing game on App Store but...
by Xarthur69
By far one of my favorite games in the app store if not the favorite, if not the best racing one ever... I had it on all of my past devices. I got an iphone 7 plus a month ago, and I downloaded this game today. It felt like nostalgia. However, it is not running that well now. Game is freezing a lot, and the screen keeps going up and down all the time. Please make an update soon, I don't want to stop playing this game. Update I saw that there was an update lately on this game, however, nothing changed at all. Camera keeps glitching as well as the car when turning or making curves. It messes the game a lot, making it a lot less funny to play. Try to fix this please, it is such a great game.
This game is AWSOME
by Why robucks does not work
I heard there was an update so I'm super hyped
No nfs edition cars anymore
by NoiSePlay
That's stupid Very stupid
Storyline
by MD0872
I liked the pc version better where you could drive around the city and lose the cops.
🚨PLEAS READ🚨
by PLEAS PLEAS PLEAS READ
I love this game I beat it on my first I pad I got but on this iPad when I'm driving it glitches and jerks the screen around like I'm keep bumping in to something but I'm not 🚨PLEAS FIX AND LOOK IN TO PLAES🚨 PS love the game... on my other iPad (updated) thank you so much for fixing this bug now I'm going to get mswntd
Best racing game for the iPad
by Alexander8819
Real Racing 2 was amazing then EA or whoever decided to completely screw up what was once the most promising racing franchise for the iPad. In comes NFS and not only does this look great visually but it has all the adrenaline action that the previous installments of this series gave us. Glad to see the bugs were taken care of for this update.