Need for Speed™ Most Wanted
by
Electronic Arts
(349 user ratings)
$4.99
Download size: 1941.41MB
Version: 1.0.71
Released: 2012-10-30
For ages: 4+
APP STORE BEST OF 2012! Thanks to all our fans for making Most Wanted one of the year's biggest hits.

"The street racer that iOS devices have been waiting for" (PocketGamer, 9/10 Gold Award)

"It pushes the mobile platform to its utmost limits and doesn't even break a sweat" (Capsule Computers)

Buckle up, hit the gas and hold on tight; you're in for the ride of your life. Outrun cops, outsmart rivals – and outdrive your friends – in the most dangerous Need for Speed yet. Do you dare to be the Most Wanted?

Note: Due to its revved-up graphics and gameplay, you'll need 1.8GB of free space on your device in order to install this game.

MAKE TROUBLE, GET WANTED
Evade a relentless police force while you clash with street racers. Race and chase hot cars like the SRT Viper GTS, Porsche 911 Carrera S, Hummer H1 Alpha, and many more. Feel the intensity of no-brakes-allowed street racing with realistic full-car damage for the first time on mobile.

LEAVE YOUR MARK
Log into Origin to check the Wanted List and find out who is the Most Wanted across platforms and among your friends. Then, challenge your friends and prove your racing skills in nonstop competition.

GO FROM ZERO TO MOST WANTED…
• Choose and customize over 40 unique cars
• Race the way you want! By popular demand you can now touch or tilt to steer
• Use Mods to enhance your car and get ahead of the pack in style
• Experience the action with mind-blowing graphics and intense full-car damage
• Earn Speed Points to unlock new cars

Your rivals will do everything they can to stop you from getting to the top – but in this world, there can only be one Most Wanted.


Requires acceptance of EA's Privacy & Cookie Policy and User Agreement.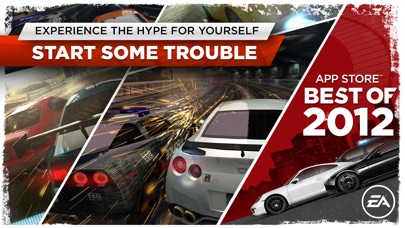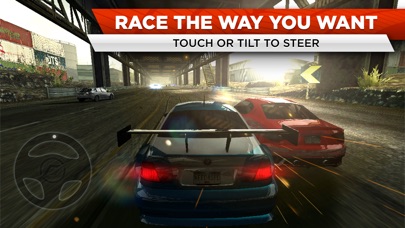 Powered by Facebook Comments
Customer Reviews
Update
by ghost_slo
How come this game has never been update for the 2018 version, at least with more cars and other features. My experience still feel like when first purchased in 2015, not nice, I think it should be the best racing game ever!
It's an amazing game, still.
by Iso9001
Wow. This game came out almost a decade ago, and it's still impressive. Crashing of the game has gone up when I updated my iOS device recently. But my main problem is that the NFS editions have seem to gone extinct. I haven't seen one in a while. Now for those who are looking if this thing is better than No Limits, my opinion is YES. No Limits is not a freemium game, nor a good game. There's ads. The developers are money hungry. Because once you get through halfway of Need For Speed, No Limits, the game requires you to level the up your car. So you level it up at car series. Then the car series requires you to level up, but you haven't, since it takes forever to level up in the high ranks, therefore leaving you to have no choice but to make a micro transaction. Most Wanted 2012 has it's errors, for example the Razor BMW looks nothing like the 2002 Most Wanted. (Sorry if the date is wrong.) The blue shade is completely off and the white is horrendous. There's no storyline, it's basically racing around and defeating past champions. Also, speedpoints. They are annoying. I cannot even get an Agera or a Bugatti. And my other complaint is that why is there no customization? At least you can personalize your car in some way. But something that angers me is that the Most Wanted list's vehicles are not like the actual Most Wanted list for Xbox 360. Where's the Koenigsegg and Bugatti? Pagani Huayra? But nonetheless this game is great.
Crashes wayyy too often
by Chris20ts
Great Graphics still, but you're barely able to finish a race because the game constantly crashes. Playing on IOS 11, so apparently those two do not go together very well...
😩
by Souvjud
I love this app but it keeps crashing. This will be the second time I've deleted it off my device because it just won't work. 😩
Crashing
by TonyW86
Just purchased the game and attempted to play it but it doesn't even make it 10 seconds into the intro before it crashes. I've closed and reopened it several time and it doesn't make a difference.
Bugs and Glitches and crashing
by Tj_jacob
I love the game but 80 percent of the time it crashes. Please update and fix this! This game is way too good for it not too be running right.
Don't buy this!
by 112345666744
This game crashes. I have iPhone 8 with new update. I wish I could have a refund because this app is not worth $5. It's a scam the app freezes I tried powering off my phone and deleting the app and nothing works. This is the worst game for the price.
Trava
by irpf
O jogo trava fazendo com que eu precise reinicia-lo novamente
No nsf editions
by ᴵᴬᴺ
Nsf edition cars are gone making it impossible to unlock the last car being the bugatti :(
It's great
by Diex3r.men
But how do I sync my nfs account?
No work for iPhone x
by geban187
after the race starts in a few seconds the screen turns black and disconnects, very bad, they need to update it for iPhone X or iOS 11.2
Add Free Roam Please!!!
by _Mr_Pancake_
Love the game but just racing is boring and the other need for speed hot pursuit does not look like it has good graphics what I would like that would be added to the game would be free roam so you could have hot pursuit or drive to the race places or buy cars this was not what I expected when I bought the game. I also thought the game would be free roam but you drive to the race places and stay on the platform and race someone. Honestly if they add free roam to the game, the game would be really popular and it would be fun.
Game bị lỗi trên iPhone 8 plus
by Tuanbien969
Game liên tục bị đen màn hình và văng ra ngoài trên iPhone 8plus ios 11.2.6 và 11.3 beta
Still fun
by Awful385739
Need for speed is my favorite racing game but the mobile crashes alot. I am not trying to be the negative guy but i really want this game to stop crashing because I paid 4.99 for this but once the game stops crashing... This will be my favorite game ever. Thank you for your time
App crashes during race.
by Octavio Duran
Only able to race for 10 seconds and then app crashes.
Se congela la app
by reimoncast
Me pueden ayudar lo descargué y al estarlo jugando se me congela la pantalla y me cierra el juego lo descargué en un iPhone 8
The best!
by shutgun_21
Game so amazing and addictive.
Crashes incessantly, NEEDS AN UPDATE
by Jdjdoejeiehgwiqo
This game crashes very frequently — and it shouldn't, considering I'm playing on the iPhone X with iOS 11. It's a great game... AND... it needs an update
Bugs
by JayjayChap
I got this game a long time ago it's a good game loved it but now I got the iPhone 8 Plus n it crashes a lot can't even start
Give me my money back
by i3lur
Cant go pass the 5th race of the game. It keeps crashing. You wont update to iPhone X, fine. At least let me play 50% of the game or give me my darn money back. This should be marked by app store too. 5$ down the drain cant even play the game because the developer pay no attention. Now whos going to reimburse me?
Crashing
by Akshaytheambassador
The game keeps crashing
Keeps crashing and shutting down iPhone 8
by radioamfm
The game is great. Awesome visuals a good on the go racing game. Just like the vita version plus it keeps getting better visuals depending on what iPhone you have. A problem I have is that it keeps crashing on the iPhone 8, and to all the users enjoying a good racing game on the newest hardware it will get annoying. Let me be clear it gets very very very annoying. I can't progress further in the story as it keeps crashing in missions.In the highway battle in Reynolds Lane. But apart from that it's a good game that gets better depending on what device you're running it. But it doesn't work right so your experience might get annoying and frustrating.
Good Game but Keeps Crashing
by DaBossGamer2407
I would give this game a 5 but it keeps on crashing almost every race I enter. It is very frustrating and I feel like if I wasted my $4
Full screen....!
by SylarBoomixx
I love this game so much! This game need optimization(full screen) for iPhone X screen! Please!!
Good game but ...
by ☃Precision☃
It's a great game but please fix the crashing .I paid money for a game to play and I can't finish a race without the game crashing .Please fix !
Great game
by liu gan
Great game, before playing is very exciting, now iPhone 8 Plus play flash phenomenon, the game company to solve it as soon as possible, thank you!
Update needed.
by Haider11999966
Please update this for IOS 11 iPhone 8 Plus. It crashes a lot.
Game Crashes to often!
by Junior155
Why would anyone want to pay $5 for a game that doesn't even work half the time? Its nonsense.
No NFS Edition Cars
by superannoyedndisappointed
WHY? Just update the game, yo! It would be nice to be able to have the special cars 😑
Please fix the crashing
by somedude1333
Crashing has. een happening very frequently, but good game! very realistic.
Things I think you should chains about NFS most wanted
by Enextlevel1
Electronic arts why didn't you make this game as good as you made the system version of NFS most wanted you really need to update this game is great but I suggest you do a few changes to the game to make it more enjoyable because basically everyone enjoys no limits and like you guys you really need to make an FS more fun and better because if you don't you'll lose a lot of money and no one wants to lose a lot of money Plus maybe Alyssa come out with a new game better than NFS out on it and better than crispy hot pursuit for mobile maybe you could be a new game where we can I want open world stuff like I want to drive to Los Angeles or something like that and that is what I think of NFS most wanted.
Junk
by flipsidde
Crashes every time don't waste your money like I did
Can't Play
by Greatness Disguised
Crashes way too often during the race intro videos or police takedown cut scenes. I'm extremely lucky to get through one race before a crash. I'm on iPhone 8 Plus. Should be able to play it with no problem.
Crashes to much
by TuckerDoods
Not worth the money It crashes after 3 races or less It didn't crash on older phones tho
Update
by H.G.Kwon
IPhone 8 is not optimized for Need for Speed, so the game is interrupted and the game is not working properly. When will the update be made?
Great game but keeps crashing
by Ramiro Z.
I play this on my iPhone 10 and the game seems to crash everytime I try to race if problem is fixed I will give 5 star rating
Open World
by Symon The Big Papi
We Wanted That Bros
Crashing
by Aeastland
I used to love playing this game in 2012 but lately when I got my iPhone X it keeps crashing. Please fix!
Game Keeps on Crashing
by Animal_Beast
I would actually like my money back the game keeps on crashing on my iPhone X. It also seems to overheat the phone. Please let me know how I can get refunded.
Crashes every time I try to race
by This is bull ****
Btw I am playing on an iPhone X
All my progress is lost
by Oi-pilot
All game progress is lost after app reinstall
Never gets old
by Fiz_doc
This is like my 115 time playing this game and I still love it.
IT KEEPS CRASHING PLZ FIX IT
by DNC Alaskan
Every time I try to start a race I get like 25% into the race and it crashes please fix if put money into this game I really enjoy it please fix!!!!!!!
Great Game When Not Crashing
by Law2104
This game is a great game, but won't stop crashing long enough to play one race. Please fix.
Not worth the money!!
by hxhdhxydjexhhhd bdhcj
over all it an okay game but.... I expect the graphics to be a lot better. Need for speed no limits has better graphics and way more fun to play!
Always loved the game but
by KGMN21
Gotta love the game. It's sweet I can play this on my phone these days. I've been having problems though with it freezing up mid race on me though. Not sure if it's a software issues or just a phone issue (iPhone 8) still a fun game to play though just wish it would run smoothly.
Very disliked
by Gfddtikvetyhh
Controls setup were very complicated and I wasted 10$ iTunes gift card and poor graphics wasn't completely close to real clear graphics DO NOT BUY A WASTE OF MONEY ! ! 😡 👎🏾👎🏼
Crashing before first race is done
by Brandon Evartt
Need iPhone X support crashes before I can complete the first race. Either update or refund my money
Game are lost
by *CHEMO-19*
Mistake of the game at the time of colliding with the police _The image freezes
Ok
by Greenofpallet
Need for speed most wanted is a decent game. This game has a good amount of cars to play with for an iPhone game. This game should not hav a price however because the other need for speed game, need for speed no limits has many other things to do and it's free. The game play is like no limits and its great but, the cops need improvement. The cops in the game do suicide missions just to stop you and that is annoying to player because they'll match your speed, go next or behind you and ram you into a wall. This makes players angry. The customization of the cars is to limited. Unlike the free no limits you can have body kits, customize rims, more types of colors, and wraps. Sorry i keep comparing to no limits. All in all this game is a great game it just need more things, activities, and better AI.