Mouse Maze - Top Brain Puzzle
by
Top Free Games
(89 user ratings)
FREE
Download size: 45.42MB
Version: 4.3.5
Released: 2011-09-22
For ages: 4+
Get it while it's FREE

Mouse Maze is the new puzzle game by the creators of the #1 top downloaded game Racing Penguin

Help the cute mouse eat all the cheese in the maze before those evil cats get him!

+ Tons of levels with EXCITING MAZES and PUZZLES
+ EASY CONTROLS: touch the screen and the mouse will follow your finger
+ Collect all those CUTE CHARACTERS
+ Drink the magic potion to knock-out the evil cats
+ PLAY WITH FRIENDS and compare your scores in the leaderboard


~*~ Checkout what our users are saying about thiss free puzzle game ~*~

"Mouse Maze is a highly addictive puzzle game. Recommended!"

"I love puzzle games and Mouse Maze is the best of all!"

"Been playing Mouse Maze for months now. Addicting puzzles and cute pets. Get it now!"

"Couldn't believe this game is FREE! Definitely recommend it as a addicting puzzle game for all ages."

Privacy Policy: http://www.topfreegames.com/privacy#third-party-advertising-and-analytics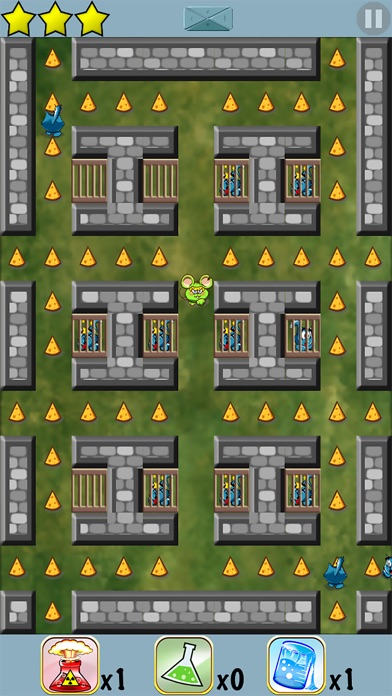 Powered by Facebook Comments
Customer Reviews
Needs work
by Isai G
Fun classic game needs work though tried pressing left right up down it tends to get stuck tiny glitch on my iOS 7 plus also noticed pushing to the extreme ads is unpleasant I will try to return in a weeks or months to see if it's fixed:)
It's a great game
by TheOfficialGamer 64
I played this game when I was younger
Don't buy
by Kidz rule 2005
I hate this game because the mouse goes were ever it wants and it messes me up
Simple and fun
by T.K'z Tunes!
Fun game for the kids
RIPOFF
by Beelzebold84
The is just pacman with bad controls, bad graphics, and 100 ads a minute !!!!!
Horrible not enough time
by Why42
Don't get no control
I like it but.....the adds
by ashsky101
It is cool but the adds
Hard to control
by Wesjr1976
Basically it's pacman and it's got bad controls
Mouse maze
by C0RNFLAK3S
I looooooooove 🐭 mouse maze
Awesome
by Born_to_be_a_savage
The best no problem and brings back memories
Ok
by Thunderbird74926482
The game is decent, but the difficulty escalates too quickly.
Awsome game
by mabelisawsome
A few bugs but... other than that it is a great app super good for young kids
Good game but ...
by 😜🤓😜😗
I don't have time for the ads😐 overall it is a good game 😎😀
Hi
by Yes for
Great job with the game I love it
WAY TOO MANY ADS
by Jajfkfkfdbdnd
The game concept is Great I like it, but after every round/level there's an Ad and a notification asking you to download something else? IT WAS WAY TOO FRUSTRATED
Good
by Seth 18714
Like pacman
Need more control over the mouse
by ST01takingNames
Whenever you update it put a directional pad
Booo
by Tingle
Ads! Buy this! Buy that! Bought this for my 6 year old to play and a "buy this" ad came up every 5 minutes. It's not an engaging enough game to deal with the ads.
pff /:
by Laurataz.
yes it is a good maze game. addicting indeed. but once you get into the game, you are spammed with "do you love the game?"s and "buy this...". i was actually just annoyed. also, the game runs itself. i was struggling to get the mouse to turn. i would swipe, i would click, but the mouse wouldn't go the way i wanted it to. the app would go wherever it pleases. i wasn't impressed.
Why I hate this game
by Lvspuppies
Hi I hate this game because every time I swip up the mouse goes down.
Good but controls are goofy
by Aiii254
Sometimes it goes another direction than I am tapping.
Horrible Game ‼️
by 👑Tu tu ❣️
It's dumb, don't even waist your time to download it 😡😡😡
Directions don't work
by Josscm
Changing directions lags. Deleted it after 5 minutes
I HATE THIS GAME
by QQKittyKat123
I really hate this game!😡😡😡👎👎👎this is the crappiest game ever!!! The controls are very hard to use, my mouse keeps on going the wrong way when I swipe and he bumps into a lot of cats because of that so I can never beat a level. The controlling things never respond to your fingers faster than three seconds after you try to move. THIS IS THE WORST GAME EVER DONT DOWNLOAD IT!!!! IT IS A COMPLETE WASTE OF TIME AND ENERGY!!!!!👎👎👎👎👎😾😾😾😾😡😡😡😡😡😡😡😡😡😡👎👎👎🙎🏻🙎🏻🙎🏻THIS. IS. THE. WORST. GAME. EVER.
Decent, but... the ads!!
by Medmusician
Great puzzle game. Right off the bat it is fairly addictive. High learning curve for sure. However, not even minutes in you are absolutely bombarded with offers to purchase extra game modes to make the game more interesting. This would be fine except for the fact that there is no bundle and the extra game modes are all $10 and higher. Super mouse mode is a whopping $40. Then they try marketing techniques by making you "happen" to find a 50% discount item. All in all, a great game marred by horrendous extra payments and advertisements galore!
Love this
by Raineeeeeeeeeeeeee🐬🐬🙏🏼
This is a awesome app that is all I'm going to say😂😁🤘🏼
Amazing and fun
by Outstanding123
Loved it so much
Colo
by Fashionista life
Cooooooool yo
I really liked it
by Jaczy
I enjoyed this game it is so fun. I just like the little mouse. It is so much fun u should try it!
Cats
by These nuts!
It makes me rage so much but it is fun
🐭🔫🔫🔫
by I 💟🐹
It's good until u get higher in the game. So hard it Pisses me off so I deleted it 😡🔫
OMG😳
by Socool123456789
This app has dozens of reviews that are not very good but I think this app is a very fun one. I know you have to pass levels and beat the cats 🐱 but if you are a challenger this is the perfect app for you.
$39.99???
by Greg & Christine
DO NOT DOWNLOAD. My child wanted the mouse with laser vision, I figured "here we go to where they milk you with the two dollar upgrades. *sigh*" Type in my password, and it says "would you like to add (this) mouse for $39.99?" What a JOKE! I would guess they're hoping little kids will make this purchase without parental supervision so they can screw people out of a ridiculous amount of money? What other reason could there be for charging FORTY DOLLARS for one extra?? SHAMEFUL!!
Needs Adjustment‼️
by Scamksjdhdvdjsibf
LOVE the game! It's super fun to play BUT it's really hard to control which gets really annoying. Instead of clicking the screen you should be able to slide it, it would be much easier to control that way. With the controls being 'via click' it's either not sensitive enough or it goes in the wrong direction && makes me lose :(
⭐️⭐️⭐️⭐️⭐️
by Toca boca is real
Fun to play and fun for the car
Controls are terrible
by Nate1256781
The controls are no good.
Ad free!!
by Flo243567
Connect connect disconnect method makes it Ad free.For a real true trial!!😊
Ads interrupt game play
by Dude1233566
Controls don't work well. When the mazes get complicated, the mouse doesn't go the direction you tap. Also, if you don't let the ads load between each level, they load in the middle of the game without pausing. Could be a fun game, but needs lots of improvement.
Awesome
by LshwbqisnBb
Amazing
Wouldn't DL
by 194750275320
Gets boring quick and the advertisements are non stop
Too many Ads!!
by Ssteph99
I downloaded this for my daughter but immediately uninstalled it because of all the ads. And, of course, they designed the ad links close to the game buttons so you have to pay close attention to what you're pushing. Not a game to hand over to your kids. Otherwise, could be a fun game.
Very bad!
by Norwa234
If in-game purchase is not allowed, a user can not play any part of the game.
Mouse maze
by Sissymay1
It's okay better for kids to play!
Warning!!!
by MsMangoMommy
In app purchases do not require Apple ID password to be entered! 6 year old charged up $18 straight away! Hope I don't get anymore surprise bills. Very sneaky developer. App deleted!
Not for children
by The Ridlers
In-app purchases must be enabled for the app to work. Not a good thing if your kids are playing. I'll wait until they fix this MISTAKE before I download it again.
I love the game! Recommended
by Jawan1005
Its really addicting!
In app purchases must be allowed to even start this game for 4yo child?!!!!
by Jabi1975
Shame on you developers! I bought many apps, but to require in-app purchases allowed to even start this app is brutal. How this could be approved by Apple?!!!
Funny
by Gezaz
This game is funny & nice
Wow
by Stampy cat lover123456789
Cool
Worst app ever!!!!!!!
by Daisy DiDonato
This game does not work when you tap for it to go left it goes down when I tap for it to go down it goes left when I tap for it to go right it goes up when I tap for it to go up it goes right. This app is the worst app I have ever played. And I have a lot of apps on my phone, and none of them are as bad as this app here.