Moto X Mayhem
by
Occamy Games
(568 user ratings)
$0.99
Download size: 20.04MB
Version: 1.8.7
Released: 2009-07-26
For ages: 4+
Race, jump, and crash your way through a variety of treacherous terrain in the best mobile bike game, Moto X Mayhem!

Use accelerometer technology to balance your motorbike as you climb and fly over huge jumps! Enjoy realistic physics as your shocks recoil when you land or your rider bounces around when you crash. Compete to be the fastest motocross rider on robust worldwide scoreboards.

Moto X Mayhem reached the #1 Paid App worldwide and has been a Top 5 Racing game for over a year!

FEATURES:
• Fun rag doll physics.
• Working bike shocks.
• Accelerometer leaning controls your rider's position.
• Fun and challenging terrains.
• Feel good graphics.
• Addictive gameplay.
• Powerful online scoreboards.
• Share your times with your friends!

TIPS:
• Losing a life adds 1 second to your overall time. So stay on the bike to achieve your best time!
• Keep your rear tire on the ground to go fast.
• Lean forward to climb hills well.
• The timer doesn't start until you hit the gas or brake!
• Use your finger to grab the rider and toss him around the map when you're on or off the bike.
• Need to exit in the middle of an island? We'll save your game for you to continue next time you load.
• Find the About screen and tap the helmet for different player colors and looks!
• Watch playthrough's at youtube.com/OccamyGames

REVIEWS:
*********************************************
"I truly enjoyed the game. Both graphics and sound were well developed. The physics involved in the gameplay was right on the money."
-Appmodo

"If you like physics games, this is one of the better ones."
-Appvee

"This is a very good game at its core."
-TouchArcade
*********************************************

Stay in the loop:
twitter.com/OccamyGames
facebook.com/MotoXMayhem

Over 3 million paid downloads and 15 million highscores! Thanks everyone!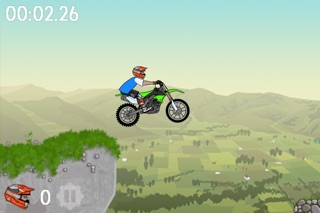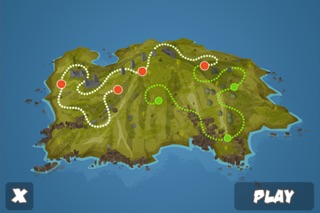 Powered by Facebook Comments
Customer Reviews
PLEASE UPDATE THIS GAME
by nkkmccu
I miss this game SOOOO much. I used to play it all the time om my first iPod Touch. Probably the best MX game I've ever played on the AppStore. I beg of you PLEEAAASSE update it for the new iOS!
Update it🤬
by Pack of Steel _49
I haven't had this game in forever and now that I want it it's not updated so NOW I CANNOT HAVE IT🤬😡
It's good but old
by Gabe Blake
I can't play anymore cuz my iOS is to new for the game
So yeah
by JFallon
They really need to update this
Update!
by Temple1997
Please update this game to iOS 11 because I really enjoyed it and now I can't play it!
Don't buy
by Allenshegog1
Can't use this app anymore the developer will not update the app to run on iOS 11
Where is the update
by 8B8B88B88B8B888B88B
iOS 11 has come. Now this app is worthless.
Can't download expansion pack
by Rdealiii
I'm going to try to get my money back.
Compatibility issues
by Ryanb17
Paid money for this game and it doesn't even work on current version of iOS.
Update
by Jack ya boy
Please update for iOS 11
Needs new update
by Chavatapia
Needs new update for newer iPhones like for the iPhone 7 and 7 plus an it's a really good game
Impossible
by beka.thomas
My son is obsessed with this game and he always asks me to help and I've decided it's impossible.
Crashing and not downloading maps
by driftfanatic
The publisher or whomever made the game NEEDS TO UPDATE THEIR ****!!! Sick and tired of it all!!
Fun yet not fun
by Leland 2003
I love this game it's awesome but spent .99 cents and they're like cannot download, check internet connection. When I have LTE 5 bars!
Needs work
by Powerhouse71
I downloaded the game. Love playing the game, but I paid for the island expansion 1, but it won't let me download it. It says no internet connection. I connected to my wifi, so there shouldn't be any issues. Please fix it.
Fun, but what the heck
by ssddmike
Screen size on IPhone is not right and it allows you to buy the expansions, but won't let you download them. ?!?!?!
Kinda terrible
by Motolife_412
It's a awesome game but there's just as many levels on the free version as there is the bought version. Why would you have to buy packs of levels on the bought version? And why do you have to download two levels when one of them is on the free version? In my opinion the free version is better. It's a waste of money.
Fun at some points
by TTRrAaVvIiSs02
It's a really fun game and I always play it but it won't let me download other maps so that makes me mad so I'll give it a 4 star
Great but..
by Kac23421
I love this game! It's fun by yourself or you can have challenges with your friends, great game! But I bought this game and I thought I would get all the islands turns out.. You don't you gotta buy packs and crap. So you can play on some islands *shrugs* do what you would like
Come on!!!!
by Jorglen
Can't download expansion packs!!! Love the game though
In-app purchases
by Blu4288
The game itself is fun, but I downloaded all of the expansions prior to deleting the game for space only to receive an "unable to download, check network connection" every time I try to restore my purchases. Not getting to play on maps I paid for is very frustrating. Been dealing with this over several different wi-fi and lte connections.
Was a great game, till....
by LanceManion2
their network went offline, and has been down for almost a year. Now I can't get my expansion pack levels that I had paid for. The few levels that remain are fun, but get old quickly.
Not my favorite
by Katelyn45
It's very fun and I'm addicted to it. The only thing is that when you complete a level and then log out and then come back to it, everything is lost. It doesn't ask me in the beginning of you want to continue your previous session every time. That makes me vet angry because I spend a lot of time on it and then it's completely gone.
Downloads not working
by Tek929
Love the game. In-app purchases do not seem to download properly. Game crashes every time I try to download newly purchased maps.
Such an addictive game! Buuuuttt....
by SuperManMan
Love this game and it's great that they give you two more levels to download for free! The only thing that I have a really big problem with is that when I bought the expansion pack #1, I couldn't download it. UPDATE PLEASE
Love the game but...
by Cameronrw13
Awesome game but I purchased the island expansion pack one and when I go to click download it just freezes and won't let me play it.
Developer out of business don't buy
by NoNickNameKid
No support. No ability to download in app purchases because these guys have shut down their website and servers.
Great time passer
by ZZoomer
Simply a great clean game to pass the time. Been playing it for years without spending a dime.
HORIBLE GAME
by Bobcool1234
Game does not support most devises and is a complete ripoff be aware of the fake reviews!
Update
by MaikiK
Update for iPhone 6 please
Love the game updates won't go through
by MaineJoeyO
Love the game very addicting. Problem is add on levels want update. Says there is a server/internet problem. Not true. Something with the game. Please fix!
Update
by Narciissus
iPhone 6 update will be greatly appreciated. I've played this game for years! Please update for iPhone6/iOS 9!!!!
their network is down
by destronger
I attempt to download the other maps for my son and a pop up says it's my network... yeah right. I'm able to watch netflix fine and use the internet fine at my house. that's $1.98 gone out of my wallet for an add on that I'll never get.
In app purchases don't download
by Mpdoran
Bought island expansion packs but neither of them will download
Addictive games
by Begood4goodnesssake
Please update for iPhone 6. Please, please, please!!! I've been playing this game since 2009 and love it still. This game is so much fun. After learning how to successfully complete all the levels I learned to flip over backwards on jumps. Now I am working on doing wheelies. Caution must be used with this game. It is so addictive that you can find yourself spending to much time playing it.
Good but got problems
by R🌟CKST🌟R
This game is great and all but you should be able to customize your bike and your character but overall a good game
This is a fun dirt bike game
by gresham21
Best
MOTO X MAYHEM IS AWESOME
by FineBeast
Best game I have ever played, all of my games glitch because I have an iPod touch 4th generation, but this one is fast and awesome, the graphics are good, the controls are good, Best game I have ever played... Better than Clash Of Clans, best game ever.
Love this game
by C h p 88
This game is one of the TOP TEN AWESOME GAMES! This game ROCKS!
Best dirt bike game
by Goddood
Best dirt bike game in the App Store
Excelent
by Grantthebombmanisthebest
Tons of fun when your bored.
Awesome game
by zZErictheRZz
THIS IS THE BEST DIRT BIKING GAME EVER.ESPECIALY FOR US COUNTRY PEOPLE.
Great game
by djdjscknsskm
I think this game is a great pastime. The controls and physics and very well done. The graphics are not to bad either!
Awesome
by Suhehdhdhdhvd
Awesome game
Awesome
by B lab lover
I personally love to play this game when I'm bored so I have something to do. I love it so much even though it could have better graphics.... But besides the graphics it is a really good game!
What is the expansion pack?
by Expansion pack
How long does the expansion pack last? How many levels down the expansion last?
Almost
by Jedidiah44
This game is almost my favorite iOS game. Almost. It needs to be updated with a full screen on the new iPhone. They have been out for years. No excuse. Can't believe that they allow in game purchases but no updates to screen size.
Best game I've seen😃😃
by DAMIEN DICKINSON
This game is awesome great courses and graphics are great
Update to newer width
by codman1004
Fun game but can you update it to support the newer apple models. Thank you