Monkey Flight
by
Donut Games
(15 user ratings)
$1.99
Download size: 9.83MB
Version: 1.61
Released: 2009-04-22
For ages: 4+
Launching JABBERING MONKEYS from a palm tree has never been this fun... and harmless!

Use your catapulting skills to become the KING OF THE JUNGLE, but watch out for dirty mud pools and ouchy rocks, or you might end up as the troop's back scratcher or tree shaker.

This is JUNGLE CATAPULTING at its best!

* * * * * * * * * * * *

ACHIEVEMENTS / AWARDS:

- Featured by Apple, May 2009
- #1 Download in 21 countries, Jan 2010
- Top 100 Paid Games in 4 countries, Feb 2010

GAME FEATURES:

- THREE Game Modes:
- 1) Classic Pack
- 2) Jungle Fever (NEW)
- 3) Arcade Mode
- Extremely simple controls
- Achievements to collect
- Lifesavers to help you pass levels if you get stuck
- Donut Games' famous 3-star system: Increased REPLAY VALUE
- Collectors Icon #03
- And much more...

TECH FEATURES:

- Game Center support
- Widescreen support
- Universal App (iPad, iPhone, iPod Touch)

* * * * * * * * * * * *

"Flexible palm trees, flying monkeys, calypso music and baby elephants. What more could you possibly ask for?"

Enjoy another Donut Games release!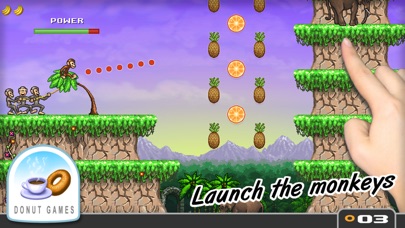 Powered by Facebook Comments
Customer Reviews
FAVORITE 8 YEARS LATER
by Steely Dans
Used to love playing this game in high school. My girlfriend at the time made fun of me for playing it so much. We dated for about 6 years, but Monkey Flight is the only thing that stayed true through thick and thin.
Will always have it
by Senoqu2525
I've had this app for about 10 years and install it on every device I have and I plan to continue doing just that.
Super funny
by OutlawGirl
Excelent when bored or just to have fun! This is gonna be a classic, for sure!
Best for years!
by churrowoman
This has been my go-to favorite App Store game since my very first apple device, an iPod touch 2nd gen in 2010. 7 years later and it's still number one. Please don't ever stop making games!
A healthy distraction
by koala ola
This is one of my favorite games. Especially when I have only 30 seconds to burn. It's simple and a good distraction.
Best game
by Beantown BadBoy
I've been installing this game on every phone I've had since 2007. That should say something. It's simple, addictive, and fun as hell.
Monkeys
by Gatedaddy
Simple enough concept, but great for staying entertained when you have a few extra minutes. Puts a smile on my face...
Monkey jump monkey fart
by Wiz pig
Fun!
Fun
by Goregundontus
Super addictive can't stop playing this game
It's just sooooooooooooooooo good
by Clash of the bests
This is a great I like how they made the monkey animation
The best one!
by Podlas
I like this game, it's so easy and funny!
Fun!
by Milkysock
My 4 yr Old loves it!
So much FUN!
by TexDeah
So many challenges! Lots of fun & great graphics!!! Go Monkeys!!!
One of my favorite games!!
by Jaybabbby
Addicting :)
AWESOME!
by Rq1012
This game is the best downloadit and don't delete
Great game
by Boots.doc
It's fun to spend a few hours watching this monkey fly accross the different stages that were created for this game
Great game
by DuctTapeBandit
Love it!
Great game!
by JTlawyer
Been playing for 3 years. Love it.
MY FAVORITE GAME
by monkeylover372
I'm literally obsessed it's so fun and incredible
Awsome time killer
by Shadow traveler
Very fun game, no hiccups since I downloaded over 2 years ago.
Cool game
by PeterMK
Arcade quality
Broken on ios8
by Sabby Mcsab
Trying to use on iphone6 with iOS 8 and this game will not work. The app resizes too big and buttons are completely unresponsive.
Awesome Game
by Jaz😘💕
This game is so much fun and addicting I love it!!
Monkey Flight is my life
by SkypeCrashes
This game is the greatest game to ever come in the App Store ever. I wish I could give it 28284858393 stars but the limit is only 5. This game is so good, that sometimes I pretend to be the monkey, I jump off stuff and grab fruit and fart. Sadly the farts in real life don't work as well as in the game and I broke my leg. But I still play this game forever, and worship it with all my heart. All hail monkey! All hail monkey! ALL HAIL MONKEY!
I HATE YOU!!!
by ~ChocoCat295~
THIS IS THE WORST GAME IVE EVER PLAYED YOU TOUCH THE FRUIT AND IT NEVER WVEN COUNTS AND ITS SATANS GAME!!😠😡😡😡😡😡😡😡😡
Great :)
by Mgm3333
Most fun, most addicting game ever!
Boss
by Ryan ooklala
Boss
Great Game
by Stormrider47
Refreshing and addicting
Good game
by Lloyd's gurl
Good game
Fun
by 123skunky
It is fun
Still a great game
by HookedForALongTime
I first got this app back when the iPhone 3GS was the latest iPhone out. Life happened and I stopped playing. I now have an iPad and I decided to download it. I am hooked on it once again. It's a great game. Keep up the good work with your apps you guys!
Lame
by Britney567
You don't really do anything in the game it's really boring don't get it
Flying Monkey
by RainbowBoi
Adorable, Fun, Entertaining, Fruity.... LOVE IT!!!!
Teresa369
by TBt369
This game is great!! :-)
Best game.
by OllieBollie4110044
Best game to pass time. Love it.
AWESOME!!
by ExposedZombie0
Love the game it's fun and addictive!!
Fun!!
by Rolo2003
This is a very fun game to play especially when you're bored, and the new levels are even better!!!
Monkey
by makaine
Great game
Monkey business
by Cutie 1139
This game is so much fun I recommened u get this game it is sooooo much fun and also download any other games by donut they r truly entertaining
Easy yet challenging !
by XxDRTEETH87xX
Very addictive fun light game to play when I want to relax well made game
Ok
by Emersonsage631
It's ok but I finished all the levels and when u finish all the levels there is nothing to do and sometimes it will start it over u should never do that😁😢
Monkey Biz
by Ethelsneighbor
Awesome game!!!
Monkey
by Joekojoekoko
Grand I like this game!
Really fun
by Morgan 1010
I like this game but it can make me frustrated and it's not my favorite
Cool game
by Kneef
Goofy and fun.
Great game can be frustrating
by Sports Addict 1266
In the sense of just barely missing a goal. A game that requires some skill with luck.
Huge fan of Donut Games, do not play this.
by Fayez Khan
As an avid Donut Games fan, this is one of my least favorite games from them. I'm usually able to 3 star all 60 levels with most of their games and enjoy it because it's challenging and rewarding to finally pull it off, but it is next to impossible to 3 star every level in Monkey Flight. It is beyond frustrating, I'll play when I have spare time but it's adding up to days just trying to 3 star ONE level... After 4 months of playing for 15-30 minutes a day I still can't 3 star Avocado Fog and Tricky Peach, and it's been a large victory anytime I have amazingly managed to 3 star any level in the challenges because there is no progression of difficulty - it's impossible from the start. Don't waste your time with this game because they purposely created obstacles in the game so that the most efficient flight pattern the monkey gathers the most fruit at the time usually ends up always coming short. Play the other Donut Games' games at least they are enjoyable.
Super fun!!!
by Russianplanet
Very fun!!! Please, in every level put the total posible fruits, and if i collect all fruits in a particular level, put in red highlight that level.
Hi
by Mc Brown eyes
Great game
Best Game!!! Its Fun
by Mr. Yalamanchili
I like the graphics and Music... Its an addictable game... Fun!! Fun...