Mega Jump
by
Get Set Games
(1,031 user ratings)
FREE
Download size: 104.48MB
Version: 21.0.4
Released: 2010-05-05
For ages: 4+
"A standard-bearer for mobile gaming." - Destructoid

40 Million Players! Now with glorious retina artwork for iPad and iPhone 5!

"The best casual endless game in the App Store" - AppAdvice.com

"Incredibly addictive" - Gamezebo

"Superb" - Slide to Play

Get ready to blast off on an epic jumping journey with Mega Jump!

Collect coins, grab crazy powerups, and dodge monsters to boost yourself to the edge of the universe and beyond!

Mega Jump has it all:

- Eye-popping cartoon graphics and gorgeous hand-painted backdrops!

- Four incredible worlds to explore!

- Amazing upgradable powerups!

- Turn into a Balloon, become a Coin Magnet or zap enemies with the Power Shield!

- Grab the Super Nova Boost and hang on for a fiery ride!

- Unlock all kinds of awesome and hilarious characters to play with!

- New limited-time characters added every month!

- Dozens of unlockable achievements!

- Online worldwide leaderboards with Game Center!

What are you waiting for? Grab Mega Jump and start jumping!

Honors:

Mega Jump has 40 million players and counting, and reached the #1 App spot in 28 countries!

Thanks to all the Mega Jumpers out there!

Join us on the Mega Jump Facebook page:
http://www.facebook.com/MegaJump

Follow us on Twitter:
http://twitter.com/getsetgames


Please note: Apple is not a sponsor of any promotion.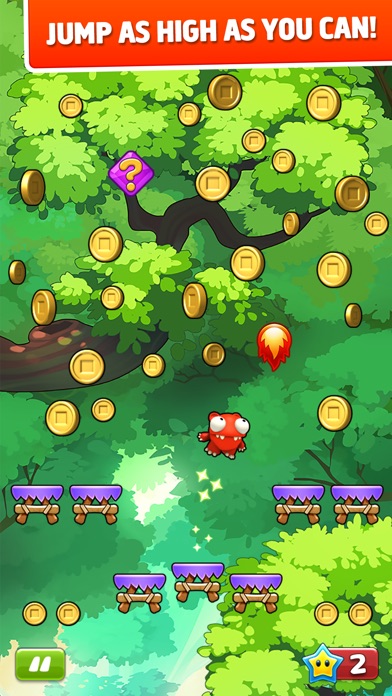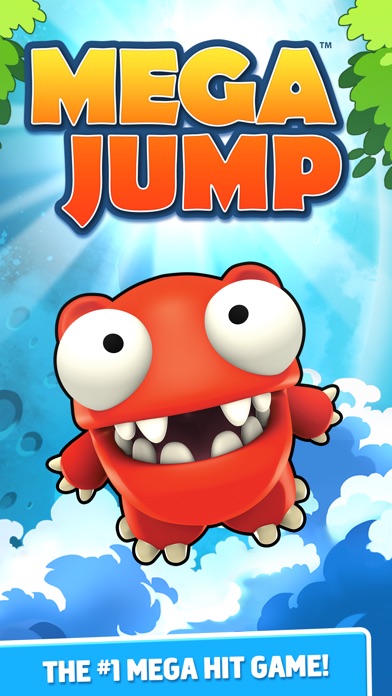 Powered by Facebook Comments
Customer Reviews
👦🏻Isaias Productions🐶 (Blocksworld)
by Isaias-INC. Blocksworld
This game is everything I wanted it to be. Fun, wacky, jumpy, challenging. This is what a jumping game needs to be! Just one problem. I can't play Mega Jump because Get Set Games has to update the game for it to work on the IOS11 update. I really want to play this game. So if the developers of this game are reading this, PLEASE update this game so I can enjoy it! Thank you for your time.
Update pleaaaasssseee
by Goldaboinka
Loved playing this back in the day on my iPod. Was sad to see I couldn't play with iOS 11 when I came across it again
ios 11
by Chloe92201
i love this game but it is not updated to work on ios 11. please fix it so i can have it on my phone 🤞🏽
Upgrade the game plz
by Krakla
Why you don't upgrade the game to work with iOS 11? Plz upgrade it.
Awesome Game! But many issues
by Luthor Guy🐶
If you are reading this, Mega Jump is amazing!!! But a major issue is that it is not compatible with iOS 11, so I can't play it. Please update it and I'll rate it 5 stars 👌🏻👌🏻👌🏻
I miss the game
by BabyBoo1123
I've been playing this game for years and am sad to see that it's not updated so I can no longer enjoy it.
Please
by Manu gage
Please update the app! I love this game so much but can't get it on my new phone!
Update to iOS 11!!!
by Noodle_Arms
Devs if you are reading this then you need to update the app to iOS 11 nobody can play it anymore and it's really sad so if you read this update the app PLEASE!!!
Needs iOS 11 update
by Laschmelala
But it looks like the last update was 2 years ago, so I doubt that we'll get one..,
Please update for iOS 11!
by GreenYoshiDude
I love this game and want to play it again!
64bit version for iOS 11
by NarrowCobra2119
I bought a new iPhone and I was hopping to download and play this on my iPhone but it is no longer supported, if you bring this game to iOS 11 I will share it and also give it five stars.
OG game
by Jushwee
I discovered this on my old iPhone and have been instantly hit with nostalgia. However it is unable to the new iPhone X. Plz bring back this game to the new iPhone. AMAZING GAMES LIKE THIS ARE IMPOSSIBLE TO FIND NOW.
Update it!!!
by Chris43567
This is one of my favorite game but I can't play it because it isn't updated to iOS 11. Sure wish it would update.
Update please.
by Nmr333
I play mega run and it keeps advertising mega jump. I used to play mega jump but I can't get it on my iPhone now cause it's not been updated for iOS 11. Please update.
Make this available on iOS 11!!
by Edgar....?
This should be optimized for iOS 11
Update it?
by Yazrayy
please? lol
great game!
by sarabm2000
its a great game! i hve been playing it for years but i cant play it now becouse it needs an update :/ could you pleaseuodate it for ios 11?
Please Update
by Studrique
I love this game. I've had it on many of my i devices. It doesn't work on my iPhone 7 because the app needs to be updated to iOS 11. Please update as I would like to play it.
Update it
by Jdvmo
This game was so good but now that I got iOS 11 , it can't download. UPDATE THE APP TO WORK WITH IOS 11 on IPHONE!!!!!PLEASE!!!!!!!!!!!!!!
PLEASE UPDATE!
by Abigizzle
I have iOS 11 and I REALLY want this game. PPPPPLEASE update it!!!!!!!!!! This used to be my favorite game!
Level glitch
by Blesgjutrffggghhhh
I've been playing this game for a few years on my old iPhone 3 and just downloaded it now on my iPhone 5 and I'm experiencing a serious issue with this app it keeps bumping me back to my previous level. This also happened to me on the iPhone 3 but it didn't bother me because I never got that far but the game play now is so repetitive it's not much fun anymore. I'm at level 20 but every time I hit level 21 and fall it bumps me back to level 20. If it's something about the levels that would make a lot more sense but I'm sure it is not. Please fix this problem and I will very much appreciate it.
Does anyone Play This game anymore?
by LilLucent
I'm glad I've been able to get this app on my own phone after 4 years passed from the first time I played this but it seems that a lot of people reviewed this game a year ago. I do have my concerns about this so called "Glitch" but I hope it never happens to me anytime soon. Anyways good luck, and keep Hopping your way to the highest level possible ;)
Fun but the coin to mp system should go
by DatRata
Get rid of 10 coins to one mp. If its 2000mp, make it 2000 coins, its too much.
Nice
by BigCurtyCurt
Cool
Fix
by 1268755798548654
I just bought the new character slartie & I am unable to use him on any of the maps.
Good
by Rhonda B Wilkins
Pretty fun but responds to the slightest tilt, making it hard to control.
Game will not Load
by Tea are aye sea why
This used to be a favorite game of mine but since I got my new phone, this game will not load. Please fix with an update.
AWSOMe SAUCE
by James donov
Like I literally just have no words like I'm sooooooooooooo speechless like :):):):):):):):):):):):):):):):):):):):):):):) buttttt I get fustratiaded sometimes but its still awsome
Amazing
by Calstrom
The best casual game on my iPhone.
What happened.......
by Alexmorgen228
I used to have this game on my I pad but the I got in iPod I got the game i played t for a little bit and were did all the kiip rewards and all the new levels and now I can't even play the game because of the kiip reward there is a serious glitch
TYT
by DIRTY DUSTY8888 7777xoxo
GREAT GAME PLEASE UPDATE💙😍💙😍💙😍💙😍
Couple problems
by Cayla✨👑💕
It MAKES me start over !!!!!!!!! It gets REALLY boring!!!!!! The different apps that are based on this game are the EXACT same thing!!!!!
Great original game
by Poindexter kid
This is one of the first iphone games I played years ago. And it still has the same feel.
Saved up 5k for character won't let me play character
by Razeeky
I bought a 5k character (redfridge) but it won't let me play it! It took me ages to save that much extremely disappointed! Fix this for 5 stars.
OH YAY FUNNIES GAME!
by Sonicworld2006
So fun jumping so high one of the funnies games
It's fun but that stupid glitch
by Dianamolinero21
It's super fun and i love it but i have a glitch that after a while of playing it will just stop giving coins so i can't do anything and die.
AWESOME but...
by Jocelyyynnnnn
I have purchased 1 character so far so I have 2. (Redford and Rolf) but the problem is, both appear as selected, and it never lets me play as Rolf, only Redford.
You can get stuck on 1st level
by SU0IVEX
If you bounce off a coin and miss higher drum, that's it, you can just bounce on the lower drum forever because there is nothing else to spring you higher and have to restart. That's just stupid! This game used to be fun, now it's annoying.
Don't waste your time
by Jani_577
This game is terrible with major glitches. The first major glitch is it doesn't save progress. The second glitch is a problem with "saves." After playing for hours to acquire saves, the game takes away multiple saves at once, instead of one at a time. I am deleting the game.
Annoying glitch
by TheViviannnnnnnnnn
I enjoyed playing this game but I'm experiencing the same problem as other users: the game makes me start all over again even though I've cleared some stages. Please fix this.
Not bad
by PudgeeRat
A great way to pass the time.
MUST HAVE
by Chumli123
This game is one of my all time favorite apps. It is so much fun and never gets boring
Nostalgia
by Derpface dragon
I remember playing this game when my mom first got an iPhone, and now I'm finally downloading it on mine! I don't really have much to say, sorry if this was short
Horrible game
by Lynx women
This game is horrible because my phone won't even work with it.it also would not turn when I wanted it to but I guess it can have at least one star
😐😕
by Purple Style of Dogs
This app is OK, but not the best... Like I'm not used to the whole jump thing. I think I like mega run better... But this game is still fun 😏
Best jump game I've played.
by feverbed
Lush graphics, fun power-ups, smooth controls - great fun!
Great game
by aliSAURUSxx
I loved this game when I was 14, and I love it now that I'm almost 20. This game is honestly so much fun. It's like doodle jump but the characters are cuter. It's easy to get power ups through watching videos or through playing the game. Download it!!!
Glitches but fun
by Jaden lyles886
When I bought red fridge it keeps showing Redford
Fun but has a serious glitch! PLZ FIX!
by ToeTripper
I love killing time with this game but now it's glitched. No matter how many levels you pass it will take you back to the level you started. I escalated 3 levels in a single jump and it put me back at the bottom as soon as I died. No matter what I do it won't save my progress anymore. It's been this way for a while and I was hoping there would be a fix in the last update but there's nothing. I want to play this game but at this point I'm bored with it because I can't go anywhere.