Grand Theft Auto: Vice City
by
Rockstar Games
(1,666 user ratings)
$4.99
Download size: 1108.02MB
Version: 1.6
Released: 2012-12-06
For ages: 17+
Welcome back to Vice City. Welcome back to the 1980s.

From the decade of big hair, excess and pastel suits comes a story of one man's rise to the top of the criminal pile. Vice City, a huge urban sprawl ranging from the beach to the swamps and the glitz to the ghetto, was one of the most varied, complete and alive digital cities ever created. Combining open-world gameplay with a character driven narrative, you arrive in a town brimming with delights and degradation and given the opportunity to take it over as you choose.

To celebrate its 10 year anniversary, Rockstar Games brings Grand Theft Auto: Vice City to mobile devices with high-resolution graphics, updated controls and a host of new features including:

• Beautifully updated graphics, character models and lighting effects
• New, precisely tailored firing and targeting options
• Custom controls with a fully customizable layout
• iCloud save game support
• Massive campaign with countless hours of gameplay
• Support for Retina display devices
• Custom iTunes Playlist*

*To listen to your custom playlist, simply create a playlist titled "VICECITY", launch the game, and select the radio station "Tape Deck"

Universal App:
Grand Theft Auto: Vice City is supported on iPhone 4, iPhone 4S, iPhone 5, all iPad models and 4th and 5th generation iPod Touch.

For optimal performance, we recommend re-booting your device after downloading and closing other applications when playing Grand Theft Auto: Vice City.

Languages Supported: English, French, Italian, German, Spanish, Korean, Russian, and Japanese.

Mobile Version developed by War Drum Studios
www.wardrumstudios.com

Find out more:
www.rockstargames.com

See videos:
www.youtube.com/rockstargames

Follow us:
www.faceboook.com/rockstargames
www.twitter.com/rockstargames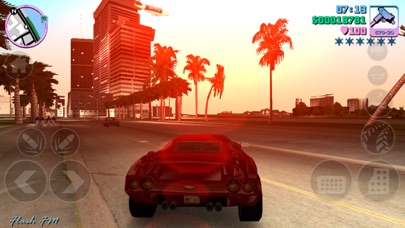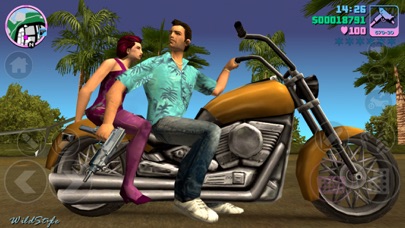 Powered by Facebook Comments
Customer Reviews
Mmm
by JohnCfSan DiFrangeles
Nice bike 🚴
Game doesn't work
by Antman2223445555
Paid $4.99 and the app Won't load can't play it. Rockstar support won't help don't waste your money
Good game needs fixing
by Brooklyn0525
I love this game BUT I downloaded it twice and both times I spent days getting to the last 3 missions but when I get to them the game crashes and I can't get back into it to do anything I paid $5 for this game and I can't even play it anymore
Gta She Is You Beat
by Cow disease and the other day
It Keep On Crashing Everytime when I Get To The End of the game it keeps On Crashing
In need of bugfix update
by portalkeeper
Best game ever, but as of iOS 11, the game is freezing often. It doesn't seem to lose data, and it even recovers after a minute or two sometimes, but it's still super annoying and disruptive.
Classic
by Mandela JL Smith
I have gta 3, vice city, and San Andreas on my iPad! They're rockstar classics!
Good
by vahid rezvani
It would be very good if u can use cheat codes
This game was great until...
by Dem12644
After the first few missions the cars begin to turn on their own making it nearly Impossible to complete missions and get around the town. I'm experiencing the same issues that I had with the San Andreas app. (Purchased the 3 app bundle) If this bug were to be fixed, these games would be perfect.
Left to die
by jcanvas
Understanding this is a game that's not built for ultraHD, there's no support for current phones. Coming from an iPhone 7 Plus to an iPhone X, the game struggled on both phones. And, it's completely unplayable on the iPhone X due to the buttons not adapting to the screen. Gave it two stars only because it's a great game, with the caveat that you have an older phone.
Good but has a lot of bugs
by Co4rcm
This game has many bugs that need to be fixed idk if it is worldwide or just mine but sometimes it doesn't work and sometimes it does.
This game is great
by CDPlaya01
The game was pretty good. But the physics of melee weapons can be way way better. If you use the chainsaw, it sounds different than before as well. Above all, the game is great
Update
by Dime55Baby
Need update please
No keyboard support
by lava_man
This game would be awesome if I had the ability to use my Bluetooth Apple keyboard.
Pretty good
by Creature65
Smooth so far 💯
Was happy now very unsatisfied!
by TrippyKolors
This was a outstanding game. On the other hand it will NOT let me play the it anymore. It kicks me off. I'm VERY upset about this and it needs fixes IMMEDIATELY. I did NOT pay money for a game that I cannot play.
Freezes every 30 Seconds or Less
by Mitchell DR
Game freezes every thirty seconds or less. Pretty annoying. I have an 8 Plus so this shouldn't be happening.
Best GTA game to this day
by Mygirlisyourgirl
Vice city will and always is the best GTA game there is. But that's on ps2 because the app game doesn't allow cheat codes and it glitches way to much there controls don't work well on iPad and when I have to pass the helicopter picking up bombs mission doesn't work cause camera won't shift to see where I'm going. It's impossible to pass this mission on iTunes but I've passed it on a ps2 and Xbox before many times. So I can imagine how much harder it would be to pass harder missions on this app. But good game to play if I'm not home and bored! Best ITunes game I've played by far.
Love it but...
by Great game 000:)
When I want to continue my game it take me to my home screen.
GTA vice city
by Dwabudder62
Best game ever and it seems fun
Great game but laggy
by speedygt40
Ever since I've upgraded to the iPhone 7 the game would constantly keep loading during gameplay. I tried uninstalling and reinstalling but nothing changed. GTA 3 does the same thing. I think they need to update the game!
Bugs .... bugs .... and more bugs!!!!
by Gregtrueaaaaa
Great game but the game crashes soooo much it's unplayable!!!!!!! Waste of money!!!
Incredibly Frustrating...
by Da Real B-Whizzle
Purchased the Rockstar Package for 24.99 and began playing Vice City. Game worked fine besides some minor glitches (guns won't fire, terrible camera angles). I wish those were the only troubles. Now when I try to play it will not get passed the Main Menu. The Rockstar logo comes up, "Rockstar Games Presents," then when I click on Resume Game It kicks me back to the Home Screen of my tablet. Cannot Resume game, load game, or start a new game. I purchased the package solely to play Vice a City and Max Payne. I should have known that I was going to be ripped off. I read some of the older reviews and they seem to have the same issue. Amazing that it is over a year later and still not fixed. Would be great if there was a solution. Have closed background apps, rebooted device, done a hard reset, and redownloaded game. I guess next is to go through Apple and request a refund which I'm sure will be troublesome as I purchased the "package." Save your money, but first and foremost, save yourself the time you lost playing before it crashes and you can not play anymore. Save yourself the frustration.
Please fix terrible freezing
by Mateo187
The game is constantly freezing more than you would want and it get specifically frustrating when in a gunfight or running away from the cops. Hope you guys can fix the freezing the game has been suffering from lately.
Car and bike handling issues
by DeucesDawg
4 starz cuz of the car and bike handling issues. Trying to turn to the right or left the car/bike etc... is not turning correctly - turning slow. please improve the car/bike/etc... handling and 5 starz will rate.
bugs!!
by Julianna Garcia
I really want to play the game but when I open it, it crashes
One bug that bugs me
by TrouserTrooper
The ONE problem I have that's really lame, the mission "No Escape?" and it hits at the start of the mission. You're supposed to get a uniform as soon as you walk into the locker room on the left but there's no uniform. Ever.
Dequan
by stoner bankerz
I love it
iOS 11 messed it up
by Jaersh
The controls are in the middle of the screen after I updated to iOS 11. Pls fix
It just fun
by tnewbern38
Love the game just getting use to the new controls other than that it's what you remember.
Brings awesome memories
by Jbautista44
It plays the same! Looks better than the old game! And loads faster! Great and classic game! GTA vice city is a must buy
Game crashes.
by Joseguerrero956
I just recently bought this game from the App Store and I'm at a point in the game where I have my progress saved , but every time I open the saved file it crashes. Fix this please.
iOS 11
by Mark r1
I never had a single problem with this game but after downloading iOS 11 on my iPhone 7 Plus it's been lagging and freezing. Please fix this bug
Many texture bugs need to be fixed
by Albertosaez22
The game contains a huge amount of bugs. For example inside the Ocean View hotel room the wall next to the windows is completely transparent. But other than texture bugs, I really suggest this game.
Update for iOS 11?
by Woody0627
Las5 week I would have given this game 5 stars, but it needs an update after updating my IPad to iOS 11. Will Rockstar games step up?
Fix please
by KilleraAdam
Only two because every time I wanna play it crash
Great Classic, buggy
by SouthWestStrokers
Wonderful game, you are playing on the equivalent of a low end pc with settings turned way down. Low frame rates tho, and lagging/ hitching occurring.
Good job
by 3dikHamster
Yes!
Buggie
by Jajones663
Overall the game is fun and what I remember from my more youthful years. However, the game has quite a few bugs, and more so now with iOS 11. The biggest one being choppy, where the game will just pause and become unresponsive for a second or two.
Doesn't work anymore
by cgstlblues
I love Vice City. But the app won't even open anymore. Please fix!
Love this but disgruntled.
by Haneyyyy
I love this game so much but ever since I upgraded to iOS 11 my game has been freezing up so much .
classic
by thugnasty19
game has a bug. app shuts off immediately, please fix. other than that such a great game
3 Bugs that need to be fixed
by GhástDoesMinecraft
First, this one happens pretty often and happens during dialogue. It's where nobody talks after a line is spoken, stoping cutscenes and dialogue. And it always happens when there's dialogue. Second, sometimes when firing a gun in a car, it fires a few shots before not working anymore. Third, Sometimes I can't jump out of a moving cat when pressing the exit button, but my character automatically gets out when the car stops. I hope these are fixed in the future.
Game crash before loading
by Stanky_ninja404
This game was perfectly fine until about today because whenever I try to play the game it gets to the loading screen about 5% away from being done then it will crash and put me into my home screen so if this could be fixed then that would be good also because I paid like $5 for this game they better fix this please and thank you also I just tried turning off my phone and all this other stuff and it still not working so rockstar please fix this!! I wouldn't care if it was free but I paid like $5 like I said earlier so just fix this please
For 5$ Bugs should've been fixed.
by Crash Simulator
Firstly it freezes from time to time in the loading screen, crashes every so often and has trouble with mission glitches. It says it's accessible with iOS 5.1 or higher and I have a iPhone 4 so please do explain why I can't play it after spending the money for it.
So good I can't explain
by Harrypotterfan67539
👌👌👌👌🌭👌👌👌👌👌👌👌👌👌👌👌👌👌👌👌👌👌👌👌👌👌👌👌
10th Anniversary
by kublaix
For a game that's 10 years old, there are minimal frame drops. The touch controls are finicky but you'll get accustomed to it easily. My favorite GTA of them all (besides Vice City Stories of course), and I get to take it with me wherever I go. A+
Good Stuff
by T52yeg
Not a bad port, not at all.
Terrible controls, terrible camera angles
by Ccwtf7
This game is awful, I can't believe that I paid for it. Obviously I don't expect to come close to either the PC or DS game versions, but basic game functions like driving are extremely frustrating
My first grand theft auto and still the best 😍😋😍
by GeshaD
I love grand theft auto 3, vice city, 4 and 5, but is for me still the best and I was really glad that it is in AppStore 😊