Flow Free: Bridges
by
Big Duck Games LLC
(9 user ratings)
FREE
Download size: 21.66MB
Version: 2.9
Released: 2012-11-08
For ages: 4+
From the makers of the #1 hit app Flow Free®, comes a fun and challenging new twist: Bridges!

If you like Flow Free, you'll love Flow Free: Bridges®!

Connect matching colors with pipe to create a Flow®. Pair all colors and cover the entire board. Use the new Bridges to cross two pipes and solve each puzzle!

Free play through hundreds of levels, or race against the clock in Time Trial mode. Gameplay ranges from simple and relaxed, to challenging and frenetic, and everywhere in between. How you play is up to you. So, give Flow Free: Bridges a try, and experience "mind like water"!

*** Flow Free: Bridges features ***

* Content
- Over 1,500 levels available in Free Play mode, and new Daily Puzzles every day!
- 10 different board sizes
- Starter, Challenge, Bonus, Classic, Mania, and Jumbo level packs
- Bridges!

* Challenge
- Game Center achievements as you solve levels and complete packs
- Track your completion of each level in Free Play mode
- Strive for accuracy in Free Play using the fewest, most efficient moves
- Strive for speed in Time Trial for the most and fastest solves
- 20 scored Time Trial variants to choose from by board size and duration

* Look & Feel
- Smooth, polished touch interaction
- Colorful UI
- Fun sound effects
- Clean vector graphics and animations
- Labels available for color impaired players

Enjoy.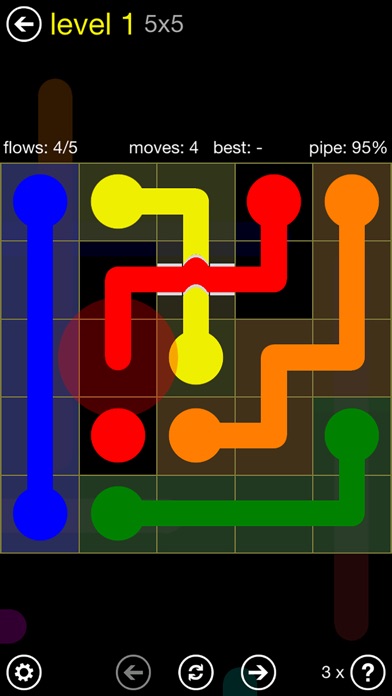 Powered by Facebook Comments
Customer Reviews
Finished and am replaying
by Kerilyn10
Having finished every level of Flow Bridges I've decided to write a review. I'm currently replaying it all from the beginning. I'm a bit of a perfectionist so I had to play every level until I got a perfect score for each. This game has a lot of content for a free game. That being said, I loved it enough to buy all additional levels. It's well worth the tiny price. The app frequently updates, often with new levels. It also has several daily levels. It is an especially great game for relaxing or playing while engaging in other activities. The higher levels are much more difficult without being impossible so if you find the initial stuff way too easy then just skip ahead. I find that this game is also great for calming down if you're angry or upset, too.
The best game to play when you bored.
by person that is mental
This game is one of my favorite games! Sometimes I get stressed when I can't solve a puzzle, but other than that this game is great!
Ripoff
by Burnt II
I loved the app....UNTIL..... THEY STARTED PUTTING IN POPUP ADS..... NOW THEY CAN STUFF IT... HOW STUPID ARE YOU PEOPLE, DO YOU HONESTLY THINK FORCING PEOPLE TO PUT UP WITH POP UPS IS GOING TO MAKE PEOPLE WANT THAT PRODUCT OR APP?????? ALL IT DOES TO ME IS PISS ME OFF.... YOU CAN STUFF THIS APP.....
Great app but full of bugs...
by frankocb
I love this game but the app is full of bugs! It stalls mid game and I have to close it and then reopen it again. Is there a fix for this? Also why so many more ads?? Very annoying!
Really fun, just one issue
by SassyGerman
Great game, but I've been having a lot of trouble lately with the game crashing. It's super fun and I really love the puzzles. It's been hard to play for the past month or so because the game keeps freezing and crashing.
Addicting game. Help!
by Who me? Yea.
I adore this game and it is worthy of 5 stars. It is challenging and addicting. I am approaching a 500 day streak that is under threat because the game suddenly began crashing when I try to play. What's going on!?
Good concept. Horrible app
by Jenna Ruth
I like the game but the app keeps crashing every time an add pop ups. It gets super annoying after a while. Will delete this game until they fix it
Fun, fun and challenging!
by Leggs 78
I have played regular Flow Free for years now and have enjoyed it. Decided I need a bit more for a challenge and downloaded the Bridges version and am very happy with it. It makes me think! Especially when there are more than 1 bridge to figure in.
Very fun game
by Tally 🎀
This is a great game. It mentally works your brain and makes me happy at the same time!
J
by Miss Jess
I love flow free. I have all four versions, regular and bridges (of course) and hexes and warps. It's fun to try new things, and flow free is fun too. That is, once you get past the really challenging stage.
Ty
by Eli ran away
Amazing
It's amazing
by Homeslicer
I hate it
Flow Free Bridges
by CharlesDiana22
Lotsa fun and the higher you get the more you have to think.
Quick solver
by trinisasa6
I love this game and I have been in love with puzzles ever since I was a toddler. I am a quick solver but that doesn't mean I want even more challenging levels. I'm happy with the levels the have. Bridges is so calming and relaxing to do when u r bored or u have a lot of free time on ur hands. I'm rating this game 5 stars although, I would like to not have so many 'adidas 360 ad
I Love Flow Games
by gardo702
Another solid game in the series of flow free. Hexes is my favorite, but this game is still far superior to all other developers/games.
Awesome!
by 1953Dick
There is no better way to have fun. Two thumbs way up!
Love this game!
by Slarty Bartfast
I recommend all the Flow Free games. Well worth a buy.
Great game!!
by Thesap108
Love this game. Can't wait for more expansion packs to be released!
Best games and company
by Punkymarie
This is my favorite game along with hexes, flow free, and now warps. I asked for an option to turn off the animations and within a few days it was done! Plus new boards to boot 👍. Thank you so much. Best game and best support around--real people are behind this company. For you reading this, beware, for this game is addicting--as all my family and friends agree.
Absorbing puzzle game
by Foxcarver
This is just plain fun and if you have a question or issue, customer support is awesome. Puzzles range from preschool easy to PhD grandma head scratcher.
Great game
by utitamar
It's lit
Great game, but...
by hcripe
I am almost to a 365 day streak on Flow Free Bridges and Flow Free, and they has been a great games. My big complaint about this latest version, along with others, is the animations after each move and at the end of each game. I find them extremely annoying and would like to turn them off, but can't. Please add an option to disable these animations. I have always found these games as five star games except for this issue in the latest version.
Hate new feature
by Chatulim
What is it with the blinking end points and flashing when a flow is completed? This is distracting and obnoxious. Is there any way to turn that off?
Great game ,
by Thumpy the Don
Everybody should play
Fun, challenging Bible App
by Ehdie
One of the best Bible Apps I've played. Fun, challenging, and creative.
Great game
by o'pork
This one and the other flow games are a lot of fun and challenging
Great App, but has a few downsides
by katebourgeois
First of all this is a great app. It is very entertaining and does not need wifi, so that is a definite plus! I will list the pros, and the cons PROS: -does not need wifi, this is very good for me considering i do not have wifi everywhere i go. (ex:school, restaurant, etc.) -you can edit the colors, the free version lets you select from 3 different choices! My personal favorite is the pink one! -rarely crashes! I have had this app for one month and it has crashed once. Which is Amazing compared to my other games! -the game itself is not to easy or hard. There are some levels which are simple but others are very complex, very good Balance! CONS: -ads pop up a bit too much, just gets annoying after a month. -not everything is free. Yes, i know this is a free app. But I expected a little more things to be free. I hope this review is helpful! If you are a parent considering buying your child this app, I give a thumbs up👍🏻. Have a nice day!
Review
by Ffsudukouser
Entertaining and I assume it will keep me sharp.
I love it!!!!!
by Harbear2006
This is a great game because you can play it offline it is free and there are so many levers!!!
Love this app
by Jaden's iPad
It's a really good app to use when you're bored and it gets you thinking
Very good!!!
by Tater sauce4u
This is a very excellent game and it helps me think! Excellent before the school year starts
Bridges
by Danniej77
Love it
Great Game
by Giras Von Nacho
Perfect for killing time or relaxing. The bridges keep things more interesting than the classic game
Great App
by Steuartb
Well designed & executed.
Enjoyable
by trishanne26
Challenging enough to keep your interest without being so difficult you want to quit. Love the bright colors. A good game to play if you want something you don't have to fully concentrate on and can take your time to solve.
Simple, elegant, well-designed app
by Hyp3rrocks
It's addicting and simple for the most part. A lot better fun to play!
Flow free bridges
by Amw620
This is the best game ever
Another gem
by GalacticKegger
Like the square and hex versions of flow free, bridges is addicting and brain sharpening. The pattern recognition engine these games are built on is amazing. I honestly would pay for flow expansions.
Addictive
by dholaday
Great game and good mental stimulation
Great game!
by ccist
Challenging and entertaining. Thanks.
Awesome 2D/3D game!
by Ultrapolitan
I love it! It's even better than the original flow! The bridge version makes it more challenge. Also it's very hooking! I'm sitting on the toilet which I should be done with a long time ago! It's the perfect time killer but you'll definitely miss your train or your bus playing this game!
Another Flowing Success!
by webevision
The perfect way to wind down after a challenging day. The mix of easy to extreme clusters of end points of light make these games quite enjoyable to complete. I look forward to the daily sets of games. Bravo!
It's a keeper! ☺️
by Marriott09
I love this time passing brain exercising workout app!
Please read
by flow free freind
Fun game to play great game my only concern is you have to buy hints they start you off with three hints the levels are kind of hard once you start getting used to the game you get better so over all five star.
Best game ever seen
by Seekers
So many levels!!!!!i personally love it!!!!!
Has "adults only" ads!!
by 26952dhje
My kids liked the games, but I uninstalled it when suggestive ads started appearing.
A good app with a problem.
by nnnnnnnnnnnnnnnnn
This was a good app. Now after every chalenge is solved it tries to force you to load another ' crap ' app to down load. I will remove this once OK app from my IPAD!1
Love this game.
by Drusch11
Love this game. Daily puzzles are always a challenge and a great way to start the day.
Great Game
by ListenToMe2012
Challenging puzzles and loads of entertainment. Should have been five stars.. please fix the daily streak and longest streak counters for the daily puzzles. They seem to have an upper limit of 166 days and not get past that. However the days played counter seems to get it right.. at least so far.. not sure what it's upper limit is, if any. Also barring these counters there isn't any other incentive in solving the daily puzzles like being able to unlock newer levels.
Fun and Addictive
by shrooms418
Please update with more levels!