Deer Hunter Reloaded
by
Glu Games Inc.
(11,930 user ratings)
FREE
Download size: 251.62MB
Version: 3.8.0
Released: 2012-04-18
For ages: 12+
⋆⋆⋆ Deer Hunter Reloaded was voted App Store Best of 2012 by Apple! ⋆⋆⋆

Optimized for the iPhone 5!

Enhanced Graphics for the new iPad®!

The most REALISTIC and AUTHENTIC hunting sim returns. It's time to RELOAD your rifles and take to the wilds of North America to bag the BIGGEST GAME out there!

First Person perspective with visually stunning environments

NEW X-RAY MODE
To target specific organs

STAMPEDE MODE
Beat your friends to the top of the leaderboards!

SLOW-MOTION BULLET EFFECTS!

MOVE BETWEEN STRATEGIC VANTAGE POINTS
To line up the perfect shot

CUSTOMIZABLE PLAYER AVATAR
With a variety of jackets, vests, boots, and hunting glasses

COMPLETE CHALLENGES
Collect trophies for your trophy room

GAME CENTER
Achievements and Leaderboards

PLEASE NOTE:
- This game is free to play, but you can choose to pay real money for some extra items, which will charge your iTunes account. You can disable in-app purchasing by adjusting your device settings.
- This game is not intended for children.
- Please buy carefully.
- Advertising appears in this game.
- This game may permit users to interact with one another (e.g., chat rooms, player to player chat, messaging) depending on the availability of these features. Linking to social networking sites are not intended for persons in violation of the applicable rules of such social networking sites.
- A network connection is required to play.
- For information about how Glu collects and uses your data, please read our privacy policy at: www.Glu.com/privacy
- If you have a problem with this game, please use the game's "Help" feature.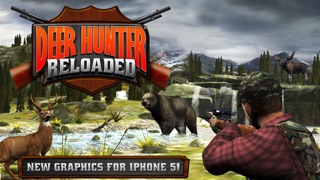 Powered by Facebook Comments
Customer Reviews
Update
by -Adrian-2
Update this to iOS 11 so I can play it on my phone
Up date this please
by that_boi_drew16
Please up date this game I love it 😍🔥
Update iOS 11
by Redshawn1
When will the update be released
It don't work
by J a k e t h e s n a k e
Don't download if iOS 11 is downloaded this app will not work they need to make an update to fix that I liked this game but it doesn't work anymore so I can only give it 1star I would 4 but I can't
Worst game ever
by 🤤🙄🤮🤒👺👿☠️😼😽😺👻
Horabol cannot even play it because it can not be updated waste of time you have to spend real money to complete all of the dark hunt DO NOT BUY IT
Doesn't work on ios 11 😡😡
by Milad taheri tari
Long time not update and doesn't work now
Deer hunter
by usedsgm
This hunting game is really good😄
WORST
by thisgameisnotworkinh
WORST THING EVER MAKE A UPDTE FOR IOS AND I PUT FULL STARS
Its cool
by rodsebas
But aperantley it wont let me download it
Not working
by JaKeL24
This app needs updated to the newest version 11. Update please!!!
This is awesome.
by Britney B
This should be on Facebook who made this game?because your really great.
DON'T Waste Your Time . . .
by dglamb
Amazing how you create your games so that at some point it becomes IMPOSSIBLE to progress further in the game unless you spend money. I have no problem spending money, just do it up front, charge $9.99 for your game. What greed and what a waste. I just deleted your 2 hunting games.
THIS IS SERIOUS
by Darth_Cader
Hey Glu, IOS 11 just came out and the app is no longer compatible. PLEASE UPDATE THE GAME! This is probably the best game you've ever made and I played it every day since the ios update. Please!!!!
Waste of time
by ⚾️MJ⚾️
This game doesn't give you enough time to earn money and gold and then you have to either do challenge that are impossible to do with your current gun, or you have to pay to get money.
Rate
by -Pinkerton18
Love it!
Great Hunting Game
by Ty Cooper
I love the hunts in this game
Pathetic
by Ffdgdch
Still waiting for realistic deer hunter game idk where they would think accuracy like this would be in anyway associated with deer hunting or any other animal for that matter
the first thing i wanna say is
by Take my advice for once
this game is great, better than any game of hunting nowadays and is an icon to all hunting apps. yes some weapons are way overpriced because GLU wants the money. but the weapons that are overpriced are the weapons you dont really need, i mean when do you see a hunter using an MK-14 to shoot deer. also its simple to learn hard to master. and a great overall game because its not complicated like other deer hunters. in this game you actually have a choice of what weapons you want to bring, when in other deer hunters you have to have all the perfect equipment to hunt, just get this game if your looking for an awesome hunting game
far bullshot
by deafasiancoolboy
wow
I would give this five stars if not for...
by Avereillie
I love this game, I play it everyday. It's so fun! I do agree with one of the other reviewers saying that they don't let you earn enough gold to buy the really good guns, but some of the better guns you can pay for in cash/hunter bucks. I had saved up enough for the most expensive gun in the whole game that you can pay for in hunter bucks, it was $30,000.00. It took me a long time to save up for it, and I was really excited to finally be able to buy it. So I went to click on the buy icon, and the whole game shut down, it just completely shut off. I reloaded the game, expecting to either have purchased the gun or still have $30,159.00 in my bank, but no I had $159 and no gun. I was really disappointed and I tried everything to get it back. I couldn't. Note to the maker of this game: please reimburse me for the money I lost. That's pretty much the only thing that I think should be improved about this game, other than making the gold easier to earn. Thank you for your time.
جميل
by Abdulaziz Alzhrani
جيد
Download It!!!
by BIG_DOG2.0
I don't know what kind of wifi or download stuff they have on it but it's still a good game, they could update the graphics though.
Good Game. Possible Money Grab
by SonicBoomC98
This game is an ok game.It's fun. The only problem is it seems like you might need to spend real money to move. The hunter has extremely unsteady hands without an accuracy boost. Sometimes targets are too far away without scope upgrades. On some missions, there is no way you can win without newer, more powerful weapons, you need premium resources(Gold in this game) to buy a battery for night vision. Some things you can buy with in-game cash, but you'll never make it far enough to win real money. The firing system is not the best either. The fire button is in the extreme, bottom right corner. I miss it all the time and hit reload, weapon switch, or nothing at all. Those buttons are right on each other. Most people's natural finger and hand movement is not going to stop in the corner like that. I'm playing on a tablet, and I have it in a case that lets it sit up like a laptop screen instead of my hand, but I would guess that in my hand, I will still miss the button.
Awesome game
by Barbarian 222
I love the game. Parts may be unrealistic, like the fact that I just no-scoped a thousand yard shot, one shoted a deer. But it's fun to upgrade those characters and get new guns and best of all, hunt like you can't in real life, plz stop those nasty comments and just love this game. Peace ✌🏻️🐢🐢🐢🐢🐢💩💩💩💩
Not very fair in the beginning of the game
by Jdkrhaifntkwltlgpwbsy
When your trying to get the .300 ultra mag it takes way too long because you can't get the money for it except for stampede and a small amount from failing missions. The missions at that time are near impossible because you can't kill the animals with a single shot, so they run away and you can't get another shot at them. You can't upgrade your scope either because you have to save the money for the ultra mag. I think the price for the .300 ultra mag should be lower, as well as stampede mode giving more hunter bucks( you only get like 20 for 7 rounds)
Really awful and greedy
by Ahmadizer
This game has to be one of the greediest games in existence, literally you can't do anything after the first 3 levels unless you spend at least 15$. It's a waste of storage.
Awful
by vikivivivi
This advertises as a free app but in fact it forces you to buy their products.
Ditto to the one star reviews.
by 87690499mc
Play it until it starts getting stupid and then delete it, then reload it. I can't believe the amount of money they are trying to squeeze out of this POS. There must be some illegitimate Abu Dubai offspring that have unlimited allowance that keeps the creature (not creator) in business. You are hated.
Very, very bad.
by RayTay3
The graphics are horrible, it's hard to aim, and it keeps asking to tweet the game. It's a horrible game. Don't download it.
Super expensive to play dont bother
by Lincoln19822
After getting the game and hitting the "money wall" after only a few plays I realized it was going to be very expensive so i checked and most reviews say the same but GLU isnt hearing us. We all should uninstall until they get their greed under control.
Average
by Ricka67
It needs more free gold..
Really good
by Jvgjvkuv
It is very good
Other one is better
by FishyS!
This game... It's worse. The graphics of the animals dying ... WORSE. The shop... WORSE. the whole graphics... WORSE and CRAP And finally the home menu is CRAP
Nice
by Grimsorrows
This is a great game and great way to pass the time!
Shut the truck up about trucking Twitter😡🖕🏼
by DerekDDA
EVERY TWO SECONDS THIS TRUCKING GAME KEEPS SAYING, WOULD YOU LIKE TO TWEET THIS, IM LIKE TRUCK OOOOFFFFF😡😡😡😡😡!!! pleas fix this it's soooooo annoying.
Good game, few bugs
by X_Faze_Gamer_X
The missions are great and it's a challenging game but there are a few bugs. 1. All of the weapons cost too much gold. 2. Too many adds. 3. And finally, Glu Is always trying to make stupid deals with you. I have 1 thing to tell all of you folks out there... DONT MAKE ANY DEALS WITH GLU!!!!!!!!!! All they have ever done to me is rip me off and I'm sick of it. Do not and I repeat DO NOT fall into the same trap I did and blow your money on weapons. Trust me you'll blow the money way too fast. Otherwise good game.
To many commercials
by Drkblade115
This game is nice and fun but it has to many commercials
Worst game ever
by Djeeiridjdn
It does force you to buy gold from sponsors, and even if you participate, it doesn't credit you the gold. Worthless!
Game play is good game add ons expensive and ridiculous
by Tragicfigure
Unbelievable what Glu charges for game add ons and how they confuse you with the whole cash and gold thing... My niece plays the game and tells me she needed my password to spend her cash in the game on gold I see she had a ton of cash so I gave it to her... 300 real dollars later I get screwed out of my money... This was my screw up but you can't tell me I'm the only adult that got suckered with that by a kid which I totally think is Glus intent.
$$$$ and pop up ad crazy!!!
by Thatsapig
The only way to get anywhere in this game is to spend money. The prices are so high it's ridiculous!! You can't even buy enough gold in the game with $100!!! It's so stupid. Besides the super impossible task of getting anywhere in the game without spending a butt load of cash, everytime you do: pass a level, loose a level, log on to the game, hit the back button, hit the forward button, an ad pops up and takes you to the App Store!! Like I say this game has a lot of flaws, and if you don't want to spend at least $100 or more of your paycheck, don't get it.
High Gaming
by 710gaming
Only lvl 5. Game is great ,fun to play and a good time consumer
Top 5 favorite Games
by SigmaChiCsus
Overall legit app. Gold and points are easy to get offline for free. Slightly addicting
Fun
by Lyons4435
Good game
Awesomest 👍🏼
by App jujr
Cool game. Good job on the graphics and the way the guns actually work. This game is quadruple cool!😀 Nice job. Also, I'd like an update. U can watch videos for unlimited gold.💰 Plus, please make guns cheaper.
Hard
by Tbonemssmako
Not nearly as good as DH 2014
Cash Grab
by The reviewer of ipod
If you'll notice this company makes all the deer hunter games... And they're all the same. The same cash grab tactic pay wall you hit, being blatantly obvious that you must pay to do good. Unless you want to spend 100$ in a bad mobile game when you could get a console game 10,000 times better for less money this game is bad. The same graphics same concept, same animals, same company, same crap. With a different name.
Excitment?
by SJL61
The only excitement in this game is waiting to see if the next scene will res up. it takes from 3 to 5 min. in any body's perspective thats waaaaayyy too long this app crashed on me 4 times in the past day. Perhaps your experience would be differentI but I don't think so. save your money for something that works.
Not good
by Speirsandsidemenfan123
The controls are really bad in this game and I would not recommend this game to anyone
AWESOME!!!!😃👍🏻
by ADDIE1at twinspringfarm.com
This is a great game for beginning hunters and just for fun! It helps me work on my hunting. BUY THIS GAME!!!!!!!!!!!!!!!!!!!!!