Deal or No Deal
by
iwin, Inc.
(309 user ratings)
FREE
Download size: 98.38MB
Version: 3.70
Released: 2012-12-18
For ages: 12+
Try your luck in finding the $1,000,000 briefcase in the only officially licensed app based on the hit TV game show! You'll need nerves of steel and a little good fortune to beat the Banker. No trivia, no stunts. Just one question: Deal or No Deal? Do you have what it takes to make the right deal or will you be left with nothing? Test your skills now.

With nearly 4 MILLION downloads…hear what our players have to say about Deal or No Deal!

*****by Grams8
"Game is just like the TV game. Makes me just as nervous playing this game as it did when I watched it on tv. Love it!"

*****by Lee Lee C09
"FACT: This game is AWESOME!! Totally freaks me out every time I play and I love it!!!!"

*****by Deedle03
"Very addictive game and fun to play. My kids also love it."

*****by Pink0413
"I think this game is by far the best game I have every played on a phone."


We'd like to thank all of our players for helping Deal or No Deal hit the top charts:

#1 game in Australia, New Zealand, Philippines, Singapore, Greece, and six other countries.

#2 in the United States, Canada, and Egypt!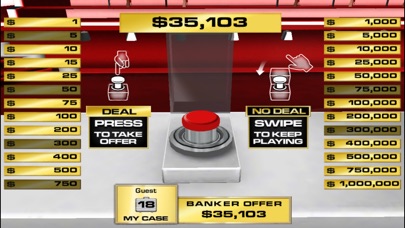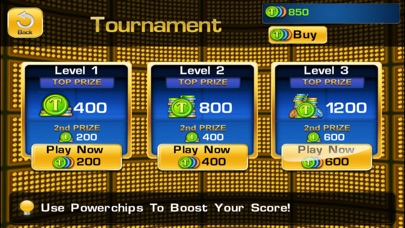 Powered by Facebook Comments
Customer Reviews
Rigged
by jamesbondthe reviewer132
The tournament is rigged I tried to play they has 80,977 and I had 90,846 it gave them an extra 100,000 losing all my tokens other wise pretty good game
Wouldn't work
by lawrenblaine
I tried downloading it several times. I kept kicking me off the game.
Simple Fun
by takerfan4
I used to watch this show a lot, thinking it required virtually no intelligence. Then I downloaded this game, and saw what made it so fun. I have had a great time with it, and would highly recommend it to fans of the show. Those complaining of ads, pay the $3 like I did. More than worth it! Only quibble is the hard push of micro transactions.
Crystal
by Miller 17
I'd rank this a 5 if it would let you know after you've accepted the deal to see if you actually had the million in your case.
Best place to watch only adds
by Mirza1436
ADDS ADDS ADDS ADDS ADDS. BULLSHITT
It opens then hides
by Devildog9094
It opens then goes away when I scroll up it's there but when I click on it to bring it forward it just goes away again
Deal or no deal
by C Jill j
I love this game, but I've had to delete several times where it won't come up & I lose my level & it freezes for some reason too, I've deleted & added it back 4 times cause of this technical problem 😢
Won't open
by Genie Menken
Opened and I was able to play the day I installed, but now, a few days later, the app won't even open.
good but a lot of ads
by Shelley and B
It had a lot of ads but other than that it is good.
Not sure. =(
by CraftyAddy
It is fun. But over the time it get really boring.
Needs fixing
by islandgrl30
Game no longer loads or opens. Just crashes on startup.
Freeze
by watashe26
Ads pause during game
Unplayable
by Zzzzzz111zzzzz
Fun game but too many ads for other games. It's unplayable due to the amount of ads.
Fail
by Jwho44
Doesn't even work
Broken game
by Gkfshhdfcc
Can't open the app so never got to play it. No stars for game that won't open and I cannot play.
Too many ads
by Tumblergirl13
This one ad keeps popping up and literally will not go away until I delete and redownload the game and it is SO frustrating.
The Vault
by LoyalFriendNtrue_1974
Awesome game! Just curious, is there any way you could add the vault into the app?
Deal or no deal
by Gmcglith1988
Great fun
Too many ads
by ZDsDad
I played this and loved it.But then ads kept popping up and then you spend 30 mins watching ads.
Fun
by Jackmil5
This game is lots of fun, it would be awesome if there was an Apple TV version
Can't even play anymore
by Zhast
Whatever happened with the most recent update, I can't even play anymore. When I click "play solo" it just keeps playing an ad. Endless loop.
Fun but those ads!
by All I do is try
I'd rather pay than scroll through silly token appeals and ads for other games. Annoying.
Rigged
by all sports,games,shows staged
The game is staged and rigged y'all ought to be ashamed of yourselves with these juiced games
I can't even play
by CMBfangirl
There were too many dumb slot games. deleted
AMAZING
by Mc Donald's man
Cool Game
Deal or No Deal
by jbcfffvvnmkhcvv
Deal or No Deal: They cheat and mess up the game. When you are just about to win, they change the briefcases. When they say swap or stay, they always give me the one with the less money. It's very frustrating.
Doesn't work
by Bblondiiee3
I down loaded the app and it doesn't seem to work.
Not working
by mgcain05
Not working on iOS 11 for me. Screen rotates and icons enlarge but I am still on the home screen. I can see the game in a portrait state when I double click the home button to change apps, but selecting it still stays on an oddly zoomed home screen.
Won't load
by Polaran22
When the game does load it's fun! But that being said I've played 2 games and then it won't load again, I tried everything, opening and closing the game even deleting it and reinstalling it and nothing works
Ridiculous amount of adds
by kgaog1980
The game is fine when you actually get to play it. However it is so overloaded with adds it's not worth the time.
App not downloading!
by gmgirl2014
This game app is not downloading at all! I've tried unstalling and reinstalling. Nothing happens
Nice!!!
by Ocean-paradise
This game is awesome. Love it. But it takes time to load
I ❤️ this game!!
by softball9😁🐶⚾️🐬😁
This game is so great! It is so hard to stop playing it! If you like game shows and surprises as to what comes next then this is the game for you.
Highway gridlock Catastrophe
by blktexn13
I initially loved this game. I watch every episode and play it every where I can get to. The game continues to freeze and crashes. If you talk to customers or even read their comments you will be able to perfect your craft.
Pop ups are horrible
by MathHearter
I just paid for the "no ads" version which is $2.99 AND there's still a never-ending barrage of videos to watch and ads for games! My grandkids wanted to play BUT I'm we are all so angry! Shame on you!
Fun but glitchy
by Fred Fredburger Rox
This game is a lot of fun so far, the only issue is that after certain ads the app completely freezes on the ad screen and won't let you close it! It's happened 3 times in a row. While you can pay 2.99 to get rid of ads I don't want to be forced to pay just to have the app work properly.
Better options
by Idontknkwanymorenocknames
For nostalgic, television style games, this a great option. The developers did a great job. However, the ads that are introduced, and the lack of options to bypass, have prompted me to write this review. The daily spin is forced on you as well, which introduces more ads. This game is very ad heavy compared to other gaming options. I, unfortunately, have decided to delete this game for now. Maybe a new rev will bring me back.
iPhone X
by Gabvelez97
It won't load at all on the new iPhone. Really disappointed
Doesn't even work
by Agustín Cedillo
I try twice and doesn't even open the app and block my phone that's so sad
You got to be crazy
by Meoooo111
I deleted this as soon as the long ads and then you want to charge 2.99 to remove ads.! You people need to get real on theses ads! No game is worth paying to remove ads and you all can do other ways to show ads! I'm taking a stand on this, and there's no way I will buy any game that you have to show long ads on! No money here!
Deal or No Deal
by david754
I love this game. It almost identical to the original television game.
Not opening
by LovinTheZombie
Was working fine. Now it crashes upon opening......
Annoying
by Staceyammerman
There is soooo many ads, videos ect. It's impossible to get away from the ads and videos, so if I want to play another game of DealOrNoDeal I have to delete the app and then download it again. Frustrating. The game it's self is okay. Except if you make a deal.. it won't let you choose the case that you would have picked next to see if you made a good deal or not.
The game crash the second I run it
by Mudder76
I was excited to find this game but unfortunately it doesn't even run.
Awesome
by Sebassseli26
I love it
Deals
by Dusti2012
Love TRYING to win the million but it's very ! I think I have a system but evidently it's NOT a good one. But still love to battle that stingy banker!! LOL. Try it and you'll get addicted as well.
Deal or No Deal
by Musikr4us
The game is fun, but the ads are very annoying. It takes 3 or 4 ads just to play the game.
Won't open
by MetalMeatHammer
Immediately crashes, didn't play
Keeps freezing up on me
by karra22
Enjoy playing this when I'm bored and relaxing. But every time I open up the game it freezes up on me Deleted and redownloaded. Please help me enjoy again and it will be 5 starts
Ok😕..... But 2 many ads
by Penguin17068
The game is fun and all but the ads r so annoying but like I said the game is fun an addicting 😊😊😊