Deal or No Deal
by
iwin, Inc.
(60 user ratings)
FREE
Download size: 98.38MB
Version: 3.70
Released: 2012-12-18
For ages: 12+
Try your luck in finding the $1,000,000 briefcase in the only officially licensed app based on the hit TV game show! You'll need nerves of steel and a little good fortune to beat the Banker. No trivia, no stunts. Just one question: Deal or No Deal? Do you have what it takes to make the right deal or will you be left with nothing? Test your skills now.

With nearly 4 MILLION downloads…hear what our players have to say about Deal or No Deal!

*****by Grams8
"Game is just like the TV game. Makes me just as nervous playing this game as it did when I watched it on tv. Love it!"

*****by Lee Lee C09
"FACT: This game is AWESOME!! Totally freaks me out every time I play and I love it!!!!"

*****by Deedle03
"Very addictive game and fun to play. My kids also love it."

*****by Pink0413
"I think this game is by far the best game I have every played on a phone."


We'd like to thank all of our players for helping Deal or No Deal hit the top charts:

#1 game in Australia, New Zealand, Philippines, Singapore, Greece, and six other countries.

#2 in the United States, Canada, and Egypt!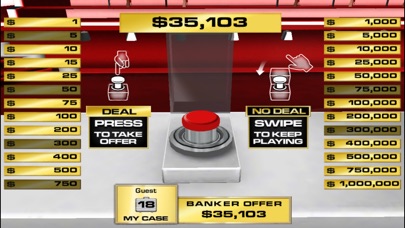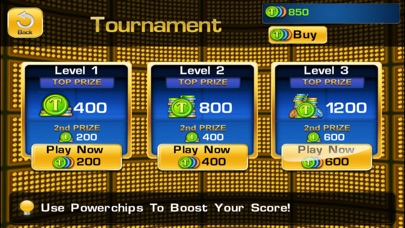 Powered by Facebook Comments
Customer Reviews
Loser
by Mthgfd
I hate your game more fun
Horrible
by I love you bok
I keep trying to play the game but it just blacks out and quits
Crap.
by Bo2o181
Game won't open. I played the game once and I tried to open it this morning, but it won't work. I can still close the app by double clicking the home button but it won't display on the screen at all.
Deal or no deal
by bobby krocker
Lots of fun
I get dubs all day
by pen islamd
I won the $1000000. I think that sums up the game
Sunshine
by ojo 27
I love this game on here if I could play more than once it would be excellent
Doesn't work
by StitchJoe
Installed and doesn't open on iPhone 7 Plus.
👎🏼👎🏼👎🏼
by Cute & death
I would give the game 5 stars it's so addicting but the ADDS make a big difference there so annoying cause they come all the time and
Love it
by Gramoo2b
Loved the game show, enjoy the game app!
Ads
by Ifggftggf
Ads, ads, ads. Not the short ones but the lengthy ones you are forced to watch. Free to download and 2.99 to get rid of the ads. Gawd!!!
Freezes
by Happykid56
It wont let me play after the tutorial. It freezes on the home page
Great
by Lord11$$
Its a fun game I can play with family & friends everywhere.
Don't get
by $&4$8
Always makes you feel like a looser .
It's ok.
by Siri-Lover
When one is sitting on the toilet, this mobile app game is better than nothing.
GREAT FUN
by NavyDoc65
This game is much like the TV version. It's a lot of fun and would get five stars if it showed you not only what's in your case but where the $1,000,000 case was located.
Deal or no deal
by The dashboard
It could loose all the adds that pop up who ever said love it is right but wrong at the same time ok ok get it😤😡
Fun
by src9596
It wouldn't stop bugging me to review so here it is. Only major complaints I have are that sometimes the ads Can get annoying and after you take a deal you can't see what's in all of the cases there are left. Love how the game doesn't use data.
Fun
by MarfaJ
Fun but ads are a bit annoying
Deal or no deal
by Sal De Vinci
"WAT A DEAL" !!!!!
Deal or no deal
by zimybeach
Was fun and very much like the original
Lese
by Chanman & Lese
Fun edge of your seat game. Very risky but lots of fun. This game keeps you guessing all the time!! Great game to have fun with!! If only, winning the money was real. 😁😁
Awful. Ads are so intrusive and so many that they almost entirely inhibit actual playtime.
by Annoyed at crappy apps.
I got so frustrated that I had to uninstall the app. The ads are so intrusive and so plentiful that they almost completely inhibit actual playtime. Ad after ad after ad after ad... It's utterly ridiculous, so I gave up on it.
slots pharaohs way Fun
by jImUuvpvAIkr635
slots pharaohs way I can't stop playing it's one of my favorite casino games I'm addicted to it!!!
Disappointed
by RLEJH
I love the game but I keep having to delete the game from my phone and start over every time I attempt to connect with Facebook. After I connect the game it just freezes and stops working all together. Would be much more enjoyable if the game actually worked or I didn't have to play as a "guest" every time.
More ads than play time
by ninja_660
I realize ads generate revenue for free games, but this game is almost 80% ads vs play time of the actual game :( removing.
I guess it's kk
by bioniclabratbree
Fun but not my fave idk about what I should rate this
Fun and addicting!!
by Sandydz1
If you like the real game, you'll love playing!! You really get into it and try to choose right. Great fun...I only wish we could win the money we earn. 😎😁🔆
I love it
by Peace smile
This is the best game
Get it
by sammi9121
It is so good I couldn't even put it down
Games
by Boohoo19283746
PLEASE bring back THREE STRIKES AND KNOCKOUT!!! Please!!!
Deal or no deal
by Shawnstomato1202
Game of chance it's ok if your bored
Love
by Hpoy1427
I love it because it's so much fun
The game keeps freezing and not working
by Greene1022
Hi there I am letting everyone know please fix this problem please I love this game
Used to love it
by Clemsonboy0872
Game keeps freezing, but then when I got it connected to my Facebook the game won't even load. I have to delete it every time. Such bull.
Can't play
by Kckeller
Well that was fun. Played one round where I chose the $1 case, of course. Now the game can't load the main menu, even after resetting the app multiple times. Already uninstalled.
DEAL👌👌👌👌
by Tunamas
Love it but should have more sound tracks to it
✌🏽💕
by lgr5262
Very good game
Good
by Cockbrezzer
When you play this game it has so mini commercials or videos and if you don't want them you have to pay 2.99😞😞
My fave!!
by Chicapo
My favorite game by far!!!
Very addictive and fun
by FT3too
I love how I always want to compete and find the $1 Million case
Shirley
by Mom-mom3
I love it!!! I play all the time!!!
The game for you
by 555ggg333
If you just love doing nothing, but watching stupid, and cheesy adds. This is the game for you! Adds!
Ads
by Jgilbjhusbf
So many... ADS. To many ads
Nice app
by Zacariasp911
It is a fun & addicting
Great version
by AndyNeb990
This is a great version of this game! My only question would be, can there be a setting you can switch to have hot dudes open the cases instead of hot girls? Thanks!
Love it😍
by Flsk8pro
I well this game so much! It is so fun in the ads that pop up which doesn't have to often they are really fun games as well and it promotes other apps which I love and the most amazing thing to me is you watch one short video to put the $1 million back in place and how you can get coins and chips to get higher amounts in your case and they don't win at you with a certain amount of please like tickets or coupons. It is super fun and addicting and I really think you should get this and you don't need Internet for so you can play anytime you want
Deal or NoDeal
by Skooter2015
I was playing the game and having fun with no problems at all.Then later on the game kept freezing on me and won't load.
Played one round.....clearly rigged. Waste of time.
by happage
As title says
Glitch
by Brace Face🤓
This game keeps sending me back to the stupid free spin and won't let me play! 😡
Great too many ads
by thee1blonde
Too many ads