DEAD TRIGGER
by
MADFINGER Games, a.s.
(4,760 user ratings)
FREE
Download size: 287.4MB
Version: 1.9.0
Released: 2012-06-28
For ages: 17+
HOT NEWS: Hey Guys, if you like Dead Trigger, don't forget to check out its sequel DEAD TRIGGER 2 then! We are sure you will love it too! It's out NOW. ;-)


App Store - Best of 2012, Apple's Hall Of Fame, Unity 2012 Awards, more than 26 million downloads !!!

⋆ Follow the story or enjoy unlimited random missions
⋆ Explore 10 unique environments
⋆ Survival mode - Defeat never-ending waves of Zombies in 4 Survival Arenas
⋆ Level up your character and enjoy more than 40 hours of gameplay
⋆ Relax in Casino and earn more Money or Items

Get the best out of your device

⋆ Stunning graphics with advanced lighting and post-process effects
⋆ Full 3D characters and environments with an unprecedented level of detail
⋆ High quality 3D audio and a lively music soundtrack
⋆ Character animations recorded using high-end motion capture
⋆ Intuitive controls
⋆ Spectacular ragdoll effects


Enjoy the zombie slaughter in many different ways:

⋆ Blast 'em out of existence with lethal weapons
⋆ Blow them up with powerful explosives
⋆ Chop off their limbs and let them die slowly
⋆ Shoot away their heads
⋆ Evolving zombie AI will keep you entertained
⋆ Follow the story or enjoy unlimited random missions

Load your gun and save the Earth!

⋆ Equip yourself with 21 different weapons - Colt 1911, Scorpion, Striker, Enfield, Minigun or even more brutal weapons as Chainsaw, Brain-Mill and more
⋆ Utilise 17 powerful gadgets including a Laser Cutter, Revive Kit, Slow Time, Head-Flator X1, Plasma Turret...and all kinds of boosters, baits, explosives and more
⋆ Unlock 13 character upgrades like Radar or Autoheal...

New online service from MADFINGER Games

⋆ Receive free updates with new missions, weapons, gadgets, characters and more
⋆ Backup your progress on Cloud
⋆ Add your friends and more



We are happy to share more with you and hear your thoughts! Please follow us at:
http://www.facebook.com/madfingergames
http://www.facebook.com/DEADTRIGGER
http://twitter.com/MADFINGERGames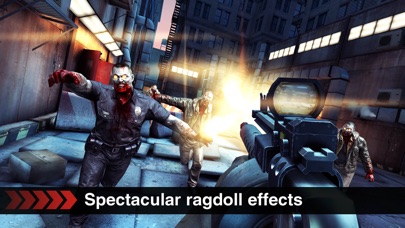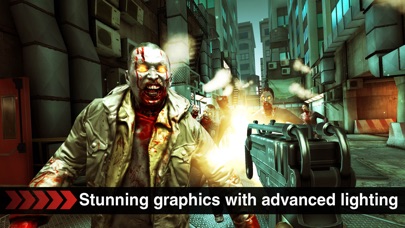 Powered by Facebook Comments
Customer Reviews
UPDATEEEE!
by Alex Roach
UODATE SO IT CAN BE PLAYED ON IOS 11!
I love it but....
by The little Hispanic
This is one of my favorite games but I really need that update for me to be able to use it on IOS 11 because at the moment I can't download it
😤
by Lil algo
Update now plz thx lol
I like this game it's cool but adding cars
by Blake1389
I like the game
It won't work
by SpaceCityWallStreet
Hey I love this game but it's not working on the new updated version of iOS.
awesome
by :[Blackdude]:
it was cool
New booster
by Emmanuel Ragudo
Hey Developer, I got a good idea what if you make a booster that helps players have a bigger chance of getting blue prints because alot of players are complaining that they wan't powerful weapons but the blueprints for them is hard to get how you about you make a booster that can help people get blueprints in a higher chance.
Nice game
by Please delete these ads
This game is AMAZING and super fun to play. I played this game in my car and in a restaurant.
Best game back then but....
by Onin the IGN reviewer
This game is the best but it is outdated now.
Uno de los mejores
by Angel0843
Uno de los mejores juegos de zombis!!
Please update compatiblety for ios11
by Alphadog3410
Please I love this game I lost it because it doesn't work with ios11
UPDATE
by HwidbskxtenoP728:9;
this game is great out of every other game, but now it doesn't work because of the update. Please update ASAP!!!
Dead Trigger
by Gib2let2
Excellent game! A lot of zombies to kill 🤗
Could you please update
by Debug mode
I really want to play this game but I can't play it because I'm on iOS 11 so if you can update it that will be nice.
Update
by Lc50425042
Please update the app so we can play the game with the new OS 11
Please update to iOS 11
by Skill hunter 1018
I love this game sooo much there are very little like it. I would love if you guys would update this game to iOS 11. I have dead trigger 2 as well but that app requires WiFi or cellular data and I and I think some other people may not have that all the time so please update dead trigger to iOS 11 thank you!
Update it
by Joshua bobbin
I would like to play it but it is not compatible with iOS 11
Update to 11
by Cloud daisy
Can you update the app so it runs on iOS 11?
Best game ever
by Zie bear
I remember playing this when I was 6 now I'm 11 and just came back to it and played cuz I was bored this is the best game ever idk why I even stopped playing it
UPDATE!!!
by great easy and fun!
I love this game but it needs to be updated to IOS 11!!!!!!
iOS 11 update please
by My Rate Duhhh
I love this game a lot but I haven't been able to play it or even launch the app at all since I've updated my phone. There are no updates available either
Dead trigger
by DarApe
Awesome !
IOS 11
by Head poper
Please I am begging you, update this awesome game.
Update
by D.C. Dudes
My phone will not let me use this app because it needs a update
Very Fun
by CoDKid300
This Is a really Fun game
Used to be good
by Preston561
I played this game on android and iOS and now it's saying not able to run on iOS 11 please fix this. This is a good game one of the best on iOS if it ran on iOS 11
iOS 11??????????
by tboyd91
Update so we can play plz!!!!!
Update
by EazyE216
When will a update be available
Awe-
by BON3CRUSHR17
Some
Help
by alexdude01
This game is awesome. I love playing but right now I can't. I recently updated my iPad to the new IOS 11, when it did that I didn't know it affected the game until after. In order to play my game you guys need to update your game to the IOS 11 thing and I was wondering if you guys could do this. Thank you
iOS 11
by XxNando007xX
Hey Madfinger. I recently started to play this game and I had so much playing it lately. One problem is that this game stopped working when the new version of iOS released recently. It would be very delightful if you could update this game to the latest version so that it can support iOS 11. Thanks! 👍🏼👍🏼
Wth
by Mario9418
Please make this playable for iOS 11
Very good game
by ybl1king
The game is just outstanding
Great game!!!!!
by dun dem
Really enjoying this game.....great graphics, awesomeness.....
A problem
by Toaster Strudl3
I took a screen shot of a issue where I'm in a level and an ad take up half the screen so I can't move, but I got a bunch of kills still. Please fix thanks
Best zombie game ever
by Clifford young
It's always efficient with the guns and it's fun the play sometimes even easy
Awesomeness
by Stikso
I truly love this game
Best zombie game
by frankx897
I love this game.
Best Zombie Game
by Ɱơŋɬყ
Actually love this zombie game better Zombie Frontier and it's kinda better than Dead Trigger 2 only cuz you get to carry 4 weapons in stead of 2 and 1 melee weapon
WTH!?!?
by TheBearDroid
FIX THIS FOR APPLE I CAN'T BUY MORE THAN 1 GOLD PACK!!!!
Goretastic!!
by Sung the Hung
I love this game! My favorite iPhone game so far!!
Bonk
by yhitafan#one
Watch yhita
Good but no good
by whyphatt
I love the game but I like to like to listen to music while I play video games but I can't do that because I can't turn the game sound off
TopNotch
by darkhydra855
Best Zombie game I've ever played on the phone. Plus it it confined into 300MB. I also appreciate the game design since I also work with unity. Madfinger makes really great apps!