DEAD TRIGGER
by
MADFINGER Games, a.s.
(4,991 user ratings)
FREE
Download size: 287.4MB
Version: 1.9.0
Released: 2012-06-28
For ages: 17+
HOT NEWS: Hey Guys, if you like Dead Trigger, don't forget to check out its sequel DEAD TRIGGER 2 then! We are sure you will love it too! It's out NOW. ;-)


App Store - Best of 2012, Apple's Hall Of Fame, Unity 2012 Awards, more than 26 million downloads !!!

⋆ Follow the story or enjoy unlimited random missions
⋆ Explore 10 unique environments
⋆ Survival mode - Defeat never-ending waves of Zombies in 4 Survival Arenas
⋆ Level up your character and enjoy more than 40 hours of gameplay
⋆ Relax in Casino and earn more Money or Items

Get the best out of your device

⋆ Stunning graphics with advanced lighting and post-process effects
⋆ Full 3D characters and environments with an unprecedented level of detail
⋆ High quality 3D audio and a lively music soundtrack
⋆ Character animations recorded using high-end motion capture
⋆ Intuitive controls
⋆ Spectacular ragdoll effects


Enjoy the zombie slaughter in many different ways:

⋆ Blast 'em out of existence with lethal weapons
⋆ Blow them up with powerful explosives
⋆ Chop off their limbs and let them die slowly
⋆ Shoot away their heads
⋆ Evolving zombie AI will keep you entertained
⋆ Follow the story or enjoy unlimited random missions

Load your gun and save the Earth!

⋆ Equip yourself with 21 different weapons - Colt 1911, Scorpion, Striker, Enfield, Minigun or even more brutal weapons as Chainsaw, Brain-Mill and more
⋆ Utilise 17 powerful gadgets including a Laser Cutter, Revive Kit, Slow Time, Head-Flator X1, Plasma Turret...and all kinds of boosters, baits, explosives and more
⋆ Unlock 13 character upgrades like Radar or Autoheal...

New online service from MADFINGER Games

⋆ Receive free updates with new missions, weapons, gadgets, characters and more
⋆ Backup your progress on Cloud
⋆ Add your friends and more



We are happy to share more with you and hear your thoughts! Please follow us at:
http://www.facebook.com/madfingergames
http://www.facebook.com/DEADTRIGGER
http://twitter.com/MADFINGERGames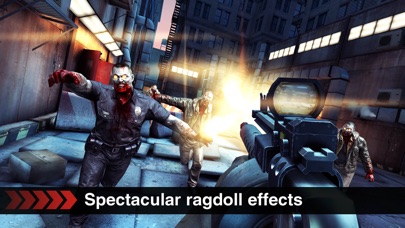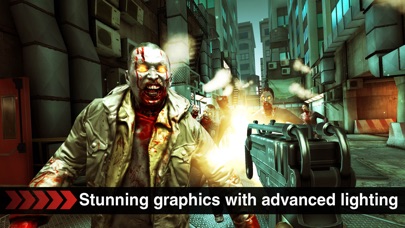 Powered by Facebook Comments
Customer Reviews
Please Update to IOS11
by EmonSan
I did put a lot of works in this game. It was one of my favorite also. Please update the new version for this game.
UPDATE TO IOS 11
by BaBster248
Read title
ios 11 update
by Momojojo777777
Come on ios 1q update please!!!
WHY
by al-berry
Why won't you update this so I can play it😫😩🙄🙄🤷‍♀️😥😥😭😭😭😭😭😭
Update
by MamiiRose22
You need to update your game so that I can play it. It won't let me play the game because it says it need an update to IOS 11 when you do update it I will give a higher rating
Please!
by Robocop;)
Please update Dead Trigger? I miss playing this game! Please update it to the latest IOS?
Cant play on iPhone 7
by Schmorgie
I love this game but i have an iPhone 7 and cant play because its not compatible with the software. Serious bummer.
Good game
by Tito.B
I love this game but can't play it on new iOS update and I don't like dead trigger 2
Please read
by Rigoisrad
Please update this games es very funny I missed PLEASE UPDATE
ANY UPDATES
by King_of_Games
Dev needs to update the game to work on iOS 11 and up ASAP can't play till dev updates this
Update
by David Allen Aguilar Jr
Please update for iOS 11
Needs update but it's an amazing game
by for mister game developer
They current game doesn't run for people who have iOS 11 and I wish I would have never updated if it wouldn't let me play dead trigger, plz update for iOS 11. I really wanna play
Update it to iOS 11
by jonaldg
You need to update the game to iOS 11 so I could play again please.
Great game
by Tiger girl 5
But update it please!!! I like this version way better then dead trigger 2
Great game, download for lots of fun
by ClutchPlays365
I first started playing this game when it came out, uninstalled it to free up space after two years, and saw it on the AppStore. I said "hey, I remember this game! It is so much fun! The only remotely bad part is how far away the zombies can hit you from. I really enjoy the TapJoy thing you can do to get gold because it gives players like me who don't have money to spend on games a way to get premium currency fast! I completed an offer in 90 seconds, reopened the app, and got 320 gold! Also, I am very happy that you can play offline. A lot of games need connection and I am on an iPod without cellular. Thank you for making a fun game to pass the time when I am bored. Keep up the good work!!!😃
UPDATE
by Zod's doomsday
UPDATE PLZ
Yesss
by Avadavagirl
Yasss get the dang gameeee
Plz update plZ
by Mbghrdjghcjdgsngbjfgdhfrdkvc
i love this game, all im asking for is the game to be updated to work for the ios 11
IOS 11
by Alexander32405
Please fix for IOS 11! I'll rate 5 stars when I can play it again.
UPDATE!!!
by great easy and fun!
I love this game but it needs to be updated to IOS 11!!!!!! If I could give this game 100/10, I would in a heartbeat. Please please please update it!! It's remarkably better than the second edition.... Bring Dead Trigger back! Update it to work with ios11!
iOS 11
by Chicothe ;)
Is their going to be a update. I still enjoy playing
Update please!
by Likemadfinger
This app won't work on iOS 11. Please update, thanks!
Tf
by Hater2579
Update so I can play D:
Update the app!
by Aj5127
I love this game and I really enjoyed playing it on my old phone, but after upgrading my iPhone I lost the game and now I can't get it because it doesn't support IOS 11. Please update the app so I can use it again!
Dead trigger
by peach andrew
Why won't it let me download on my iPad Air 2 it says developer needs to update
Update!!
by Joshue F
Update it to work with iOS 11!!!!! Then 5 stars
Update
by buyo12
Please update this app
Great game awesome time killer but I'm a little upset
by R3B3LR3DN3CK
I love the game I've played for a long time but I just got the new iPhone and it's not compatible with the new iOS so I am very disappointed at that other then that I love the game
Please update at 11. So I can play
by miguelupz
I really want to play please update to 11. Cause I really want to play I've been watching other people play and I can't so please update.
UPDATE!!
by I really good opinion
I like Dead Trigger 2 and all but I liked the original a little better. Please update this app as soon as possible because I enjoy it a lot
Es un juego mi. Bueno
by el ret due
Ven
Devs no longer care - iOS 11 incompatible
by OverC1ockeD
Header says it all...
Updates
by letmusgo
Developer hasn't updated to work with iOS updates
UPDATE
by nyelijjames
Please update so I can play this 1 as well 🙏
Just like zombies in call of duty infinite warfare
by Reed Payne
This games is so good that I think it relates to the zombie mode in call of duty infinite warfare. I've tried so many zombie fps games but never found one as good as this one. I love the holiday updates too. All in all this is the most fun game I've played since I was 7.
Fix This
by Alicebabiee
I love this game but it won't download on my phone because it says the developer has to update it for it to work on ios11. Please fix this. I love the 2nd one as well but I want to be able to shoot for myself and pick my own missions
Update please
by Lordofchaos314
I enjoy this game and would like an update for IOS 11 so I can keep playing.
iOS 11
by Llwlls
Hey! You guys need to update this app so we are able to use this app on iOS 11 - the preview versions are good (iOS 10) btw Love this game
Update for ios 11!
by Gilbert808
Madfinger games, could you please update this game for ios 11.2.1? I spent time and money into this game and i would love to play this game on my iphone 7 running ios 11. Had i known ios 11 makes older apps unavailable, i would have never updated. Will be making a review on deadtrigger 2 also for this also in case developers dont look at this games forum anymore.
Fun
by Dismarkedblaz3
Fun but it gets hard
Dead trigger
by the richest kid on earth
It's a good game I have some issues moving but gameplay still comes good playing on a iPhone 6 Plus but I have that issue running around
iOS 11 update
by Stephen7011
Game no longer supported. Developers need to update in order to play or download.
Great!!
by Mercedes Anderson
It's a really good game but I should make it so u can play it on any type of phone Because I jut got an iPhone 6 and it won't allowed me to download because u haven't made a new update
Five stars
by Rutytest
I highly recommend this shooter alot good 60 fps good graphics it doesn't have any lag to I mean what more can I say. The gameplay is alright only if they added more settings to but very good game I like it.
Please update to make it compatible with iOS 11
by JavRMT
I haven't been able to defeat any zombies since I updated to iOS 11. Please update this game, I miss it!
Dead Trigger
by RaceMADNESS
This game has the best graphics
Update the app!
by wmfgb
Update the app so it can be used on the iOS! I enjoy the game but sadly can't play it
Let me play
by 1MC11
Madfinger I love this game but I can't play it on iOS 11 so can you guys work on it plz
Dead Trigger 1 (Needs to be updated)
by Doodle nuggets -_-
Please Update this game, The Times playing were a lot of fun. And the Second game has automatic fire when you look over the Zombies, but choosing to shoot them manually was a lot of fun. So please update the app