Bike Race: Motorcycle Racing
by
Top Free Games
(985 user ratings)
FREE
Download size: 118.23MB
Version: 7.15.11
Released: 2012-03-23
For ages: 4+
App Store Game of the Year in selected countries. 100+ MILLION USERS!

Drive your bike through amazing tracks with jumps and loops in this simple and fast-paced physics-based game.

Multiplayer! Challenge your Facebook friends.

Tilt your device to lean your bike and touch the screen to accelerate/brake.

Features:
- Single and multiplayer modes
- Earn stars to unlock new levels
- Dozen addictive worlds
- Hundreds of challenging tracks
- Simple controls

By the creators of the #1 game in the app store Racing Penguin
Free for a limited time!

Note: On the user created levels section, if you want to play more than 3 featured levels per day, you will need to buy a level pack. You can play unlimited free levels created by you or your friends if you have the code. You can also play unlimited free levels shared publicly on the internet by other users. Levels can not be created on a mobile device, instead go to www.bikerace.com

Bike Race Plus subscription
- Bike Race Plus subscription has a Free Trial option that lasts 7 days. After that, this option costs $7.99 per week, auto renewable.
- Payment will be charged to iTunes Account at confirmation of purchase
- Subscription automatically renews for the same price and duration period as the original "one week"/"one month"/"one year" package unless auto-renew is turned off at least 24-hours before the end of the current period
- Account will be charged for renewal within 24-hours prior to the end of the current period at the cost of the chosen package (weekly, monthly or yearly package)
- Subscriptions may be managed by the user and auto-renewal may be turned off by going to the user's iTunes Account Settings after purchase
- No cancellation of the current subscription is allowed during active subscription period
- You may cancel a subscription during its free trial period via the subscription setting through your iTunes account. This must be done 24 hours before the end of the subscription period to avoid being charged. Please visit http://support.apple.com/kb/ht4098 for more information
- You may turn off the auto-renewal of your subscription via your iTunes Account Settings. However, you are not able to cancel the current subscription during its active period
- Any unused portion of a free-trial period, will be forfeited when the user purchases a Bike Race Plus subscription
- Subscription prices and durations: weekly $7.99 | monthy $19.99 | yearly $99.99

Links to our Terms of Service and Privacy Policy can be found below
Privacy Policy: https://www.topfreegames.com/games/bikeracepro/legal/privacy
Terms of Use: https://www.topfreegames.com/games/bikeracepro/legal/tos

* Prices are equal to the value that "Apple's App Store Pricing Matrix" determines as the equivalent of the subscription price in $ USD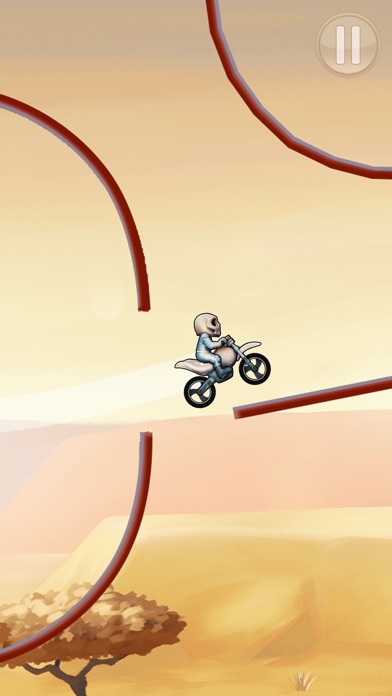 Powered by Facebook Comments
Customer Reviews
This game is the best
by omapipper1234
I saw it on the App Store when I was looking for another game and I saw this i tried it and now it's so awesome.i shared it to my family and friends they started to play and there like me.
I love it
by goateebutt
I love bike race
Restor puchases
by HRH BLM I
I need to restor puchases
Um, how
by im a dophon
Most the reviews are 1, 2, or 3 starts but it's at a 4.9?
This game is op
by Ddfjiysarg
You can do flips and new bikes
Gave 5star to soon 😡
by Emo Insanity
I hate this game IT CHANGED A LOT SINCE 2017 IT CHANGED I HATE THIS GAME I HOLE U HATE IT TO BECAUSE STUPID GAME CANT GIVE ME MU FREE TRIAL YOU NEED VIP FOR UGLY BIKES LIKE THE GIRL BIKE AND EVERYTIME I MAKE A PURCHASE IT SAYS U HAVE RESIVED YOUR BIKE BUT I NEED VIP LIKE COME ON IN 2016 AND WHEN THIS GAME WAS CREATED IT WAS PERFECT BUT THEN U HAD TO MESS IT UP WITH YOUR DUMB UPDATE FOR VIP screw this game I will never play this again Block city wars is better bye dumb person who made this
Hello
by Gummy Bear 2.360
I like this game and racing against people but I always lose and if you lose they take away like 100 of your trophies and you can't do that because you guys don't have the rights to do that because need to work on that And not take away peoples traffic anyway I like it that is why I am giving you guys a four star rate and every time you lose you tack away 1 and that is not cool so I hate you and hop you die and also it is feb 18 and you guys just took 100 away from me and you are never mind you are a no good f u
Love Game
by Kid Dander
Hello this game is the most funniest game in my whole playing life
Goods
by cassidyslayy
This game is awesome and u guys should make more related games to this one
Cool game
by Mr.Toezer
This is one cool game
No more bikes
by jmfyjkfy
I like this game but when I am doing single player I have every single player bike and when I earn stars I do not get more bikes. And I have been playing tourney for years and I still have do not have the wild wings. I wish there more bikes to earn in single player.
Bike race
by jojoboy213
Best game ever 😃😃😃😃
Best game
by VADERRB
Challenging but good
Bike race
by coolkidlilkev
It's really fun with the circles and jumps and curves and loop
Loves
by liljavy#moneymaker
Love this game
Kk and fab
by kk munsey
It is a very good game but just one thing how the in the world do you get past a freaking level how! Tell me how! Sorry for getting to 😝 but please tell me😐
Best game ever
by watermelondosh
I rate this 5 stars
How good
by cartercowboy
I love this game but I don't like the way I can die.
Best game ever
by Gamer_FNAF12 the real one
This game is SO FUN get it your love it
Awesome Game!!!
by bmg_777
This game is additive! Great time had by all!
Good game
by Lowielo
This is a good game but pretty hard at times. I love this game!!
Fun game
by moriahzumi7
I love this game I have been playing it for years!!!
Love
by $CH@M!ON$
I love it, but a little hard on some of them. I give it an 5 out of 1-5.
Bike race
by Momto2**
I hate this game. In duel the other people can cheat and not fall over when I have to
Be careful, they will charge $7.99 per week
by Xixixixix
It's not free after trial period. Don't be fooled.
Humans
by 854356556778656775775666676667
This is a very cool game
5 stars
by totomichbumbum
So I had the game but I never new about this awesome update! It was like if you had a old tv it's like you just got a new one and I love that you can play with friends or family! I think it was awesome so should you.🤩
Why?😡
by Big Shauq the One and Only
There is no point in buying this it will make u rage with all the commercials😡😠
5 stars ✨
by narwale master
Good game a little hard but give up!
LAGGYYYY!!!!!
by Amber North
Glitches all the time. I can't even play a full map because it either stops working and kicks me off or freezes up.
Great game
by Navy Miller
Very fun game
Bike Race is awesome 😎🏍
by KenJogger
It's so addictive and fun you get so many great things! I love the app.❤️
5 stars
by Hayleemonkey
So fun
Pay to win
by Dginos3
Pay to win.
Please
by salamander sausagd
Change it back :(((
New update makes me want to uninstall it
by Shawnmm89
Last time I had this game installed, I could play and earn the bikes. Now I have to pay for them? No thanks. Also, this game used to never show ads, now it's loaded with them. And the new design of everything looks like they tried to complicate it as much as possible. Used to be a simple fun game before they tried to turn it into a money pit. AND $20 FOR ONE OF THE BIKES? ARE YOU F-ING KIDDING ME? I bought the San Andreas app for $7.99. And that's a whole open world app where you can do anything. It's actually worth it. This game is ridiculous now.
Awesome
by Gangabamba
Love it!!! Loads of levels and they aren't raging.
Games fun
by tdsplan
Fun game
Best game in the world 🌍
by Zebra29🦓🦄
Best freakin game in the world I LOVE how you have to tilt the phone to do a front flip or back flip🤪🤪😝😝😁🤟🏻🤟🏻
Bike Race
by E_Ford36611
This game is the worst , it has horrible graphics and controls I personally hate it
These mechanics are dope
by HuskerHoods
This mechanical system is amazing but the fact that you are a little of a man
Nice game
by Joe n penny
Recommend to everyone
WHY DUEL MATCHES?!?!!
by Sam5cl
Why did you put fuel matches? Most of the time I play duel matches, I get stuck with an opponent that has a level higher than me!!! And I can't level up because they keep beating me!!!! And I used to have 900 trophies, but then lost 31, and got back to the 800's!!! Remove the duel matches. REMOVE DUEL MATCHES!!!!!!!!!!!!!
Bike race is amazing
by qcardenas
I love this game because of the nice bikes and in dunes I love those levels they are so challenging I'v gotta tell you how do you do it you changed my life thanks
Great
by GECA03
ITS GREAT
RUINED
by Fat man 11111993374773
Trash now!
Sucky Game PLEASE DONT PLAY
by I HATE INFINITE GOLF
This game gave me cancer
I like your game.
by thx for listining😏
I like your game😀😀😀 guy but add more bikes🏍🏍🏍🏍🏍🏍🏍🏍🏍🏍🏍🏍🏍🏍🏍🏍🏍🏍🏍🏍🏍🏍🏍🏍🏍🏍🏍🏍🏍🏍🏍🏍🏍🏍🏍🏍🏍🏍🏍🏍🏍🏍🏍🏍🏍🏍🏍🏍🏍🏍🏍🏍🏍🏍🏍🏍🏍🏍🏍🏍🏍🏍🏍🏍🏍🏍🏍🏍🏍🏍🏍🏍🏍🏍🏍🏍🏍🏍🏍🏍🏍🏍🏍🏍🏍🏍🏍🏍🏍🏍🏍🏍🏍🏍🏍🏍🏍🏍🏍🏍🏍🏍🏍🏍🏍🏍🏍👌 you will be cool 😎 guys and girls 😎😎😎😎😎😎😎😎😎😎😎😎😎😎😎😎😎😎😎😎😎😎😎😎😎😎😎😎😎😎😎😎😎😎😎😎😎😎😎😎😎😎😎😎😎😎😎😎😎😎😎😎😎😎😎😎😎😎😎😎😎😎😎😎😎😎😎😎😎😎😎😎😎😎😎😎😎😎😎😎😎😎😎😎😎😎😎😎😎😎😎😎😎😎😎😎😎😎😎😎😎😎😎😎😎😎😎😎😎😎😎😎😎😎😎😎😎😎😎😎😎😎 that was boys this is girls 🧒🧒🧒🧒🧒🧒🧒🧒🧒🧒🧒🧒🧒🧒🧒🧒🧒🧒🧒🧒🧒🧒🧒🧒🧒🧒🧒🧒🧒🧒🧒🧒🧒🧒🧒🧒🧒🧒🧒🧒🧒🧒🧒🧒🧒🧒🧒🧒🧒🧒🧒🧒🧒🧒🧒🧒🧒🧒🧒🧒🧒🧒🧒🧒🧒🧒🧒🧒🧒🧒🧒
Bike race
by Deckardswife
You have done good
This is a bad game
by GgshhefkdfJcidkck idi
I have a question for everyone. How is the first bike you get faster than one of the best bikes? In multiplayer, someone with the beginner bike was faster that my bike(the black one). Sometimes, something will come up saying that something is on sale, but it is still over $100 for something like 500 coins, and 1 or 2 bikes. Something else is the ads. The adds are annoying, especially when the same exact ad keeps coming up.