BIG WIN Basketball
by
Hothead Games Inc.
(461 user ratings)
FREE
Download size: 63.07MB
Version: 4.0.2
Released: 2012-12-12
For ages: 12+
THE #1 BASKETBALL GAME ON MOBILE! - PLAY TODAY

From the opening tip off to the game winning jump shot, it's a guaranteed slam dunk in BIG WIN Basketball. This is the basketball game for everyone. Drive the lane and rattle the rim!

CREATE your own unique dream team, COMPETE against opponents from around the world, WATCH your team battle it out on the court, BOOST your player's shooting, passing, blocking and other skills, then get ready to win the Amateur and Pro trophies for the ultimate BIG WIN!

FRIENDS MODE
Connect to Facebook and challenge your friends to action packed basketball games

EVENTS MODE
Players can compete in limited time cup events for a chance to win HUGE prizes

TROPHY MODE
Choose the number of games you want to play, rally your players and battle it out in Pro and Amateur trophies to reach the top of the table

QUICK MATCH MODE
Practice your ball skills and test your team's abilities in this fast, casual game mode

CREATE your own unique dream team, COMPETE against opponents from around the world, WATCH your team battle it out on the pitch, BOOST your player's passing, shooting, dribbling and other skills and get ready for the ultimate BIG WIN!

HIGHLIGHTS
* Full team and player customization allowing you to create your own fantasy team!
* Flick through and open Bronze, Silver and Gold card packs to find new players and skill boosts to improve your team
* Play game-changing Big Impact cards and watch them affect the outcome when they come to life on the court!

BIG IMPACT CARDS

- Ball Swatter
- Cashing In Dimes
- Sixth Sense
- Rainmaker
- Breaking Ankles
- Pick Pocket
- and many more…

Other games in Hothead Games' BIG WIN Sports Series include:

BIG WIN Baseball
BIG WIN Football
BIG WIN Hockey
BIG WIN Soccer
BIG WIN MLB
BIG WIN NHL

Play your favorite sport with BIG WIN Sports! Go for the BIG WIN!

By downloading this app you are agreeing to be bound by the terms and conditions of Hothead's Terms of Use (www.hotheadgames.com/termsofuse) and are subject to Hothead's Privacy Policy (www.hotheadgames.com/privacy-policy).

© 2016 Hothead Games Inc., Hothead, Big Win and Big Win Sports are registered trademarks of Hothead Games Inc., all rights reserved.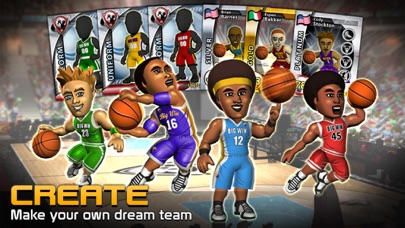 Powered by Facebook Comments
Customer Reviews
Good Job
by ConnerBigDawg
I love y'all's games wish y'all can make more please
Big win
by Dilly Y
You should make a big win lacrosse and your games are great
Please read this
by Gamer🏈🎮⚾️🏀👾☠️
I think that hothead should remove contracts from all their games and if they don't they should at least remove retirement, also I completed two offers (the reach village one and reach village three in coin master) and I never got my rewards.
Need to have armsleves and wristbands.
by kevindbz
It is a good game but it need to have things that are in real basketball and can you add where you can make real beards.
No matchmaking balance!!!!
by kingcoze
I shouldn't be a level 5 playing someone with over 1000 wins😡
Love it
by badboytaylor
I love how you can name your characters
Love it!
by poopduty💩
It is an amazing game I've been playing it since I was six!! So fun!!👍👍😃
Losing Why. Then I win
by RedPrince
I can't do anything. I face a Level 4 I lose and I'm Level 13. That is crazy LOL. 5/5 Chemistry Minter missed l still lose. Duke III Scored still lose. I face a Level 1426725. I WIN finally I Win. Then Duke III And Minter Think of a plan I won again with Romelo Davis. Chad Adair Came I lose with two silver players Duke III And Davis. Trey Duke III our first Super-Star I win. DeMario Minter our 2nd Super-Star we win. My Team: Warriors has gone winning LOL. Level 1 for me was easy LOL. My team used to be called "Trey522" LOL. Minter was not there yet When Duke III was a player. It's hard to lose now. When Adair and Duke III and Davis were on the Team Minter was not there All-Star Game Duke III was AWESOME West All-Stars won! I was happy about Duke III. Minter Got here in August 29,2017 LOL. We won the Big Bowl too. Duke III is old now he is "61" Years old LOL. So is Minter he is "60" years old LOL. Keep it up HotHead
Put real players from NBA
by Johnfelixx100
I love this game a lot
Give big win coaching settings
by tshay 24
I'm a level 20 and I lost to a level 5, but my team was doing whatever they wanted. I'm just saying give all big win games some coach settings like power to call timeout or power to call practices and watch film and call plays and talk to bench players and talk to players so that would make the game a five star for sure and I never rate but I would rate the game you have my word so please.
Didnt get my big bucks for even win?!!
by The Maximus king
So i recently placed top 250 in an Event in big win and didnt get awarded my 1000 big bucks for getting top 250... anyone else??? I wasted time into buying gold cards and upgrades into the event and didnt even get my bucks back...!!!
Awesome
by BigXpertChamp
Duh bes in duh world
Very poor game
by Yimeriah
The graphics are lacking. Gameplay leaves a lot to be desired. Overall is a frustrating and disappointing game to play.
Not Fun at ALLLLL
by Guest1029384
It is not fair that you team up with higher level people. I literally just started playing and when I'm at level one you are putting me up against people like at 346. FIX THIS. Put up people with their level. I highly recommend basketball stars I hate this game.
At this current time it's just basically luck and who can buy the most big buck 😡!!
by Thrusworthy truth
I'm not gonna lie it was pretty good until you realize the whole system is rigged so your forced to buy big bucks! The more you complete offers to earn big bucks the more likely it won't even pay you the big bucks!!! This game currently owes me 528 big bucks not to mention the worst part: some beginners at 36 overall with no cards are beating my team (71 overall).
Big Win
by MyChickenCold
This game is fun after a month or two of playing but like most of these comments state is boring with the lack of fun I mean it really doesn't seem like a management game cause you can build up a godly nice bench and they won't get a second of play so many players go to waste this game has been the same for idk how long
Love it
by Mommy99990
This game is just fun I like how you can customize your characters. Perfect for the kids
Rigged
by Spongebobfan74
As long as a team has cards and more fans than you, they will ALWAYS win. Always.
I WOULD RATE 0 STARS BUT I CANT
by AwesomAndrew&Dad
This game is terrible you can't control the players and that is why people lose if we could control the players we could win a lot more and why is it when I have good cards and players I lose to a 14 overall this game is whack and the worst game I've ever played
Money back
by Julyboy30
I jus purchased a big player pack and got nothing out of it ,literally nothing so plz fix or give money back
Rip Off
by TheKids8845
I opened 2 Big Players packs and I got ZERO PLAYERS!!!!!!
I enjoyed this game until...
by Ahhhhhhhhhh!246
I enjoyed this game until i used all this time out of my week to get a players pack and when i finally got enough bucks to get it i got it then my game glitched out and it took my money and didn't give me anything.
Worst
by Renter kit
WORST. GAME. EVER.
My team got deleted
by Os 2004 game player
When I tried to get in game with my good team it crashed and got deleted for no reason
U DONT GIVE ME ANY FRICKEN BIG BUCKS
by Mshdishxushxk
IM SICK OF THIS UR NOT GIVING ME ANY BIG BUCKS IVE DONE MULTIPLE SURVEYS AND CROSSWORD PUZZLES FOR NOTHING!!!! I WANT BIG BUCKS!!!!!! THIS IS A SCAM!!!!!
I love big win
by Kam🏀
I love the big win games y'all make but I really think you should make big win track and you can choose your events and you should also make big win X-Games and you can choose to do skateboard or BMX PLEASE TAKE THIS IN MIND!!!!!!!
Dumb odds
by OverBlownMoss
I hate losing to someone when it clearly says I'm 20 better overall with gold impact cards and they don't have any, definitely realistic, definitely after it happens 3 times in a row
Big Win Boxing
by Teezyyabeezy
You should think about coming out with a Big Win Boxing game. I think that would be dope
This game deserves cusses
by Royal King 8
Fk this game .two big things wrong with it.1.its always the same thing nothing more nothing less.2.how can a retired injured 9 overall make 8 three pointers in a game!dck heads
This game is bad
by Mark Aultman
Big win doesn't care about the people who play the game at all. They never update the game, (except for minor bug fixes) they never have changed the game at all. This game gets boring so quickly. The people who are playing YOUR game, YOUR GAME, want a change!!!!!
The cool simulation gAme
by Dabber12356253
It's great. Because graphics,jerseys,players,and cards Keep up the great work
Big Ups
by RRMG16
Definitely could use major improvements but I enjoy it all the same! Helps to just past some time by!
Bad game
by Madden mobile is trash
I have gotten so mad at this game, for one it doesn't matter how good your players are if the opponent has cards (game enchancers) they win everytime. This game is for people who want to spend 100 bucks just to get started
Great but.....
by Joeshua T
You guys should add controls like to control your team and the card u chose to have in the team u should add the controls for those cards that we chose for the team.
Add Trades
by Big win fanatic 101
Trades will make this more interesting, and you should also add a market were people can put up players for bids
Packs
by Hung jib a ne
I love your game so much but one thing is that my friend had 40 bucks and opened up 4 big rush packs and got 2 superstars I on the other Hand had 780 bucks I opened packs and got not one superstar
Needs an update
by Dc13coldc 3
Needs an update please update soon🙏🏽🙏🏽
Bad
by Baseball fan 365
Bad
#WetWilly's
by Hdjgigi
No matter how good of a performance your team gives you get 100 coins. The cheapest card pack is 150, so we lose profit even if we win. What a "Big Win". Plz read this and update.
Good game
by beastboy1000002
To good for basketball
Piece of garbage has not been updated in years
by Aguywhosetired
Don't waste space with this junk. The more money you spend, the more you lose. This is a horrible app and the developers should be sued. How do you expect people to pay money and build the best team to consistently lose to the worst teams?
Big win
by Cooper033333333333
Can be fun building up but will get boring after a while but still a good game
I love big win
by Ryan106f594f
This game is the best game ever
Simply Great
by Events g
Simply a great game. Seriously, if you like the managing aspect of sports games then this is it for you. Try Big Win Baseball too! I like them both so much I am going to look for hockey and football next!
I enjoy this game, but.....
by Hahshdjsksks
I feel like there should be skill based matchmaking integrated in this game. Basically where you are placed in a game where your opponents are either of or at least near the same skill level as you. I just started the game (Level 6) and I get placed against a guy with a Much higher level with a team full of Superstar players. That's not fair to me at all because his team was obviously way better than mine all around. And just to add; his skill level was about 96 and mine was only 50. The point of this game is to maintain a good team in order to get a good W/L record. But I can't have a good record if I'm continuously matched up with people who almost have a guaranteed chance of winning against me.
One of the worst games on the App Store
by LusterLayen
At first, the game was really fun to me. After a few weeks, a whole bunch of glitches but happened. The game started shutting down, glitches, I lost most of my progress and a while other disadvantages. I brought the attention to the creators and they did nothing to fix it. Very little service. I downloaded the game again and another problem arose. My team had an overall of 78. But a team with an overall of 56 beat my team 108 - 94. And the cards also didn't impact my team's play at all. After the total 16 hours I've spent on this game, I definitely didn't pay off. If you are looking for a good basketball game to play, please don't play this game, it's not worth your time.
Boring
by Dessfdvnjo
This game is pointless. On my second game, I had to play some 85 overall team when I had some bad bronze team. I just don't get the point if the game is so boring and unengaging.
Great but why
by fritz4of5
The app is great but why do I only lose to 40 overalls Ima 79 right now and I lose all the time to 40 ovr teams when I will have three impact cards they will have none and I'll get blown out by 20
It's okay
by Kujun35
This game can be fun but it needs some sense. Like I have 3 platinum and 2 gold players and I'm losing to all bronze players.