Orvis Fly Fishing – The Ultimate Fly-Fishing Guide
by
Green Mountain Digital
(18 user ratings)
FREE
Download size: 258.21MB
Version: 2.3
Released: 2010-07-30
For ages: 4+
The best fly fishing app available!


The Orvis Fly Fishing app is the essential guide for every fly fisherman. The app includes hours of instructional casting video, knot animations, fishing reports for over 200 of the best fishing spots, and informative podcasts with more fishing tips and information.

Features:

- Instructional videos on basic fly casts, common casting mistakes, and more. Videos feature Truel Myers, director of the Orvis Fly-Fishing schools.

- Guide to the Top 100 Trout Flies, with the ability to search flies by name, type, and favorite options.

- Orvis Fishing Reports; Over 200 of the top fly-fishing destinations in North America, Central America, South America, and the UK, with real-time fishing updates to your device.

- Fly Fishing Podcasts with over 190 podcasts (and more every week) by renowned fly fishing author Tom Rosenbauer at your fingertips. Find the topics you are interested in, save them, and listen to them anywhere.

- Fly-Fishing Glossary and search feature for quick reference.

"This is some real forward-thinking from ORVIS, and one of the most useful and practical fishing apps we've used." - Fly Fish America, Editor's Choice Awards

"Very neat stuff…. This app contains some of the best fly-fishing geeks & gurus giving you step-by-step instructions and on-time, pertinent information. So if you have to have the latest & greatest apps in your iPhone, this is one you don't want to miss." - Joe Demalderis, www.theBackCast.com


Visit Us Today!
www.orvis.com


For any assistance, please email CUSTOMERSERVICE@ORVIS.COM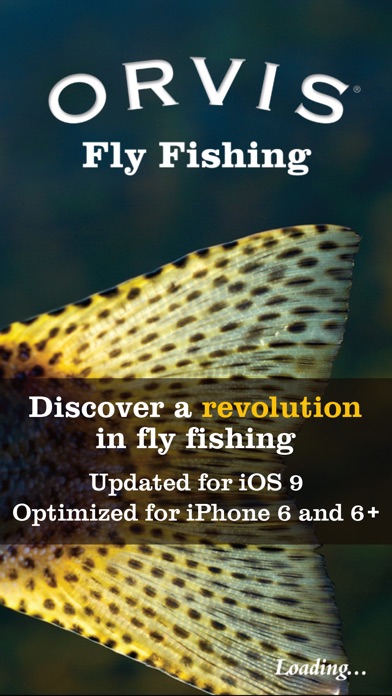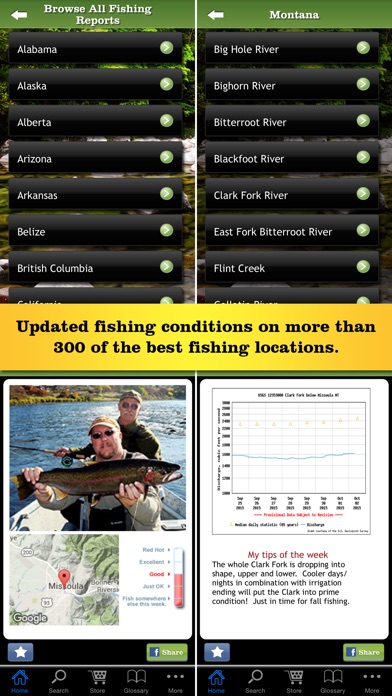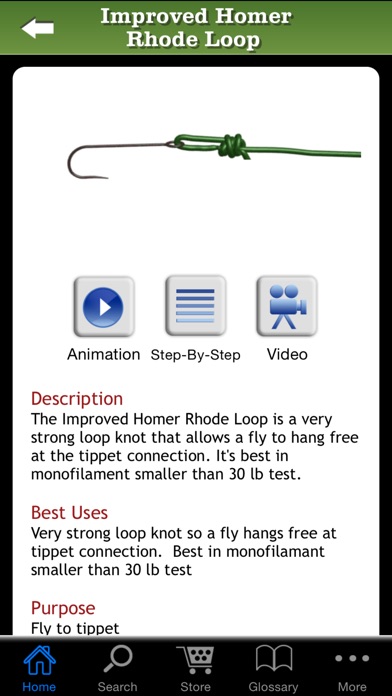 Powered by Facebook Comments
Customer Reviews
GREAT APP!
by Kracken70
This is such a useful and fun app. Hands down a must have if you fish or want to learn.
Uhhh, USA?
by 47RAMBO47
Seemed like an okay app, I was hoping to find some stuff about reading the water and the finer skills of fly fishing. But what really disappointed me was the areas they chose for their "fishing reports". They have a lot of states and they have other (or parts of) countries like Whales, Belize, Alberta, and so on. But do they have the state with more miles of river than any other in the US? No, Nebraska isn't on there. After all its all just cornfield! (haha if only)
Old Reports
by Twebbs318
I was really excited about this app don't get me wrong it has a lot of cool stuff but when I'm checking the fishing report to go fishing the next day and the information is 10 days old I find that useless. This is the main reason I got the app. 🙁
Great; one problem
by Lonergan
This is a fantastic, very useful app and I appreciate Orvis putting it together. I have found however, that on my iPad, the Push Notifications button, under the More menu, does not do anything!
Very helpful
by db1173
I've been referred to this app by multiple guides and worked with some who reference it themselves when providing instruction. Easy to follow videos for tying knots and a good source of general fly fishing information. Must have storage space available on your device to download the full version.
The keep unfixing it
by JP540
Love the app but when the update it they break it. Can't listen to podcasts without keeping phone screen on at all times which kills the battery like watching video. Complained last year and after a few months it was fixed. A few months later a new patch and its broken again. Sent two emails so far and nothing after 3 months. Too bad I can't use it to listen to the outstanding podcasts they provide. Fishing reports, knots and other parts of the app are great. Just fix it please and test it before you release updates.
Good, but needs an update.
by idobleedblue
Some good info in this app. It does need an update though. For instance I clicked on the "licenses" section for Colorado and it takes me to a page not found web page. Same thing for "regulations". So know that while there is some good info in the app, the app may not point you to recent or updated information.
useless
by Jeffmtnman
Showed me a map in a different part of the state from what I was looking for.
Podcasts disappointingly unstable
by Archibeeble
I have enjoyed this app for many years, but podcasts disappointingly unstable !!! Now access them through orvis.com Developers need to address
Awesome app!
by HiddenPaw
I love that this app, which does so much more than just direct you to the shopping website. I love the knot demonstrations, with animations and videos. You can see them listed by purpose or by name. It also give detailed fishing reports for your area. This app is truly a fly fishing companion, not just an online catalog to sell you orvis's stuff.
Awesome App
by Aeselh
Thanks so much for this app. I just over to a new area with a whole new fishery and being able to access the state info, podcasts, and "local" fly information is awesome. Really helped to make me feel "at home" in my new place. It;s always fun to look back at the instructional videos as well to remind me of all things I'm doing incorrectly! Keep up the good work!
Loved before this last update 6.29.16
by Ericsan203
Used to enjoy listening to the app while on the road. Can you guys change it to where you can listen to podcasts in the background? That way my battery isn't drained or I can have other apps going, Thanks!
Orvis.com is much preferred over this app.
by DrBilly
I searched within the app for "chironomids" and got nothing. But 3 flies came up on the Orvis.com website. So I searched the app for "midge" and got 6 flies. The website returns 58. So why would I want to use this app rather than the website? Apparently, the intended use is limited to offline playback of (only) certain videos.
Fly tying videos
by Derote
Great app but would love to be able to have a direct link from flies in the app to the Orvis learning center fly tying videos
Update request
by bill_love
Great app and content. Thanks! Just would love to be able to play the podcasts in the background. Currently the podcasts stop when my phone auto locks or when I turn off the screen. I listen a lot while driving and would love to have this feature. Thanks!
Fixed and faster.
by cperks
Looks like they fixed the server issues. Can now download all the video content and the fishing reports are up to date too.
So close, yet so far
by b_fritch
I love the app. The features and information it provides are great. The issue I have is that it does not register that I am connected to the internet. I am unable to access the fishing reports, download the videos, or look at fishing license requirements because it claims I am not connected to the internet. I have tried with both cellular data and wifi connection. Neither work, so I am unable to use a good portion of the app.
Cannot keep up with Apple updates
by Harold Stassen
The collapse and death of the Orvis app seems to happen as soon as Apple issues an update for its iPhone operating system. Weeks go by before the Orvis app catches up with Apple.
No internet connection message
by Sjl1999
I have used this app many times in the past and it was great. Recently, I have been getting an error when accessing the fishing reports - states I am not connect to the internet ... well ... not true, I am connected to the Internet. Please fix this issue!
Doesn't work
by FlyGuy1313
This app used to be great. Now, every time I try to look at fishing reports, says I don't have a connection to the Internet.
Giving up
by Live oak Bill
I had this program for several years and it has some okay features. However, recently I am not able to get any stream reports because the app says I am not connected to the wireless internet ( even though I am was and it never maters do before) I checks settings, same result. I reloaded the app and it is essentially non-functional. I can't load the videos or stream reports. I am taking it off of the device.
Problems persist
by Xenakis111111
"Not connected to the Internet. . ." Really? This version simply doesn't provide the services as claimed. Messages to the provider generated useless automated responses. There was a human response from Orvis. They said the concerns would be passed along to the appropriate person. Many that person can refund my $10? Waste knot, want knot. Getting it right shouldn't be this hard.
Internet connection???
by RickVA902
Using iPhone 6s. Latest rev. gives an error that I am not connected to Internet while I am connected. I have deleted and reloaded 3x...will now delete and check back later. A shame...I have used this app for years and liked it until this problem which seems to be common.
Fix it or I want a refund.
by Andy Witt
Couldn't look at reports because I don't have "an Internet connection"... Re-downloaded and now it is completely broken. When it worked id give it 3 stars, but it randomly becomes obsolete.
Frustratingly Useless
by TraderBillK
Downloaded a couple of times but parsing endlessly (3+ hours) but no video even though I have a very fast internet connection. When attempting to check fishing reports constant and incorrectly indicates no internet connection. Makes me lose faith in everything Orvis.
Disappointed
by Skag9192
When I first got this app it was ok. Some of the fishing reports were older but ok. Now I can't even access the fishing reports. The only part of the app that work flawlessly is the Orvis shop. Go figure.
fIxed Now
by jbuttitta
They fixed it, Thank you!
Good when it works, but.....
by DRTmoney
Have the time it doesn't work. Don't think it's ever been updated.
Won't update video
by Audiemurphy
Good app when it works. When it try's to update video content., it says parsing server and just spins. I have tried on both wifi and cellular connection. I deleted the app after two times redownloading.
The Worst!
by calvillo
Try to get a fishing report and it tells you you can't because you are not connected to the web, even though you are. Orvis needs to fix it, they were happy to take our money for it.
Years of disappointment
by Old Florida Guy
I've owned this app for several years, and kept hoping it would get better. It hasn't. My primary disappointment is with the fishing reports. Those persons/guide services who provide the reports should be required to update their reports more frequently than once every few years. Several reviewers have suggested adding a user interface for more as well as more timely reports. Given the price of this app, some of the profits should be dedicated to doing just that. Orvis is usually associated with quality. Such is not the case with this app.
Fishing Reports Don't Load
by HarperRL
This app used to work perfectly. Now, the fishing reports won't load. I'm a loyal Orvis customer, but this poor quality is not usual for them.
Needs some work
by Librarian.
I've looked at a few Fly fishing apps. This looks like the best except for one problem. It keeps referring to flies that aren't in the list. Four instance on the Gallatin river, The first three flies listed or not pictured in the list of flies. It should not be that hard for an outfitter to add a local fly into the list.
It's mostly good
by Heeeeeeeeeeha
The app works great, but the registration is not working for me so please fix it. Thanks
Good, Could be Great
by nasmith9
I like using this app for the fishing reports, especially when I am traveling to a new location. One problem though, is that when you click on the streams for any particular location/state, I have no idea which of those are close to me without leaving the app and searching for them on google maps. It would make it so much easier if you could search for the reports on a map relative to where you would like to fish. One more suggestion that would be extremely helpful, is to suggest/list a wider range of fishing locations within a given state/locale. Even if current reports are not available for those locations, it would be amazing to have a wider database of available opportunities to get out and fish. You could have local Orvis dealers and other fly shops offer suggestions and reports. There could also be a section for user submission of locations for when there is not available professional knowledge. This would be an invaluable tool for newbies and traveling experts alike. For example, Kentucky currently only has the Cumberland River tailwater listed in its fishing reports. While, that is certainly a world class fishing opportunity, it is drastically selling short a region that has more navigable waters than any other state except Alaska. All that being said, there is certainly no other app available that does anything like this one. For that, a huge thanks to Orvis for putting it out there! I think it can be built upon though, and in the process make the fly fishing community / opportunities better in the long run.
Sweet!
by Swed17
Love the tutorials!
Love the app
by Shelburnite
Thanks for the app, it works perfectly on my iPhone 6. Content is awesome, especially the video and the fishing reports.
Works better than ever
by farmfreshfruit
Fishing reports are working again and I can download all video content and podcasts. Glad to have this app back because it a great tool to have.
They fixed the problem with the app!!!
by Haligator
Update of my negative review. It's working again, but only time will tell for how long. I hope they keep it going and this doesn't happen again. For now the app and all the fishing reports, as well as podcasts and Orvis news, are back online. Great to see.
Works great!
by bard4jeff
Best fly fishing spots out there. Works great with this new update!
Doesn't work
by Zorg404
No longer working.
Doesn't work
by Jrogersiii
Used to be great, but since updates doesn't work. Don't get until they fix it.
DOES NOT WORK!!!! P-O-S
by Flywtr
Agree with other similar reviews. This app used to work great. Now it does not work at all. Says I'm not connected to the internet when I am both by cell coverage and wifi. Also filled out registration for but it does not send. Orvis make you pay $10 for this app…they need to fix the problems ASAP!
Does not work anymore
by Fly_on_a_line
Has not worked in Months ORVIS PLEASE FIX Was a great app.
Does now work - don't waste your money
by It got away
This used to be a great app until earlier in 2015. Not sure what they did but first it stopped providing updated fishing reports and now it won't work at all saying I am not connected to the Internet. This has been the case with the last 2 updates. Stay clear until they fix it ( don't hold your breath)
Orvis Fly Fishing
by Hericaguayo
App does not work on IPhone 6 or iPad
Disappointing
by MoochcooM
New to flyfishing. Love the Orvis podcast. Just downloaded the app, and all the videos are in need of updating, but the connection can't be made to update them. App is largely useless.
terrible app
by Slim Tex
This is a terrible app. Says not connected to internet but I clearly am. when accessing some of the features Any of the videos require a downloading and when I do so, it locks up the software even after waiting an hour for something to happen. Thus I can't access the majority of the features. How do I get my money back? Extremely disappointed for a company like Orvis to let this happen as I'm an avid fly fisherman and use their products.
Useless
by Alh01
Keeps saying I am not connected to Internet, although when I click on the store I am suddenly connected!
Total waste
by Mwells3456
Easily one of the worst developed apps I've ever seen. Worked great for a week then kept telling me I wasn't connected to the Internet when I was connected to my home wi-go. I expected a lot more from a company like Orvis. You would think with money like they have they would actually build something decent. This app has potential. They just need a better team of developers and more free stuff that comes exclusively with the app and can't be found on their website.