Fishing Kings Free+
by
Gameloft
(8,011 user ratings)
FREE
Download size: 582.92MB
Version: 1.0.6
Released: 2011-10-14
For ages: 4+
Now you can play the best fishing game on mobile for FREE!
Grab your rod and make the biggest catch!
*******************************************************

- PLAY FOR FREE
Download the game and start playing for free. As you play you will earn cash and XP, which can be used to unlock tons of extra items and new locations. Or purchase packs of cash from the shop to unlock them faster. It's up to you!

- 15 FISHING SPOTS WORLDWIDE
Visit 5 beautiful 3D-rendered locations from around the world, including saltwater fishing in the Bahamas or exotic places like the Amazon River and the Waikato River in New Zealand, each with 3 different fishing spots.

- 33 DIFFERENT SPECIES TO CATCH
From bass and piranhas to golden dorados and marlins, catch a wide variety of fish in every location you visit. You can even learn more about each species thanks to in the in-game fishing diary.

- GET CLOSER TO THE STRUGGLE THAN EVER!
The underwater camera is a unique feature on the iPhone/iPod touch that puts you in the heart of the action as you struggle to reel in the big one! You can also just have a look at the dozens of fish swimming around you.

- MAKE THE BIGGEST CATCH
Unlock achievements in your Gameloft LIVE! profile, show off your best scores on the dedicated website and vie for the title of Best Fisherman.

- INTENSE AND REALISTIC GAMEPLAY
Whether you're an experienced fisherman or a fish out of water, the gameplay aims at providing you the most realistic fishing sensations, thanks to a wide range of available moves and actions, from casting your line to hooking and struggling with fish.

- A HUGE TACKLE BOX
Catching a trophy marlin is more than luck! Access a wide range of fishing gear and use the right tools to catch the species you want.

*******************************************************

_____________________________________________

Visit our official site at http://www.gameloft.com
Follow us on Twitter at http://glft.co/GameloftonTwitter or like us on Facebook at http://facebook.com/Gameloft to get more info about all our upcoming titles.
Check out our videos and game trailers on http://www.youtube.com/Gameloft
Discover our blog at http://glft.co/Gameloft_Official_Blog for the inside scoop on everything Gameloft.

_____________________________________________
This app allows you to purchase virtual items within the app and may contain third party advertisements that may redirect you to a third party site.

Privacy Policy : http://www.gameloft.com/privacy-notice/
Terms of Use : http://www.gameloft.com/conditions/
End User License Agreement : http://www.gameloft.com/eula/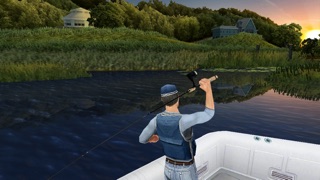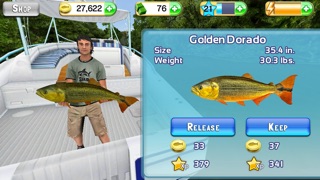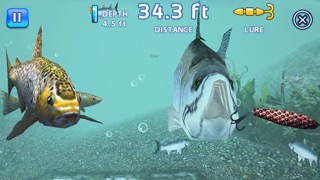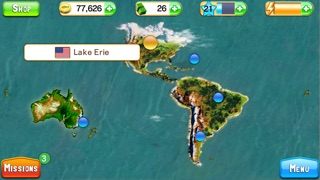 Powered by Facebook Comments
Customer Reviews
Can't play
by Dillylou04
I can't even download. You can only play it with IOS 8!! I have IOS 11!!
Fun and free!
by Elvis Looper
Good fishing app. Just need to be patient to play. The energy aspect of the game can frustrate if you don't want to pay for coins and gear.
Can you guys update this game for the new ios updates
by LivingDaLife435
I miss playing this amazing game but i cant play it due to the new IOS updates can you please update so i can play this wonderful game once again.
Exciting game
by Booby1212
I have actually enjoyed playing this fishing game. Keep up the good work.
IOS 11+
by Official Lil Uzi Vert
This app used to be one of my favorites on my ipod a long time ago. You need to update it to be compatible for IOS 11!
Need an update ios11
by NC Myrtle
Please update so ios11 users can enjoy
Update this all ready!
by Pigpen114
If you don't update this with iOS 11 then my son can't play it because it won't let him download it!
Please update For OS 11
by FamilyF1rst
Just updated phone and no not compatible : (
Good but update
by Speedy9511
I would give it 5 stars but it needs to be updated to work with iOS 11 and the developer has to do that
Awesome easy
by Abusselljr
Love it
Needs to be updated
by BlondeMamaBear209
I am still waiting on an update. Otherwise I'm just gonna delete it
Fun app
by FLiPMODE420
Love the app it keeps me occupied
Atlantic Canyon
by SpeechMama77
I want to be able to fish the Atlantic Canyon, Hawaii, Alaska, Great Lakes, and Pacific Coast Plus make the fish jump out the water some times. Even have some of them fin ski across the top of the water. Both that player sees from the boat, then back in the water to finish reeling them in. All in all Great Game. Thank you.
App
by Fishyisntit
This is as close as you can get to the real thing, without getting fishy👌
Please update app to be compatible with iOS 11
by Cheespie38
I love this game but can't play it anymore until the developer updates it and makes it compatible with the new iOS updates
Zach
by namekgamer
Best game ever I spend hours with my phone playing
Update please
by Dhdjxjfjdj
I can't play this game with iOS 11 please update the game so I can
Great game...
by Joceybee
Must do iOS 11 update ASAP!
Speechless!!!!!!
by beastmotor9
This is the best game I've ever seen!!!!!!
Don't do the ios 11 update!
by Sherasth3
If you do the iOS 11 update you will not be able to play this game anymore. It doesn't work . They need to fix this before this it was my favorite and best fishing game in the App Store until now of course
Playing 5 years
by Kae239
The best app for fishing
Great fishing game
by HRHMelissa
This game is really entertaining. If you enjoy fishing you should give it a go!
Update
by accelmargn
Will this be updated for 11?
Fun fun fun!
by Buddy we
Great game.
Fun
by allanwfc
Very fun and surprisingly realistic
Fish
by SaltyKalty
Good game
Always Fishing
by socalslayersfishingclub
It's nice to be able to fish even when you can't make it to the water🎣🎣🎣
Great fishing game
by The game player 209
Love this app
Rippen lips
by Texas21fm
It's really fun
Whoop whoop
by Coxoxoxo233
Good game!
Awesome
by 1800 call Sam
It is fun
Very good
by fsfhffnddurd
I have played this game for a long time and I really need you guys to add a blue marlin jumping.2 you need to make it easier to catch a blue marlin.
👍🏻👍🏻👍🏻👍🏻
by Eric J Ray
👍🏻👍🏻👍🏻👍🏻👍🏻👍🏻👍🏻
Bullsharks
by FNAF FSN #1
Bullsharks really cool
Great game
by Mamaaleesha
I love this game and I have fun catching everything from home and it is just a great game.
Nice game.
by Getindy13
Almost perfect. Only thing I don't like is that every time you cast, even if it's in the same game you lose energy. I feel you should only lose energy every round not every throw.
Interactive fun!
by Freeyourmind69
Absolutely love it!!! Best fishing game app I've found this far... Plenty of difficult challenges,and even more fish to be hooked up!!!
Great fishing game
by warnerd
Love the game although I like the older version much better as I could keep fishing without running out of energy. I get making money off games but these free to plays model of gaming kills the fun as you have to quit playing and wait for timer or pay up. I am guessing most people just wait.
Fishing
by Bellybone73
Love it
Good game
by Mann1177
Outstanding job good stuff right here
Fun
by commanderx88
Super fun and it's free. One of the most entertaining fishing games I've tried
Great game
by Kevinpagan88
Fun fishing game
Good game
by Jewell Family 4
It's a very fun fishing game to play get it
Good game
by Phds317
It's a good way to kill some time lol
Very nice game
by AukkuPlays
Very good
Fishing Giant
by Elikim1
Great game
Fishing
by Haggispunch
It's really good