Field & Stream Fishing
by
Massive Holdings, Incorporated
(185 user ratings)
FREE
Download size: 43.61MB
Version: 2.0.2
Released: 2010-08-27
For ages: 4+
Special sale for the holidays! Get Field and Stream Fishing FREE!
~~~~~~~~~~~~~~
Big Improvements for version 2.0! Game Center! Full Retina Display support! Purchasable Lures! And a new Purchasable Lake: Robber's Cave. Get ready for some great fishing that you won't want to put down!

Field & Stream Fishing is an exciting, arcade-style fishing game that is faster and more satisfying than any "simulation-style" fishing game in the iTunes Store today. Its target-like casting, reeling action, and wily fish population give every caster a chance hone their skills and haul in the big ones.

This ain't no lazy day on the lake, Field & Stream Fishing has more features than your live well can hold:

-- Fun flick-motion casting and controls
-- Lush and beautiful locations to explore
-- Includes 3 FREE lakes with 5 spots each
-- 3 purchasable lakes when you are ready for more: Torch Lake New, Melones, and Robber's Cave.
-- More than 15 species of fish!
-- Complete your journal with Adventure Quests, unlocking new areas
-- Purchasable Lures to get the edge on your quests and scores!
-- Local and global leaderboards, plus friends list and invites
-- See how your friends are fishing in the Live Ticker
-- Post to Facebook and show off your achievements
-- Three extra full lakes available for purchase.

Watch for more lakes coming soon!

Fish in famous real world locations like Whitebear Lake, Lake Amistad, and Kenai River. Why be limited to just the top-of-the-lake view? Field & Stream Fishing takes you underwater where the 'reel' action is! You can lure, scare, and witness the fight first hand.

The Friends list, ticker, and leaderboard always note the best catches-- in real time-- so get out on the water and make sure to let 'em know the Lake Leader is you!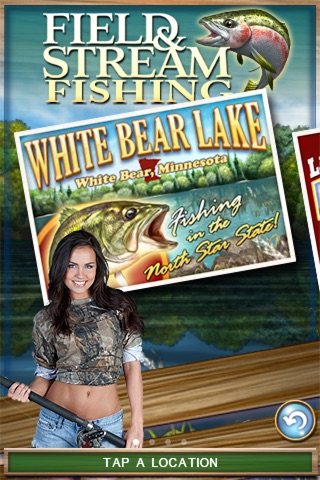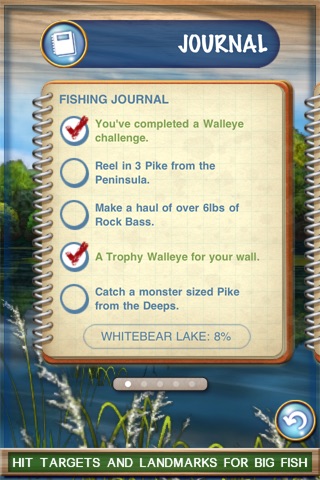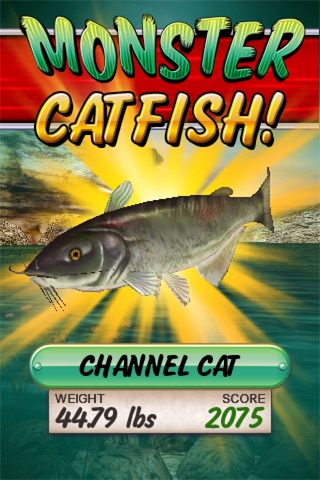 Powered by Facebook Comments
Customer Reviews
Fun... but quite a few problems
by Sajar3mbo2
I'm stuck on 1st level... it will not let me go to next series of lakes, I cannot purchase lures, I tried the free coins section because I couldn't buy coins, downloaded and ran 3 of the offers and it wouldn't give me the coins to go to next lake so I'm frustrated
Not fun anymore
by job1866
Lures dont show up, fish will ignore the lures that are bought special for them. Its too hard at one point and it cant be completed. I wish they didnt abandon this game. It had alot of promise and was fun once. I gave it 5 stars so youd see this review. It deserves 3
Upgrade to Universal Version Please!!!
by twoboots
It's a great game, but please upgrade to Universal for iPad Thanks!!!
Won't work with iOS 10
by Michaelws6
Looks fun, I wanna play it but after I go past the enter your name screen a white bubble pops up, up top and can't go past it
Crappie
by SnshbzjZjsjsjsjsj
It won't let me play
Problems
by Wooly rhino
This game is awesome.I live to play it.Although it doesn't load correctly.Please try to fix these problems.
Game will not update progress
by Majorq6646
Have played this game for several weeks. I am disappointed in the game have achieved several journal entries but game will not recognize the accomplishment so I am locked out of progressing in the game therefore I am deleting this game and I will waste my time on something else.
Quirky but fun
by Sss49ers
Fun game. I play it a lot. Couple problems though. I paid for lure pack one and the lures don't show in my tackle box. Also lure pack two won't let me purchase. Kind of frustrating when you're trying to play robbers cave. And now my final journal entry won't clear even though I've met the requirement multiple times and the leaderboard has stopped working as well. No point in continuing to play with nothing to go on or compare yourself to. It's too bad. I really liked this game.
Totally enjoyable
by Weid-18
I love this game. Lots of lakes, types of fish, and a nice assortment of lures. Easy to play. This game provides a nice way to have a few moments for relaxation. I'm ready for the developer to come out Field & Stream Fishing 2!
RLK
by Ron Kerr
Love game but only let's me see what other people are doing during game play at work on wifi will not update my leader board at home ?
Would be better if journal entries worked
by Rumbrella
Game is ok, but journal stopped updating task completions on about page 3. Pointless to keep playing if you can't advance and unlock more spots to fish.
Yey! :D
by Cosmic1959
I love this game! It's easy and fun! I don't like complicated games no matter what they are because I don't really want to think. I just want to relax and enjoy. This game is challenging and enjoyable. Thank you! :D More lures please! :)
Frickin lagit
by StriperZ9
This game is lagit but it needs more lakes and tons of new fish. So far there are Muskie largemouth bass crappie pike walleye Atlantic salmon king salmon female Kokanee male Kokanee young Kokanee bluegill white fish rock bass channel catfish flathead catfish rainbow trout brown trout dolly vardon burbot white crappie and black crappie. Maybe they can add on smallmouth bass blue trout pink salmon chum salmon etc.they also need new rods for better casting and hooking etc. so I hope that the makers of field and stream fishing can add more stuff to this fun game.
Wow all I can say
by Tickrickrock
Great graphics....great audio.....very fun game I got it was glad if you like fishing you will love this game they went above and beyond to create a very well thought out game that is fun to play....wow.....awesome....get it you won't be disappointed.
My leader board scores gone
by Painisalwaysbyme
My leader board scores gone I was on last lake robbers cove I had 3 things to check off in journal and it stopped scoring so what's up!!
Fisherman
by Bull red assasin
Fun game! They should make a saltwater version.
Spin bait
by Plumbermangreg
Very cool game one of the better ones that I've played. My only problem I have is the spin bait doesn't spin
Slip shot load o fun
by Mr.Stumpy
Great time killer I have fished a couple of the lakes in real life and they are spot on
Fishous
by Word up !!
Sweet
This game blows.
by Cottenforduce
Don't waste your time.
Wowie wow wow!
by Mnbvcxzlkjhgfdsoiuytrewq
Really really really fun game! This will easily be my fav. Game if u can add more fish and lakes and change it to where u have a timer when u fish and not like five casts or something do that and it will be best game ever. Other than that really awesome game...
Field and stream
by Animal Lover 3
This freakin app won't let me catch the fish. The fish attaches its mouth to the lure, and I try to lure it in and it SWIMS AWAY!!!!!
A+++. This game is best out there
by Gunwhore
Great free fishin game for FREE with no pressure to buy sum thing
Love this game!!!!
by Sigsvonsigs
I play this game almost everywhere I go. It's very addictive, and very fun. I like catching the monster fishes. Ok, there's honestly not much to the game: pick your lure, cast, and wait for a bite. But it takes a little strategy to catch the bigger fish, and some fish won't go after certain lures-- and that's what makes it fun.
Fix the bug!!!!
by echo_orbiter
I can't open several parts of several lakes because specific challenges won't check off regardless of the fact that I'm continuously meeting the challenges. For example, "catch a Walleye and a Pike" in the first lake. Fix it, thanks.
This is a blast.
by dwigl
Addictive. But needs more lures and rods.
Great game; but!
by ddddadd
Sometimes this program doesn't award you what you deserve. I've caught not two but three monster king salmon on two different spots and I caught 10 lbs of 1 fish, and 30 lbs of another. In am stead the same I can't move on, cause I've not been credited.
Fishing
by Meet the amazing
This game is awesome. Very addicting!
Won't let me play keeps crashing
by Ki Knott
Just got the game try to play it lets me choose play I want to go loads then crashes please fix this soon I rate it a 1 only bc i have to I'm not happy about this fix soon please
great app, few issues
by PONCEJUICE27
this game is awesome however there seems to be a glitch that doesn't allow you to access all the journal entries and achievements . hope they fix it soon
Almost perfect
by LizQ0316
It's a blast! My kids and I brag about the fish we catch lol I have 1 "journal entry" left to achieve and I've mastered it, BUT...it won't clear the journal entry. I've achieved it multiple times, multiple ways, but it stays un-checked. I can't find any support to query about it. Anyone have any ideas?
Good!
by Gregwashere76
Simple and fun! I have never heard of a Dolly Varden.
What the fudge!?
by Taytay16856
i love this game. its really fun and addicting, but im having some issues. It keeps crashing. then i bought a lure pack and it said purchase succesful, but it wont let me use them!!! please fix it!
GayBatman/C.W.
by GayBatman
The game is loads of fun and is almost like real fishing only problem is it crashes after a while and goes back to the launch screen and doesn't work after that I hope they fix the problem its really a fun game.
Funnnn
by Steady_Fishin
Awesome game but it really needs some new levels!!!
Great Fishing fun!
by MsDSunny
I really enjoy this app and think it is well priced for the additional lakes. I take one star off for the bikini clad females. It would be better with out that. I think the designers should be mindful that fishing is a family sport!
Very fun can't stop playing
by Pasha Hablyuk
Very realistic fun fighting fish and hot models lol :) what els would u ask for?
Its close to real
by justinalltheway
While playing i was thinking awesome The graphics rock The fish types are good fights Lures work Its great just needs a new lake new fish and live bait like small bait fish Good job
Great game
by Boo/yea
Wish you could have a stronger line.
Good!
by kipkip96
the challenges give this game a lot of replay value. fun to spend a little time with definitely.
Crash on lake load
by Exeterus
Like most new apps, this one crashes just after something goes to load. In this case, after choosing the lake.
funnnnnnnnnnnnn
by cvbjh
I live in white bear and the fact the added it is amazin but i would like an update for new lakes and tackle
Get rid of those models
by Honoring gamer
I can't stand seeing those models every time I go back to the main menu or to go to a different area . It would be great if the people who made this game be as so kind as to remove those models from the game so that I don't go " Blistering blue typhoons what are these models doing all over the game. Fix it fix it fix it!!!!!!!!!!!!!!!!!!!!!!!!!!!!!!!!! But I do like the game FYI.
Awesome game!!
by Azylum77
Graphics and gameplay are great. A very well thought out game. I can't stop playing!
Great
by sunbird38
So fare I love this game very entertaining just hope not to have the troubles everyone is talking about cause I will be buying extras I'm sure
In app purchase causes crashing
by Ezgardner
This is an awesome game. Best fishing game I have came across. The game works fine on my ipad2 until I restore my purchases on it. That stinks, I like the in app purchases. If I was able to use what I've played for I would give 5 stars.
Awesome app
by Rayelin Hill
I have played this game and it us great but I downloaded it and it didn't show up but I love this app