Try These Related Apps!
---
MoWaiter
---
Taste & Travel International
---
DineCalc
---
Bing
---
Where To Eat? - Find restaurants using GPS.
---
Best Of...
---
Bowtie ? Tip Calculator
---

New York's Best Restaurants
---
Groupon
---
Ness Dining Guide - Restaurant Search
---
Urbanspoon
---
Low Carb Dining
---
GrubHub Food Delivery & Takeout
---
Sushipedia™
---
Tip Calculator % Free
---
Yelp: Discover Local Favorites
by
Yelp
(328 user ratings)
FREE
Download size: 145.32MB
Version: 12.6.1
Released: 2008-07-11
For ages: 12+
Yelp has over 135 million reviews of businesses worldwide. Whether you're looking for a new pizza place to try, a great coffee shop nearby, or need to book a haircut, Yelp is your local guide for finding the perfect place to eat, shop, drink, explore, and relax. The Yelp app is available for iPhone, iPad, and Apple Watch.

Yelp features:

Food Near You - Find Restaurants
• Find the newest and hottest restaurants in your area
• Make reservations, order delivery or pickup—all from your phone
• Filter restaurant search results by price, location, open now, and more

Search for Nearby Businesses, Services, & Professionals
• Discover great local businesses, from hair salons to trusted doctors and movers
• Read millions of reviews by the Yelp community
• Home need repairs? Find the best rated contractors and handymen
• Find great deals offered by local businesses, get quotes instantly, and book appointments

Beauty - Pamper Yourself
• Find highly-rated salons, spas, massage therapists, and more
• Book appointments through Yelp at the most relaxing staycation destinations

Search Filters
• Filter your search results by neighborhood, distance, rating, price, and hours of operation
• Look up addresses and phone numbers, call a business, or make reservations directly from the app

Other Features
• Read expert user reviews and browse through beautiful photos of each business
• Write and read reviews, check-in to local businesses, upload photos and add tips for other Yelp users

Find local restaurants, read expert customer reviews, and start searching for businesses near you with Yelp.

Need Help? Contact Yelp at https://www.yelp-support.com/?l=en_US
Note: Continued use of GPS running can dramatically decrease battery life.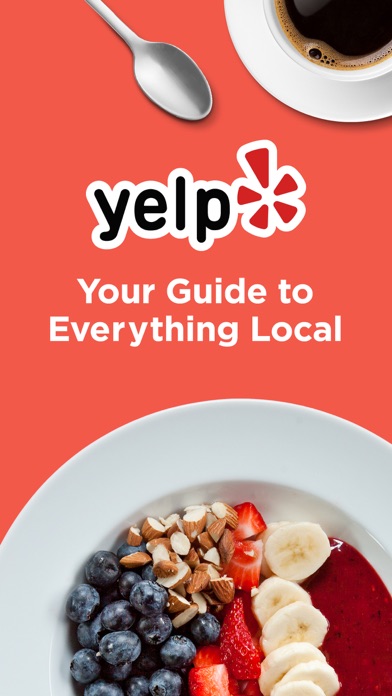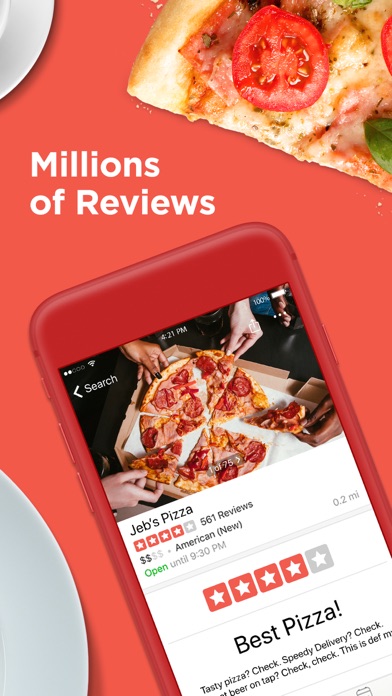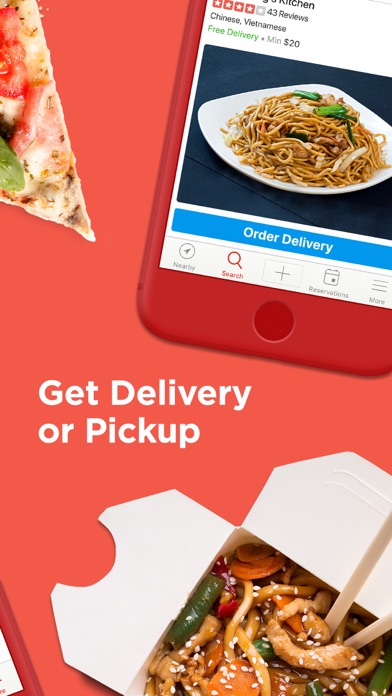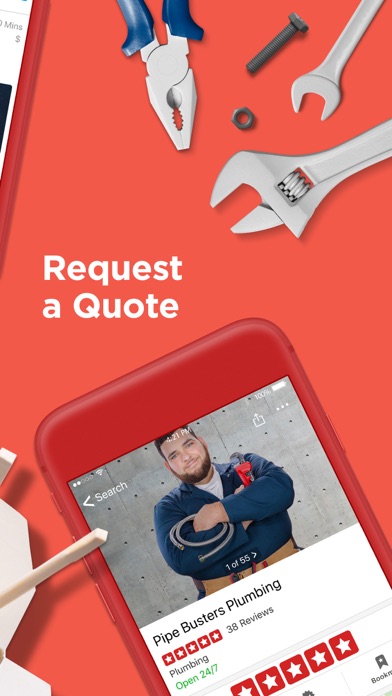 Powered by Facebook Comments
Customer Reviews
The worst experience
by sitevra
Terrible food and terrible customer service. Would not recommend.
So helpful
by sarahc5
I don't know what I would do without Yelp! It's everyday real people trying and testing places for you and posting honest real reviews!
Ultra Convenient
by Yama-lama
Use this app daily, whether you're looking for some where to eat or need help in jam like the closest tire shop after catching a flat tire..... this app does it all!!!!
Incompatible Update
by dmp0588
The information about Yelp in the App Store indicates that iOS 10.0 is required. I have 10.3.3, but am now presented with a message that the latest version won't run on my older iPad. That notwithstanding, Yelp continues to shown as an available update. Other developers have figured out how to resolve this issue. The Yelp app will be gone from my iPad if Yelp's developers don't do the same.
Really good, fresh
by Schilaka
Good portions, very fresh, and staff friendly. We piled all on and enjoyed!
1/2 Rack and Gumbo
by lanndooo
1/2 rack ribs were OKAY. I honestly thought it would have a better taste especially because it smells so good outside where they BBQ. Disappointed when we got our meal. Ribs were way over seasoned, so over seasoned that you couldn't taste anything else BUT the season. Same with the Tots, way way over seasoned like the lid fell off and they just said oops! The gumbo looked like Satchmo threw up his dinner and added sausage to it. Would've been better with less season. Other than that, the employees were friendly and welcoming. Never going to pay $20 for a half rack and tots with a drink.
Casa Bella
by Random sweg 😁
This is the best italian restaurant in Scranton Pa. The owner and staff are friendly and are always on top to make sure your food is ready. So happy to eat here. This had become my favorite place to eat dinner. Thank you Casa Bella!!
Love this App!!!
by mary14volly
This is my go to tool for when I'm out and about and need some ideas about places to go!!! I use it both where I live and definitely when in a new area!!! It is a must have where ever you go!!!
No complaints
by JGR627
Yelp is king in this category
Panic exterminator- bug/pest control
by Jacquelie Montijo
Very Professional, informative, & prompt. I highly recommended panic!! They remedied our problem in one visit!! They beat the price$ of every other pest control company by a long shot. Not only were they Affordable but they were more than generous with their product. They also called more than once to follow up. I will be working with them again & was more than satisfied with their services.
Crap service
by Gack55
Crap service. Made me wait for 45 minutes on a simple order. You have to push them for better service.
Love it
by jersey954
Yelp is extremely helpful. I ise it everytime my wife and i want to go out to dinner. Strongly recommend app.
Best app out yet
by Super KRAFTY
Are use this app for anything automotive as well as restaurant
absolutely love illusions
by Alex Sutliffe
brian and michael did my hair they are absolutely amazing!! I 100% recommend you go there. They actually do exactly what u want.
No Worries Mobile Detailing
by GGlove77
Dave did such a great job on detailing my SUV. I had never used a mobile detailing service before and I'm glad I did. So convenient and easy. I highly recommend this detailing company, my car looked and smelled great!
Wonderful and delicious !!
by jc mat
Stopped here for some deserts and wow what a great selection of pastries. Dulce de Leche delights 🤤 hope to be back soon.
Great app
by Nevadefeated
👍🏾👍🏾👍🏾
Does not work with AT&T's LTE or 4G
by lovesmusiclovestosing
This app does not recognize internet connection through AT&T's LTE or 4G. Very frustrating!!
Yelp first, then go
by duzi17
I always use Yelp to figure the best things nearby. Super easy & pretty accurate to the ratings.
Yelp
by B.clar
If you don't use yelp, your missing out
Avoid at all costs
by Garyes
I am a notable flight instructor. I am known for being honest and through. I am always seeking a win win with people and business. I (due to knowing asst chief pilot Dan Diamond) sat down to discuss my instructing MY students with Dan at Berichi Aviation. It was clear that only Dan and I would work with my students. I have a reputation to withhold and people trust me. Mr. Berichi made an "executive" decision one day in front of my student to teach him personally. Charles Berichi is a four month wet behind the ears instructor! I warned my student to make sure he flies with Dan due to the lack of experience this man has. This was just the start of many "executive" decisions Charles Berichi makes. He then asked me to pay for insurance after already working with several of my students. Also stating he was charging me for shirts he insisted I wear. Non of which were huge items for me but the fact that he waited to tell me after he had tried to take my business shows the veracity and moral conduct of this man. I WARN EVERYONE to stay away from this operator. I have been an instructor for over 17 years. I have never encountered a person who is as boldly arrogant as Mr Berichi. He simply can not be trusted! You've been forewarned. Good luck.
Lindy's Hot Dog
by FancyNancy22
Food was awesome , prices are great ! The only negative was the extreamly rude older woman that was behind the counter. She talks down to people and belittles them in front of other customers . Also she won't even bring ur food out to table,instead she yells out your food is up in a very annoying voice. Also when I was standing there waiting to place an order I had to wait nearly 5 minutes cause she was texting on her phone . She tried to explain it away that it was an important phone call all the way from Florida. I only go in there on weekends or evenings when the younger girls are working . Totally different atmosphere Food & prices I'll give 5 stars . Service when Granny's working negative 5 stars
Favorite.
by Princess Santana
Fast, convenient and easy to use.
Cool app
by johnny detailing
Nice app
Honest and objective?
by Miksa Castillo
I hear of so many stories of businesses saying that yelp won't put up their good reviews if they don't pay for advertising. Just don't seem right.
Survivalist App
by yeeha234
Even in my own city, this app is a must. I am a part-time Uber driver, Marketing/Social Media Manager and entrepreneur so I am always on the lookout for places to take clients and recommend. This city and its surrounding suburbs are in rapid growth so there is something new popping up all the time. I like being the first one to say, "Oh I just went there last week and it was _____!"
Must Have
by Apallonia
Life made easy
Love Yelp
by Suprmc
Assists me daily in making educated decisions about what business I use and allows me a voice in helping others steer clear of business that don't deserve patronage.
Surprised!! At customer service
by Karisa iPod
Way disappointed! We are here visiting from Seattle and our friend told us about Dough and what great pizza they had!! We had ordered drinks, a few appetizers AND entrees. We had asked for our leftovers (we ordered too much food) and wanted to take it for later (the pizza was awesome!) and we did not get our leftovers back from our server. As soon as we left, less than a few minutes later we called and stated the above. Andrew, the manager, had said no problem, gave my friend his email and said he would replace the pizza when we were ready. We are staying at a hotel near by so there was no problem getting back to restaurant. A few hours later, he said that he "reviewed video" and said that the box was there. First, the table they sat us at was sooo small we could not have missed a pizza box. Andrew continued to argue via email and say he would not help and that the owners were there and that he would not replace the pizza. So basically, we are liars and he is unwilling to replace a $20 pizza when we spent well over a $100 for a over crowded, busy restaurant! This could have been easily resolved! 2 stars for the pizza, service was bad!!!
Great sandwiches
by Mh67coupe
I had the chicken on brioche with fried onions and white BBQ sauce. It was phenomenal. We all had sandwiches and the giant pretzels, which were great. I had the eastsiders blood orange and one of us had the flight. All around great service and food.
Delicious
by Liza in Ok
Ordered pasta with shrimp & quiche which were both absolutely delicious. Service was exceptional.
Twin peaks
by Lastimeidothis
Food always good. Watching ncaa B.B. is even better
Bugs
by salsamson
Why are you all fixing bugs? So the bugs work better after you fix them? You should be killing bugs not fixing them. 😂
Worst app for small business
by VaporMatt
No customer support, terrible software that allows the worst reviews and not ANY good reviews. Childish rules that truly affect small business owners. Honestly you should be ashamed at how bad you app works.
Very helpful when out of town especially
by Sdsssthinp
👍🏼👍🏼👍🏼👍🏼
Makes a decision easier
by mamiyayass
5 stars!
Get idea but kinda creepy
by donothing4fun
Love the idea of yelp but they r kinda bullies to companies that choose not to pay for their services I have had a few friends that worked there and it's very interesting to hear it from both ends employee vs biz owners
Luke Warm
by Jlws07
I found that a constant thread in most reviews is: Luke warm; small quantity for the price; and slow service. I'll wait till reviews show improvement in the above listed deficiencies.
Helpful. Really helpful.
by lea29lei
Especially when going into a new establishment.
My Go-To App for Dining Out
by liljennysunshine
Yelp is my go-to app for finding new restaurants to try.
Waste of Time
by mzlorlandi
Apps are supposed to save time, this one does not. I deleted it.
Customer service excellent, food good
by Uberreviewer1947291
Having a lazy Saturday night in and wanted Chinese food and yelped places in my area that deliver. Chose this one for number of reviews that were majority positive and addressed both the food and customer service and overall experience. I ordered it to be delivered, so my review is incomplete in that regard since i didn't dine in. As most of the reviews have stated, the customer service was excellent. The girl who answered the phones was very pleasant, easy to understand, and sweet. The menu was easy to choose from and the pictures I saw in yelp were pretty accurate to what I received. The delivery time was estimated 40-50 minutes and I received my food in about 35 minutes, which was really quick and painless. Price was very fair considering the portions are HUGE like many other reviews stated. As far as the actual food, i ordered pork fried rice, general tsao chicken and orange chicken. The fried rice was pretty good. Could use a little more flavor but overall it's about what I expected. The chicken was also good, though I personally favored the orange chicken a little more. My only point against the food was that the chicken was no longer crispy, it became a little soggy by the time it got to me.. which I understand could be a different experience if I were to dine in so I don't hold that against them. Overall, a good experience, just missing a star because I felt the food was good....but I wasn't anything vastly different or over the top compared to similar restaurants in this category. Definitely appreciate the good service. Would eat here again.
The app I use the most.
by MinimumPatience
I love this app. Our family travels a lot and Yelp is a great way to find restaurants, gas and hotels in unfamiliar places. Never leave home without it.
My go to
by Branslynn
Love yelp!
Reviews Are Sooo Helpful
by MrElConquistador
Traveling a lot, I look at reviews for good food, transportation, and many other services. Yelp delivers the best reviews overall and I've not been disappointed by fake reviews at all. Highly recommend!
Yelp is awesome!
by Yoyo249tito
They seriously give you back a percentage of the bill for writing reviews. There is an extra step to follow once you install the app but it was easy and free.
Download App
by Infinites Investments
I hate that you have to download this app in order to read the reviews left online for shops and restaurants. I just wanted to see what was said about the establishments so I could make a decision that doesn't waste my money. This is irritating.
Power corrupts Yelp
by Danse en France
2018: I finally signed up for an account after ordering food thru eat24, which they've now sold to Grubhub. 😳 And so, I started leaving reviews and am now amazed at how few views they've gotten—literally zero views for a negative review I left. It seems clear this app is biased. They know I went there from location tracking me, so it would appear the only justification for hiding my review is because it was negative. My use of this app now is basically confirming places exist, are open, and looking at pictures of foods. The app also has some hideous animations. I feel like his company only exists because people have formed a habit of using it. Google, Facebook, or Apple could do a much better job. TripAdvisor is sometimes more useful, but inconvenient to use. 2016: When I tap on pictures it does nothing. The carousel seems to be non-responsive. Also, I just did a search for dim sum in Chinatown and the restaurant I was looking for (the most popular dim sum restaurant in the City) doesn't show up, but the first result has a health safety warning! WTH? 2013?: I hate this app, 90% of reviewers, but I use it all the time to check out places before I go, or don't. I'm writing today to express how disappointed I am that there is no option to set the default address link to open in google maps instead of Apple maps. I live in a city, I want to know how to get somewhere, not by driving... Apple maps are insanely terrible. Please help. You guys are in SF, you mustn't use Uber & Lyft to go everywhere?
This app is awesome
by Sgfgator
This app is great for find coffee shops, restaurants, anything, and anywhere.
Missing business
by Ggshhe
Why can't we rate our experiences with big businesses like att T-Mobile , sprint, Coca Cola , car manufacturers and cable companies... Ect. Gas company, water and power. So we are all aware of the behavior of the business .