Try These Related Apps!
---
MoWaiter
---
Taste & Travel International
---
DineCalc
---
Yelp
---
Where To Eat? - Find restaurants using GPS.
---
Best Of...
---
Bowtie ? Tip Calculator
---

New York's Best Restaurants
---
Groupon
---
Ness Dining Guide - Restaurant Search
---
Urbanspoon
---
Low Carb Dining
---
GrubHub Food Delivery & Takeout
---
Sushipedia™
---
Tip Calculator % Free
---
Bing Search
by
Microsoft Corporation
(86 user ratings)
FREE
Download size: 110.11MB
Version: 6.19
Released: 2009-12-16
For ages: 17+
Bing search app makes searching the web easy, beautiful, and fun. Try it out and you'll never want to go back to your browser for web searching again!

• Discover what's nearby. Tap "Near me" for restaurants, attractions, gas stations, and more. Or go into "Deals" to browse offers, discounts, and coupons at retailers near you.
• A more visual search. Ideas for your next outfit are easy to find using Bing's image search. And when you found that perfect dress, it's easy to find online retailers that carry it. You can also just snap a picture of anything and find visually similar images online.
• Get entertained. Explore movies to watch, read reviews and tap to stream. Watch videos from search results from various sources (not just Youtube!).
• Save money. Use the built-in barcode scanner to review products and compare prices at select major retailers (eg, Amazon, Walmart, Home Depot, Target); tap to buy it online. One quick scan can save you both time and money.
• Earn Rewards. If you like free gift cards, you'll love searching on Bing and earning Microsoft Rewards.

 *Some features are not available in all countries.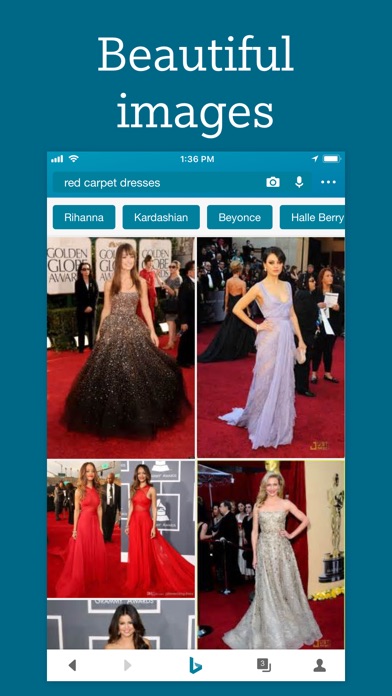 Powered by Facebook Comments
Customer Reviews
Cool but alittle odd
by T51B
Please respect my privacy unlike Google.
New and improved.
by Raul Kirkpatrick
Good alternative for browsing.
11/17/17
by Trnyii
Nope do not like layout nor do I care for news I wished I could remove it.
One star only
by the answer
Until Bing gives you the ability to either remove their news feed altogether or choose which news feeds you receive...it's not worth using
Cool app
by Call me Rere
I really like this app. All the variety of selections. From the games to the pictures. All the endless news around the world as well as local news. Just a good app to get lost in from all the choices to choose from. The quizzes are such fun. Definitely help time pass by a lot faster. I also, LOVE that I can listen to music and watch music videos right from the Bing App.. I just wish readers can like or dislike each news or at least comment on each news story. Get a dialogue going among others. There are a few videos I would of loved to click thumbs up on.. Maybe next update??? 🤔🧐
Great search engine
by Bryan11111111111
Bing is an amazing search engine. Goodbye google.
Bing Mobile app
by emeryb53
Simple to navigate, VERY easy to use. 10stars if they existed
Better than google
by Hiraozair
Great, much better than google.
Good app
by ..::BEN::..
Does more than safari. Good voice control and image search. Great for Microsoft points.
Moving in the right direction!😍
by Rickxray
Pros: it's quicker,redid the voice recognition animation, voice recognition faster and the text is bigger. Something feels different, I don't know but I like it. Cons: no Cortana intergration, start up needs to be quicker,
✔️✔️💯💯❤️😎👏👏👏😍🔥❗️
by AA0383😊
So easy & quick...info is so neatly organized & concise. Beautiful images & will use over other SE's. ❤️❤️❤️it!
App
by All Sports Man
I like the app it's easy to use
Eh
by Bingallious
Love the app! But the redesign isn't my favorite by far, I like the camera and microphone they're fine but the colors just aren't as aesthetically pleasing as the other design. Plus the new look really doesn't fit with the regular home page.
Better than Google in every way
by HAL AL
I recommend everyone I know to switch from Google to Bing, you should do the same.
Microsoft
by Kmart_479
Rewards are awesome Wonderful app
Cr33f
by Cr33f
Awesome app
nice
by Team Jinx
pretty dank
Why mess with image search!?
by TheLateQuentin
I always used the (x) by the phrases to drop/change them. I just told a friend that Bing was superior to google for that reason and he agreedd. He switched to Bing for a week before they updated and took it away. Booooooooooooo
The Redesign is Great
by JonAgthan
The recent update looks and works great.
Does not follow iPhone restrictions
by Ronztok3s
Bing is a good search engine, but the adult pages can easily be reached even with iPhone restrictions set . Compared to google the adult search cannot be overridden. This would be a such a help full feature .
Customize news?
by yarnalt
Maybe I just can't figure it out, but it seems there is no way of customizing the news feed in the app. All of the articles seem highly slanted toward one certain group.
Bring back the widget!
by Twiggyjulie
I really like using Bing first thing in the morning for beautiful pictures and news but with the update it's not in my widget selection anymore so it's not always brought to my attention. Please bring back the widget!
Love the redesign
by Horsey4444
As the title says, I really enjoy the update that was just put out. The ugly gray bar at the top is gone and transitions (like from a webpage to the tab screen) are so much better. The search engine gives you the most relevant information and not just a bunch of things that Microsoft thinks that you want to see because of what you looked at earlier or something. Bing is much better than Google. Microsoft Rewards is also great. I love earning points just for using Bing. I'm going to get a$5 WalMart gift card pretty soon. To sum it up, the redesigned app is great, better than Google, and the rewards program is great.
Bing is great!
by Tay7576
I like how Bing lays out the info when you get search results. It has cool features and it always gives good information.
I've always use Bing mobile
by katwomansz
I took the Bing test years ago and was happy. I continue to use it on desktop too. Love the daily pictures and rewards too. I like the new look October 2017. Voice dictation Spot on unlike Siri.
It's fine!
by Smokeyab
It's fine. Get my bing points😀!
Love this app, makes it easier to earn rewards. This app just keeps getting better! Love it
by ProjekMayham
I have been consistently using this app for a few weeks. I love it!
Good app to access rewards and search easily!!
by Jilldjab
Don't like the update!
TOPS!
by BarryMcDon
Bing is my #1 choice. It has proven to me, over & over, to produce the most usable results for my searches.
Eng_hayder
by Eng_jaguar
Very good search engine
Get Rid Of Instant Search
by Atomic Atom
I refuse to use this app with no option to turn off the incredibly annoying instant search. I don't want Bing influencing my searches with it's irrelevant suggestions.
Coffee
by Hobaboob
I love the coffee
Racisim why no app for Pakistan???
by iAdnanNazir
Hello Microsoft chief Satya Nadela ! I know you are Indian but atleast try to be a human first. Why do you have Bing, bing maps and cortana ios apps available in Pakistani Store?? So shameful.
Really bad 👎 now(DON'T DOWNLOAD)
by This me deal with it or else
It used to be really fast and helpful it was even better than safari. BUT THEN when they updated the app it just made things worse. It slowed the app down, constant crashing, not loading 🔃 taking forever to load. I sent SSOOO much feedback but it seems they won't listen 👂. Don't waste your time with this app. If you want a fast browser just use Chrome, Safari, or the Google app.
Easy to use for points
by Pancakes1216
Nice layout of app with Bing search button in the middle so it is super easy to use. Also will help accumulate search points for bing account which is awesome.
Bing
by Cindy Pinorsky
I find Bing to be very user friendly, I find what I'm looking for faster. The information is current and up to date!!
Ha000000
by f͟͟f͟͟
I love it
Easy and quick
by Mercvilla
Prefer bings features and easy navigation
Retired
by Joanie Terz -Kriz
Bing is easy for everyone to use . No games no hoops to jump through. Thank You
Bing
by RollingLoner
Has always worked perfectly. I have never had any problems or issues.
Great app
by Polk4885
Bing is much better than some other sites!!!
Excellent Search Service
by Phatherthyme
Thank you for all the help in finding what is relevant for me. It's fast and accurate 9.5/ 10 times when I need to know about a certain topic.
Cdavid4860
by cdavid4860
Worst app I've ever used. It never gives me my reward points
Bing is the best. Thank you.
by Paralegal4texas
After google's owners/representative response regarding their security leak breach of millions of people's personal information "Oops" (which hit front page), I knew right then and there I had to go elsewhere. Privacy is a big thing to me. I was not fond of googles search engine because it is not thorough enough. With bing I get a lot. I like the point thing too. I get to donate to charity of my choice and that is fun.
Bing
by Qmagicpower
Very excellent
WAY BETTER THAN GOOGLE!
by Lisa Langebek
So much better than Google. Definitely will tell everyone I know to make the switch!
Review of Bing
by Johnny/ Siri calls me Shorty
I already use Bing as my Search Engine. Any in need is quick and easy with Bing. I already love Bing and THANK you for the improvements.
Not intuitive for the simple things
by Jo Pooper
Not intuitive for the simple things like holding down a finger on a photo to copy it. No, I don't want to save it, I just want a copy. Also, search results yield too much information and one has to scroll a lot to see a little. I'd pass on this.
Glad I switched to Bing
by Susu939
I switched over for speed reasons (google decided that loading their suggestions was more important than loading my search). Bing appears to have its priorities straight, and I get the results that I ask for! Easy and efficient.