Marvel Comics
by
Marvel Entertainment
(17 user ratings)
FREE
Download size: 42.08MB
Version: 3.10.5
Released: 2010-04-01
For ages: 12+
Introducing the MARVEL COMICS app, a revolutionary new way to experience the Marvel Universe on your iPhone, iPod Touch and iPad, featuring the world's most popular super heroes! Download hundreds of comic books featuring your favorite characters -— including Iron Man, Thor, Captain America, Spider-Man, Wolverine and more -- on your mobile device with the touch of a button. You'll experience Marvel's greatest series and stories like never before, with your choice of guided view (an animated, panel-by-panel path through the comic), or by using regular device controls to zoom and pan your way through pages of sizzling story and amazing artwork!

Each of your downloads can be protected and backed up when you use your Marvel.Com account, meaning the next time you lose or upgrade your device you'll find your comics waiting to be read again!

Not convinced? Check out our free downloads now and find out why everyone can't stop talking about the MARVEL COMICS app! Take the Marvel Universe with you anytime & anywhere!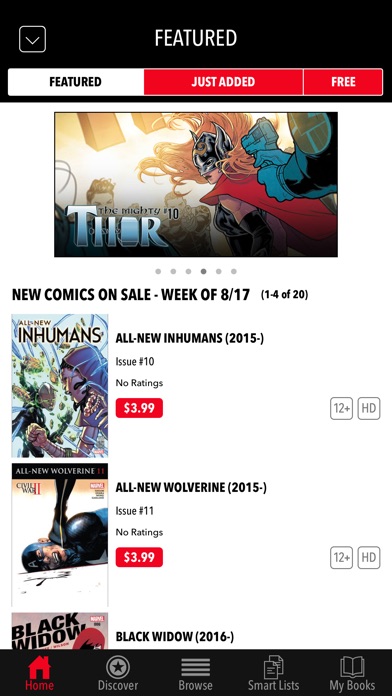 Powered by Facebook Comments
Customer Reviews
Account sign in does not work
by Scottb2013a
This app does not work with username and password, it still makes me change the password every time. Poor activate happened
Freezes frequently
by Khoryphos
Overall I like the app. However this version freezes every so often on iPad Air 2. Hopefully this gets resolved soon.
Add digital code support in app!!!
by Awscos
I'm really tired of typing in all of my digital codes in on a web browser from my physical comics. The website once in a while doesn't load right and then makes your code "already used" and won't give you the comic. Why is there no option in this app that lets you type in the code? Why does it have to be on a website? There should even be a reader that scans the code automatically by your camera.
Marvel
by Los' Mac 2
Make Mine Marvel! Always and Forever a true believer!!!
Create acct w facebook so desnt work???
by Txxzzzzzxxxxx
Marvels lets u sign up using FB then demands a password to use app but can't using FB??? So marvel purgatory i guess?
Terrible App!!!!!!
by Hollowrogue
It's great if you want to buy books in the app. It's terrible otherwise. Redeeming codes is near impossible!!!! They never work, and when they do they are for the wrong book. On top of that it takes forever to get a response from Marvel and when they do they give you the wrong code.
It's Good.
by 12thletter
There's an issue with my copy of daredevil Vol 1. Other than that I've never had problems.
Love it
by Bceckhoff
Works perfect for me. Easy to always get the latest comics
Excellent App!
by CamStylezReborn
This application is one of the main reasons I still read Marvel Comics. The interface is great and I always have something to read while I'm on the go. The ability to redeem codes that you get in other comics that you purchase is invaluable. Are use this app very often and I highly recommend it for anybody who is a fan of comics.
Love this app.
by ClericFlash
Just love it. I'm only disappointed that buying the real copies no longer confers a digital copy of the same comic. They changed that policy a while ago, providing digital comics from other series instead.
Great totally awesome
by new and fresh and weird
Best way to do comics for me, get them asap have them forever weather proof etc
Amazing
by heyamehere09$
I just love it
Chris
by OpTIC Reaper82
It's Awesome😉
All of it
by hgthbrg
I love that I can read all my comic "again" on the go.
Good but...
by Cheese_Nugget
It will not let me create an account whenever I try a error message comes up and says I need to enter my country but there is not place to enter it into. Please help.
Awesome
by Ddpp7
I love it!!! Free comics all the time
Marvel is the best
by IlsaTheJoe
Marvel is by far my favorite comic book company but I cant figure out how to get out of a comic book while I'm in the middle of reading it. If I want to check something else around the site it forces me to finish the comic book first. Then I usually just scroll through it and do what I wanted to do then I have to re open the comic and find my place. I'm probably doing something wrong but how do I get out a comic book and come back to it later ?
Amazing
by Douglasphunny
This app is...amazing.
Very Good
by Ahauryski
Sucked they got rid of the same issue redeeming for a few months so now I have holes in my stories but still very easy to read using program
I love reading comics
by Marvel Nerdboi
This app makes it easy to take my comics anywhere and read them. Pull up all my old comics and purchase all the new ones without going to the store. It used to crash on me but the updates fixed all the kinks. All in all I love it.
What can I say?
by Menace1978
It's a great app. I love reading while I'm out and about or waiting in a lobby or car wash. It's super convenient. Nuff said!
Crashes constantly
by UnadvisedGoose
Fantastic app. Smooth reading and great sales.
Stories well told
by Swamper dude
I love good stories and good art. Marvel gives me both.
It's not letting me get in
by fneer7
The create account screen keeps saying error enter your country?? And I don't know how to do that. Someone help please?
A great way to explore Marvel
by DJKver2.0
This app has continued to get better with age. This is a great way to collect comics without the demand for boards, bags, and boxes.
Awesome
by Jhit16
Short and simple awesome app
Great for dig comics
by Estebonix
It's been super fun and easy to use.
Raural Life
by thejitalian
I don't live close enough to any comic book shops, but I love Marvel. This app & Marvel Unlimited are how I get all of my comics. I don't know how Marvel counts digital sales. I want my favorite characters & story lines to do well. This is the easiest way for me to support my comics. I buy story lines I care about & rent every thing else (via Marvel Unlimited). While I'm here someone tell Marvel they need to bring Emma Frost back as a main character.
Best Comic Book App Ever
by Isha74
It is by far the best app I've ever used in terms of comic books. Great reading experience and easy to view the art and wording.
Great app
by houston weaponx
Love buying comics this way. Great app!
5⭐️⭐️⭐️⭐️⭐️
by XxdarkdamxX
If You read Marvel Comics You Need This App No Question
Good app.
by Ultimate Superman
A good app. Many good stories have I read from this app.
Great app
by Valthanis
I love this app for reading comics.
Essential Marvel companion!
by JY Chaigne
I've been purchasing and reading my comics on the Marvel app for years now and love it, it's so easy! And the smart lists feature has been a real bonus compared to early versions of the app. Can't imagine my mobile devices without the Marvel app! Excelsior!!
Best Marvel Ever
by Knightlock1989
I love Marvel comics. It's the best comic book ever.
Great App
by JJ Static
This app has every Marvel comic I would ever want to read.
Great App
by Mbrevert
The app is great and keeps getting better, I'm glad they've got the classics being added, it's the future of comics, who has the space for the physical books, plus they've gotten so expensive, the app solves both problems!
Make Mine MARVEL!
by Tupper : )
Old school collector has embraced this digital comics app as a method of reading favorite stories without having to always handle pristine original issues - the only way to improve this app would be if you already had all the single issues in a collected volume that the app could show both formats, and vice versa, if you had the collected volume it would also show the individual issues (to prevent accidental duplications and to know which stories/issues were missing from online collection)
Fantastic for modern comic readers
by T3Smith1361
I've had this app since it dropped on iPhone. I currently own over 1,000 comics. I've never uninstalled this app. It has a permanent spot on my phone and I use it constantly. Being raised reading comics I loved taking them with me. This app does this but allows me a way to read comics I'd never be able to afford. It caters very well to comic readers, it's content grows weekly, and has helped broaden my horizons and appreciation for more characters.
Love it
by Efc138
This app is perfect for collectors who are just plain out of the room. My bookshelves are full of trade paperback edition and my boxes are full of single additions. This makes it much easier for me to keep my collection on me and read them whenever I want. Granted it doesn't have every single Marvel comic ever….But it's getting there.
Awesome
by jaslacy
This app has become a great companion to my love for Marvel. I'm a longtime reader of their comics, and many and most of their comic series and this app as awesome. I love being able to redeem the digital codes in the physical comics I purchase and read and then have a digital version on my phone as well as the other free ones that Marvel so generously gives us who buy their comics and redeem the codes. They also give out plenty for free as well without need for any purchase! Especially on Free Comic Book Day!! App is fast and easy to use as well. Download it!!
Out of the park!
by spurdvm
THE best ways to read marvel comics with the press of a button! Lots of them you have to pay for but there are also TONS if free ones. You can also read them offline, so that's awesome. I am a HUGE fan of Marvel, this is a great app to use! You won't regret ANYTHING.
It's great!!!
by Ninja1086
I love this app I have never had an issue. This is a very user friendly app, I don't typically purchase the digital comics through the app, instead I buy the physical copies from my local comic shop and redeem the free codes. The only thing better in my opinion is the Marvel Unlimited app which is like Netflix for Marvel comics totally worth the subscription.
Problems
by Isabella841
I'm having trouble with this app it can't find my email and won't accept my password
COMICS
by Broe525
IM LOVING IT
Love it
by Wimpjuice
Uses Comixology UI and that is a winner. Amazing deals every week allow me to keep up on things I missed or just read a ton on a much more reasonable budget. Also nothing is better than having thousands of titles available in my pocket.
Great app!
by FranciscoMatallana95
It's a great app, though I wish there was a way to redeem digital codes in it.
Add Facebook login
by Djr216
Considering I apparently can't create an account and the customer service is garbage could you please add a Facebook log in on the app. It's on the website, but not the app... ok.
AWESOME!
by Infinite comic
It's really helpful and I finally know what's happening in the marvel universe!
Great!!
by ronmic
This is so good to read comics without having to carry them around!!