Try These Related Apps!
---
Intelligentsia Coffee
---
Coffee Shop Maker
---
Coffee World
---
eXpresso Lite!, Your Ordering Assistant for Starbucks(R) Coffee
---

Ducky's Coffee
---
Coffee Art
---

Coffee Ideas by Franke - iPhone Edition
---
iBeer (5 Beers & Coffee! Milk, Champagne, Chocolate, Water, Cola, Celebrity Voices etc. available)
---
Find Me Coffee App
---
Find Nearest Coffee Shops & Donuts
---
Find a Coffee
---
COFFEE Compass FREE
by
IGRASS PTY LTD
(7 user ratings)
FREE
Download size: 16.98MB
Version: 1.0
Released: 2012-08-11
For ages: 4+
FREE TODAY! 💡 Need coffee fast? 'COFFEE Compass FREE' is the fastest possible way to locate your nearest cafe, wherever you are in the world!

Open the app & the compass will automatically point towards the closest cafe to you, counting down the distance as you get closer.

Switch to map view & choose a different cafe you may prefer. With one tap, view cafe information, get turn by turn directions, make phone contact, read reviews or share it with friends.

Simple, fast & effective… this FREE app is essential for all those who are in urgent need of coffee.

█ FEATURES

✓ FREE!
✓ Access to millions of cafes worldwide!
✓ Fully universal app (iPad, iPhone & iPod touch) with Retina graphics support.
✓ Auto-detects the nearest cafe to you by default.
✓ Real time compass points to the direction of your selected cafe.
✓ Distance to go is shown in either METERS/FEET (switchable).
✓ Map view shows all the cafes found around you.
✓ Optional turn by turn directions to your selected cafe.
✓ View cafe information, reviews, advice & more.
✓ Share the cafe via SMS, email, Facebook & Twitter.
✓ Banner advertising (removable via optional in-app purchase, as shown).

█ ALSO AVAILABLE FREE

✓ BEER Compass
✓ CASH Compass
✓ FOOD Compass
✓ PARKING Compass
✓ SIGHTSEEING Compass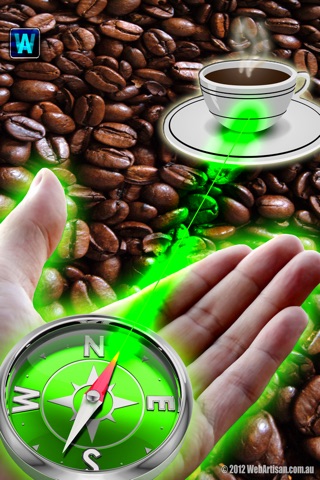 Powered by Facebook Comments
Customer Reviews
Awful. Not worth it-and it's free...
by SamsonBright
I can't access any features unless I pay for each individual feature. It is constantly sending me to coffee shops over 150 MILES away, when I know there's a Starbucks & many others down the road from me. I wouldn't give this app any stars, but I can't rate this app without giving it at least one star >:(
Don't waste your time
by Stever_
Downloaded and deleted. I live in a Chicago suburb with 3 coffee shops within walking distance and it tells me a Rainforest Cafe 13 miles away. Sad app. Siri takes much better care of me.
Just OK
by Someone who cares too
Not very complete for local coffee shops missing a high traffic Starbucks and long established local independent store. Also has local irrelevant listings such as a Chinese restaurant and a seafood restaurant. Even with these inaccuracies this app would be significantly improved with less focus on cuteness by providing access to a listing option, finding any information on shops other than the "closest" is quite tedious as this can only be done through the map. Save your buck on the ad free version as it is not worth it without the listing.
Real coffee
by Michael S McCraw
Six shots of espresso is real coffee, and this app will take you there every time